This is Why Róisín Murphy Doesn't Give a Fuck Anymore
When Irish singer Róisín Murphy broke seven years of silence with an EP comprised exclusively of songs sung in Italian, no one could have guessed where she'd go next. Since her days as the voice of Moloko, Murphy has bore the mark of the perennial underdog—largely for never bowing to expectations. Her new album Hairless Toys is a decisive step forward and a definitively experimental pop record, delivered with a confidence that defies the brevity expected of chart fodder.
Róisín, last year you released an EP of Italian songs entitled Mi Senti, which roughly translates into "Do You Hear Me?" It was an interesting and, for many, a completely unexpected career move. I didn't even know that you speak Italian…
Well, I don't really—scusi, non parlo Italiano! But if you'd provide me with an original recording and a good English translation of the lyrics then I could easily sing in Italian with almost correct pronunciation… and also feel the lyrics while singing them. But apart from that, hardly anybody really noticed the album, so I wouldn't call it a career move.
The song selection was excellent. Picking classics by Mina and Lucio Battisti was a bold statement for a non-Italian.
My fiancé Sebastiano is Italian, and our son is half-Italian, so we feel like an Italo-Irish family and singing in Italian just felt natural. Maybe it feels a bit strange for other people but for me it was just a family thing. Ask any Italian and they'd name these two artists as the most important Italian singers in pop music history. In that sense, covering four of their songs wasn't that risky, was it? Sebastiano is steeped in the history of Italian cantautori singer-songwriter music, and funnily enough he turned his back on it as a teenager only to re-evaluate it when he was thirty. But I came across Mina long before I met Sebastiano. When I went to New York for a couple of months in my twenties I stayed with a half-Italian girl who taught me so much about Italian music. She was the one who introduced me to Mina. In fact, until today she was the only one who would play Mina's music to me and let me just listen to it without simultaneously trying to translate and to comment on it. But since they always get excited when listening to Mina, I started to understand what her music must mean to the Italians.
Italy's love for Mina goes back to the sixties. You probably know her legendary live album Mina alla Bussola dal vivo?
Of course I do! In one particular concert, Mina played the song "Non credere" with an intensity that leaves me speechless. Sebastiano's uncle actually wrote that song, so he once played the full concert to me on YouTube. It's all black and white, and you basically see just her face singing at quite a distance to the microphone. Suddenly, while watching, I understood why she was such an incredible star and so far ahead of her time, especially her personality and the way she dressed. She was a total beauty queen but also had this great sense of humor. You notice that in the way she performed; in her eye movements and her funny little dance steps. She owned her appearance in a way artists like Dusty Springfield didn't. She was so modern that I would call her the Italian Madonna.
Interesting comparison! I always thought of Mina as the Italian David Bowie because she also had this air of androgyny. On some of her record covers she really plays with that.
Well, I also covered Patty Pravo's "Pensiero stupendo", and she must have totally been into David Bowie, too. As female stars, both of them were fully aware of how much further they could go than anyone else around them at the time. They were both role models, but their fame somehow was limited to Italy.
If you don't speak Italian how did you connect to the songs?
I don't speak it very well, but I do understand quite a lot of Italian. I had yet another Italian boyfriend years ago so I already tried to learn the language. I have a sort of love affair with the language and the country. And Italians like me! Or, at least they like the blonde, blue-eyed Irish smile of mine.
Have you ever been invited by Italian TV to sing there?
I really wanted to do San Remo but it didn't happen.
On your new album Hairless Toys you switched back to English. Is this the end of records in Italian?
Probably, but you never know. I might do more because I loved the result. I could imagine doing a record in French sometime soon because there is so much great French music. But then again, I would die embarrassed if I didn't pronounce the words I'm singing correctly. I don't want to end up like Bowie singing "Heroes" in German.
The lyrics you wrote for Hairless Toys are amazing. They're like an endless stream of consciousness. That's a very unusual way of writing lyrics.
I don't know about that. I'd say on this album, my long-term musical director and collaborator Eddie Stevens and I worked in shifts. We'd work straight for about four hours in the morning. Then we'd go out for lunch, have a pint, come back and continue to do it the old fashioned way. Eddie sits down at the keyboard and makes it up as he goes along, and I make it up as I go along, too. I come from a background in electronic music where you produce music more in bits and pieces and then kind of bricolage it afterwards, you know? But this time we sat down like old- fashioned songwriters at the piano. There was some kind of very close "frisson" between him and me. And once we had had a drink we couldn't give a fuck!
I think the lyrics would work as written poetry. They're so much more complex than what you'd expect from a singer who was once regarded as the possible next queen of pop.
You know what? I just don't give a fuck anymore. I can't hear it anymore when people say, "Why didn't she make a decent pop record?" Nobody lets me be a pop star anyway! When I made "Overpowered", Pitchfork called it "possibly the greatest pop record of the last decade." But did it make me a pop star? No. My guess is that I don't owe anyone a pop record at the moment. With this record I did whatever the hell I liked to do. I'm an adult now, you know? And as a woman I am fully aware that I don't want to do what other people want me to do. So maybe yes, you're right. Maybe there is some kind of an adult orientation to the lyrics that says: This is who I am and you can take it or leave it, I don't care. Really. I've sort of proved that I can do all of these things that you wanted me to do and still I'm stuck with being me. In a way all my new lyrics circle around this very topic.
Did you consciously seek to create a different style of lyrics for this album?
They say that we humans change every seven years. I have two kids and I'm not forty-one anymore—that's how old I was when I made Overpowered. So I'd say that just following my instincts was change enough. And of course the fact that Eddie and I are like spiritual brother and sister was important, too. I mean, you cannot emulate the original feeling that defined the early records of Moloko. That should be obvious because at that time I was in a relationship with the person I was creating with. I was becoming a singer together with him and a writer and a live performer and everything else.
You recently said that you recorded some fifteen songs for the album, but Hairless Toys only features eight of them. Can you describe the process of what you kept and why?
Wasn't it Willie Nelson who wrote the song "Why Do I Have to Choose"? In the past it has always been a drama for me to choose the songs and then put them in order for a record. It really used to hurt and it always took some record company guys to kick my ass to do it. But this time it was different. I was in Ireland for Christmas, and everybody had already gone to bed, but I couldn't sleep. So I got up and started to think about which songs to toss and which to keep. It only took me an hour. Then I wrote a text message to Eddie with the track listing. And a couple of minutes later Eddie texted me back: "Yup, totally!" The album title, by the way, was a misunderstanding, as I don't sing the words "hairless toys" anywhere on the record. But I liked the twist. I actually sing "careless talk," but he heard "hairless toys." I was just a bit annoyed when the record company told me that I should've put more songs on it. As if quantity mattered.
It seemed like one of the music industry's big misunderstandings in the nineties was to think that just because there is seventy minutes of audio space on a compact disc that you have to fill it to the last minute.
Yes, yes, that's so true. I think one of the blessings of getting older is learning to edit. I have fewer clothes in my closet and less media and less everything now. I don't want to become one of those people who can't get in the door of their house because it's full of stuff, you know?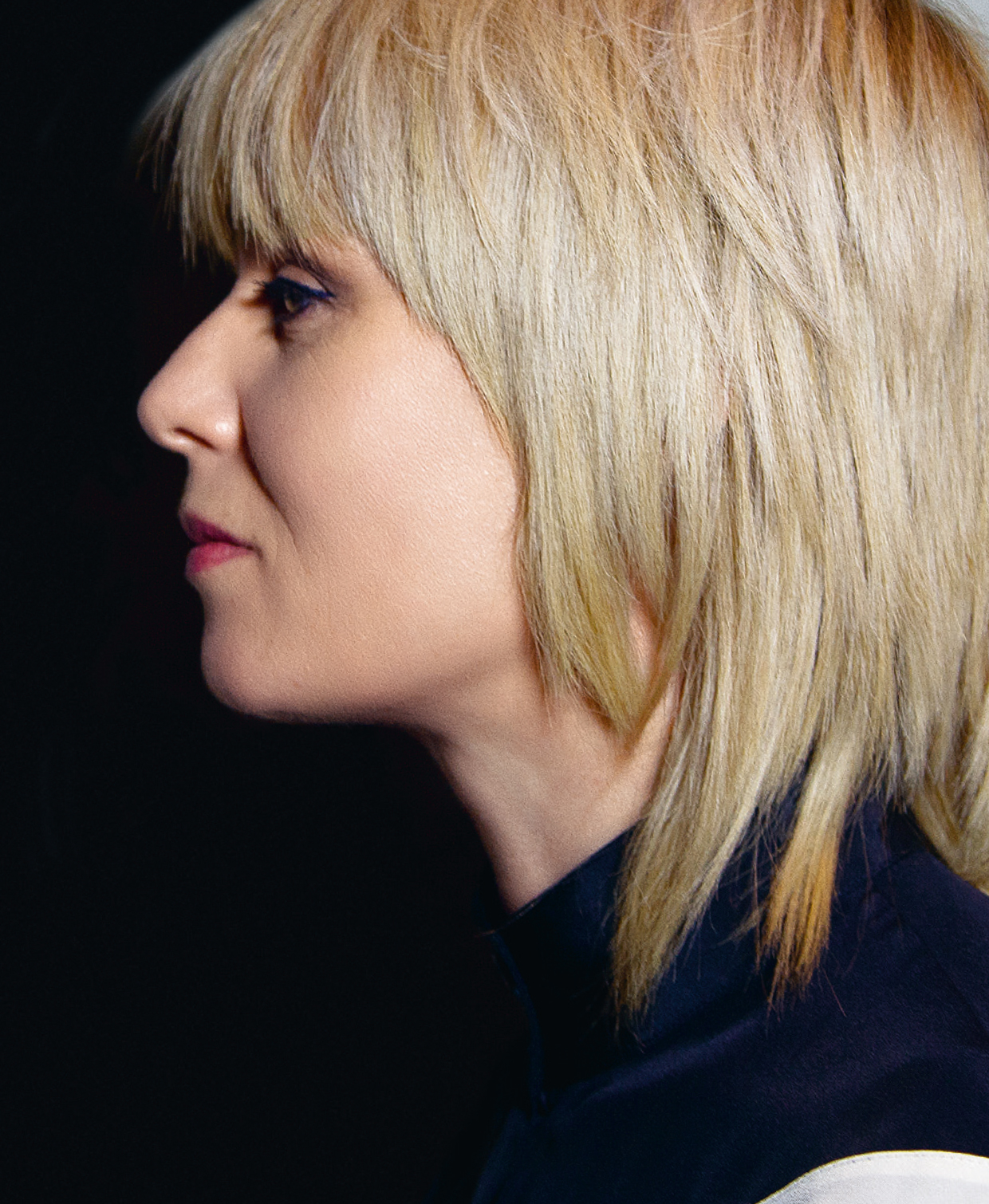 Before I mentioned Mina, and you mentioned Madonna. Is it also an act of editing your ambitions to give up this urge to become a major pop star?
I always believed that I have the potential to be a pop star. I actually still think that Overpowered is the one overlooked record that I did. The music was great, the videos were incredible, I had the financial backing of a major record label and I had a powerful stage show at hand. But the Pitchfork review I quoted earlier ended with a conclusion like: "… but she will never be a pop star." Maybe they're right. Maybe there is something in me that doesn't actually want to see me in the A-list? I'm a very happy human being right here, right now. I can live very well from making my music. I love to play live, I get invited again and again to play festivals, and I have plenty of time not only for my family, but also for my fans because I overcame all my concerns about social media a year ago. I started with discovering Instagram, which I loved immediately. Social media is such a strong invention of the new century. It allows me to break down all the barriers between my fans and myself. And apart from that: My life is just great. Why should I complain? And unlike Björk I've never had to face a bomb threat by a stalker in my life.
I think that changed a lot in her life. She has built a wall around her to protect herself and her family since then.
I'm not sure if I could deal with something like that. I need to be able to do whatever I want. I have reached a point where I simply make the records that I want to make. It actually started when I did Ruby Blue together with Matthew Herbert and my record label said, "You've made the wrong record." I remember asking myself if they'd behave the same if I was a man. Up to that moment I had been the single most successful artist on that label.
So how was working with Matthew Herbert? He's known for being especially detail-oriented in terms of sound design.
It's not just that—he gave Ruby Blue a direction. I came from a place where I was making records with my boyfriend. I had started Moloko with him and I couldn't even sing when we signed the record deal. I became famous for the line "Do you like my tight sweater? Do you see how if fits my body?" For me, Moloko was like a big step into the unknown. And it was fun. And I still like the records that we did. But it was also clear that I wouldn't continue down that road when I released records under my own name.
Basically, you had realized that you'd successfully survived your fifteen minutes of fame, right?
Absolutely. When I started Moloko I loved music and I loved art and I loved films and I loved books. I loved Mark and I had no job and no sense of what I was going to do with the rest of my life. And then Moloko went through the roof and changed everything. And every step that I went further with Moloko I realized: "Wow! I can really do this!" So, when I started working with Matthew Herbert I didn't know how to do music without this genius Mark, who was pretty much an incredible producer. I didn't know if I could go and work with other people, you know? It felt like leaving my own living room that I had shared with my boyfriend when I walked into Matthew's studio. Matthew had this manifesto, this set of rules for how he went about things, and that was just what I needed at that time. It took a lot of bullshit out of the process. The fact that, according to the manifesto, we weren't allowed to do a lot of things narrowed down our means.
In a magical way it was beautiful to follow this narrow path and everything that came out of it just sounded gorgeous. I was attracted to working with Matthew because his music didn't sound like anybody else's and I had no idea why this was until the first few days of working with him. I remember that I had brought a magazine with an article about Brian Eno and The Long Now Foundation to the studio, in which Eno explained the importance of sustainability in everything you do. I thought it was a good idea to discuss the article with Matthew before starting to work and he just said: "Yeah! But can you just go and bang the magazine against the microphone please?" So that's how it started: I was banging this magazine on my head and against the microphone and also on my ass! And five minutes later he had already edited a new sound, and we created an entire opus of music out of it.
You describe Matthew Herbert as something of an alchemist…
Well, I'd say he is. He has inspired a lot of musicians like me. He really is a paternal figure. I really felt that from him. Step by step I became less self-conscious and then we really started recording. His ear is all about hearing the beauty in things. He hears beauty.
Once, in the process of conducting an interview with Matthew Herbert, we were walking through the streets of Bloomsbury to have lunch at Ciao Bella's in Lamb's Conduit Street in London and I had this noisy aluminum trolley. He kept complaining that I was polluting the original street sounds with it.
Oh dear! I'm sure he was kind of half joking with you. But then again, I can understand him. For him, everything is about what you hear. And working with him I realized that when you're a musician you first and foremost have to listen. And it's just great to work with someone who permanently hears something in what I was just doing. When I sang he would listen and find something that he'd heard and that just made me feel very safe.
And did you work like that on Hairless Toys as well? Did you have rules?
I didn't listen to any other music during the writing and recording process, which is an interesting experience when you love music as much as I do. Actually, I felt relieved when we finished Hairless Toys because I could listen to other people's music again. And let me tell you one thing: I don't just continuously listen to the same music again and again. Also, when a new listening format pops up, I sort of change my listening habits. It was the case when I got my first record player. And it was the case again when I bought my first CD player and my first computer. And now it happened again because I discovered Soundcloud and Mixcloud and Facebook. All these moments led to new music that I'd listen to for a certain time. On my personal Facebook page for instance—as opposed to my Facebook artist page—I am permanently swapping stuff with people. That way I get to hear loads of music that I'd never have listened to if I was only buying records every now and then. Via Facebook I got introduced to the wonderful music of Maurice Fulton and I remember starting to search the net for some DJ mixes or whatever. And I found some marvelous ones! Also, the most recent change in my listening habits has been in the gym over the last six months. I started to listen to different music again while working out.
So you work out with headphones?
Yes, exactly. In the gym I started listening to a lot of hip-hop because I'd been to Miami a few months earlier, where I had experienced an epiphany of sorts. I listened to hip-hop that was booming out of convertibles while walking through the streets and I'd never heard it like that before, ever. I hadn't felt excited about it for years, you know? Maybe because I just hadn't been exposed to it and it hadn't been very prevalent in the U.K. scene. But in Miami, hip-hop was in the air and it meant something, if you know what I mean? Listening to these sound-blasts from passing cars just showed me how present hip-hop is in the States.
Was it a specific kind of hip-hop you remember hearing in Miami?
Having lived in Ibiza for many years, my partner Sebastiano has this Balearic influence inherent in everything he does. And Balearic is very tasteful. It's not a style—it's more a mood. Sebastiano plays a lot of Balearic music at home. And when I heard this hip-hop in Miami I had finally found a radical answer to the Balearic beats lingering through our home. What I heard was using elements of EDM plastic-ness and often had really disgusting lyrics. It's basically the opposite of that tasteful Balearic sound, and I kind of enjoy playing it when Sebastiano is in the house because it makes him want to be ill. There's a punk in me that likes the fact that part of this kind of hip-hop is disgusting. But apart from that, the music really works well for me in the gym. There is something very American about being in the gym, this whole idea of powering on—which is a bit equivalent to the idea of climbing your way up in life, right? Push forward into this modern world and forget about being so bloody tasteful and Balearic and let's just fucking get on with it and be ambitious again. I guess I can't carry that person around with me that I used to be a couple of years ago, you know? And I encounter this moment of truth every now and then. And for the time being, I stopped smoking and I don't drink so much. I've been there and done that. Now I try to be as clear-headed as I possibly can. With Hairless Toys I knew that the only thing I can do is to change again. ~
All photos: Luci Lux