"To debate and plan revolutions": Berlin's First Queer Art Salon
Lena Braun performing as Freddie Mercury.
The dilapidated ex-soap factory at Brunnenstraße 192 in Berlin Mitte, rented by artist and performer Lena Braun in 1991, quickly became a vibrant artist and studio community, with TV teams often stumbling through. At the heart of the building complex, Lena Braun, Suse Eichinger and Iris Schmied operated their queer art salon Boudoir. For our seventh installment of our Berlin Experiment series, which tells the history of free spaces and featuring cultural figures talking candidly about their artistic experience in the city, Braun recalls tales of opulence, Valeska Gert, and glaring green Astroturf.
Boudoir was Berlin's first lounge, an exhibition site and a stage for performance art. I wanted to create an atmosphere in this space that would put appreciation of art and communication between artists and art lovers in a context which would be both intimate and open, permeable both inward and outward. A symbiosis of public and personal space is something I find incredibly exciting.
The venue's ambiance was inspired by the state of transition just before the French Revolution, when public began invading private life. The so-called boudoir was the sophisticated gentlewoman's intimate antechamber adjacent to the Holy of Holies, her bedchamber. There one met to debate and plan revolutions. From this conspiratorial spacial set-up, the woman's boudoir, originates the artists' café as a networking hub.
Cream and red drapes on the factory loft's bare windows and walls created an impression of amazing opulence—I'd bought hundreds of yards of fabric at the Turkish market and handcrafted it according to historical patterns. I always designed my own costumes, too, and performed in wigs and drag. It was a natural component of the overall ambiance. The bar counter was modeled after Marie Antoinette's dressing table. Madonna's "This Used To Be My Playground" was a chart hit at the time and I considered Boudoir to be a kind of playground or experimental room as well, so I laid Astroturf. Glaring green, in contrast to the opulent rococo elements. And at the center of the room, there was this oversized one hundred and seventy square foot four-poster bed.
By designing spaces a certain way, I presort visitors. I want to attract people who are a little crazy, who have depth, and who understand and love otherness. I have always tried not to make transgender part of my mission statement because I don't define myself by my sexuality. For me, it is perfectly normal that homo- and transsexuality are part of society. I even consider these people holy, as they were and still are in some cultures. They are central figures in society.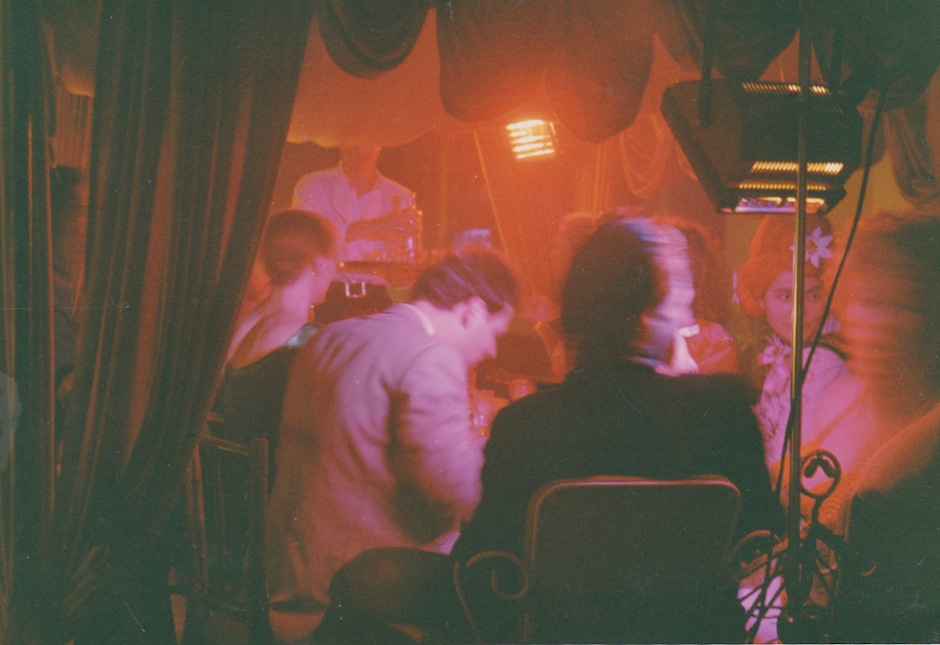 La grande bouffe at Boudoir – food, sex and bourgeousie deconstructed.
I do see myself in the tradition of the salonnière, even though salons of the past were much stiffer and stuffier than Boudoir was. You have to imagine performances like the legendary appearances of Valeska Gert in a place like that. Sometimes everything just went haywire. I consider the Dionysian aspect an important quality. Of course it's all about the deep, intellectual conversation, but also about disport. Things can only change the way your brain works when coupled with a pleasant feeling. We did exhibitions with matching programs that complemented each another. Over time, more and more people came. Like court ladies used to swarm around Marie-Antoinette, freedom-loving people flocked to us. They just came.
The opening in September 1992 was an exhibition by Attila Richard Lukacs just back from documenta. It was a great party. And there were many more to come.
Read our evolving archive of Berlin's musical history by visiting our Berlin Experiment page.
Published July 30, 2014. Words by robertdefcon.