A History Of The U.K.'s Earthshakingly Bass-Heavy Sound System Culture In 10 Tracks
We spoke with Joe Muggs, author of 'Bass, Mids, Tops: An Oral History Of Sound System Culture' about the tracks that define this cornerstone of UK dance music.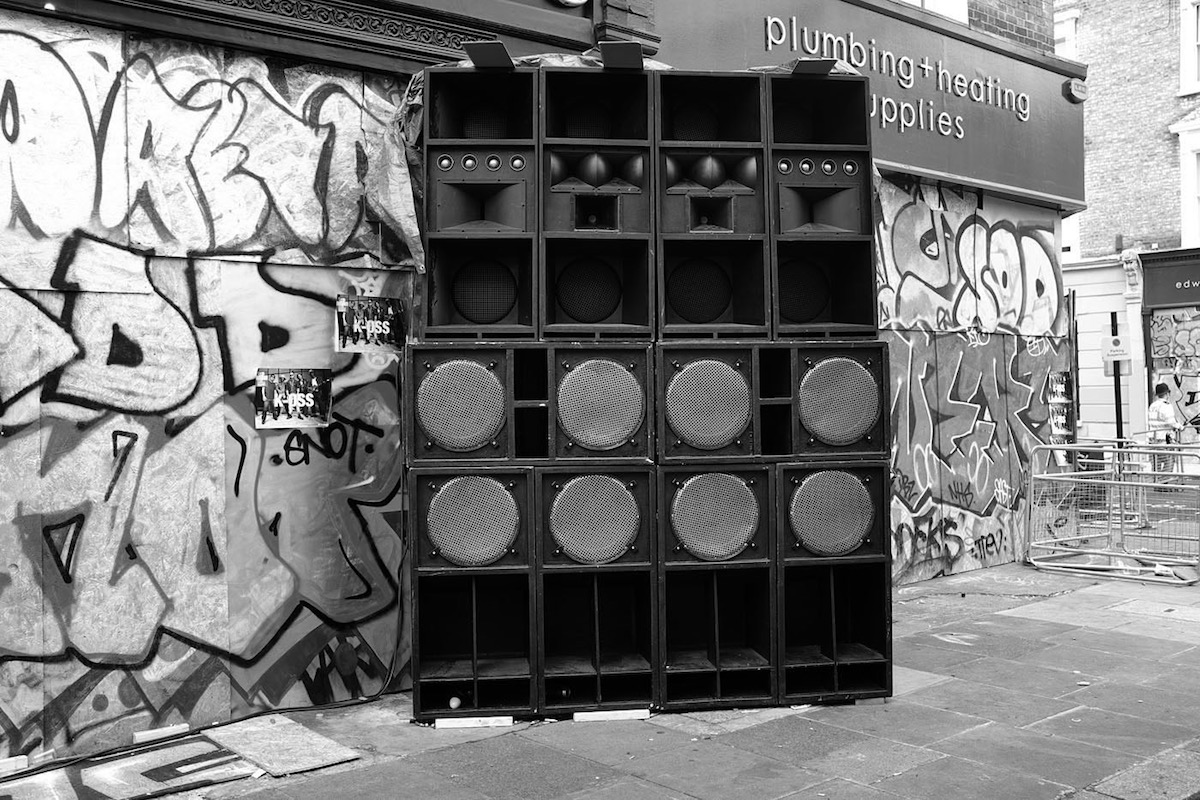 "That tune is the earliest tune I remember as a human being," says Shy One, a young producer and DJ from west London, talking to jungle pioneer Jumping Jack Frost about his 1994 track "Burial". "That's the one song that stuck in my head. I said to myself before I go, I really need to go up to Jumping Jack Frost and shake his hand and just say thank you."
While in a grime crew some years ago, Shy One used to mess around in a studio owned by her bandmate's dad, the British soul singer Rick Clarke, whose track "Make Love To Me" is sampled in "Burial." She grew up listening to the tune, released under the name Leviticus, on her mother's Kemistry & Storm tapes. 10 years later she identified it, but then only recently did she find out who was behind it.
Such stories, of the endlessly intertwined connections between communities and music, are the lifeblood of British sound system culture. That becomes apparent as Shy One speaks alongside UK garage pioneer Noodles (a.k.a. Groove Chronicles), former Steel Pulse vocalist Mykaell Riley and On-U Sound label-boss Adrian Sherwood, on a panel hosted by Joe Muggs, whose book Bass, Mids, Tops: An Oral History Of Sound System Culture, will be published in December. As the book's title suggests, it explores the history of the UK's unique sound system culture, which has roots in Jamaica. (It's the same culture that birthed the popular Wax Treatment party series in Berlin, which we have chronicled with our own oral history here.)
Muggs was introduced to sound system culture when his dad brought home friends he'd met playing cricket, who would then play reggae loud on his dad's speakers. Sitting down after the panel, he walked us through ten tracks that illustrate the strain of dub influence that runs through his new book, rattling them off the top of his head in barely half an hour, like he's been living and breathing this music for the past five years.
Fresh 4, "Wishing On A Star" (Virgin 1989)
Bristol has always been key in Britain's love affair with dub. Filmed shortly after ecstasy's initial arrival in the UK, the 'Wishing On A Star' video depicts a hippy squat rave being played by local hip-hop enthusiasts Fresh 4. One quarter of the band, DJ Krust, discusses the video in Bass, Mids, Tops: "He tells the story about how him and his mates were some of the few black kids who'd grown up on the Knowle West estate, a rough, mainly white estate in south Bristol," says Muggs. After hearing jazz coming from the crumbling building, Fresh 4 wandered in, struck up a friendship with the resident hippies, and began playing at their all-night parties. 3D from Massive Attack can be seen grooving along in the video.
Meat Beat Manifesto, "Radio Babylon" (Play It Again Sam 1990)
"One of the connecting tracks," says Muggs. "You talk to Jumping Jack Frost and he'll cite that tune. You talk to DJ Krust, he'll cite that tune. Every early jungle producer will cite that tune." Meat Beat Manifesto, an industrial band from Swindon, had a heavy influence on rave with their dubby, proto-big-beat productions. "That moment around '89 and '90 gave me the sense of how closely connected hip-hop, reggae, dub, industrial, hippy music and psychedelic music all were," says Muggs. "And how that kind of connected within the rave."
Dub Syndicate, "Stoned Immaculate" (On-U Sound 1991)
Adrian Sherwood, who has a chapter in Bass, Mids, Tops, started On-U Sound records in 1981. Releasing music alongside dub legends like African Head Charge and Lee Scratch Perry, Sherwood's own band Dub Syndicate were a mainstay on the label until drummer Style Scott was murdered in 2014. Muggs remembers first hearing the immortal "Stoned Immaculate" when he was 15, soon after smoking his first joint. "Out here on the perimeter there are no stars / Out here we are stoned immaculate," intones Jim Morrison, the sample taken from his poem of the same name. "Suddenly I got this connection," says Muggs, who had grown up listening to music by The Doors, from his dad's record collection.
More Rockers, "You're Gonna (Make Me) [Roni Size & DJ Krust Remix]" (More Rockers 1995)
Another Bristolian, Rob Smith, was one of jungle's biggest players as one half of Smith & Mighty. Here producing under his More Rockers alias, Smith takes a soul sample from The Jones Girls' 1979 hit "You Gonna Make Me Love Somebody Else" and adds a jungle beat. Then on the remix Krust and fellow junglist Roni Size blow the roof off it. "I think it's the best vocal jungle tune ever made," says Muggs. "It's up there at least with "Innercity Life". It's furious—like, monstrous. It kind of captures that moment of walking into the jungle rave and going 'this is fucking terrifying, but its touching my soul at the same time'."
Groove Chronicles, "Stonecold" (Groove Chronicles 1997)
"It's kind of a bait choice but…" Muggs goes for the garage anthem that's essential in any such list. The Aaliyah vocal; the Reese bass; the fucking saxophone. Legend has it that "Stonecold" was crucial in the invention of dubstep too. "Zed Bias heard it, and he was like, 'Oh, garage can have that sort of bass can it?'," Muggs says. "So he made 'Standard Hoodlum Issue' and people just started doing one up and one up, and then you've got the wobble."
Terror Danjah, "Fire Cracker" (Solid City 2002)
"There was a period when I was not going out at all really, tired and not really interested in raving," remembers Muggs. "I'd managed to keep track of garage, following the various developments, and then suddenly I got to London, switched on the radio and was like, 'what the fuck?!' Terror Danjah grabbed me because it was funky and complicated. I don't know if I knew that he came from a jungle background, but definitely listening back to those early tracks you can hear the way the snares roll, the extra bit of complexity—it's like yeah, thats probably jungle."
Skream, "Dutch Flowerz" (Tempa 2006)
Another figure often mentioned in many of dubstep's origin stories is Skream. "He's like the archetypal white, working, lower-middle-class urchin geezer lad," says Muggs. "And yet he makes this steppers' reggae tune that's as deep and spiritual as something you'd expect coming out of some wizened wise old rasta! I would love to get deep into it with him about why he won't revisit dubstep, but I think it's mainly down to how much horror he experienced from the superstardom, and that thing where someone misquoted him saying 'dubstep is dead,' when he was kind of saying 'it's dead to me'."
Shystie, "Pull It (Ill Blu Remix)" (Z Audio 2009)
"It makes me sad almost to think of how big UK funky could have been," says Muggs, musing on dubstep's rhythmically syncopated successor, a short-lived microgenre that birthed tunes such as K.I.G.'s "Head, Shoulders, Kneez & Toez" and Ill Blu's funky remix of Shystie's "Pull It." "It's just a banger," says Muggs. "After dubstep, the ability to sculpt bass became much more hardcore. A lot of old jungle tunes sound small, compared to what came from dubstep and afterwards. I don't think what dubstep and then funky gave to the world has really been understood in terms of shaping bass tones."
Chimpo & Trigga, "Gaza" (Stripes 2012)
By 2010, dubstep had already begun to mutate into a noisy worldwide phenomenon thanks to its adoption by American EDM producers. Meanwhile in Manchester, artists like Chimpo and Trigga continued to combine influences from hip-hop, dancehall, dubstep and jungle. "It's that US-friendly rowdy dubstep vibe," says Muggs, also mentioning comments from another dubstep lynchpin: "what Loefah said to me about the power of bass is you get the fight or flight reflex but the feeling of the womb at the same time, the panic and the comfort. It's a perfect description of that kind of rave excitement."
AJ Tracey "Ladbroke Grove" (AJ Tracey, 2019)
"Fuck it," Muggs says after much consideration. "I'll say 'Ladbroke Grove.'" North London grime rapper AJ Tracey's garage-inflected hit signals a milestone for the sound, "where garage became a type of folk music," says Muggs. "AJ Tracey can rhyme over a 2-step beat like it's breathing. It comes so naturally to him because it's been in the background his entire life. Stormzy knows his shit inside out, too. You hear him just casually use a phrase like 'the bass too dark' in a track: he's talking about one of the jungle tracks that the oldest generation of grime artists learned their skills rapping over— Wiley and Flowdan rapping over "Da Base II Dark," a track that Terror Danjah played in his sets."