Pattern Recognition Vol. 8: The Year in the Online Underground
In this edition of his monthly column, Adam Harper—the premier writer on emergent, underground music—reflects on a year's worth of music emerging from the online underground and selects his favorites. (Read his accompanying Year in Vaporwave here.) Illustration by Inka Gerbert. 
2013 was certainly a great year for established artists releasing major albums on well-known indie labels just as their wave reached its height, with the build-up of interest crashing onto music websites and assuring them a showing in the end-of-year lists. A particular generation of soloists was enshrined in independent music culture on excellent albums this year—Autre Ne Veut, Dean Blunt, Oneohtrix Point Never, James Ferraro, and Laurel Halo now seem like 'household' names. And these were artists who, a few years ago, were much more on the fringe, garnering enthusiasm from mp3 blogs and specialist record shops. So while these artists (deservedly) dominate the 2013 retrospectives, it does beg the question—who made brilliant releases that didn't get picked up by all the bigger websites, and who might we be celebrating in a few years time?
So here are some seriously decent releases that you might have missed this year. Generally, they come from the online underground, Bandcamp particularly. I've missed off some wonderful releases that would have made the list because I've already written about them enthusiastically (among them, Contact Lens's Free Throw Banquet, a i r s p o r t s's BE THE 1 I DREAM OF, Karmelloz's Bud Air, Yen Tech's Revengeance, AyGeeTee's Fools, Yearning Kru's Cracked Lacquer / Vanadium, and Pazz Cherofoot's Never). I also decided to do a separate list for vaporwave, because so much was released in that genre this year. And naturally, in no way am I claiming to have listened to and judged everything that's out there on the information superhighway in preparing this list. There are almost certainly some impeccable releases sitting quietly on some page somewhere that I won't get wind of until next year, or may not realise were so good until time has gone by, or that I may never hear. However, I'm dead pleased with this roll-call of talents that, for me at least, clearly stood out from a field that's been growing exponentially.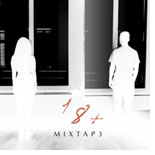 1. 18+ – MIXTAP3
18+ had been a talisman of secret knowledge for at least a year before their third mixtape dropped last month. It seemed like everyone who heard their song "Jet$" or their previous release MIXA2E became a convert on contact. Whether whispered in digital messages or nodding along with nocturnal cigarettes outside the gig of some lesser act, allegiance to the anonymous American minimal hip-hop duo was sporadically but fiercely pledged. So when MIXTAP3 quietly shuffled into the feeds of a few social networks, expectations were dangerously high. The zip file turned out to be the perfect honing and intensification of what 18+ do: sultry, scary experimental beats with alternating lyrical duets and mesmeric smears of sound. It's exquisitely balanced between various absorbing ambiguities, with both the sounds and the voices varying between deep-seated affection and disquieting horror, sometimes mixing the two—a lesson in complexity, subtlety, emotional power and the potential of the humble hyperlink.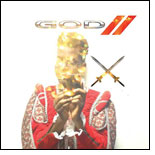 2. Diamond Black Hearted Boy – Father, Protect Me
DBHB has long been a member of an online network of sound artists (which includes E+E, see below), who use their arcane but sacred powers to found a twenty-first century alchemy of samples and sound effects that is awesome in both the old-fashioned and the new-fashioned senses of the word. Also a visual artist under his own name, Chino Amobi, DBHB has been making individual tracks for SoundCloud and Bandcamp and videos for YouTube, and this cassette on the Steak Au Zoo label is his first longplayer since 2010. It carries the full range of DBHB stances—wild, surging energy, obsessive sample-scratching and chanting, perturbed meditation and ominous stasis—and all in a fresh hi-fi sound palette of polished chrome. Throughout the curiously compelling work, Amobi hangs at the periphery like a prophet or a fallen God, balefully conjuring dim visions of what a deity might perceive in the present and future.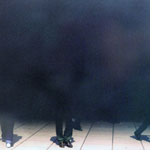 3. Nima – Spirit Sign
On paper, Nima's process wouldn't seem especially striking—synths, piano, drum machines, filtered and reverbed vocals, and pleasant riffs. But her genius is precisely in the subtly warped and deceptively basic components of her songs and instrumentals, and how they come together in such a quietly stirring ensemble. Somehow, they're both appealingly airy and elegant and appealing heavy and gawky. Melodies that might have been a little too affable become carriers of ciphered hope and profound maturity, and little handmade refrains become idealized landscapes animated by a gentle breeze. Spirit Sign is the auditory equivalent of a skylight on a sunny day with swiftly passing clouds—a glimpse of something bracing and expansive that fills a space with light.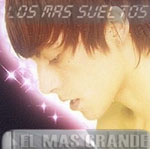 4. E+E – RECORTES [2008 – 2012]
Heaven is a track by E+E. As a compendium of them from before 2013, much of which had been released on Bandcamp or SoundCloud at some point, the status of this release in regards to end-of-2013 evaluations is problematic. It may have deserved to be in more of my lists, and higher up, or maybe its inclusion can serve as a general symbol of E+E— one of the most interesting musicians to have emerged in recent years. In any case, Recortes is a particularly precious album. Its title literally means 'cuts', 'cuttings', or 'trimmings', but there is absolutely nothing reduced or reductive about E+E's work. It generally combines a pop vocal line with an extended sample of modern classical music, then adds various sound effects and instrumental elements to rejoice in and utterly transfigure the union. The result is some of the most touching, affirmative, and glorious music you might ever hear.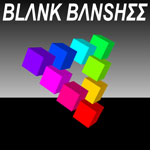 5. Blank Banshee – Blank Banshee 1
Having made a decent but not particularly striking debut in 2012 with Blank Banshee 0, a loose mix of wacky rave, indie beats, and computer love situated somewhere on the outskirts of the greater seapunk metropolitan area, Blank Banshee returned with a bold, coherent, and addictive palette of brightly coloured digital samples and spacious 808 architectures. Though it only reached a handful of blogs, it was an immediate hit with Bandcamp users. Like Contact Lens' Free Throw Banquet, Blank Banshee 1 presented a fresh but relatable stylistic template within the new digital psychedelia and explored it richly and intensively. Deriving much of its material from computer and video-game sounds (a sample of Donky Kong music is instantly recognisable to some), it nonetheless found that semi-abstract sweetspot between concept and something sensuous and surprising. It also had a satisfying diversity, roaming between virtual clubs ("Eco Zone"), ambient sketches ("Java Clouds/"), re-engineered dubstep ("Metal Rain") and pastiche that bridges vaporwave and Rustie ("Paradise Disc /芸能山城組").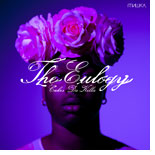 6. Cakes da Killa – The Eulogy
High energy, high production values, and highly outrageous, Cakes da Killa's debut full-length (a mixtape? an album? does it matter?) was the most sizzling release on Mishka NYC, both a clothing store and a Bandcamp label with a decent selection of underground rap. While Cakes' context within the recent wave of New York gay rappers invites comparison to the likes of Le1F, The Eulogy competes with its own tight, exciting and club-friendly sound, with humor and with lyrical strength, and it's a thriller from start to finish. The abrasive brags combine vivid sexual boasts with references to Honda Civics and baiting of, for instance, 'muggles', and they roll right past on the punchiest, nastiest beats.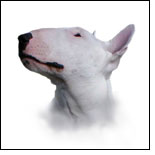 7. Cyan Kid – Free
Free is an attractively diverse album bringing together dream pop, future dub, seapunk, cosmic disco, and freeform sonics, and though it sounds like the work of a Utopian collective jamming live, it's mostly from Berlin-based producer Max Boss, with one or two guests providing vocals and writing credits. Cohering it all is oceanic reverb and a cold but angelic euphoria, as well as continuous sense of anticipation and unpredictability that might have come from an adventure fantasized in childhood. But Free is not quite innocent, or else why would it run and hide itself so often, concealing its beats and vocals behind pitch-shifting, filters, and gleaming ice? The answer may lie somewhere in the simple yet ethereal "Only Love", where the exuberance momentarily withdraws and a poignant ballad tiptoes into the spotlight—one of the most affecting late-night tracks I heard this year.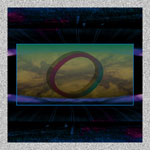 8. Glass Eyes – Cero
Amsterdam label Zoology have been incubating their own brand of complex hi-tech electronica on Bandcamp recently, and people are beginning to talk. Cero was the label's most comprehensive offering yet, a spiny, multifaceted crystal machine roughly the size of Earth's moon. A bracing technical achievement combining synths of all species with spectacular view of extraterrestrial terrain in high-definition, it was a powerful boast of the underground's current technological capabilities. Decide whether to remain an idiot mammal or go post-human as you navigate Cero's sublime circuity.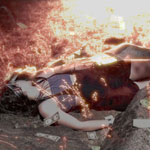 9. Alak – Guardian Petted
The Kaleidoscope label, established by London beat scientist Patten, has swiftly emerged as a key node in the city's experimental underground, even if it limited itself to free downloads through MediaFire and tiny numbers of cassettes. While the label has mostly offered a distinctive take on noise, on Alak's EP-length Guardian Petted the flow of sonic objects began to coalesce into a weird but persuasive dance-pop. She begins with a hypnagogic bouquet of shimmering synth and mutant beats and ends with solid hooks wrapped in her piquant voice, with "Ilial Clone" a perfection of groove and dreamy mystique. An opening statement of considerable promise, Alak and Kaleidoscope ought to be watched closely in 2014.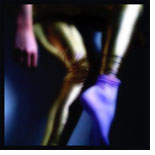 10. Marie Dior – Euphrates
One of the bigger fish in the post-witch-house network, Portugese producer Marie Dior followed 2012's gorgeous Encore, Again, Encore with a number of releases this year, of which February's Euphrates was perhaps the most beguiling, and it's a downright puzzle of an album. From listen to listen, its most frustrating aspects switch to become its most appealing and vice versa. Dior uses taciturn bleeps of synth, subtly snarling drones and strings of dulcet monophony that gently brush the strange and ascetic beats, with the whole structure glitching and mutating in the most bafflingly irregular ways. It seems like there has to be some secret formula encoded along its molecular surface, such as the DNA of some sacred creature or a set of instructions from an advanced civilization.
Below are the releases that didn't quite make the above list, but certainly deserve an honorable mention. If you're still after some buried treasure, all are worth a look:
Air Max '97 – Anodized EP
Al Tariq – HYPER
Alexalfons – D(r)awn
AWALthe1$T – Character Select
Beaunoise – Remixes
Black Hat – Covalence
Blacklung Mosi – Solitude Vol. 1
BLK SMK – 110
Casino Hearts – Lonesome Island
Christeve – 5
Chronovalve – Trace of Light
Cloud Whale – Couch Expectations
CP2000 – Hydra
Damas – Inside EP
Emoji Cult – Summers End Endless Nightmare
Everglade – Wild Profile
Faded Ghost – Ghost Ark
Gloom – Summoning Sickness
Golden Living Room – Plug In, Drop Out
Harmful Logic – Lost in the World
HD – Old Manual
Hypeheadz – Luxury EP
Ill Professor – Wire & Air
Khalil Nova – 808s of Life
Kool One Hunna – Super Long Vibes
Kosmo Kat – An Elegant Punk
Laura Ingalls – SVBKVLT Beat Tape
LV – Becoming
Metallic Ghosts – The City of Ableton
Miamee – Ghost Boy
Micheal RJ Saalman – Ripe Hymns
Momoko – Mic Lips / Chalet II
Ninja Camel – Fear EP
NXTLYF – Cryptic EP
Old Oldman – The Tender Ass EP
Paisley Parks – Бh○§†
Pajjama – Jane Papaya
Pepperboy and Squadda B – Rebel Musik
Plains Druid – Swag Demon
RAP/RAP/RAP – Hyperrealism and Evo 2 (Demo)
Saintes – Horizontal/Vertical
Shisa & Choongum – Seascape 64
$LUDGEHAMMER – SELECTED TRAXXX 2011-2013
Supraman – Hit it Right
TCF – TCF
Various Artists – Track Meet compilations
マクロスMACROSS 82-99 – ネオ東京
~
Adam Harper is the Rouge's Foam blogger and author of Infinite Music: Imagining the Next Millennium of Human Music-Making. For more editions of Pattern Recognition, click here.
Published December 04, 2013. Words by Adam Harper.