WANDERLUST: 72 Hours in Hamburg
Every three months, we visit various cities around the world, speaking with residents and getting their stories. Here we present a portrait of Hamburg which went to press mere weeks before the recent riots which saw the city come under martial law. In hindsight, it's not surprising that the protagonists—including journalists, label founders, artists, and club owners—frequently raised the topic of economic discontent when discussing their unique city. Back in November, when we were collecting these stories, we could not know that Hamburg would soon undergo their biggest and most violent riots in decades. Just yesterday, city officials lifted the strict martial law imposed in the city limits. The piece was originally printed in our Winter 2013 issue of Electronic Beats Magazine, with photos by Luci Lux and Elena Panouli.
"Hamburg is the gate to the world—but unfortunately only the gate," Karl Lagerfeld once famously quoted his mother. One of Europe's biggest ports, the city is a hub for old money, refugees, artists, political extremists and troublemakers. Historically it was the last to resist the Nazi takeover in 1933, but it was also home to the most infamous Nazi Police Battalion 101. While the contrasts today are less extreme, decidedly left-wing politics course through the city's subcultural veins, from the football club FC St. Pauli to the massive squat Rote Flora and the Golden Pudel club. Hamburg's protagonists are often embarking off to other places, but we sought out the stalwarts.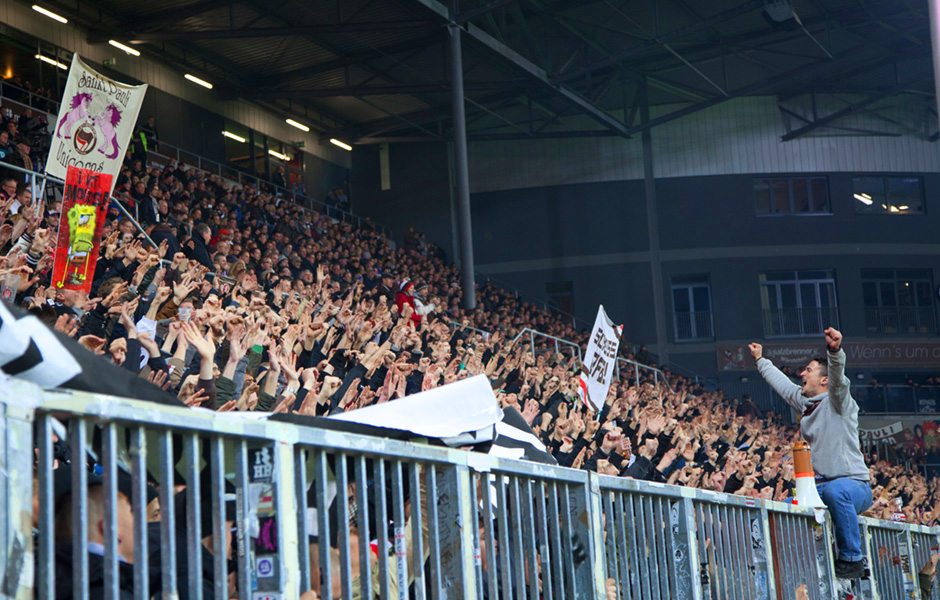 Above: Aren't you glad they're anti-fascists? FC St. Pauli fans celebrate after a 3–0 victory against FC Energie Cottbus in a recent  2nd Division Bundesliga match. 
Friday, 9:25 p.m.: Beer and schnaps with journalist and ethnomusicologist Francesco Sbano in St. Pauli's Golden Pudel Club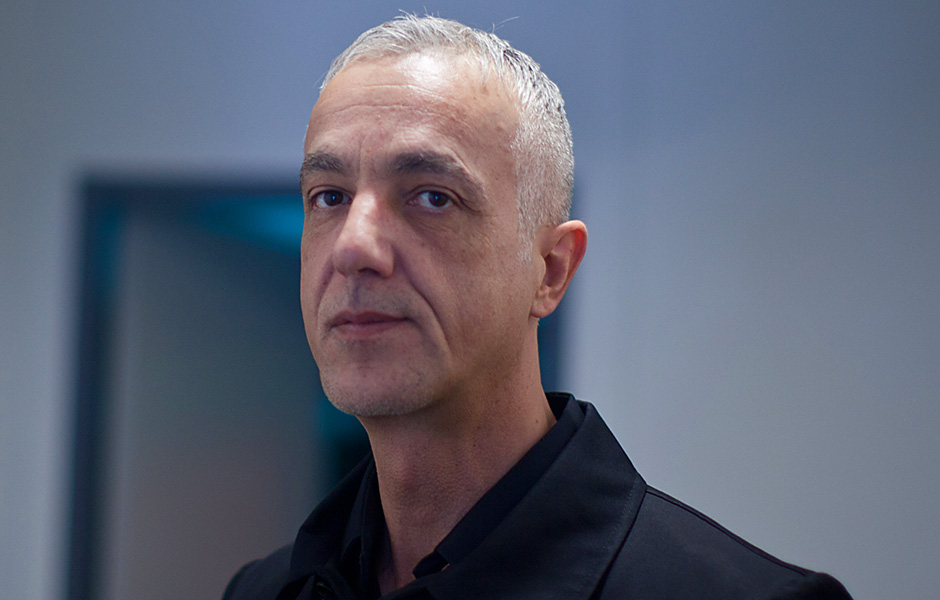 Above: Calabrian-born Hamburg-based journalist Francesco Sbano has compiled three installments of the anthology Il Canto di Malavita—The Music of the Mafia. He also ghost wrote the autobiography of Giuliano Belfiore, a high-ranking Calabrian mafia boss. His most recent compilation of mafia music, La Tarantella Calabrese—The Dance of the Shepards, Gypsies and Mafiosi, is out this year on the label Mazza Music.
Hamburg is a city in which you can almost smell the organized crime on the street. Standing on the Elbe River you sense that somewhere out there, amidst the vast harbor, various kinds of contraband are being loaded and unloaded off cargo ships, containers with weapons, drugs or illegal waste. And it's happening right now. The same goes for St. Pauli, the city's infamous red-light district. You see both legal prostitution and utterly illegal activities with every step you take. My impression is that visibility of criminal activity has, over the course of decades, led to a laid-back stance on it. You can actually see this when you take a closer look at the way the city's renowned newspapers and magazines such as Der Spiegel or Die Zeit write about crime and its causes. There is a reason why Hamburg is called Germany's "media city". The people who write about and investigate illegal activities are as hardboiled as it gets. You cannot impress them with anything less than a real scoop, and everything they do is fact-checked to the last syllable. So, when twenty years ago I offered to research a story for Der Spiegel about a so-called latitante—the mafia-term for a fugitive hitman hiding in the Aspromonte mountains—they immediately knew this was a door to information that rarely opens. They commissioned me to meet the latitante, photograph him and to write a report that, in hindsight, became the starting point of a series of articles and photo reportages that I've organized or conducted myself still today. As a journalist you have to be reliable and you must never reveal your sources.
This led to me becoming the first person to film the receptive ritual of the 'Ndranghetà. Of course I didn't film any faces and I took care to make the voices indecipherable. As a result of my constant research travels to Calabria, I began to learn about the music of the mafia, the so-called "canti di malavita" or "songs about the criminal life". These comprise the only history of the rules and duties of the members, as no written evidence is allowed to surface. I was both fascinated and frightened by the openness of these messages; the songs explained every detail of the life of a mafia member. This inspired me to research the background and to meet the musicians on the recordings who were still alive. Eventually, I helped publish the first album of these songs through a label based in Hamburg whose then boss, Peter Cadera, was an equally weathered soul. He didn't want to sensationalize the release. Rather he suggested putting together a website that would gather all information about the music's complex contradictions and ambivalence.
Digging deeper into the music and the lives of the musicians, I gradually began to understand that the 'Ndranghetà isn't just a criminal organization like any other. To have a musical tradition and a heavily codified secret language indicates that the organization has a culture of its own, a criminal culture. To research and to document this became my mission in life.
Journalistic ethics have been key to my research and Hamburg's long tradition of quality reporting. Indeed it's an attitude that I am surrounded by in this city when meeting colleagues and fellow reporters. I wouldn't think of living anywhere else in Germany for exactly that reason.
Friday, 11:30 p.m.: Ouzo, tomato salad and Souvlaki with Vasili Alexandridis at the Taverna Hellas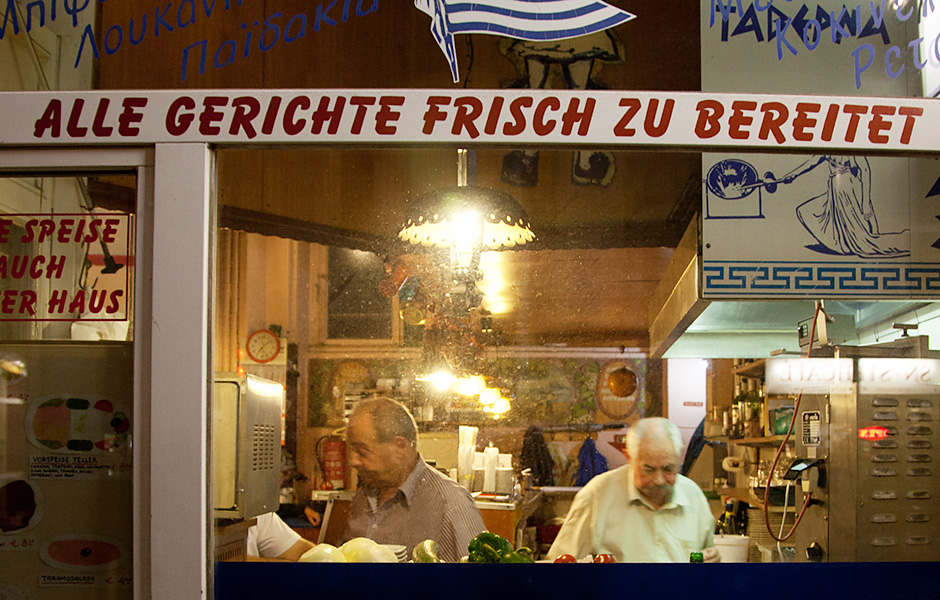 Hamburg might be a city of transit, but in Taverna Hellas nothing really changes. For the past forty years it's been the same rebetika, the same menu, the same family, and the same four walls. 
My grandparents opened the Taverna Hellas some forty-one years ago. As a Greek in Germany opening a restaurant then was the easy option to make some money. That's why it's still in the family. I am old now, so sometime soon the next generation will be taking over. One thing that hasn't changed over the years is the concept of the Taverna, which is simplicity. Large parts of St. Pauli and the Reeperbahn have been modernized, torn down and then rebuilt but at the Taverna you'll see the same fifteen dishes we offered forty years ago. Actually, we painted the dishes on the wall years ago so that foreigners could understand what we offered. We still serve the same Greek resinated wine, retsina, as well as the same beer and the same ouzo. Drinks are actually the most important part of the equation, not just for me but also for the night owl. And to that I say cheers! Or in Greek, "Yammas!"
Around 8 p.m. I usually have my first ouzo. It would be deadly boring to do this job sober. I wouldn't be able to connect with the guests. I'd probably explode. We are always a team of three and we basically follow the same routine day-in, day-out. No matter who is attending the grill, you'll always be served the same food. This is also because our guests don't want change. It's an attitude we appreciate and embrace. On our small charcoal grill, we offer souvlaki, garlic flavored sausages, lamb chops and gyros, amongst other classic meals. But no French fries and ketchup. Instead we serve roasted bread, homemade Tzatziki and our Greek coleslaw or tomato salad as sides. And just as with the recipes, the restaurant has pretty much always looked the same too.
But in 2002, we did of course change the prices from d-marks to euro. And then sadly a couple of years ago, our jukebox broke, which was a big deal because we're famous for constantly playing the Greek folk music known as rebetiko. It's strange because we listen to the same music now from a CD player, but it sounds completely different. It's not like we didn't try to get someone to fix the machine here, but the German couldn't find the problem. So we brought the jukebox to Pyrgos where a friend of mine fixed it with some wire—the Greek way! We left the jukebox there, with all of the vinyl inside. And it still works!
Our location in the Davidstraße is pretty much the epicenter of St. Pauli's red-light district, with its prostitutes, strip bars and brothels. Accordingly, entering Taverna Hellas means also entering an oasis of timelessness. We have been a kind of temporary asylum for countless lost souls who knew that they would find some food, peace and tranquility in our four walls. And from our window facing the street you can see the lined-up prostitutes, the johns and the pimps. If you get one of the two tables by window, you can watch the St. Pauli nightlife as if you were in the cinema, like the north German version of a Scorsese movie. And even if the stage is the same, the play is always different. I've seen the most brutal violent crime through this window as well as the largest police operations and the most heartbreaking moments in the lives of complete strangers. Davidstraße is probably one of the most lively streets in the world, and I have the front row reserved all for myself.
Saturday, 2 p.m.: Wading through vinyl and drinking tea with Lawrence, Julius Steinhoff and Just von Ahlefeld at the Smallville record store and label headquarters, off the Reeperbahn in St. Pauli.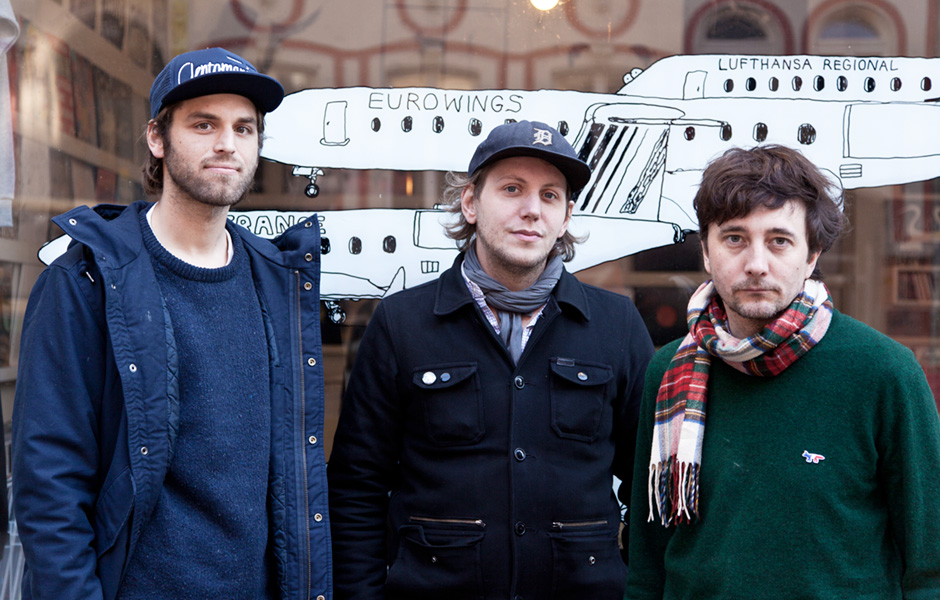 Above, left to right: Julius Steinhoff and Just von Ahlefeld, aka Smallpeople, with Lawrence, aka Peter Kersten, in front their second home. 
Julius: I was born in Freiburg but moved to St. Pauli around twelve years ago. I opened Smallville together with Stella and Pete, aka Lawrence, in 2005 and our focus has generally been "deep" house and some techno. But the term deep tends to be overused, in my opinion. A warm quality is something we look for, but other than that I think it's a hard term to describe. I suppose certain synth pads tend to make something deep, or contemplative, creating something that tells a story instead of just having a track work on the dancefloor. Maybe it's about the melody? I don't know. With the Smallville store it was all about establishing a place where we can meet people outside of the bar and club context who appreciate exactly that. In the beginning we always saw the same people coming here, but over time things have changed.
For me, St. Pauli has always been a place where people can come and be themselves, battling drunk tourists and idiots here for all the things the red-light district has to offer and laughing at the locals. I used to live on a street parallel to the Reeperbahn and it was just strewn with wasted people all the time. But that also makes it pretty unselfconscious. St. Pauli has been kind of the last holdout to gentrification in this city, but not really. It's happened here too. But everything is so centralized here: there's really only one place to go out, and it's St. Pauli. People are lazy and have a hard time leaving here, even if it's for the best sound system and a killer line-up.
Just: I'd like to add a thought to the definition of "deep": I think there's deep hip-hop as well, like Souls of Mischief's '93 til Infinity or even deep jazz. Certainly we used to have a greater variety of music and a lot of tech-house DJs and whatnot, but most have given up vinyl for digital DJing. We used to try to buy everything and make sure people shop here, but now we care a lot less about catering to other people's tastes. In terms of a sound specific to Hamburg, I'm not sure you could say there's one thing typical to this city, except perhaps rock and roll and deep house and, for a short while, vocal house. But the scene is not so related to techno. In that sense it's very unlike Berlin. Underground electronic music never took off here in the same way, and I don't think there are so many young producers around these days.
Lawrence: The other day I met a girl who told me about a night out in Hamburg which sounded to me like the best night ever. She started out at a show of Moritz von Oswald's at the Laeiszhalle, which is a beautiful old concert hall. After she went to Golden Pudel and then finished up at Golem, where Jus-Ed was playing. Other times you hear people complain that they were here for an entire weekend and absolutely nothing was happening. I guess you could say it's a city with ups and downs and you can never count on some of these places. I mean, Golden Pudel is open seven days a week and you can have the absolute worst Saturday there and the best Monday.
I grew up in the suburbs of Hamburg in the eighties and got into house music pretty early and there was only one really important place for that, which was Front Club. For me, it was a dream the first time I actually got into the club because I was so obsessed with house music but was too young to experience it in that atmosphere. When I turned eighteen I literally went to Front every weekend for maybe four or five years from around 1988 onwards. The club was a true pioneer in terms of spreading the word about American electronic dance music and queer roots were an important factor. For me that became an integral part of house music's identity and my connection to it, but not because I was exploring my sexuality; as a heterosexual man it just always felt very natural being part of a gay "scene". I just understood how much emerges from it. Certainly a place like Berghain or Panorama is only possible because it's a place where queerness is being celebrated.
When I was growing up, record shops were not based in the city, but were closer to the suburbs, like Container Records, which had all of the U.S. and U.K. imports. In the year 2000 David Lieske and myself founded Dial Records, which is perhaps what I am most known for in terms of releases. But in 2004 Julius and Stella Plasonia and myself also wanted to open a record store specifically because it was something that was missing here in this city. Just took my place a few years ago and he and Julius have, in my opinion, done an impressive job of continuing to store very personal, deep instrumental house music. Also, the personality of every single track released on the Smallville label is, I don't know how else to put, full of joy. It's not about coolness or sophisticated things, although the music is cool.
At the moment, the situation with political refugees in Hamburg has been exposing just how racist some of the city's politics can be, with the police just rounding up African refugees at random, based only on skin color and many of who came over via Lampedusa. But the people have been fighting back, and Hamburg as a city where riots erupt over that kind of injustice is starting to reemerge. Which is a good thing.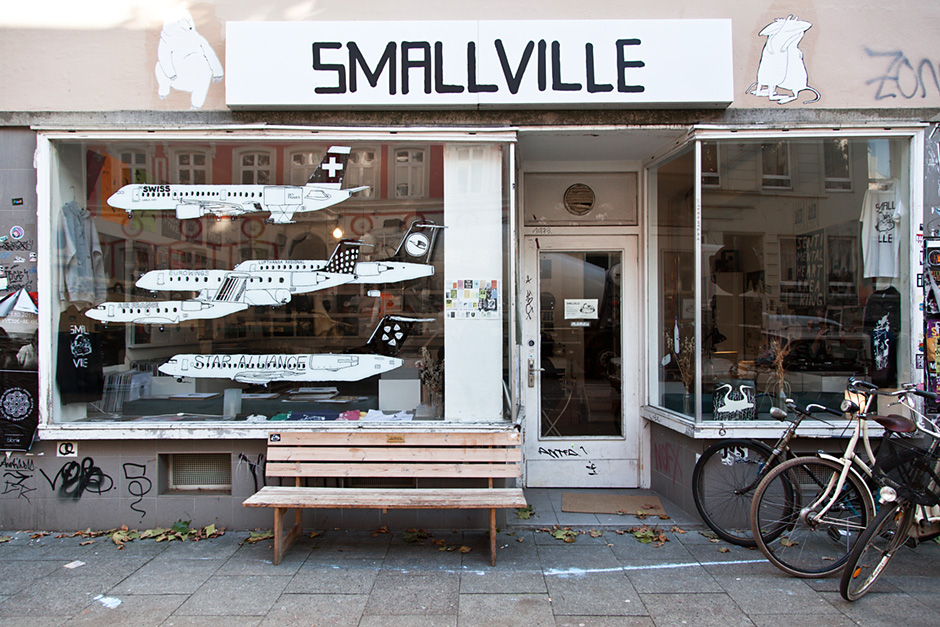 Left: Smallville storefront in the Hein-Hoyer-Straße. In the past, the Smallville record store used to carry a larger variety of electronic sub-genres. More recently however, the focus has become the kind of deep house and techno that the increasingly popular Smallville label puts out—a kind of funky, contemplative, pad heavy dance music which, for many, is synonymous with Hamburg's small dance music scene. Both the identity of the store and label is strongly influenced by the artwork and graphic design of Stefan Marx.   
Saturday, 5:15 p.m.: Taking a tour of Hamburg's University of Fine Arts in the district of Lerchenfeld. Afterwards visiting the studio of artist, professor and musician Michaela Melián of NDW pioneers Freiwillige Selbstkontrolle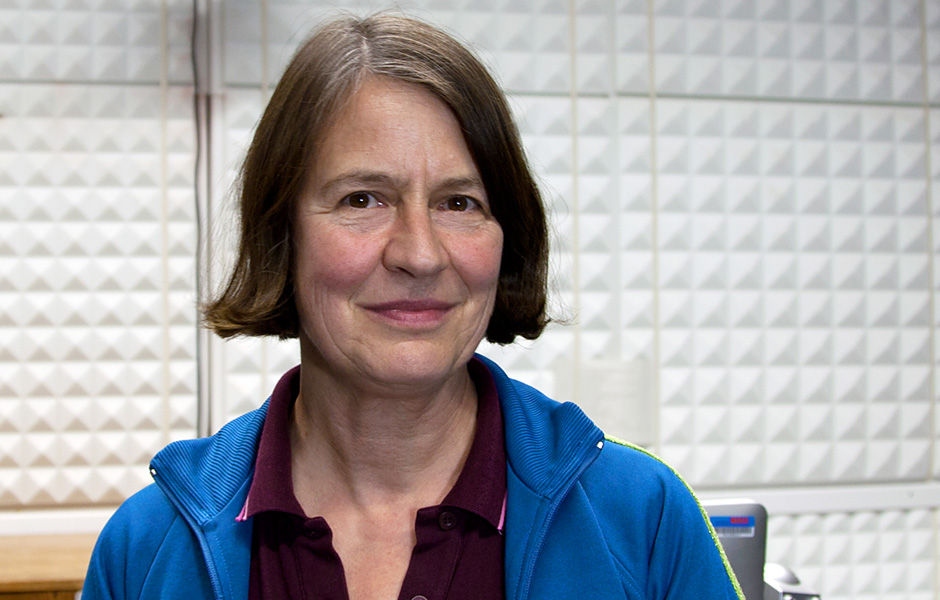 Michaela Melián in her studio at the University of Fine Arts. Melián is convinced that the university's open curriculum allows students to pursue a variety of theoretical and practical skills without having to make unnecessarily limiting committments to a single practice or school of thought.
Hamburg has always had a huge gap between the rich and the rest, even more so than my hometown of Munich. Of course, it's also the wealthiest city in Germany and filled with old money. When we started the band Freiwillige Selbstkontrolle or FSK in 1980 in Munich, we knew about journalist and label owner Alfred Hilsberg from his column called "Neue Deutsche Welle" in the popular music magazine Sounds. We also had heard about his label ZickZack. Back then we had the feeling that in Hamburg, especially, something new was happening. Coming from a classical music background, I only knew pop in terms of pop art. I knew Andy Warhol and I was fascinated by Fluxus as an art student, but I knew almost nothing about pop music. Nevertheless the boys invited me into the group because I was able to play several instruments and they didn't want Freiwillige Selbstkontrolle to be all boys. One day we recorded four songs in our room on a two-track recorder with two microphones taped to bottles. We sent the tape to Alfred who had by that time already put out a few singles on his label, and he signed us shortly thereafter. I tell this story because it's somehow typical for Hamburg. The city has a remarkable flexibility which allows for creative mobility and that's something Alfred very much embodied. Since then I had pursued a career as an artist, and thirty years later I was asked by the HFBK [University of Fine Arts in Hamburg] to become a professor. That was a real honor because of the long list of former teachers who, by the way, also stood for creative freedom and mobility, like Bernhard Johannes Blume, Sigmar Polke, Franz Erhard Walther and Anna Oppermann. I inherited my studio from Marina Abramovic and, importantly, there were always lots of female instructors.
Thanks to my predecessors, the HFBK also has a long tradition as a place where students are allowed to really think about and reconsider their future—for example, choosing to study art to only later become a journalist, curator or a fashion designer. Which is to say that the academy provides the theory, but it also teaches a broader craft. I attribute this to the openness of our system, which, unlike at other fine arts universities, allows students to visit a variety of different classes. I think this has to do with the mentality of Hamburg because of its politically charged history. Many students here are politically engaged and actively support the plight of the many Lampedusa refugees here; or fighting against the gentrification and reorganization of urban development in Hamburg. The question of who owns this city is central to the discussions we have in our classes. The school also tends to attract students who want to become artists but they do not necessarily want to learn how to feed the art market with clever products. This includes lots of conceptual art that is often too unwieldy to be easily marketed and sold.
I remember when studying was still seen as a period in your life where you're figuring out what you really want to do, unlike today where lots of students have hardly have any time to reflect. Hamburg is different.
Saturday, 8:30 p.m.: A visit to the home of ZickZack label founder, journalist and all around cultural figurehead Alfred Hilsberg, who was eager to take us on a trip down memory lane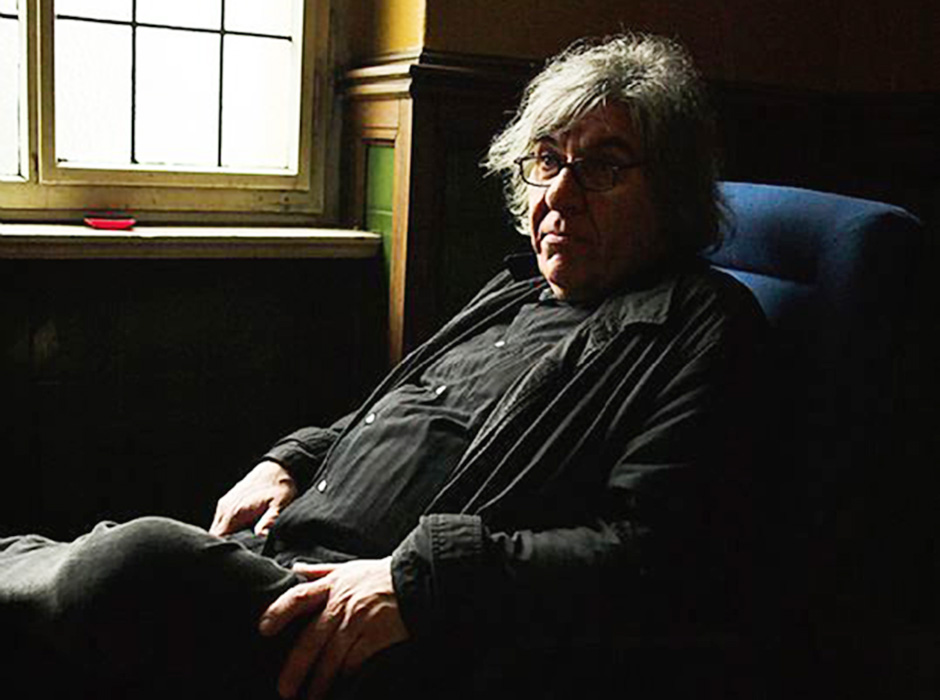 Above: With his label ZickZack, Alfred Hilsberg has released some of the most important music in the history of German pop and avant-garde, including the likes of Abwärts, Die Krupps, Einstürzende Neubauten, Palais Schaumburg, Die Tödliche Doris and FSK. He also coined the term "Neue Deutsche Welle", ("New German Wave").  Photo by Heiko Laschitzki. 
Growing up in Wolfsburg in the sixties, my first impressions of Hamburg were strongly informed by the news media. In 1967 I had heard about a group of young underground film makers who had founded the Hamburger Filmcooperative, whose goal was to promote non-commercial film in West Germany. I ended up meeting the members on a trip to Hamburg and decided to stay because the city seemed to offer so much more than Wolfsburg. At the time, Hamburg was rioting—a semi-permanent state of political and social chaos. Demonstrations by the APO—Germany's extra-parliamentary opposition—were heating up the political climate in 1968, with many students simultaneously engaged in a campaign against the right wing publishing house Axel Springer, who owns Germany's largest daily newspapers. Every day, violent clashes between the students and the anti-riot police took place, fascinatingly documented by a group of underground filmmakers. The left-wing Hamburger Filmcooperative became essentially the only distribution channel for a new wave of political documentarianism. At the same time, communes and alternative living communities appeared as a new form of anti-bourgeois lifestyle. For a short time I actually shared a flat with the infamous Ulrich Wessel, who would later go on to become one of the terrorists responsible for the siege of the West German embassy in Stockholm. Those were messy times, to say the least. There was very little clarity and even less political transparency.
At the time I had lots of friends in various leftist organizations, all of whom were following different political agendas, which I never submitted to. However, I was engaged in political initiatives on a more local level, including the city's extremely active squatting scene. Getting to know the scene's various protagonists, I would become increasingly disappointed with the fact that none of them cared about the arts, especially not about music. They'd all listen to atrocious American mainstream rock, while all sorts of interesting underground music started to emerge locally who were the antithesis of the commercial Hamburg music scene, which in the seventies included people like Udo Lindenberg, Okko, Lonzo and later comedian Otto Waalkes. Naturally the music press had zero interest in new bands and chose instead to constantly feature the same old, boring faces. Then, in the wake of punk in 1976-77, I began traveling to England quite a bit and seeing all sorts of bands that'd impressed me enormously and left a huge impression. Shortly thereafter the first formulaic punk bands appeared in Hamburg and some of them even sang in German—not that this made their music any less predictable.
Only a few years later I started my own label ZickZack, when, in the aftermath of punk, the first truly innovative bands started to appear. I immediately saw the need to release their music, and that's how I became both a booker and record producer. In light of the lack of new clubs or bars, I was forced to book these bands in traditional rock and roll joints such as the Logo and the Markthalle, which both still exist today. Especially the Markthalle became a meeting point that attracted hundreds of people from other cities. The HFBK, Hamburg's University of Fine Arts, also had plenty of students who would go on to form their own bands. By the end of the seventies, Hamburg finally had a vivid and well-connected underground music culture and ZickZack was in the process of releasing dozens of records that would later be considered era-defining. These were the first New German Wave or Neue Deutsche Welle releases. Freiwillige Selbstkontrolle frequently gave concerts in Hamburg, even though they were living in Munich. At the same time in Hamburg's Marktstube bar and club, Holger Hiller and Thomas Fehlmann who founded Palais Schaumburg. The Marktstube played an essential role in fostering the underground music scene for it's there that the musicians and art students drank and smoked and made plans to collaborate. Everyone seemed to be inspiring everybody else. The result is that things were getting pushed further and further and the innovation continued. Palais Schaumburg in particular were constantly pushing boundaries.
At the time, I was sharing an apartment with Holger Hiller and I remember watching him write lyrics while sitting at our kitchen table. He had a primitive computer he was squeezing new sounds out of. The band's music, texts and performances gradually became more and more extreme. Nobody had heard anything like it before. We knew that we were collectively witnessing a turning point in German music history. I was extremely proud to have released the band's first singles and LPs as they were able to mirror larger social concerns in their very own, uniquely articulated fashion. Sadly, the movement disappeared almost as soon as it surfaced when the German market became flooded with cheap commercial copies of underground releases in the beginning of the eighties. It took a couple of years until musicians like Tobias Levin, Kristof Schreuf and Jochen Distelmeyer would start to sing again in German and open a new chapter of music originating from Hamburg. But, alas, that's another story.
Sunday, 12 p.m.: Coffee with Gunter Buskies, co-founder and owner of labels Bureau B and Tapete Records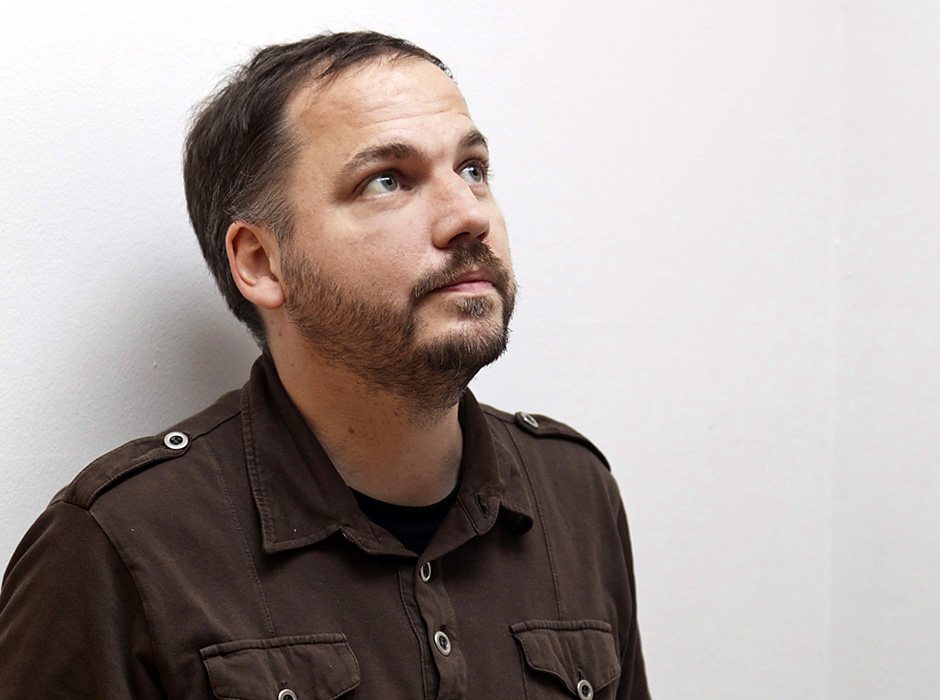 Above: Gunther Buskies runs not one but two of Germany's most successful pop, krautrock and experimental labels—Bureau B and Tapete Records. He also doesn't allow his kids to wave the German flag when the national football team is playing. 
I moved to Hamburg in 1994 and got a job at Universal Music through an internship back when it was still PolyGram. I was responsible for back catalogues, which is where I first got to know the back catalogue of the legendary krautrock label Brain. I was the go-to guy for re-issues, best-of's and rarities, and I absolutely loved it, because I could constantly be changing the artists I was focusing on, although Brain was something I was especially drawn to. The thing about Brain is that they really had two types of repertoires, similar to Sky Records: On the one hand there were a lot of boring rock bands that tried to sound like groups from the U.S. or the U.K., like Jane for example. Actually, I would only say a quarter of the Brain catalogue was interesting or good, and measured up to Harmonia and Cluster. I saw it as my duty to find the gems that completely got lost, like Lilienthal, which included the likes of Dieter Moebius, Conny Plank, and Asmus Tietchens. But when I told the general distribution of Universal that I thought something like Lillienthal was definitely worth rereleasing, they told me, "Just forget about it, it won't sell." Well, I didn't agree.
Brain was based in Hamburg and the city was and, to a certain extent, still is a kind of capital of the German music industry. Back in the seventies and eighties, this was especially the case, although it had nothing to do with a Hamburg music "scene". Conny Plank didn't live here, and neither did Cluster and Harmonia. But with Tapete Records and Bureau B, I suppose you'd be able to make a certain kind of connection these days.
But in the ninenties, Harmonia and Neu! reissues had proven quite successful. Michael Rother was happy to have an entire page in the Frankfurter Rundschau dedicated to his work for the very first time and there was an ever-growing interest in krautrock and kosmische musik, but I don't like thinking about it as "German" or specifically part of our cultural heritage.
But after actually meeting with Cluster and Faust and former Brain and Sky Records owner Günter Körber—who just passed away recently—it was clear that there were important things to be brought out again. Since then our roster at Bureau B has grown to truly focus on this kind of music, both old and new, including Roedelius, Moebius, Asmus Tietchens, ex-Kraftwerk member Karl Bartos, Kluster, Cluster, Qluster and newer, proto-krautrockers like Kreidler and Camera. But in terms of my connection to Hamburg specifically, the football Team FC St. Pauli is extremely important to mention. For their one hundred year anniversary we put out a compilation album of one hundred songs by one hundred bands, mostly guitar oriented and many of them punk. I was actually on a personal mission to prove that St. Pauli was the football club with the most songs written about it ever, and the fact of the matter is that this team is not like other teams. It's more like, well, a cult that's evolved from the left-leaning, working class area of St. Pauli, which is essentially Hamburg's red-light district. During the seventies and eighties many of the buildings in the neighborhood were squatted by punks and political activists who eventually adopted the football team as their own, forming its leftist, anti-racist core and including socialist, communist and anarchist ideas as a part of its identity. I actually used to hate football until I discovered St. Pauli.
I would like to go on record that what we release—krautrock and kosmische musik with Bureau B—has absolutely nothing to do with nationalism or patriotism. This just happens to be the good music that's come of out of this country since the late sixties. My kids aren't even allowed to wave a German flag when the German national team is playing. I'm not a self-hating German, but I wasn't brought up to sing national anthems.
Sunday, 11:20 p.m.:Learning about the city's current state of social and political affairs from author Tino Hanekamp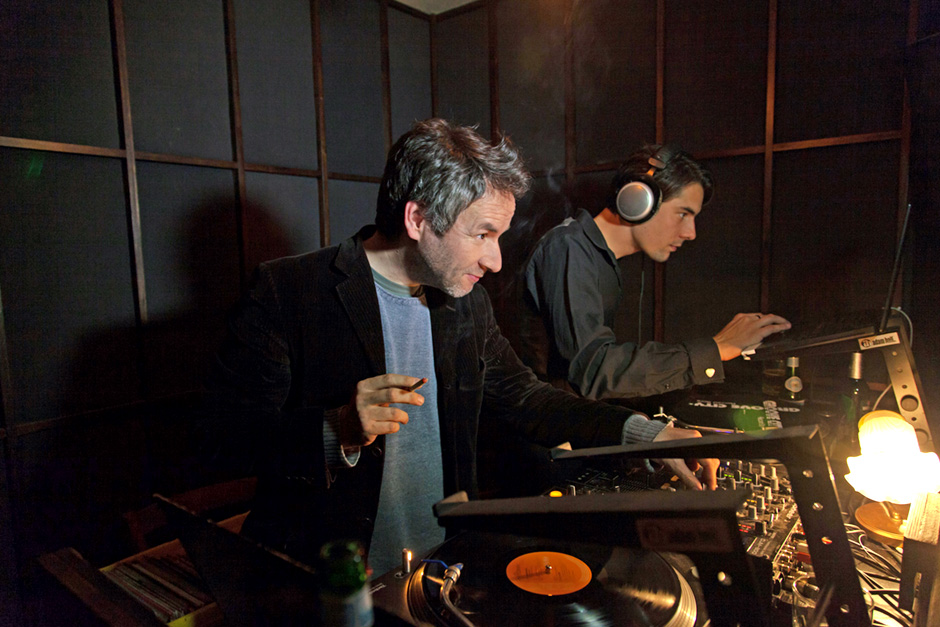 Tino Hanekamp (right, DJing back to back with Tobias Levin at Golem Bar in the Fischmarkt district) is a journalist, best-selling author, and the owner of two of the city's most acclaimed live music venues, Weltbühne and Uebel & Gefährlich.
According to European law, political refugees seeking shelter in the European Union are only allowed to claim asylum in the country they first set foot upon. African refugees crossing the Mediterranean and successfully reaching the island of Lampedusa are therefore required to stay in Italy until granted residency status. Thanks to its geographical location, Germany and other northern European countries have therefore far fewer refugees, particularly from boats. If an "illegal" refugee is caught, he or she will immediately be deported back to the country of arrival. In Hamburg at the moment, a number of so-called "Lampedusa" refugees from Africa have sought protection from deportation in a church and the current municipal government has backed off from storming it for fear of causing serious injury in a house of God. Instead they've opted to take equally drastic measures to demonstrate their capacity to act in accordance with a zero tolerance illegal immigration policy: police simply search each and every dark-skinned person they see, demanding to see ID and residency status.
It's not difficult to see this as a PR strategy by mayor Olaf Scholz, who probably has grand career plans on the national level. But the strategy seems in some ways to have backfired. Ever since the police began indiscriminately chasing down refugees and dark-skinned citizens, left wing protestors have taken to the streets. Protests were coordinated by the squatters from the Rote Flora, a dilapidated former theater in the middle of the city. Indeed, there is a reason why Hamburg is also known as a "riot city"; it has long tradition of riots, union strikes and protest. And while the current situation has made it obvious that refugees are defenseless and unprotected, the police still hesitate from raiding the Rote Flora because they know this is playing with fire, and it most likely would result in a city in flames.
In the early nineties, after the fall of the Wall, there was a wave of attacks on political asylum seekers' dormitories in the former East, which gave rise to various left-wing resistance movements. In Hamburg they were known as "Committees for Public Safety" and they had numerous functions. More often than not, they achieved their goals and prevented many a building from being torn down and turned into luxury condo. Many bands and musicians who are active in Hamburg—from Blumfeld and Die Goldenen Zitronen to Carsten Jost—also have political voices, and they use them to inform their fans of the situation. Today a group of people including the journalist Christoph Twickel, author Rocko Schamoni, Chicks on Speed's Melissa Logan and myself began an initiative called "Not in Our Name", attacking the city's new PR campaign, which portrays Hamburg as a kind of subcultural paradise. It's deceitful and hypocritical for the government to praise us for our "creativity" while hiking up our rents, closing our bars and forcing us to close our studios in order to make way for new office buildings and flats for rich yuppies. Of course, like so many cities, Hamburg is subjugated by economic growth and by capitalism. But there's not another city in this country that can look back on such a long and serious tradition of protest and resistance. ~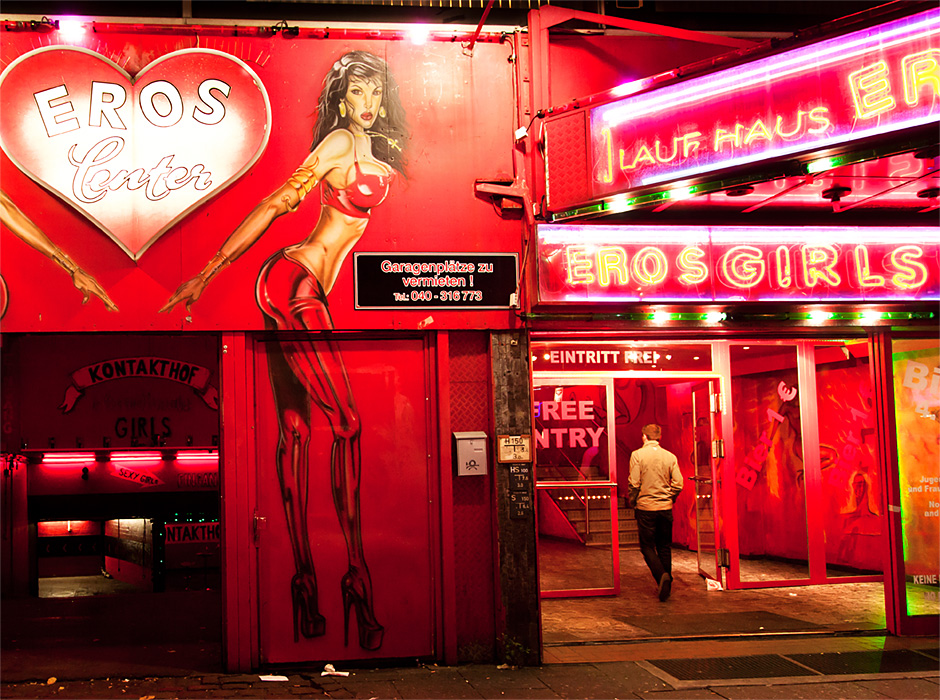 Above: The Eros Center on the Reeperbahn. Don't worry buddy, we'll keep it our little secret.
This text first appeared first in Electronic Beats Magazine N° 36 (4, 2013). Read the full issue on issuu.com or in the embed below.
Published January 14, 2014. Words by A.J. Samuels, Max Dax, Michael Lutz & Thomas Schoenberger.