Warbear On Gegen, Berlin's Boldest Sex-Positive Dance Party
One of the residents of KitKatClub's most renowned queer club nights, Gegen, divulges its inspirations and philosophies.
Shortly before Christmas, techno brutalist Paula Temple announced the launch of her new Noise Manifesto label by unveiling its inaugural release, a thundering rave anthem titled "Gegen." The track takes its name and inspiration after a Berlin club night, which was the subject of the latest Clubland column that appeared in the Winter 2014/2015 issue of Electronic Beats Magazine. "It's a party environment that smashes the idea of normal," Temple explained in a statement sent to press outlets. Gegen, like another local monthly we recently covered called Cocktail D'Amore, is a sex-positive dance party that brings together two of the German capital's most renowned legacies: techno, and liberal attitudes towards sexuality. In anticipation of its next installment, which takes place at KitKatClub this Friday, January 9, we're revealing the digital version of the piece penned by resident DJ Warbear.
"When I was studying German at the Volkshochschule [school of German adult education], there was this word I encountered that was so full of meaning: gegen. Gegen has a history of philosophical politics because gegen means "against"—gegen Rassismus ["against racism"], gegen Nazismus ["against Nazism"]. It creates a boundary, like, "me gegen you." It defines two identities in a dialectical way. But you can use gegen in a temporal way to say, "Wir treffen uns gegen neun," which means, "We're meeting each other around nine." It was a contradiction for me because one part is a closed concept, the other part an open one. How can that be in the German language, which is so identitarian and so dogmatic and dialectical? For me, contradictions are the salt of life, as they produce change. And queer culture is about non-resolving contradiction. So, gegen in particular was perfect as a concept for a queer party, because it's about identity crisis.
One record that represents Gegen's main dance floor: Martin Landsky – "1000 Miles (Laurent Garnier Remix)"

But we—myself and co-founders Boxikus and Tom Ass—don't want to sell you the possibility to be queer for one night and we don't want to reproduce another identity in being queer. For us, being queer is about being dialogical, not dialectical. We don't want you to reproduce a stance against something, and that was related to the heterophobia that happens in a lot of queer scenes. It's too easy. What's difficult but much more liberating is to produce a dialogue within your fears. We wanted to produce that in a microclimate. This is what people that come to the party understand and feel. They're excited to take their identity off, like their clothes.
KitKatClub, where we host the party and which originally formed as a sex-friendly trance/techno club in 1990, has been an enormous influence for us. It was the only club in Berlin that for 20 years has had a very strong sexual politics applied to party and club culture. It's a space where a lot of different social and cultural groups converge to produce an exact state of crossing, regardless of sexual orientation, gender, or age. This is the only party where you can find people 70 years old. Also, KitKat was always queer before the concept of queerness became a segment of the academic market. They were performing it in the '90s, and they always accepted differences of sexual orientation and gender by making their club a safe space to explore—which, of course, explains why the space is full of light and color. This is another thing we really loved, because this idea of techno and club culture in Berlin is black. There's always this idea of the city as a disaffected place packed with industrial scenarios and the end of history. KitKat, in contrast, were coming from early nineties psychedelic trance imagery.
One record that represents the bright room: Jimmy & Fred — "I See Lights (Karmon Remix)"

Gegen is not just a queer techno party, it's something way more complex, although it's basically a techno-oriented, queer-positive dancefloor. This means we give space to queer-positive and feminist-positive techno producers and techno DJs, and that's the filter through which we do the bookings. Everyone from Mueran Humanos and Lotic to Gardland to Paula Temple have played here. And then there was another soul of the party, the concept of The Darkness. Inside The Darkness we were applying an idea that Tom Ass developed: a music and performance perspective on the obscurities in queer culture. So noise music, performance art, drones—whatever is outside a linear four-to-the-floor beat, techno-oriented idea of music—would take place in The Darkness.
One record that represents the sound of The Darkness: Aphrodite's Child– "The Four Horsemen"
Once we moved to KitKat we had incredible possibilities because it's enormous. There's a room in the basement that we used as a darkroom, but there's actually no sense having a darkroom in a place like KitKat where you can do what you like, where you like. We also have other dance floors—one more bear-oriented and another more female or female positive with house and disco tunes. These were further explosions, like a new aspect of the KitKat opening to the eyes of people attending. Ultimately, every time you go to Gegen you get lost and discover a new party. It's another kind of identity crisis, but in a good way."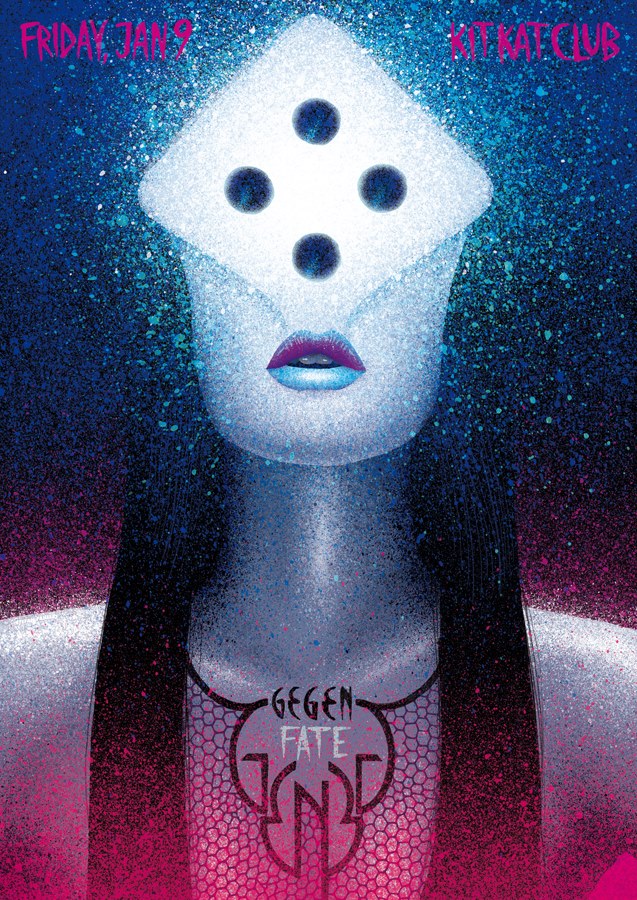 Flyer artwork by Stefan Fähler.
This article originally appeared in the Winter 2014/2015 edition of Electronic Beats Magazine. To read more from the magazine, click here. 
Published January 05, 2015. Words by EB Team.