Win Tickets for Goldfrapp's Exclusive Cinema Event
Above: Alison Goldfrapp on the set of Tales of Us photographed by Annemarieke van Driemmelen
UPDATE: This competition is now closed.
On Tuesday, March 4th, Goldfrapp presents a very special cinema event—a worldwide screening of the stunning film Tales of Us followed immediately by an exclusive dramatic live Goldfrapp performance transmitted into cinemas from the legendary Air Studios in London. And we've got tickets for cinemas all over Germany.
Inspired by Goldfrapp's latest album, Tales of Us, the striking film is a thirty-minute journey through five of the individual stories featured on the album. Stranger, Laurel, Jo, Drew and Annabel interconnect subtly, sharing themes of love, loss, madness and identity, taking the viewer on a unique musical journey.
With only two stories having been seen previously, this is an exclusive opportunity to see the film Tales of Us as it was intended, as a complete journey and on the cinematic big screen, available in select locations for one night only. Cinema audiences will see the Tales of Us film transition beautifully into a live 50-minute dramatic theatrical performance by Goldfrapp including classic songs and selections from the new album.
We're giving away a pair of tickets to each of the locations in Germany and Austria mentioned below. To win, all you need to do is leave a comment in our Facebook post about the event with your location of choice. Winners will be notified on Monday, March 3rd. The film begins at each cinema on Tuesday, March 4th at 8:30pm.
UCI Hürth Park, Köln
UCI Kinowelt Colosseum, Berlin
UCI Kinowelt Dresden Elbe Park, Dresden
UCI Kinowelt Düsseldorf
UCI Kinowelt Mundsburg, Hamburg
UCI Kinowelt Othmarschen Park, Hamburg
UCI-Kinocenter Ruhr Park, Bochum
UCI-Kino Millenium City, Wien
Goldfrapp's Tales of Us album and limited edition box set are out now via Mute. For more information about the Tales of Us film, click here. Watch parts two and five of the Tales of Us film in the embeds below. Goldfrapp plays Electronic Beats Festival Cologne on May 23rd.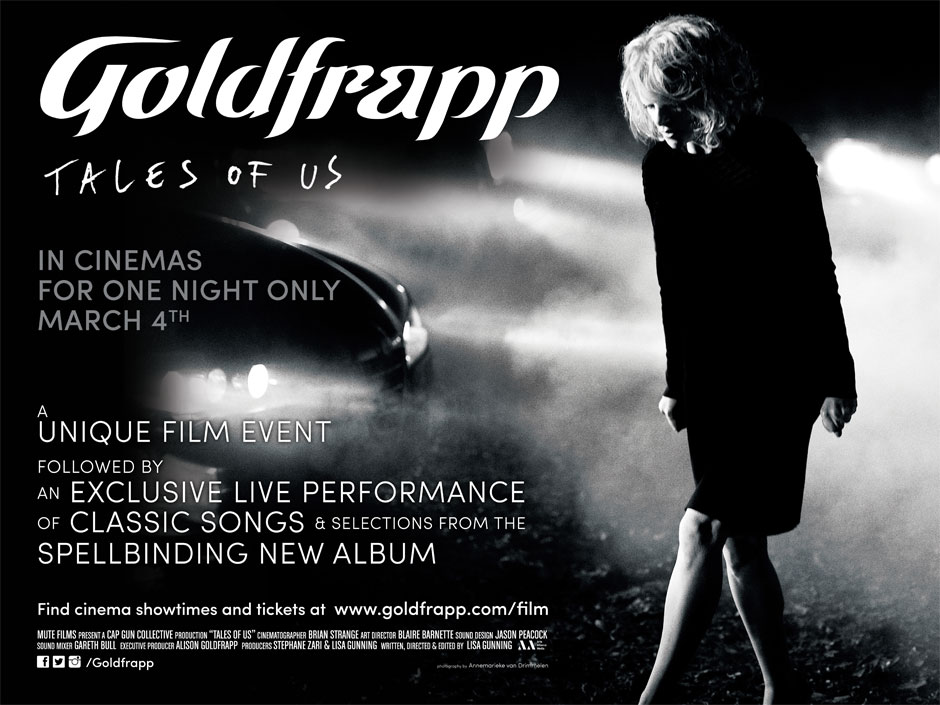 Published February 25, 2014.