Wolfram's Travels: Sharing the stage with Lady Gaga
There's little more than a week left until the Arena Wien will be filled to capacity for Electronic Beats Festival Vienna 2012's glorious line-up. To get you even more excited, we decided to ask Austria's number one and EB Vienna 2012 performer Wolfram about his most memorable gigs. Last week you had the opportunity to read about how Wolfram got to meet Moby and play the piano at one of his shows. This week it will be someone different playing the piano, while our curly-haired guy is DJing. Over to him.
Back in the day some booking agent contacted me via MySpace – so back in the day pretty much nails it, haha – to tell me that he was looking for new talent. I thought it could turn out to be a promising opportunity for me since the guy was managing DJs like Tiesto so I decided to meet him. He immediately offered me a contract but I was kinda hesitant and agreed to do a test phase, meaning he would organize some gigs for me and after that we would negotiate the terms of a real contract.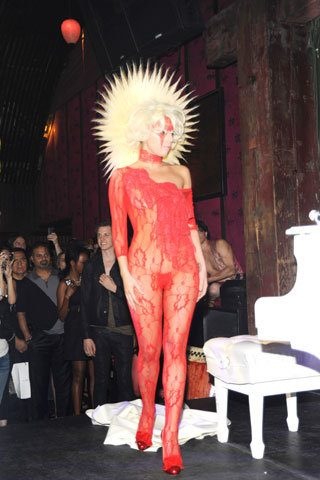 Things turned out pretty well for me. The first gig I played was at a Calvin Klein show, which wasn't that exciting, but still good money. However, it was nothing compared to gig numbertwo – an after party of the Marc Jacobs show hosted by V Magazine (which had put both Lady Gaga and Marc Jacobs on the cover of their New York issue) at New York Fashion Week in Spring 2010. It took place at the famous Hiro Ballroom, which looks exactly like the place in Kill Bill where Black Mamba fights the crazy 88.
Back then, Lady Gaga was already a superstar and after the show everybody was primarily talking about her outfit – she was almost naked and had Statue of Liberty-like hair –but her set was fantastic too. She only played two songs, "Pokerface" and "Just Dance", but it was still an astonishing performance. The thing is, the room was packed with superstars, Russell Simmons, founder of Def Jam was there, Janet Jackson, Ciara and lots of other celebrities who I didn't know but could presume to have been very important. And as it often happens at parties like this, people were sipping champagne and talking throughout – a no go for a piano concert that requires a super silent audience. But Gaga played it really cool, which speaks volumes of her qualities as an entertainer and artist.
After her show, which was about 15 minutes long, I took over and started DJing – just as people were leaving, haha. It wasn't all that bad though. I mean, of course a few people were going home, but the night still turned out to be great. Everybody was uplifted, including me because I'd got to meet her and shake here hand. Everybody knew they had just experienced something very, very special.
Lady Gaga photo by Wolfram.
Published October 05, 2012.