Discover The Sound Of Berlin Atonal Festival From 1982-2017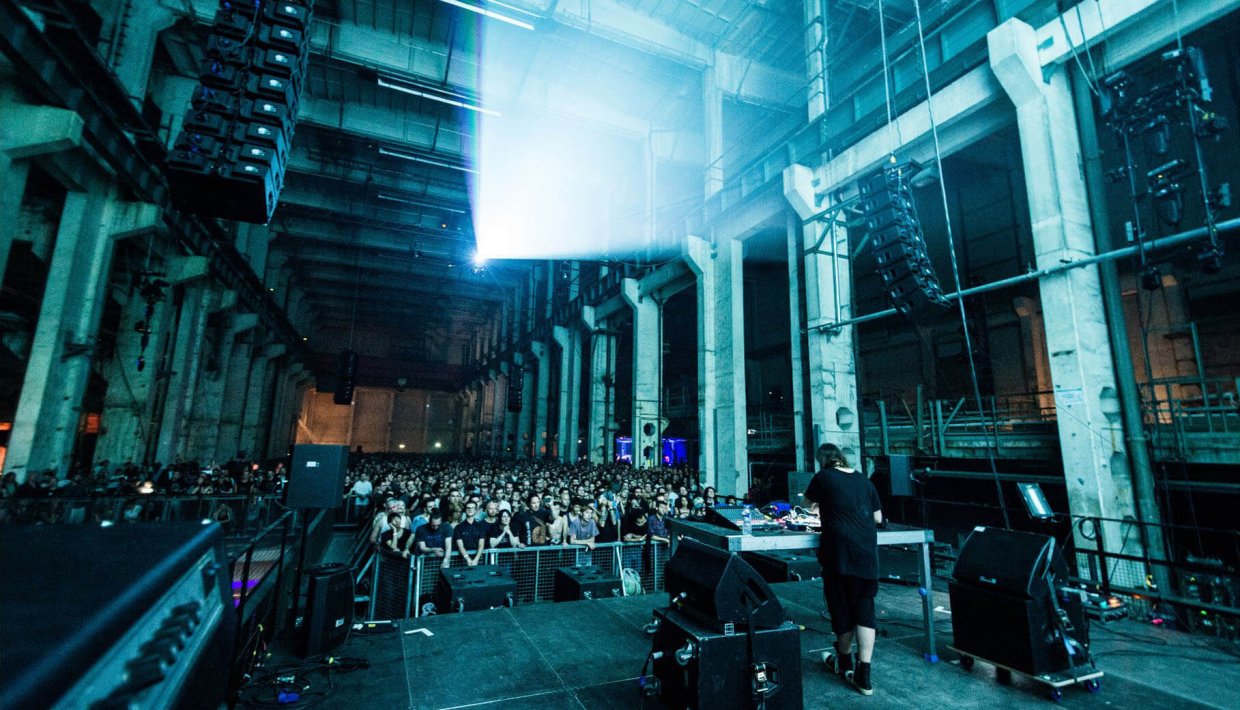 Tomorrow will kick off the second fifth edition of Berlin Atonal, one of the German capital's two major experimental festivals alongside ICAS network affiliate CTM. We call it the second fifth edition because the first fifth edition happened in 1990, when Atonal founder and Tresor nightclub proprietor Dimitri Hegemann hosted the last one before discontinuing the series. (You can read about Atonal 1990 here.) Throughout the '80s he booked many now-iconic talents from the local industrial, new wave and noise-oriented scenes, like Alexander Hacke of Sprung Aus Den Wolken, Gudrun Gut's project Malaria!, Psychic TV and Einstürzende Neubauten.
In 2013 Laurens von Oswald, Harry Glass and Paulo Reachi resuscitated Atonal Festival and brought it to the huge and beautiful Kraftwerk complex, and since then it has become bigger than ever. This year involves five days of avant-garde music, audio/visual performances and DJ sets that run the gamut from Romanian spectralist compositions to industrial noise live jams to all manners of hard and ambient techno stylings. The 2017 lineup includes noise pranksters Wolf Eyes (who chatted with L.I.E.S. label head Ron Morelli for us here), Copenhagen's SHAPE program techno DJ trio Apeiron Crew, deep house classicist Pépé Braddock and mid-century spectralist Iancu Dumitrescu. And while that may sound like a pretty erratic selection, those familiar with Atonal and its legacy will recognize a common thread that stretches back to the spirit and tastes of its original incarnation.
In fact, it would be hard to have a more distinct and developed sonic identity than Atonal does, especially because it has built up a stable of legacy artists who return multiple years. Some are artists who performed at Hegemann's Atonal decades ago, like Clock DVA and Mark Reeder, who recounted his memories of the inaugural edition here. Others have become regulars to the revived version, like affiliates of the labels Blackest Ever Black, Northern Electronics, PAN and Diagonal as well as individual artists like Shackleton, Puce Mary, Alessandro Cortini and Demdike Stare. In fact, Atonal launched its own record label in 2015 to gather its core musicians and present associated music as well as live recordings from their performances at the festival. Some of those releases appeared in our playlist featuring a number of important Atonal artists, which you can find on our Electronic Beats TV YouTube channel and below alongside a similar collection that provides a crash-course on the 1980s Berlin Atonal sound.
The Sound Of Berlin Atonal, 1982-1990
The Sound Of Berlin Atonal, 2013-Now
Check out our whole archive of Berlin Atonal coverage, including interviews with the new organizers, footage from the 1983 edition and reviews of the festival in 2014, 2015 and 2016 here. Cover photo via Berlin Atonal's Facebook.
Like this? Let them know!