10 Labels And Clubs Sustaining Athens Nightlife In Hard Times
I've never left Greece. I know that sounds a bit ridiculous for a guy who loves "experimental" club music, but I just haven't. I grew up in Larisa, a town in central Greece, and came to Athens in 2008 for studies. I fell in love with Athens because, in my eyes, it seemed like London or Berlin or any other culture capital. Below I've compiled a list of people and places that, for me, keep Athens alive and special despite the pretty well-known difficulties.
Hypermedium
You'd be a bit crazy to start a label focused on the more "forward-thinking" side of club music in Athens—yet these guys did it. You can't help but admire Hypermedium for its vision, dedication, on-point visual identity. Future releases are coming from the gquom group Audioboyz and Mexico's Siete Catorce.
Boiler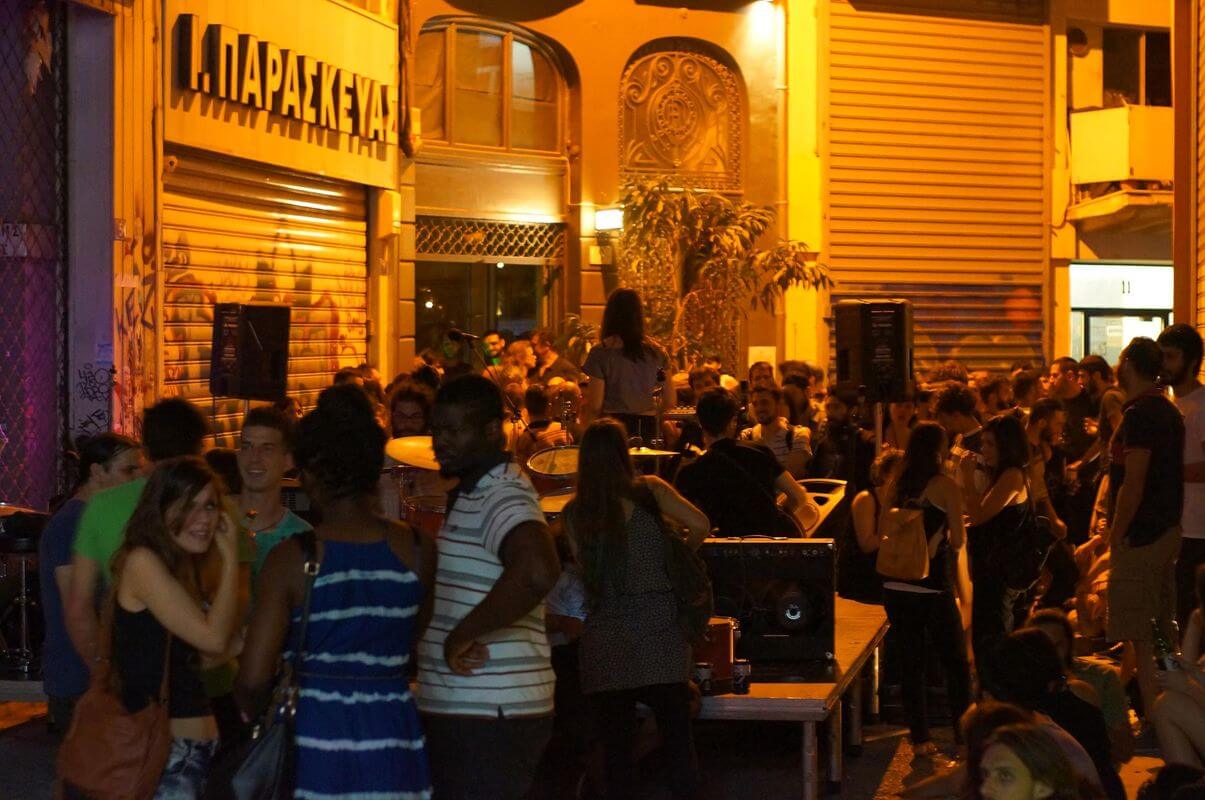 Few bars can host such a diverse program of club nights and DJs and make it seem "normal." You may catch a local indie/psych/rock live DJ at Boiler one day and a footwork one the next, but you'll always find a crowd that's happy to dance no matter who's on stage. Not many bars and clubs have tried that approach in recent years.
Lower Parts
This is another uncompromising label from Athens with a strong back catalog of 14 releases. Recent highlights consist of Tendts' bright house, Ioannis Savvaidis' hypnotic ambient excursions and Galaxian's fierce electro. Big things are coming in the future from Lower Parts, so keep an eye on it.
Fasma Festival
Fasma is probably the only festival in Athens that can pride itself on consistently promoting "underground" club music. Recent editions have showcased a variety of international artists, from DJ Stingray and Actress to Livity Sound and Lee Gamble. Another important element of Fasma is the equal promotion of both established and up-and-coming local artists.
Phormix
Industrial/EBM sounds must be big everywhere, but Athens has a particularly soft spot for them. Morah's Phormix series is responsible for an impressive run of nights, podcasts and cassette releases that push such sounds. Additionally, Morah already has many releases under his name on labels like Berceuse Heroique, Lux Rec and Helena Hauff's Return To Disorder. His latest one is on Modal Analysis, an Athens label that's equally important to the industrial explosion.
Sonic Playground
Sonic Playground is creative space that many people call home. Nikos Triantafyllou is the man behind it, and without his vision and endless energy the "rock" scene in Athens wouldn't be the same. For about 15 years now, Sonic Playground has run a magazine, record label and recording studio, organized concerts and club nights and worked closely with festivals. Some of the most exciting young talents have begun at Sonic Playground, and alumni like A Victim Of Society Devamp Javu and Colorgraphs set the bar high. Last but not least, it's a fair point to make that Nikos is possibly the best cook in the city.
Bios/Romantso

I have a big respect for these spaces since most of my favorite nights took place at one or the other. It's really important to experience the music you love in a space where it's meant to be played. I was lucky enough to see a lot of my favorite artists, like Mala, Autechre, Actress, Africa Hitech, Objekt and Pangaea on Bios' Funktion-One sound system. Additionally, their activities don't stop at music events, as Bios is also a cultural center for exhibitions, screenings, theater performances and other functions.
Black Athena and Runner
These restless promoters present a lot of UK-flavored sounds. Runner is the host of the Dimensions Festival Athens launch parties, and his Paranoise Radio show is a must-listen. Black Athena have recently started a label under the same name and also have a regular show on Athina 9.84 FM Radio. They're also preparing to curate a stage of Plisskën Festival along with NTS Radio for the second time.
Nutty Wombat
Nutty Wombat is the fresh label of Ice_Eyes, an experimental club music group that has put out great stuff on various formats. The latest label release is a remarkable compilation featuring 17 diverse artists on a pill-shaped USB stick—hence the title Pill Sessions.
Jay Glass Dubs
This is one of the many personal projects of Dimitris Papadatos, a sound artist based in Athens. Jay Glass Dubs is focused on the bare ingredients of dub music. So far, he's put out an impressive number of albums on labels like Bokeh Versions, The Tapeworm and Seagrave. I can't see him stopping.
BoneBrokk's Hollow Systems EP is out in late October on Trial & Error. Pre-order it on Bandcamp here.
Read more: How a top Greek festival survived the economic crisis
Published September 08, 2017.