The Ultimate Guide To Clubbing In Eastern Europe
Brutaż (Warsaw, Poland)
Poland's most cult-popular party grew out of Warsaw's noise and art-related underground and now tours adventurous and techno-oriented lineups around the country. Current Brutaż organiser Jacek Plewicki, who penned our recent guide to the Polish capital's art scene, aims to make the oddball gathering a political counterforce in the country's increasingly conservative climate and serves this goal by bringing activist-minded musicians like the Discwoman crew to Warsaw's Palace Of Culture, where most Brutaż parties take place. For an in-depth look at the monthly night, check out EB editor Elissa Stolman's feature on Brutaż for Red Bull Music Academy.
Wixapol (Warsaw, Poland)
Wixapol is home to some of the dirtiest sounds in the very-active Warsaw underground, from noisy hip-hop to that EBM remix you heard on SoundCloud yesterday. The kinds of DJs you'll see here care more about erecting a disgustingly heavy atmosphere than sound clarity or even necessarily beat matching—and we mean that as a compliment. Hardcore bass gets jammed into trappy beats, gabbified rave is broken over crystalized church vocal samples and vogue destruction rains supreme. It's nasty, sweaty and just plain fun.
Intruder Alert (Warsaw, Poland)
The foremost Polish name in explorative, deconstructed club music is Intruder Alert. The club night/record label is the brainchild of B.YHZZ, who brings together likeminded local weirdos with a mix of chopped and crushed hip-hop, industrial bass, abstract electronics and tortured techno. If you love your sounds (and expectations…and maybe eardrums) shattered, then this is the party for you.
za duszno (Poznań, Poland)
With the launch of the za duszno party series at a famous Poznań squat in 2013, DJ Morgiana and 2 Lewe Ręce carved a space in the local underground for odd electronics and compositions. DJ Morgiana herself is known for experimental sets that combine elements of DJing and live producing with unexpected objects and instruments. The za duszno formats vary from concerts to warehouse raves, but they always keep it interesting in what is otherwise a rather quiet Polish city.
Club 89 (Krakow, Poland)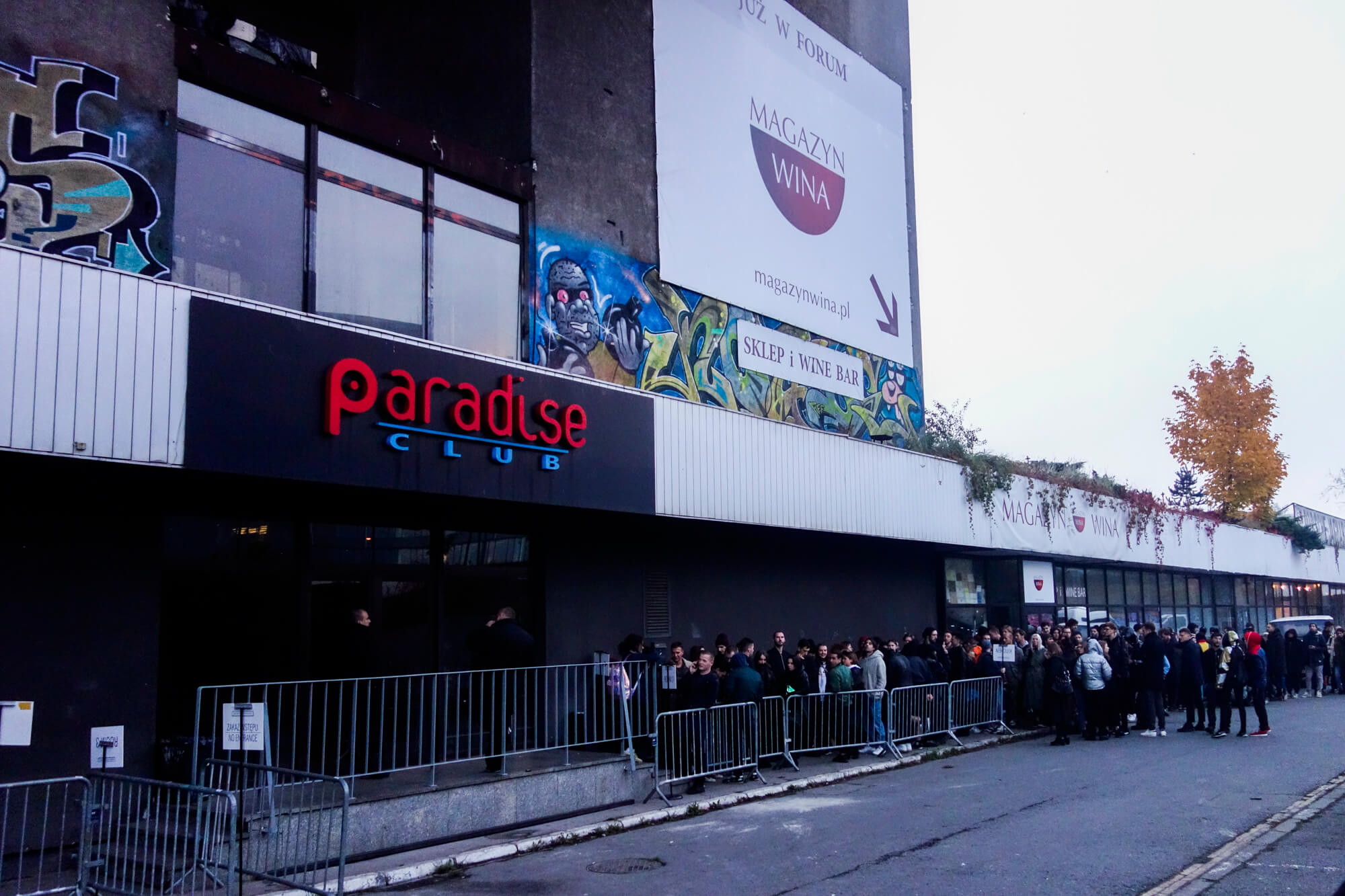 One of Krakow's biggest music events of the year, Unsound Festival, has opened a club to keep the spirit alive year-round. Located in a former strip club downstairs from the festival's main weekend venue, Hotel Forum, the recently inaugurated space has already stacked a lineup that balances trendy international acts with local talents. See the program so far here.
Lärm Club (Budapest, Hungary)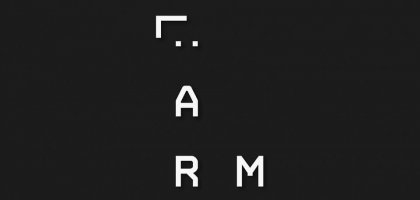 In a city where nightlife is dominated by ruin pubs that cater more to heavy drinkers than discriminating music fans, Lärm was hailed as Budapest's first "Berlin-style" techno club when it opened in 2014. Tucked in the back of a popular ruin bar, Lärm's black walls, rock-solid DJ bookings and roomy dance floor provide a much-needed space for heads-down, hands-up clubbing in the Hungarian capital. Its sister venue, Toldi, is also worth mentioning, but our experiences there have led us to think of it as a chiller venue that often dabbles in more shoegazey electronica and non-house/techno beats—although that's not a hard and fast rule, nor is it a bad thing.
Club Guesthouse (Bucharest, Romania)
Considering that Romania is known for its robust local minimal scene, we found surprisingly few notable parties and venues in the capital city following a deadly fire at the Colectiv concert venue in 2015. Most leads point to Guesthouse, a dynamic club that plays host to popular minimal nights like the marathon bacchanal SNRS48, which is perhaps Romania's most famous minimal tech-house party and an offshoot of the Sunrise Festival. But its fairly open layout and industrial-leaning decor lends itself to concerts as well as weekend-long bashes, so if Rominimal isn't quite your style, there still might be something there for you.
Interval (Bucharest/Cluj, Romania)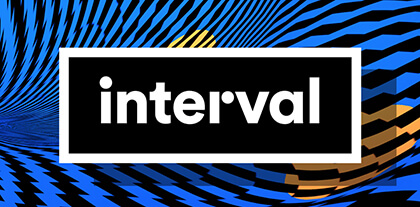 Interval is neither a club nor a party; it's a promotional body that books club nights like the Nightshift series as well as small festivals, like its recent Interval Natural weekender, which took place at a castle in the Romanian countryside. Last spring it organized a sequence of weekly parties under the Interval Series banner, and this fall it will return to the Interval 100 format, a marathon event that in 2016 will span November 29 to December 4. What distinguishes Interval in Romania is its taste; while the bookers share their countrymen's love for minimal beats, they try to expand the national music consciousness by booking artists who fit the format but don't hail from Romania or who scratch the itch in less dogmatic ways.
La Gazette (Cluj-Napoca, Romania)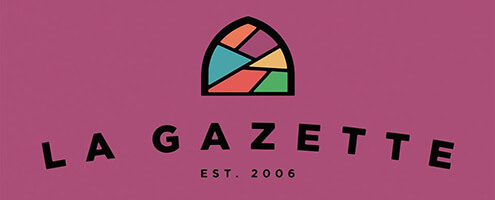 Judging from its glowing reviews on Facebook, La Gazette is perhaps the most beloved club in Cluj-Napoca. It's located in a room that once stored weapons for the Cluj citadel. Most of the lineup is probably pretty unknown to non-Romanians, although they do book foreign acts—but it seems safe to expect that its bread and butter falls somewhere within Romania's minimal-leaning taste universe.
Схема (Kiev, Ukraine)
From the looks of Схема's Facebook photos, I-D video profiles and THUMP features, it seems like the most genuinely and painfully cool party left on earth. Founded by Kiev native Slava Lepsheev a few years ago, it has quickly garnered international attention thanks to its irresistible combination of post-Soviet dystopia, political unrest, cutting-edge DIY fashion, avant-garde music and banging techno. Judging from past bookings, it seems Схема leans heavily on local artists; foreign bookings make up the minority of the bills and include experimental artists PAN staple M.E.S.H.. That makes the rave even more interesting to us, as it suggests the parties are sick enough on their own to draw massive crowds and heavy vibes without the pull of a major international name. Honestly, we're dying to go.
Closer (Kiev, Ukraine)
In addition to Схема, Kiev's other enticing rave destination is Closer, a "must-visit" club that DJ Nastia told us is her favorite venue and the site of her annual Strichka marathon festival. The club is one of several multipurpose spaces housed in a large disused factory, and sources report that it's the next closest thing to a certain world-famous Berlin nightclub.
Drugstore/Bivši (Belgrade, Serbia)
Situated in a former slaughterhouse, Drugstore can easily claim the most brutal environs of any club in Europe. The space is something out of an idyllically gothic rave movie, and the music follows suit. The club regularly features hard-hitting techno figures from around the world, like Redshape, Francois X, Speedy J and the full cast of Berghain regulars. In addition to the normal faces you'd see at any techno club around the world, it also features local spinners like EB contributor Tijana T, who penned a guide to Belgrade's underground rave scene. In it she also recommends the bar Bivši, the Drugstore crew's smaller spinoff venue.
Lekker (Tallinn, Estonia)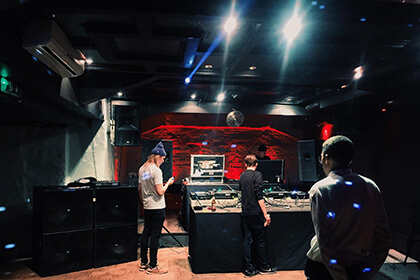 Since its opening night in December 2015, Lekker has united many of the local parties in Tallinn's musically diverse and thriving local nightlife scene under one roof. It covers a range of genres throughout the week with hip-hop, grime and R&B-oriented sounds late in the week and proper club music on the weekends. Many regular events have taken residence there, including the populist dance music night Jäck, the skate culture-rooted Haigla Pidu series and Mutant Disco, Tallinn's longest-running house and techno party. For a wider overview of everything going on in the Estonian capital, check out our guide to the city's club and after-hours scene penned by Jäck co-runner and local DJ Kask. (Photo via Trip Advisor.)
ДИМА (Tallinn, Estonia)
To put it bluntly, ДИМА (pronounced "Dima") is Tallinn's outsider house party. The crew books DJs affiliated with the experimental-minded lo-fi dance music mini-craze spearheaded to a certain extent by the L.I.E.S. label, like Greg Beato, Terekke and Florian Kupfer. But due to their minimal and evasive social media presence, their parties can be hard to keep track of—so if you're keen to hear dusty drums Tallinn, you'll just have to keep an eye out. We can only really point you to the Dima Disk SoundCloud page, which seems to represent the crew's new record label.
Yucatan Extension (Vilnius, Lithuania)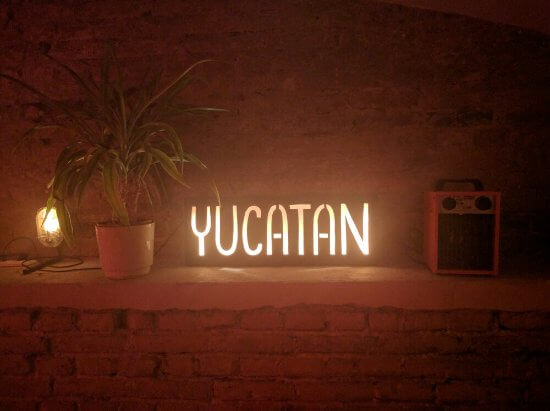 Yucatan seems like the type of postmodern pastiche that could only happen in the 21st century, because not only is it a Mexican restaurant and Mezcal bar in the unlikely Baltic country of Lithuania; it also has a room to rave in. It seems that many of the weekend events are put on by and feature local artists, including those who run the killer website and podcast series Secret 13. However, they do import talent from abroad—just don't expect the kind of artist who tours regularly around the world and engages with the traditional music press outlets, as the international artists who play Yucatan are more along the lines of residents at other eastern European clubs on this list. (Photo via Trip Advisor.)
Kultūros Baras Kablys (Vilnius, Lithuania)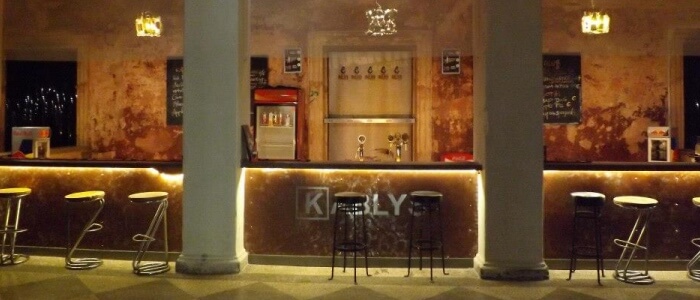 The most direct competitor to Vilnius's most proper nightclub (Opium) is probably Kablys, which is actually one constituent of a small consortium of cultural hotspots in Vilnius. In addition to a party space that often features flavors of techno and UK music, Kablys (or at least, the building where it's located) also houses what is purportedly Lithuania's first indoor skate park, a restaurant, a bar and a hostel. So don't be surprised if you walk in one night and find a stand-up event instead of a party. However, you can rely on the weekly Minimal Mondays event, which is organized by the same crew that put on Lithuania's popular forest festival Supynes.
Aristīds (Riga, Latvia)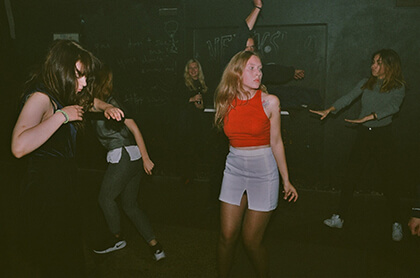 The space that once housed the factory for Riga's famous Black Balsam liquor factory now looms above one of the city's vibiest bars. Aristīds caters to Latvians interested in art and underground music with obscure bookings and nights devoted to weirder sounds. Unlike most other venues in Riga, Aristīds has a main from for parties separate from the bar and chill-out areas, where they host roller disco nights, techno gigs and events affiliated with the yearly Skaņu Mežs festival. (Photo via Facebook.)
Chomsky Bar (Riga, Latvia)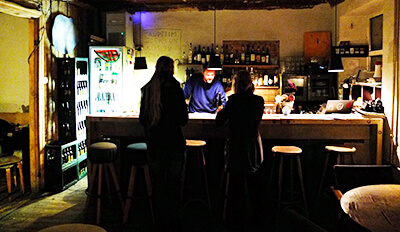 Due to the relatively slim pickings in Riga for proper nightclubs, our recommendations for fun times in the Latvian capital revolve around the city's most charming bars—one of which is named after American philosopher, social critic and academic Noam Chomsky. Thus it's fitting that the cozy, four-room bar hosts lectures in addition to music gigs and draws a crowd that is reportedly heavy on local students. Most of the musical selections at Chomsky Bar lean toward noisier and experimental tendencies, so you'll rarely here traditional club music there. (Photo via Eat Riga.)
Fuga (Bratislava, Slovakia)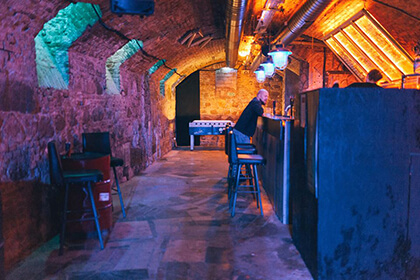 In a city as austere and—to be perfectly honest—depressing as Bratislava, it's unsurprising that a local favorite venue deals mostly in "more extreme and experimental styles of electronic music, rock, metal and jazz." Fuga's main space for concerts and raves is located in a cellar, which means it would have survived the failed curfew measures, but there's also a small terrace where you can have a break and/or enjoy one of the venue's reportedly very-cheap beers. When it's not hosting music events, Fuga also puts on exhibitions, talks and other social gatherings with artistic and/or activist proclivities. (Photo via Citylife.sk.)
Bassiani (Tbilisi, Georgia)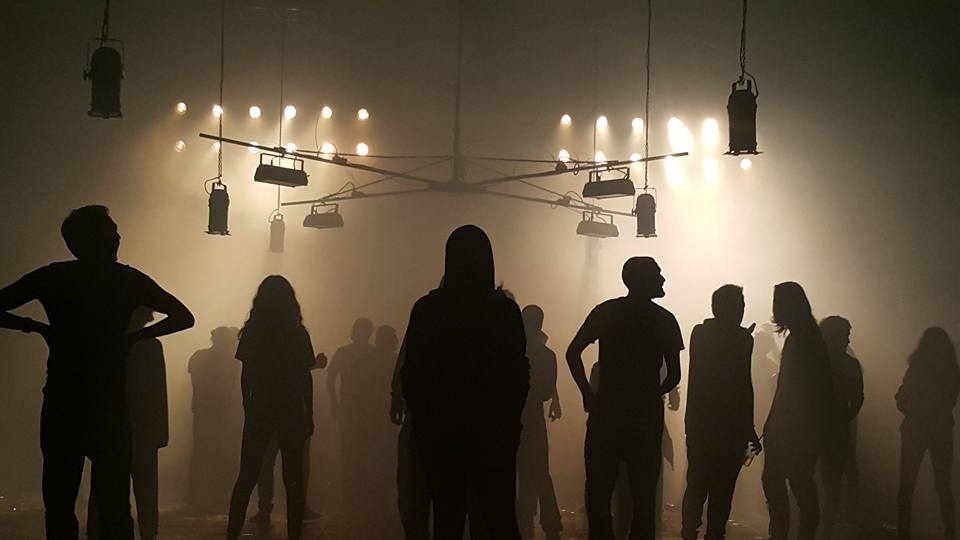 Bassiani is at the center of Tbilisi's growing techno scene. Though it only officially started in 2014, it's quickly risen to prominence as one of the world techno circuit's best up-and-coming venues. The reasons for this sudden rise are a mixture of high-profile bookings, excellent sound, a dedicated forward-thinking crowd and novel Soviet-era industrial aesthetics; its dance floor is in a swimming pool beneath a football stadium originally built in 1932. It also draws points for its HOROOM parties, which strive to provide a safe place for the local LGBTQ community despite engrained cultural homophobia. Learn more about how Bassiani mixes politics with partying in our feature written by the club's Zviad Gelbakhiani.
Mtkvarze (Tbilisi, Georgia)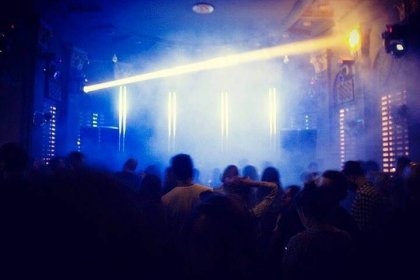 Drawing its name from the river it's perched above, Mtkvarze has been considered one of Tbilisi's best clubs since it first opened in 2012. It's located in the mostly unchanged building of a fish restaurant that was popular in the 1950s. Featuring two rooms—one with floor-to-ceiling windows that look out on the Mtkvari (aka Kura) River—it regularly plays host to a mix of local heads and touring guests that play everything from minimal to cutting-edge house and techno. Music and food is served from start to finish, which can stretch into the very late morning hours. (Photo via Facebook.)
Endless Illusion (Prague, Czech Republic)
The scene in Prague is slowly growing, and that's partly due to the efforts of Endless Illusion. It's a multi-media collective dedicated to pushing the Czech scene forward with its record label, local party series, DJ outfit, zine and popular radio show on The Hague's Intergalatic FM internet radio station. As such, the music they get behind is heavily immersed in old-school acid and electro.
Rare (Prague, Czech Republic)
You'll find Rare if you dig deep into the Czech capital's scene. Launched in 2011, the party series provides a space for the city's lost souls to meet and move to the bleaker sides of dance music: darkwave, minimal synth, post-punk, EBM and beyond. Rare happens at various bars and clubs around Prague and often features guests from around the world as well as dedicated spinners from the local mileu.
MeetFactory (Prague, Czech Republic)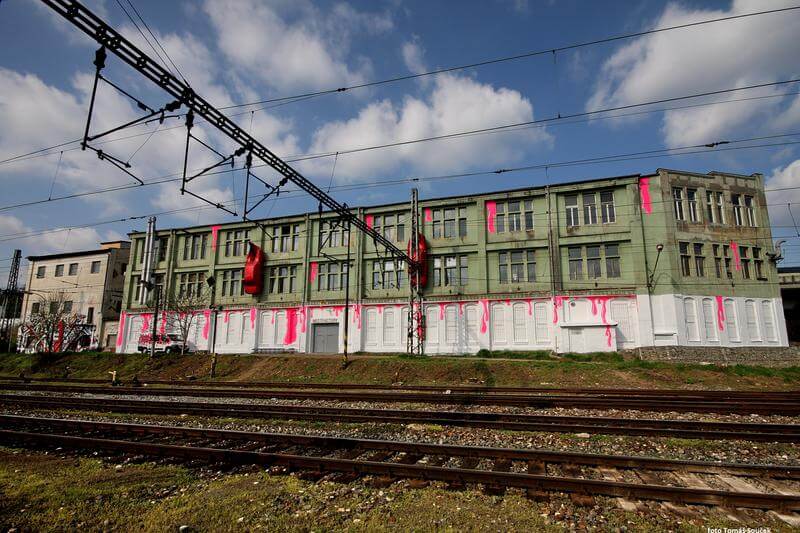 This industrial building-turned artists' studio, gallery and residential space has long been a central fixture of Prague's weirdo nightlife. Its music program features a mix of international names and local favorites, with appearances by the likes of Jessy Lanza, Autechre, Peder Mannerfelt and others, including the Prague-based events by experimental incubator SHAPE. What makes MeetFactory special is its multidisciplinary approach and the ruggedness of its space—it's wedged between a motorway and an active railroad in the city's Smíchov quarter. (Photo via MeetFactory's website.)
Cover photo by Séan Schermerhorn via Схема's Facebook.
Published November 14, 2016.