Live Report: Electronic Beats Festival Dresden 2013
[15.07.2021. Content warning: an article published by J.-H. Kabuiku on July 9th 2021 points out Dominick Fernow's consistent links with metal and noise artists, bands, labels and productions using pedophilia and sexual violence imagery, listing a number of regular collaborators explicitly affiliated with National Socialism and white power ideology. More on this here]
Relive the latest edition of our EB Fall Festival season, with a live report on all the action in Dresden with Sizarr, Mount Kimbie and, Woodkid! All photos by Peyman Azhari.
Cold, clear weather, a gently glowing photobooth, and a sold-out venue in Dresden. Yet another Fall edition of Electronic Beats Festival happened last night, and we say with no trace of hyperbole that it was one of the most powerful (and loudest!) editions we've born witness to. We can be pretty silly people when the mood strikes us, but this lineup was no joke. Headlining the evening were two much-anticipated acts: London's Mount Kimbie and Lyon's Woodkid. While both have graced the stages of EB Fest before (Podgorica and Prague, respectively), we've never seen either blow up the crowd as hard as we did that evening.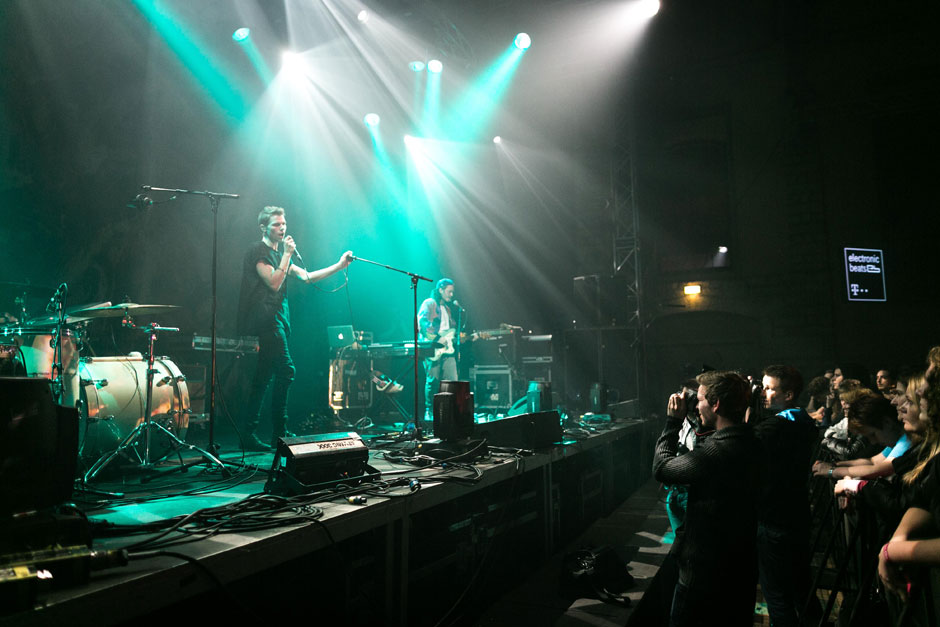 Sizarr
Opening the night was Sizarr, and boy do they have the post-punk stylings down to an art. Evoking his ice-cold forebears of old, young Fabian Altstötter makes a promising frontman with a delivery that manages to be passionate while still keeping a palpable distance from the audience. Pounding drums, swirls of feedback and riffs that would make The Chameleons proud filled the air as Altstötter swayed and preened for the lovely young things in attendance—and believe us, they noticed. We were too busy checking out drummer Marc Übel's Vatican Shadow shirt, however. That's a clean look.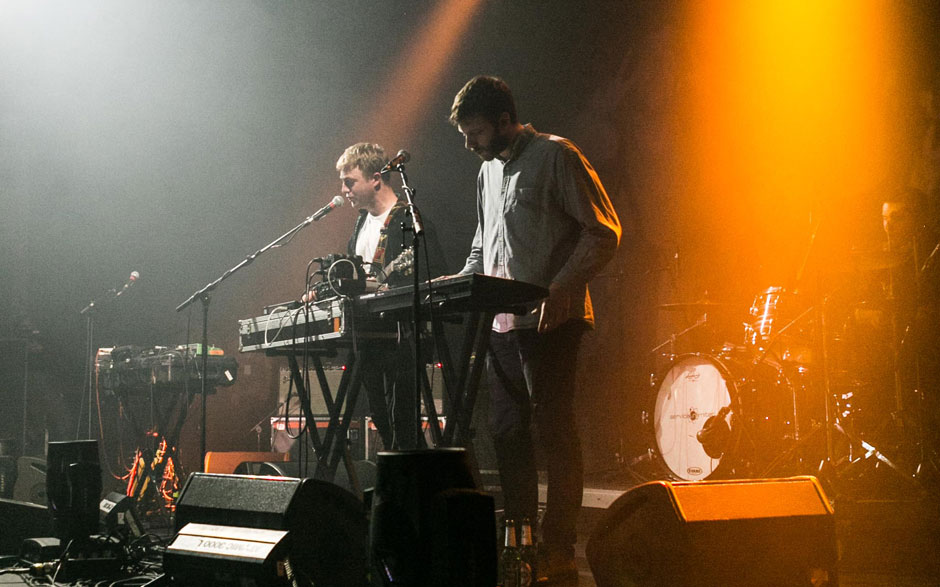 Mount Kimbie
The boys from Mount Kimbie were next, complete with a live drummer. It's stunning how much they've changed since we first saw them at Field Day in 2010… or maybe all their exposure to the big-room, four-on-the-floor sound of German clubbing has transfigured them. Either way, even after their last notes had faded there was plenty of tonal residue left behind in the eardrums and enough sweat flowing to wash them clean (figuratively speaking, of course, because yuck). No more of the rather introspective, cool and collected men of '10. While Sizarr's tribal energy had prepped the audience for the night like a finely-spiced sauce, here was the meat they had been craving. With their drummer bashing frantically behind them, Dominic Maker and Kai Campos led the crowd through glistening techno-pop, ballads drenched in glitchy ambience, room-shaking bass frenzies and yes, a bit of that 'classic' dubstep grind. There was even a delightful moment that seemed to crossbreed neofolk inflections with freak-folk spazz-jamming; Current 93 on a picnic with Animal Collective? No wonder we had so many ants in our pants. The crowd hung on every beat, even when the group treaded into the terrifying waters of funk-inspired riffing. Getting your cochlea abused in public hasn't felt this good in ages.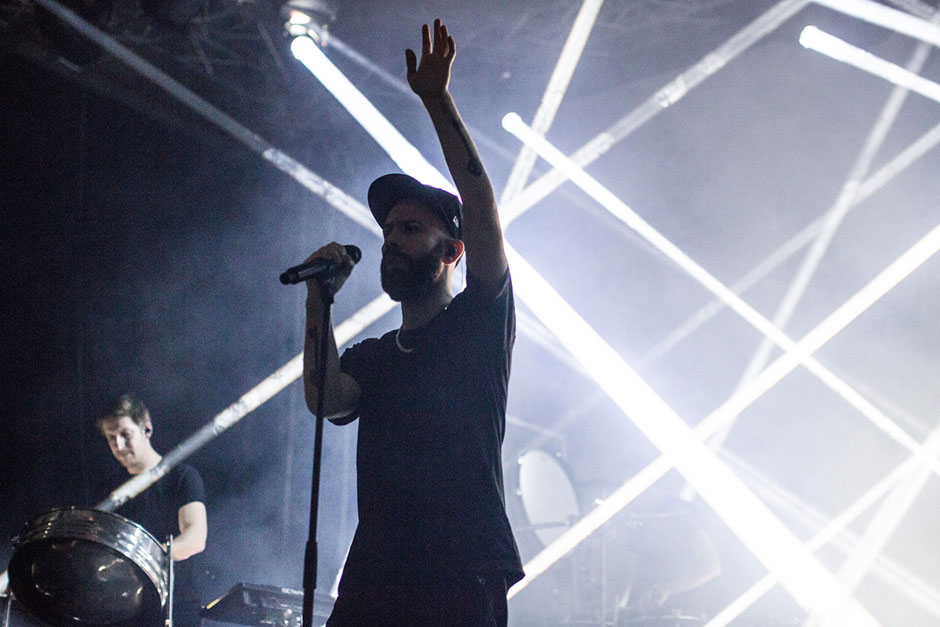 Woodkid
After such a heavy amount of bass domination and sub-system masochism, you'd expect most of the crowd to have emptied into the smoking patio, but a good part of the crowd just collapsed on to the floor. The room soon became a hustle of butts marking out prime locations for the denouement, one Mr. Yoann Lemoine. There's a slickness to his stage persona of Woodkid that feels as though every action, even something as simple as a wave, is emerging as part of the planned whole. The man knows how to sell himself to a crowd, and tonight business is booming. It's helped by a pair of dual drummers and a horn section (and there really do need to be more tubas in pop music; it's not just for volksmusik these days!) that glide effortlessly over, under and between Lemoine's emotionally-charged lyrics—and surely we can't be the only ones who hear a similarity to a certain Smiths singer? The fact that Lemoine rarely alters his vocals does certainly lend an air of raw confidence to his performance. Then again, when you strut onstage to pounding percussion against a projection of marble church columns and smoke, it's a bit difficult to be unimpressive. After leading the rapt audience through most of his recent debut The Golden Age (along with a few new tracks and a taste of his upcoming, final Woodkid video), Lemoine left the stage amidst more smoke, impressive lights and applause to rival Mount Kimbie's bass. The doors open and we're released in to the night, but the music we've just heard keeps a firm grip on our hearts. ~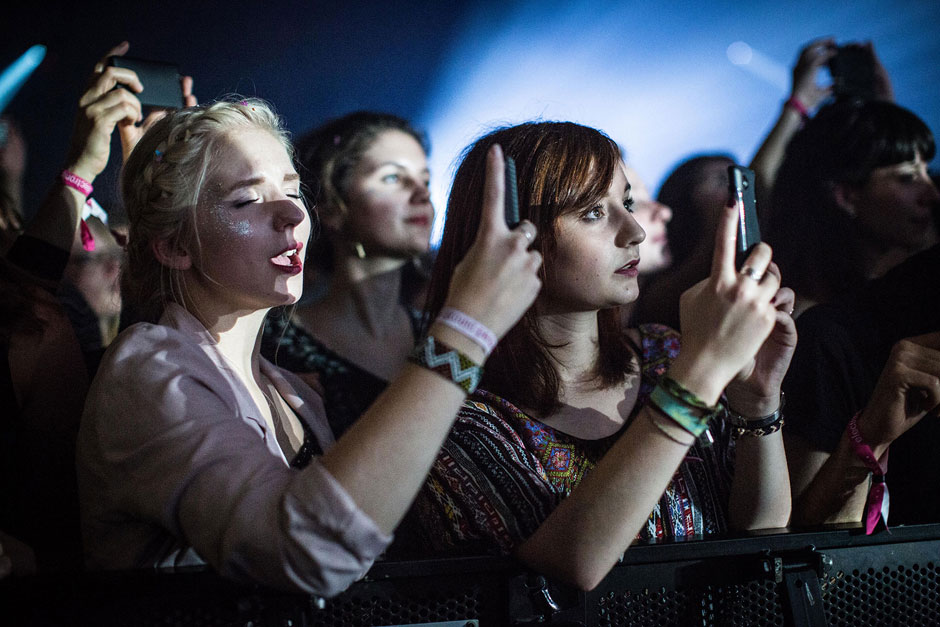 We have one more festival remaining in our Fall schedule; stay tuned for live video footage from Dresden soon.
Published November 11, 2013.