Notes From Techno Boulevard: Club To Club Festival Reviewed
"A life without a story is a denarrated life," wrote acclaimed art curator and three–time EB conversation partner Hans Ulrich Obrist in his new book The Age of Earthquakes: A Guide to the Extreme Present. "For instance, your perceived life shrinks when it becomes over-efficient from multitasking and not enough down-gaps are left between specific experiences."
Somehow, the passage popped into my head as I entered the Conservatorio Giuseppe Verdi in Piazza Bodoni on November 4 to see Apparat open the 15th edition of Club to Club, Italy's biggest electronic festival. As in previous years, Electronic Beats hosted a series of panels at the AC Torino Hotel, which was C2C's central meeting place and headquarters. The building that houses the Conservatorio Giuseppe Verdi was established in 1928 and is one of Turin's most impressive concert halls. It turned out to be the perfect stage for Apparat's new live show, Soundtracks. The show was sold out to the last seat, and the endless queue was a visible testimony to the band's reputation in Italy. Soundtracks delivered an impressive run-through of Apparat's band's recent film and theater scores. Their live set-up included the participation of its longtime collaborators Transforma, a Berlin-based art group that focuses on experimental live video performances, and the seductive imagery they projected on the screen behind the musicians was worth the ticket price in and of itself.
Piazza Bodini is also a facet of "A Great Symphony for Torino," a project that united 15 different venues around the city to form one symphonic endeavor curated by Hyperdub boss Kode9  (AKA Steve Goodman). He commissioned separate pieces to students from IED in Milan and artists such as Dave Saved, Vaghe Stelle and Scratcha DVA and gave them one guiding rule: the sound they used had to be site-specific. In other words, Kode9 asked the participating artists to contribute music concrète.
Later that week, Kode9 discussed "A Great Symphony" at a panel held by Giorgio Valletta. "I wished we had had the means to record all the conversations people were having using their smartphones on the various locations," said Goodman. His own contribution to the symphony was performed at the outstandingly beautiful supermarket located in Turin's Piazza Madama Cristina market and featured processed original noises and distant voices recorded there. "There were issues of data privacy that forbid us to push concrète music to an entirely new level by wiretapping and eventually including snippets of private conversations," he explained. The other compositions, where were mostly helmed by emerging Italian New Wave artists, are listed here.
One of the reasons why I personally love Club to Club is that its well-balanced lineup allows visitors to breathe between concerts and to thus to have enough "down-gaps between specific experiences," as Obrist put it. In Turin, this means enjoying world-famous Piemont cuisine with home-made pasta, black truffles, porcini mushrooms and a wide range of Barolo wines. The city's affordable trattorias and restaurants were fully booked as festival-goers and attendees of the city's annual Artissima art fair spent every free minute enjoying great dining experiences—and using these gatherings to talk and discuss the concerts, panels and many gallery shows in the city that week.
On Thursday night, Eglo Records co-captain and recent EB interviewee Floating Points played a highly-anticipated show at the most beautiful baroque concert hall in Turin, the Teatro Carignano. He had piqued interest by announcing an exclusive performance with a new lineup that incorporated classically trained musicians on violins, cello, trombone and flute. But what disappointment that hyped-up event turned out to be! Perhaps it's cruel to say that Floating Points and his ensemble were the materialization of hubris—but it felt true. They were the prime example of how an esteemed improvisational electronic group should not attempt to decorate itself with generic elements of classical music.
So the best was still yet to come. Lingotto Fiere, a huge trade fair hall with enough space for thousands of spectators, provided the stage for an impressive line-up of acts, including Thom Yorke, Battles, Carter Tutti Void, Holly Herndon, EB magazine cover star Jamie XX, Four Tet and Italian experimental darling Lorenzo Senni. A second stage was set up for DJs in the somewhat distant Sala Gialla, and to get there one had to walk an endless corridor with a parquet floor connecting the two venues. Hundreds of festivalgoers strolled to and fro, talking to and recognizing each other, and before long, the corridor was nicknamed the Techno Boulevard. "Let's meet on the Techno Boulevard" became the phrase of the weekend.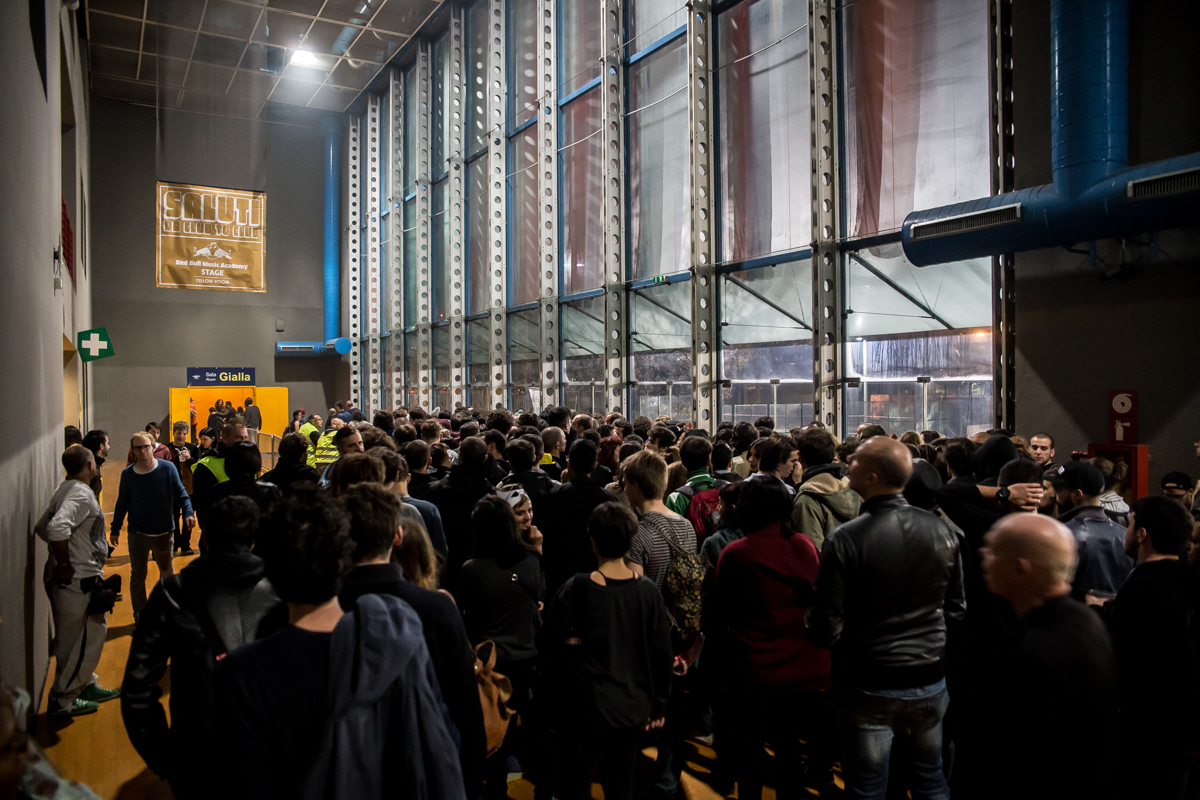 The most discussed set of the evening came from Thom Yorke, who played quite a haunting half programmed, half improvised concert with a trio. It was playful and intense; the music and the stunning video show that accompanied it were pure aesthetic expression. No politics, no questions, no reflection—just pure beauty set to a sonic backdrop of pumping techno pop. Yorke repeated the most generic Italian tourist phrases over and over in between songs as a bizarre joke: "Ciao ragazzi," "Buona sera a tutti," "Grazie mille!" He could have—or perhaps should have—extended his list of lost in translations shouting "Gelato tutti frutti" or "O sole mio." Or maybe not.
It was there that word spread about which performances were good and which weren't; Omar Souleyman was mind-blowing to some in its deadpan delivery and others were slightly disappointed by Four Tet's saccharine set. The traffic on the passageway increased again, thus creating a real space of encounters and conversations in flux. Sergio Ricciardone, the festival's busy director, later announced that next year, the long corridor would be officially named Techno Boulevard.
The absolute highlight of the festival came from Slices subject Nicolas Jaar on Saturday night. Minutes seemed to last forever as Jaar built up beatless musical tension and meandered through digital improvisations only to then overwhelm the audience with the deepest and most driving basslines imaginable. The audience went beserk, and so did I.
And then I left.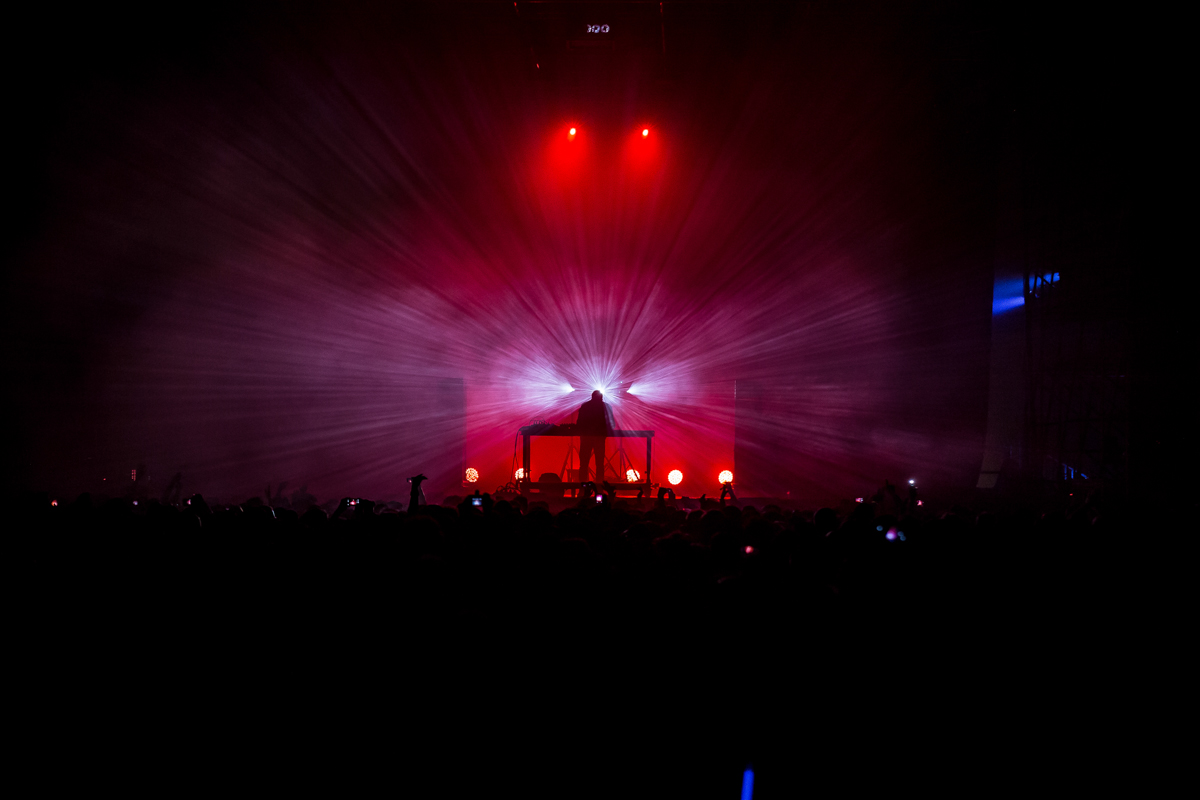 In the Lingotto November fog at 3:30 a.m. on Sunday morning, I left behind the distant sound of Jeff Mills kicking out the jams in front of a mesmerized crowd of 6,000 people who refused to leave early. I keep with me the enlightenment that it sometimes only takes a gathering place—in this case Techno Boulevard—to amalgamate everything and to allow the concert-goers to slow down for a moment. These pauses and spaces eventually lead to precious memories.
Cover photo of Thom Yorke by Andrea Macchia.
Published November 16, 2015.