There's Something For Everyone At Nuits Sonores Festival
Lyon, France's second largest metropolitan area, lies nestled between several hilly ranges where two rivers converge. The ancient site was first settled more than two millennia ago, and glimmers of its Roman origins are visible alongside more recent architecture—like the stunning 19th century Basilica of Notre-Dame de Fourvière, which overlooks the city from a tall hilltop. And although it's not something you will find in tourist information, the city also has a long history of electronic music. Lyon is where Technopol, an association for the defense and promotion of electronic music in France, was founded in 1996 after city officials cancelled Polaris Festival.
Nuits Sonores has operated here for 15 years alongside a more receptive city governance and with the participation of many of the local venues. The sprawling program covers six days from end to end—although on the opening day there's only a single performance in a large auditorium, which this year featured the popular French duo Air—and it covers a vast expanse of the city limits. Full immersion in the NS experience, including the sizeable European Lab conference/program of talks and workshops, requires acquainting yourself with Lyon's public transportation system or relying on taxis and ride-sharing apps. But each foray to a new neighborhood is rewarded with different architecture, vibe and romantic Gallic charm. Admittedly, I spend the least time at the furthest venue—Les Subsistances, a 17th century monastery-turned-military-camp-turned-arts-center where the talks and a smaller music day program are held.
La Sucrière is a former sugar storage facility next to the river, and with Le Sucre—the purpose-built club on its roof operated by Arty Farty, the organization behind NS—it forms a large site that hosts the bulk of the day music program. The main three days of the festival here are programmed by a different artist for each: The Black Madonna, Nina Kraviz and Jon Hopkins respectively. 30-degree heat and little in the way of shade means that I'm mostly passing through the outdoor Esplanade stage—despite the appeal of what went on there. Jamie 3:26 played big diva house and Peggy Gou more polished house and techno on the Black Madonna day; Anthony Naples brought infectious, exuberant party house for Jon Hopkins' day. In the Salle, the vibe created by Honey Dijon's bouncy house with lots of soul diva vocals and Derrick Carter's feel-good disco set—a grin-inducing highlight showcasing Carter's deep collection—loses momentum with The Black Madonna's own b2b with Optimo's JD Twitch and JG Wilkes. Back-to-back sets, while no doubt fun for the DJs, can be a gamble at the best of times, and while this three-man operation feels eclectic and adventurous, it's full of collisions and too many conflicting tangents.
On the other hand, Nina Kraviz's Salle is all about consistency. With a running order of DJ Sodeyama, a live set from Bjarki, and then a DJ set from Kraviz herself, it's all variations of pounding four-to-the-floor techno. Bjarki features a post-industrial edge and distorted grain with tremendous energy; Kraviz's set feels a bit more hectic. An element of dreamy delirium is on order for Jon Hopkins' line-up. It lurks in Barker & Baumecker's garage-y, steppers' techno—a sleeker, more linear version of the UK techno-bass sound—and is palpable during Hopkins' own chugging DJ set. The crowd roars in appreciation when his hit, "Open Eye Signal", surfaces in the mix. Upstairs in Le Sucre, The Field specializes in affecting, dreamy house, whereas Actress' live experimental house delirium feels rambling and somewhat inconclusive.
A 400-capacity room next to a roof terrace with an incredible view of stately buildings on a lush green hill on the opposite riverbank, Le Sucre hosted the most diverse music of the day program. Mark Ernestus' Ndagga Rhythm Force features eight musicians and vocalists, but takes on a collective life of its own in Senegalese polyrhythmic hustle. They're followed by ESG's timelessly groovy skeletal funk and pop on The Black Madonna's day. Nina Kraviz's line-up includes Andy Stott—who makes the crowd work a bit for a set that was both intriguing in breakbeats, dubstep variations and ghostly altered vocals, if occasionally sluggish—and PTU, like Bjarki, one of the signings to Kraviz's трип label. PTU was one of the surprises of the festival—a duo utilizing broken beats, woozy synths, old rave samples, sudden drop-outs and staticky drones for disorienting weirdness and industrial trance that was sometimes hard to follow.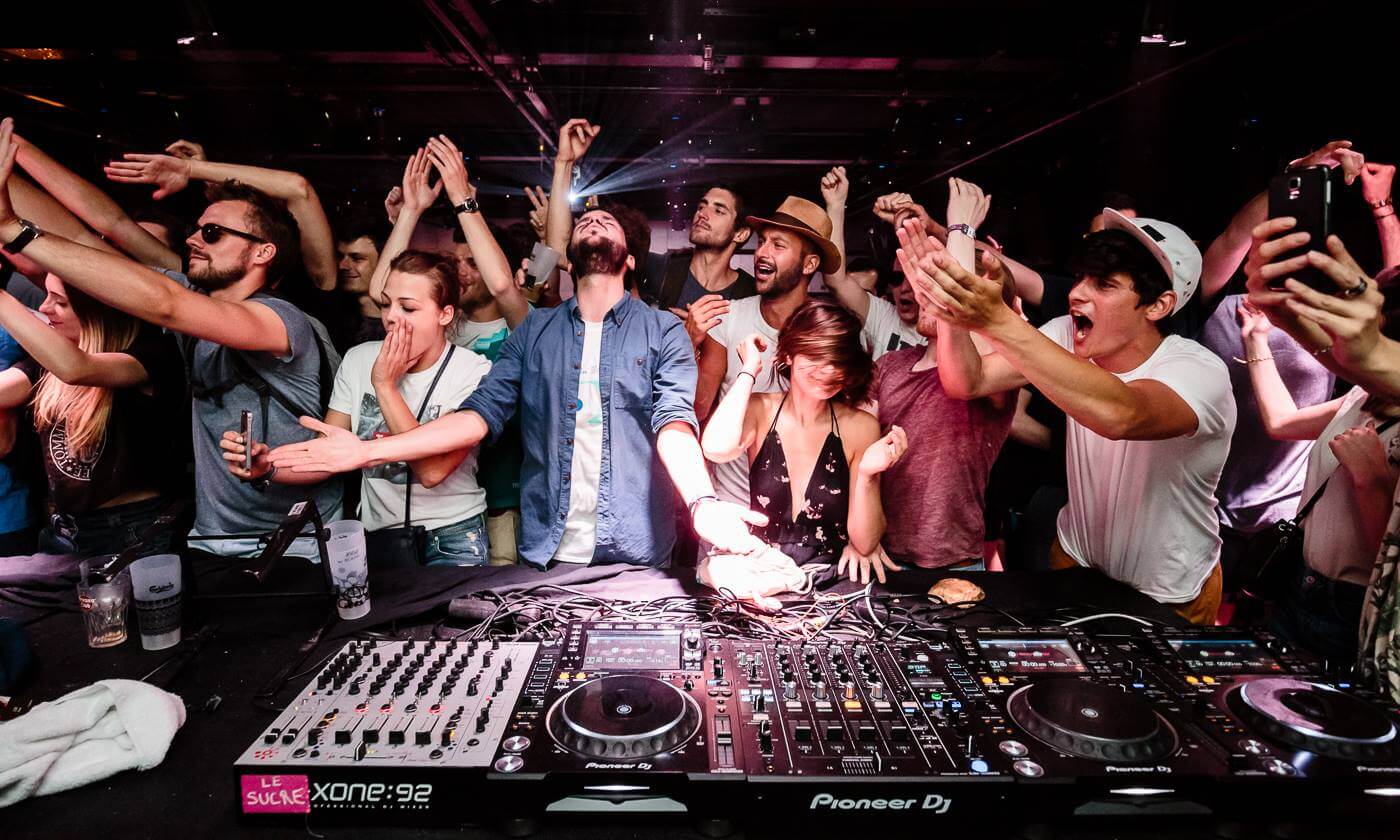 Fagor-Brandt is a former factory complex where domestic appliances and later electric cars were manufactured, and for Nuits Sonores it becomes a 14,000-capacity venue and the primary location of action for three sold-out nights. It recalls Sónar's night venue in Barcelona, although on a smaller scale. (The two festivals cooperate with each other, along with six other festivals in a collaborative organization called We Are Europe.) There are three stages that each focus on a different theme every night, and the mid-sized Hall B is the standout of the first. With AJ Tracey, Stormzy and Lady Leshurr all delivering distinct takes on grime, it's the place for anyone interested in the UK style or anything rap-related, really. If AJ Tracey has a sharp flow, Stormzy's spitting is tight as a drum, and his DJ, TiiNY, provides vocal backing, too. As an MC, Leshurr is a bit more funky and slinky; her crowd is smaller but completely devoted. Throughout the weekend, this stage benefits from a truly outstanding light show: high-powered modular banks that each rotate independently. During Stormzy's set, they even spell out his name. It's also where you'll find the minimal wave pop of Marie Davidson and the live techno of KiNK. It's easy to see why the latter won Resident Advisor's 2016 readers' poll top live act award: he is constantly bringing the full room to a peaking level.
If Hall C, the largest stage, has the predictable big-room techno, like Vitalic and The Chemical Brothers, it's not afraid of surprise. The highly regarded but underground artist Errorsmith delivers a DJ mix full of energetic syncopation, bright synth sounds, odd funky house jams, robo-electro, kuduro and more. But wilder is 76 year-old living legend saxophonist Pharoah Sanders and his quartet at midnight on the main stage. It's not so much the music itself, which starts gently and moves into an effortless performance of classic-era post-bop (the band plays one tune and Sanders mostly deconstructs it). It's more the challenging programming choice and the reaction of the crowd, which starts big and thins by half as the set goes on, but remains polite throughout—not guaranteed in other countries. Then there was Harvey Sutherland & Bermuda, an artist and his live band with plenty of fans, but who was previously unknown to this reviewer. Sutherland is a great keys player, and with a drummer and electric violinist, he makes family-friendly, upbeat disco jams. It wears thin soon enough but was especially fun as a new discovery.
Mustafa Özkent ve Belçika Orkestras, a Turkish musician and composer accompanied by a Belgian band playing groovy jazz-rock on Western instruments with Arabic scales, was another unknown pleasure in Hall D, the smallest room. Einstürzende Neubauten, perhaps like Sanders, feel a bit subdued here as they age, playing a mellow, song-oriented set. But Syrian wedding singer Omar Souleyman and his band, which includes a keyboard virtuoso, blow the roof off with Souleyman's ululating and the band's frenzied electronic dabke.
Outside of the main venues, Nuits Sonores also coordinates one night with more than a dozen other venues, where each costs only €5 to get in, featuring a mix of different styles and lineups. With so many unknown artists, I choose by proximity to the hotel, wandering into Ayers Rock Boat, which is docked in the river close to the city center. It bills itself prominently as an "authentic Australian bar" and there are flyers for an upcoming gig by the punk band New Bomb Turks—but don't let that put you off. Inside, the dance floor is regularly overseen by resident DJ Teki Latex. Paris' DJ Orgasmic is Teki's partner in Sound Pellegrino Thermal Team, and while I'm there he provides a fresh mix of grimy UK-influenced styles, new Brazilian MC-led baile funk, and American rap. Pretty good for a random drop-in!
NS's use of the entire city and its complex line-up (program "extras" which I did not attend included a "dance like Drake" workshop and a food program) are a good clue as to how to view this festival. It's not the usual neatly contained event because it's a cross between an electronic music festival and a more expansive city festival. Hence why you might find an artist like Sanders at midnight or world music pillars like Özkent up against hip techno acts like Aurora Halal, and also why Nuits Sonores may not have the most cutting-edge line-up. The city festival element means catering to a large group of locals, although you might not be able to tell that from the young, partying throngs in the main venues (Lyon is also home to a very large university). But the vibe is so congenial—sometimes messily so—and a strain of adventure still runs through the entire affair, which makes it a memorable pleasure for an outsider to visit.
Photo by Laurie Diaz via Nuits Sonores's Facebook page.