Fast Food 12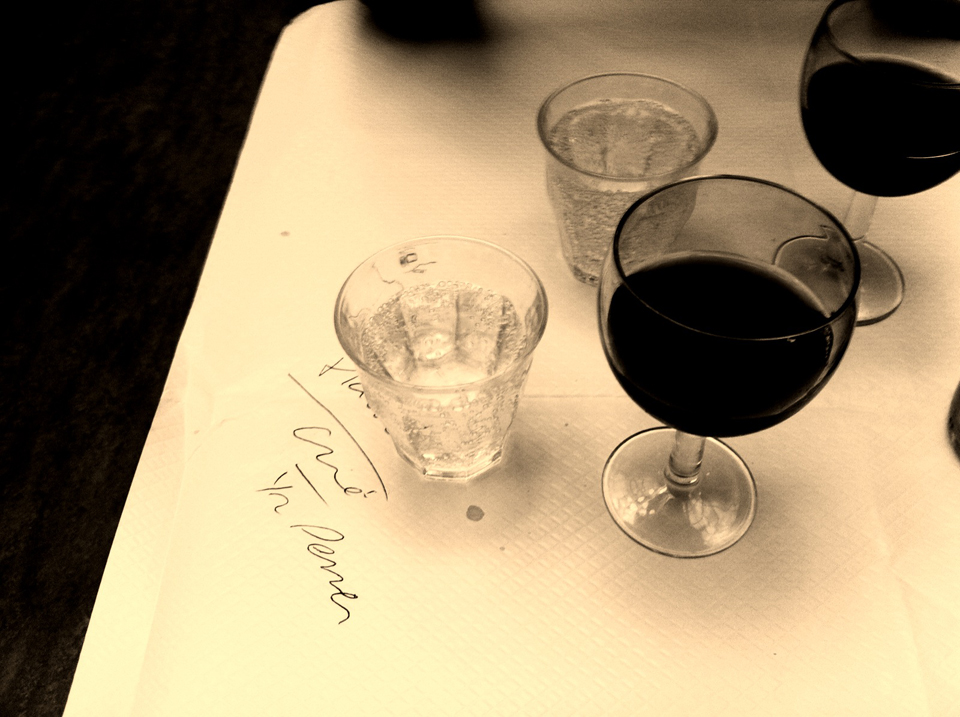 This week's installment of Fast Food covers thoughts on discretion and toughness. If you happen to be famous you probably don't want to be bothered while dining. Fast Food is a weekly blog about cooking and the micropolitics of dining by Thomas Schoenberger and Max Dax. Due to a heavy traveling itinerary, this week's episode didn't get published until today. The photo was taken at Bouillon Chartier in Paris. ~ Photo: Max Dax
Read previous episodes of Fast Food here.
Dax: While the cooks at Themroc experienced their own visibility by stepping out of the anonymity of the kitchen, the waiters had to take care not only of the service but also provide the audience with a space where they could behave freely. I am talking now about discretion and shelter. Sometimes big stars frequented the Themroc, such as The Fall's Mark E. Smith, Atari Teenage Riot's Alec Empire, Portishead's Geoff Barrow and Adrian Utley or Faust's Jochen Irmler—as well as Nan Goldin, John Giorno or Michael Stipe. They all had heard about the Themroc being a particular space offering something they probably wouldn't get that often elsewhere: They were treated as equals among equals.
Schoenberger: I'm not sure I get your point. The guests in the Themroc were visible. The place was brightly lit. What do you mean when you say that the guests felt protected?
Dax: Nobody seemed to take advantage of it being well lit. That was definitively the case. They could feel safe.
Schoenberger: Only 300 meters up the Torstraße, in yet another restaurant with an open kitchen, things were handled in a different way. That other place attracted a lot of Hollywood's A-list stars. The restaurant seemed like they wanted to capitalize on their reputation as being one of Berlin Mitte's hottest spots. Every time a star would show up you could be sure that the local newspapers would have a photo story ready the next morning.
Dax: How did you treat celebrities at the Schönberger?
Schoenberger: We treated them like non-celebrities. As you were saying, confidentiality is important. It doesn't matter if people are famous, if they are gangsters or if someone's dining with his or her affair, cheating on their partners. They all had their privacy.
Dax: I have to point out yet another aspect of that particular philosophy that was shared by both the Schönberger and the Themroc. Both had a squad of tough women who served the guests. I remember plenty of moments at the Themroc in which, for instance, a waitress called Tatjana Kononenko insulted her guests. She was and is a stunningly beautiful film director from Ukraine who was working shifts at the Themroc to finance her studies at Berlin's film academy. Being a proud woman, she refused to accept money from her family, insisting to fund her life and studies all by herself. Growing up in both Ukraine and a Soviet military barrack near Weimar, as a girl she used to play tactical warfare with her pals in old, discarded Red Army tanks. So, whenever a guest would behave arrogantly, was pushy or confront her with sexist preconceptions because she was beautiful and from Kiev heritage, she had her ways of turning the guest's stay at Themroc into a living hell.
Schoenberger: How did the owner Alireza deal with it?
Dax: For some time, say, for two years, he'd let her perform that way—knowing that this would help build the Themroc's reputation as being a somewhat different place. I will never forget how Tatjana once refused to serve a hipster couple that annoyingly continued to boss her around, calling her "service". After a short while she didn't serve the table anymore at all and ignored the couple. When they apprehended her she presented them the bill and calmly told them the address of another restaurant nearby, the Grill Royal, where they could try their luck instead.
Schoenberger: That reminds me of our tough women at the Schönberger. I officially sanctioned such a behavior. I considered it proud and professional. My waitresses didn't have to fear punishment if they'd piss off a certain kind of customer.
Dax: Didn't you also run this system of putting "reserved" signs on the tables even though they weren't booked at all? This way you could always refuse to seat people you didn't want to have in your restaurant.
Schoenberger: That's partly true. But we mainly used the "reserved" tables policy to make sure that regular guests would still get a table when we were overcrowded. But tell me more about the women at Themroc. Your wife Luci used to work shifts there too. How would you describe her role as a waitress in this context?
Dax: I'd say she was as important during the formative years of the Themroc as were the other members of the core crew—the three owners Alireza Farahmand, Manuel Schubbe and Olivier Lapeyre, but also Tatjana, the French cook Julien Ponthieu and the Danish steward Ole. They all played their part in defining the Themroc as a nocturnal refuge for Berlin's lost and hungry drifters. If you had Luci as your waitress, you could be sure that you were served correctly and warm-heartedly. But if she didn't like you, she'd kill you with her gaze. An ordinary night at the Themroc ended around 4am. That's tough shifts for anybody involved. You have to find ways to survive such patterns. You have to be tough on a certain level or the job will destroy you.
Schoenberger: Let's talk about the extreme working shifts for a moment. Unlike the usual restaurant we didn't serve the regular dining hours. That's just another similarity between the Themroc and the Schönberger. Tell me a restaurant in Paris or in Rome that would serve food after 10pm? You will not find any. Whereas in our joints you could be sure to still get some of the menu's remaining dishes at around 11.45pm. And of course, after the last one was served you were allowed to smoke and the whole set-up would change naturally. It would give way to a more bar-like situation where everybody would continue drinking—and, by the way, from this point on music would matter too.
Dax: At the Themroc the same girls would serve the guests when the kitchen had already closed. That's what made these working shifts so draining.
Schoenberger: As you know, we had this bar in the next room. We called the bar the Nebenraum—German for "the adjacent room". Different girls were working at the bar alongside Ernest Hausmann who was running it. The waitresses by then had ended their shifts. Nonetheless you'd usually see them around until the restaurant closed its doors late at night. I'd call it a certain lifestyle that you don't just want to go home after an exhausting working shift but to stay and talk to the various guests, many of them being friends and acquaintances. Basically, the whole place turned from a restaurant into a bar. That moment often reminded me of these magical situations after a theatre premiere when the actors and the staff intermingled with the opening night audience at the theatre's canteen. At the Schönberger, we witnessed on a daily basis how the bar attracted its own audience night after night after night. Arriving at the Themroc or the Schönberger at, say, 12.30am. on any given day, you could be sure to experience the same solemnity you'd have after a celebrated theatre premier.
Fast Food 6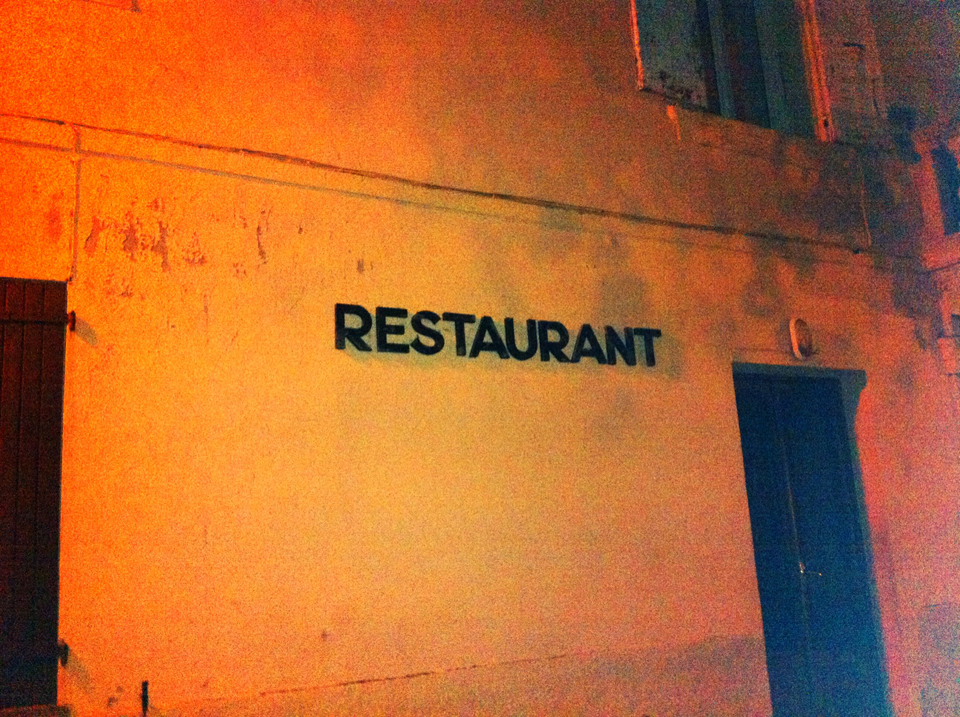 Fast Food is a new, regular feature on EB.net by Thomas Schoenberger and Max Dax. Every Saturday you can read a new piece of a sophisticated ongoing conversation about cooking, traditions and how to read the menu of any given restaurant. It is a discussion about disappearing spaces and why so many chefs listen to Miles Davis' so-called 'electric period' after an exhausting night in the kitchen. Photo: Luci Lux
Read previous episodes of Fast Food here.

Dax: I am a bit surprised as the article I had written about the Schönberger in fact was rather a small piece. It was a text about the brunch you were offering every Sunday morning and noon. I mentioned how noticeably fresh all the ingredients were and how many different tastes you were offering to your guests. I mean, you did basically offer everything from deep sea clams to carpaccio, from mozzarella-tomato-basil caprese to vitello tonnato. And of course I remember—and I think I mentioned it too in the review—that many of your guests were already boozing the chilly white wine you were offering around noon. You didn't take much money for it. Nobody understood how you calculated that brunch. But you were successful in gathering a particular kind of people Sunday after Sunday after Sunday. Musicians and artists, photographers and journalists, pimps and poets—there was always both a certain tension and a laid-back feeling. Today, you'd probably call it an air of 'after hour'. But the food was just too good. Even if you weren't hungry anymore, you'd stay just the same to try out the marinated sardines or some of the delicious raw milk cheese from France.
Schoenberger: Back then, the term 'brunch' wasn't yet a swearword. Also, we didn't offer our guests the day before yesterday's remainders. No, we composed the offerings from supplies that had been delivered during the night from Saturday to Sunday by our wholesalers. You wrote about the weekly brunch very efficiently in very few words. You were the first and only one who seemed to have understood the social aspect of this particular pattern. Hell, I remember how everybody in the kitchen thought: Finally, there is someone who just writes what he sees. It might seem ridiculous, but nobody wrote like that. So, I instructed my Maître d' to track down this Max Dax in St. Pauli's red-light district and to escort him into the Große Freiheit. As we both know, he succeeded. This wasn't of course the beginning of our friendship, but it illustrates quite sharply the way customs were handled in those days.
Dax: I must have been twenty-five then. You didn't allow me to pay for the dinners I consumed at the Schönberger. I didn't understand what was happening. I only knew such behavior from the movies.
Schoenberger: And still you didn't show up every evening as one might have had expected. I remember that you came for dinner maybe once a week. And when you came to visit that fall afternoon you ended up cleaning the green string beans because someone from my crew must have been absent. I never cleaned the vegetables—I had people for that. But when you came in I saw it as a spontaneous test to  consider you part of my storm troopers that I had to dispose. You cleaned the beans and I took care of the business.
Dax: The nice times didn't last long, though. You had to sell your restaurant soon after we had met. It took almost two decades until I was happy to discover a resemblant restaurant that was operating with an almost similar philosophy in Berlin Mitte—all those original restaurants that you can find in Milan, Paris or Rome don't count in this particular context as they are family-run and thus different. That one was called Themroc, like the French film by Claude Faraldo, and it still opens its gates every night at Torstraße—even though it has changed into something different. Which means that we are talking about the past again. And of course there were only a few obvious parallels between the Schönberger and the Themroc. The most visible one: Both places were referring to the original public bars and small restaurants that you find especially in France and the Mediterranean. The second parallel was the kind of company/people they attracted. The Themroc was a hybrid just like the Schönberger. Both were new on the block and both didn't build their legacy on a book of original recipes bequeathed from one's grandmothers. And both were unique in the cultural region called Germany. I consider this dialogue also as a chance to find out what you did differently compared to the vast majority of the others. You and Alireza Farahmand of course, the owner of the restaurant Themroc. And, even more importantly: What should be done differently when it comes to cooking—including your own kitchen at home!
Schoenberger: The other way to do things that I had in mind can be wrapped up in one sentence: I wanted to do things simply. I saw and I still do see cooking as a process. It's the process of producing lunch or dinner. If you do so—and most people do so at least once a day—you have to follow clean lines. You have to basically know what you are doing in your goddamned kitchen. And I admit that the term 'simple' is a wickedly tricky term to use. Because suffice to say nothing of what we were cooking was 'simple' or 'easy' at all. It just looked like that. But this air of simplicity constituted our reputation as a 'different' restaurant. The same counts for the Themroc. In both cases, people—wrongly—assume that the simple fact that you get your food on a white plate and that as a guest you can clearly identify the ingredients and the products you are going to eat, also means that its cooking procedure is 'simple', too. This is, to make a long story short, one of the biggest misunderstandings in life.