Videodrome 105 – This week's best videos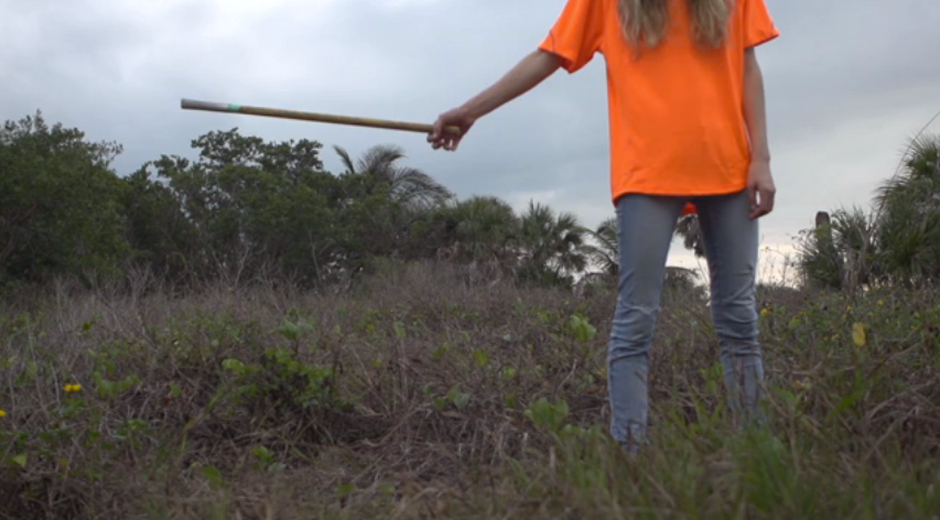 The very first video selection of July 2013 has quite a variety on offer. Try Gucci Mane's insane "Trap House 3", the classy animation for the first new Moderat-tune—made by our pals of Pfadfinderei. Then there's David Lynch: his debut video for the unstoppable Nine Inch Nails has debuted online. Also the first new track/video from, yes, The Pixies, plus the Marcus Söderlund-directed video for Mount Kimbie's "You Took Your Time". Press play below.
#1 Gucci Mane feat. Rick Ross – "Trap House 3", directed by DRE films
Watch how Gucci Mane and Rick Ross become dope dealers in the video for "Trap House 3". Also worth checking out Slackk's recommendation of Gucci Mane's Trap God 2 while listening to the whole Trap House 3 album over at his Bandcamp.
#2 The Weeknd – "Kiss Land"
All we know is that The Weeknd's album, Kiss Land is about to drop later this year. The title track has got its own little, Japan-inspired video.
#3 Dirty Beaches – "I Dream in Neon", directed by Michael Lawrence
Dirty Beaches are beautiful. Filmed in Berlin and Hamburg by night, this video is for "Drifters", taken from Alex Zhang Hungtai aka Dirty Beaches' Drifters/Love Is the Devil LP—which is an amazing album.
#4 Dan Bodan – "Anonymous", directed by Keaton Ventura & Greg Fong
In this pick, the Canada-born, Berlin-resident Dan Bodan offers some very relaxed grooves and an amazing video for his new track, entitled "Anonymous".
#5 Moderat – "Bad Kingdom", directed by Pfadfinderei
Moderat is about to strike back with their Bad Kingdom sophomore album, released through Monkeytown Records next month. Our colleagues and collaborators, the Berlin-based visual studio Pfadfinderei, have now unveiled this cool animation-video. Chapeau!
#6 Nine Inch Nails – "Came Back Haunted", directed by David Lynch
NSFW! Killer new video (what else when Mr. Lynch is directing?) for NIN's comeback single "Came Back Haunted". Let's watch Twin Peaks again!
#7 Mount Kimbie – "You Took Your Time", directed by Marcus Söderlund
Black and white video joy, brought to you by acclaimed Scandinavian music video director Marcus Söderlund, here filmed on location in London.
#8 Ciara – "I'm Out ft. Nicki Minaj", directed by Hannah Lux Davis
Just before Ciara's July 9th release, the diva has released the dance-heavy video for "I'm Out" featuring Nicki Minaj—watch CiCi and Nicki dressed in white above.
#9 Wavves – "That's On Me", directed by Brandon Dermer
Watch an angry man destroying various items. There's also some kind of a Nirvana moment here.
#10 Pixies – "Bagboy", by LAMAR+NIK
Yes, The Pixies are back. Shortly after Kim Deal left the band (again), out of nowhere this track surfaced with the announcement of a european tour later this year with the bassist Kim Shattuck taking Deal's place.~
Pictoplasma: The world's leading festival of contemporary character culture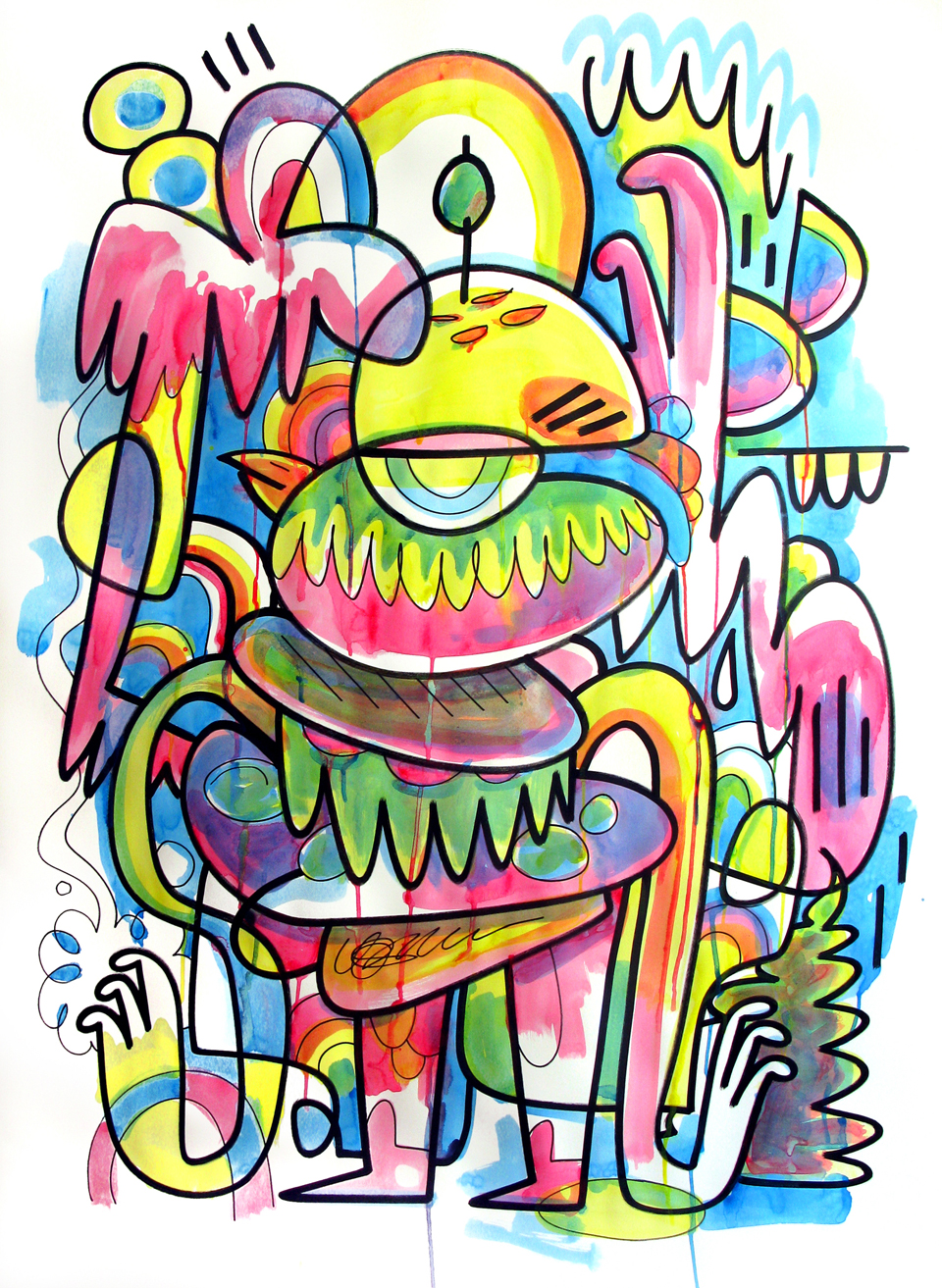 A new edition of Pictoplasma, the world's leading conference and festival on character art, is going on in Berlin now until April 14th. Along the lines of its subtitle White Noise, the 2013 edition again wades through all sorts of graphic and animated design, illustration, and both fine and urban art, delving into the ever-growing cosmos of designed characters. Needless to say, characters are part of everyday communication—be it via TV, advertisement, or editorial content. In this day and age, where attention is currency, the need for effective communication through instantly recognizable designs has achieved its highest level to date. And as the white noise of images is getting louder, Lars Denicke and Peter Thaler, the project's founders and curators, offer a variety of panel discussions, lectures, and workshops on the topic. As well, all types of plump and petite, cute and crazy, bustling and bemused figures are inhabiting the streets and exhibition spaces of Berlin. Lars and Peter recently popped by the Electronic Beats office, and we asked them to share some insights into this year's program, picking one of their favorite artists each.
Lars Denicke:
Geneviève Gauckler will be here for the second time; we invited her to the very first edition of Pictoplasma nine years ago. Basically, what she does are little creatures that look like black eggs with long legs and two spots that serve as their eyes. In its total reduction, it gives a matrix of what a character in its purest original form is: just a little something that stares at you.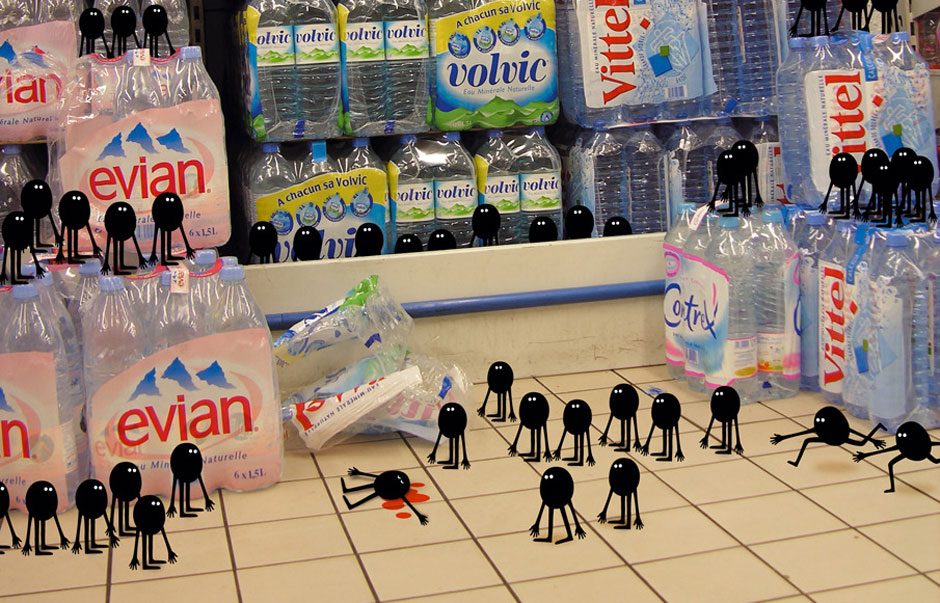 Peter Thaler:
This year, the festival's theme is White Noise, and we invited Osian Efnisie for the fist time. He's an artist who's intalling a three meter long paper roll, where he's painting with the cheapest ink pens you can get. Then, almost by accident, little characters appear within his scribbles, looking like a mixture of Mickey Mouse and Hello Kitty. In total, this atmospheric noise is exactly what this years issue is all about.
Click the links for info about the conference, the screenings, the exhibitions, and the club nights, and watch the trailer below:
WHITE NOISE – Pictoplasma Festival 2013 Opener from Pictoplasma on Vimeo.
4th British Short Film Festival in Berlin starts Friday
Clap your hands and say yeah, because from Friday the 14th to Monday the 17th, the British Short Film Festival opens in Berlin with a variety of amazing short films, concerts, parties, workshops, exhibitions, open screenings, panels and much more.
For the fourth time the festival, which is taking place at the Sputinik Kino in Kreuzberg and the Schaubühne dedicates itself to new British short films from up and coming filmmakers.
Judging by the submissions we've read about so far visitors and film-addicts can look forward to a flood of first-class shorts from a variety of genres such as comedy, drama, documentary, animation, thriller, experimental, music and Horror. Here is a very exciting preview of some of the films that will be shown at the festival:
Paris/Sexy by Ruth Paxton (Thriller), 24 min Thriller about a woman, keeping a dark secret in her house. But everything changes when a young couple visits her. With Elisa Sakowski (Eastern Promises and Shane Meadow's Somers Town), Martin Compston (Ken Loach's Sweet Sixteen) and the famous burlesque performer Missy Malone from Scotland.
Laika by Avgousta Zourelidi (Animation), 8:39 min Funny animated adventure about the dog Laika who went to space with the "Sputnik 2" mission. The Sputnik Kino will be the best place to show it!
Reign of Death by Matthew Savage (Thriller), 6 min Dark mixture of elements from Film Noir and Science Fiction. A detective tries to fight a killer robot. With Noel Clarke (Dr. Who)
Scent by Emily Bignell (Drama), 16:23 min An old man keeps the death of his wife a secret. He doesn't tell anybody, he still washes her, feeds her, brings her to bed … But it gets more and more difficult to hide the truth. A very intense drama about love and loss.
Check out the complete programme here.
Sputnik Kino
Tickets Screenings & Concerts: 5 Euro / for students & jobless 3 Euro
Festival Ticket for all Sputnik Screenings & Concerts: 25 Euro / 20 Euro
(Advance booking: Pay 20 Euro / 15 Euro until January 10th at Sputnik Kino)
Schaubühne am Lehniner Platz (Studio)
Kurfürstendamm 153, 10709 Berlin-Charlottenburg
Tickets Screening incl. Concert: 5 Euro / 3 Euro