Emil Schult on Kraftwerk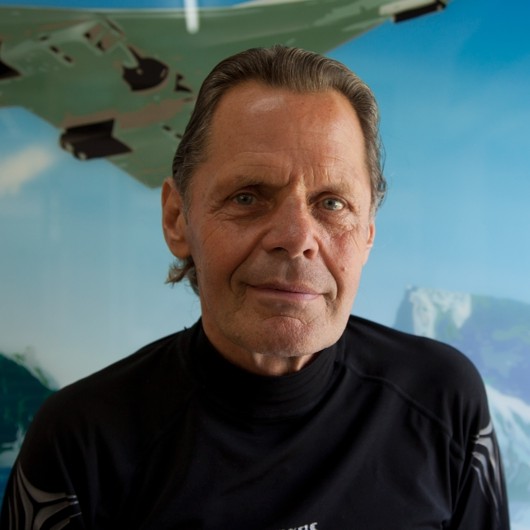 I began my studies at the art academy in the late sixties under Diter Rot, Joseph Beuys and Gerhard Richter, who had all been extremely influential in terms of my artistic development. That's also when I first met Ralf and Florian and became involved with Kraftwerk. In general, the art world in Düsseldorf was a pretty competitive atmosphere and it wasn't always so easy to find people you could work and get along with, especially in terms of feeling comfortable enough to show your art.
At the time, both Ralf and Florian were already innovative and advanced, musically speaking, and I had long been fascinated by electronic music. They were gracious enough to allow me to come by and, well, take part. My input with the band was always part of a larger artistic dialogue, which included visual ideas that were developed together. It wasn't just give and take; it was also about developing things conceptually in parallel processes. A good example of that is the "music comics" developed for the album Ralf and Florian, where, if you know the group, you can really see what a mix of ideas and input it is, visually speaking. Interestingly, the same was also true for developing some of the musical instruments and electronic sounds. Whenever Kraftwerk wanted to redesign an acoustic instrument to make it electronic or somehow create an electronic simulation, then a visualization, a sketch or a notation was part of the process.
Electronic music makes use of a sound spectrum that's larger than acoustic music. It's enabled humanity to expand mental processes and to imagine the future, which is why I think there's always been such a strong connection between electronic music and science fiction. For example, at the World's Fair in New York in 1964, I saw a pavilion called Futurama that featured visions of the future—cities in the ocean or in the sky, advanced forms of transportation—and these were accompanied by electronic sounds from some of the earlier synthesizers and electronic instruments put together by Raymond Scott. This is the tradition in which my contribution to Kraftwerk can be seen. I think there are two main metalanguages in this universe: music and image.
When I create an image and put it into the world, then people understand it non-discursively. You know, people tend to say an image is worth a thousand words, but music is even further along in that sense: when I play a series of notes in a certain order, then people immediately relate to it in some way—they have immediate associations. That's why progression in music and art is strongly connected to human progress.
You can make destructive music, but you can also make music that pushes things forward. Electronic music is the music for modern times, the music that allows us to meet the standards of today's technology. The Internet and other forms of digital communication demand a metalanguage sophisticated enough to process and interpret it. Progress in art, music and society are also necessary to balance the madness of excess and greed, which leads to landmines, radioactivity and destruction of living cosmic tissue. You can see the balance and progress in children—especially in their acceptance of electronic beats. They are far less biased than older people, far better able to perceive things intuitively and far more likely to see art and music as a reminder of paradise.
For the shows at the MoMA, and specifically the 3-D visuals, I participated by figuring out ways to provide the images with a new dimensionality—especially those for "Autobahn", "Kometenmelodie", "Airwaves", and "Trans-Europe Express". These we discussed quite a bit and, with the programming skills of Falk Grieffenhagen, turned into material for film projections. I've been taking part in Kraftwerk concerts for over forty years, and what was presented at the MoMA was the absolute pinnacle of what I've had seen and heard. The sound, the visuals, the amount of people at the shows . . . it wasn't a normal "concert" experience. In that sense, it wasn't really a "concert" experience at all.~ Photo: Luci Lux
Earlier this year we where reporting from the Kraftwerk Retrospective 1 2 3 4 5 6 7 8 at New York's MoMa, where we collected a lot of interesting takes on the legendary techno innovators from the likes of Juan Atkins, Afrika Bambaataa, Klaus Biesenbach and more — read them here.
–
This text appeared first in Electronic Beats Magazine N° 30 (2012). Read the full issue on issuu.com:
A week in the life: 168 hrs Kraftwerk, NYC part 1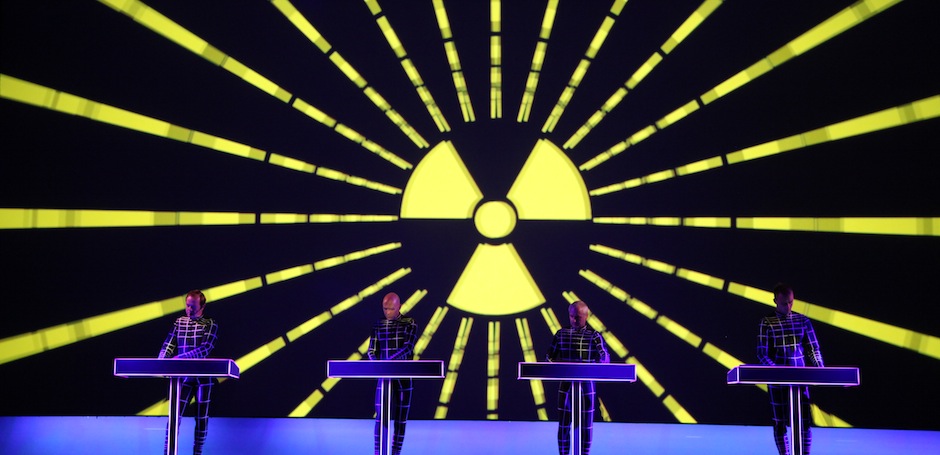 Photo: Max Dax
Few bands cast a shadow as long (or wide) as electronic pioneers Kraftwerk. The influence of the band's trail-blazing retro-futurism, conceptual precision and electronic minimalism is difficult to overestimate, extending beyond numerous genres of electronic music into the broader realm of art and popular culture. And the art world seems to have caught on. This past April, New York City's Museum of Modern Art presented Kraftwerk Retrospective 12345678, a series of eight sold-out 3-D concerts, one for each Kraftwerk album, beginning with 1974's Autobahn and ending with 2003's Tour de France Soundtracks. The result was an audiovisual tour de force that put the "werk" into Gesamtkunstwerk— with peerless kraft.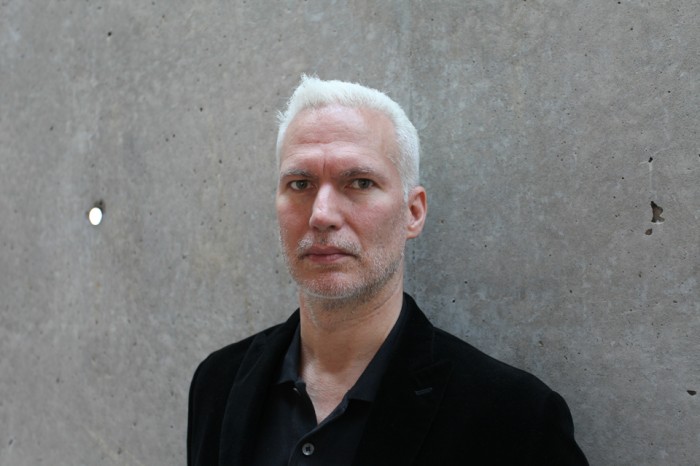 TUESDAY
Klaus Biesenbach, Director of MoMA Ps1 & Chief Curator At Large at the Museum of Modern Art
Photo: Luci Lux
Honestly, I don't really know anything about the music world—I just know a lot of musicians. So when I first contacted Kraftwerk in 1998 for the Berlin Biennale, while I was working with Christoph Schlingensief, I had no idea what to expect. I think at the time, Kraftwerk were at a point in their career when they had yet to decide if they really wanted to commit to the art world. The thing is, 1998 was also the height of the Love Parade in Berlin, and the organizers also asked them to take part, which they didn't do. But I think maybe they were scared off because we both asked at the same time. It took a while, but they answered our call in 2007. That's when we first started putting this in the works.
What we've done in the MoMA atrium is pretty much recreate Kraftwerk's Dusseldorf-based Kling Klang studio, down to very minute details. Attending every show and being so caught up in the process, I've experienced the retrospective in a very specific way: The first night I was completely exhilarated; the second night I was irritated by the rhythm and duration; the third night I was completely addicted. It was like being on a bicycle, cruising along, eventually having to go uphill, and then coasting back down again and hitting your rhythm. Then it's in your body. When I did the interview with Jon Pareles for The New York Times together with Ralf [Hütter] the word "tangible" kept coming up. Ralf said that when he speaks during concerts, he does so from inside the music. For the Trans-Europe Express show, they performed 'The Hall of Mirrors' which is all about Echo and Narcissus. These are the audio and visual reflections that are both sent and received, like a radio station transmitting and receiving, an artist looking and being looked at. It's an excellent metaphor of what's been done here at the MoMA, which has cost a considerable amount of money to produce and involved an incredible amount of building and restructuring. My colleague from the Whitney thought that the exhibition space had already existed. No, this was created to bring people into the image, into the cube. And within the cube, people are inside the cone of 3-D projection, which extends from the screen onstage to the projector in the back. Both the band and the viewers are literally inside the art. You can't stand on the side. I told people when they watch, they have to be in the cone.
During the first dress rehearsal, when the sub-bass came on during 'Kometenmelodie 1', several light fixtures started rattling. We took the frequency out, because I thought the building would collapse—I thought the paintings would fall off the walls. We ended up solving the problem of course, but it gave us a scare. The fact of the matter is that when you're curating, especially doing a retrospective, you give up your own personality. It's the strangest thing. When I was doing Marina Abramovic, I had to completely dive into her world and live her speed and velocity. Or better: stillness and duration. It's an intimate experience with a work of art. It means you have to be completely available. So I've been listening to Kraftwerk straight for the past four months. You know, with every artist, there's a first work where the nucleus of all future ideas is contained. And that's extremely important to know when creating a retrospective. Here it's Autobahn, for me. That's subjective, of course.
I think Kraftwerk have been artists from the very beginning, but they were kidnapped by their mainstream success. Of course, everybody is happy to be kidnapped by success, but it makes it more difficult to recognize who and what they are. Still, in the sixties and seventies their studio was right next door to Gerhard Richter's. They could have drilled a hole in the wall and been right there. But honestly, not a lot of people have understood the extent to which Kraftwerk are and were artists, in Germany especially. Of course, I assume that people like Gerhard Richter and Sigmar Polke got it. Joseph Beuys got it. Werner Herzog and Fassbinder got it. Katharina Sieverding got it. But not many others.
For me, Kraftwerk are very much children of the BRD, the Federal Republic of Germany. I am like a grandchild of the country, and Kraftwerk are father figures. The BRD, like the GDR, dissolved—it doesn't exist anymore, but artistically speaking, it was all about Kraftwerk, Heinrich Böll and Joseph Beuys. It used to be that Germany had the first truly active Green Party, and culturally—in art and music—this played an important role. Beuys sang 'Sonne statt Reagan', and there were massive anti-nuclear protests, especially against the stationing of Pershing missiles. Fassbinder's Berlin Alexanderplatz featured Kraftwerk's 'Radioactivity', of course. I see all this in a very specific historical context, but also in an artistic one. The incredible thing is how Kraftwerk have been capable of not just updating but upgrading their material over the course of their careers.
Somehow it seems like people haven't understood that the retrospective is an exhibition and not just a concert. People just don't get that, and it's been very hard to get people into a different mindset. It's like with movies—film was the leading art form of the twentieth century, and it still hasn't really made it into art museums. Museums can be so slow. With a time delay, art arrives with cinema, which is something I'm trying to push. I did Doug Aitken at MoMA which was big, cinematic images with no sound, then I did Pipilotti Rist, which was cinematic images with sound, then came Marina Abramovic, which was cinematic image with sound and live performance. And now it's gone one step further. Kraftwerk is the fourth step. But there's a fifth step, and I'm not sure what it is yet. A few months ago I went to the Cologne Cathedral to check out Gerhard Richter's stained-glass works. And all I could think is what it must have been like a few hundred years ago to come from some mud-hut, some tiny town with no electricity, no heating, and see this incredible thing with image and sound. That's what I imagined seeing and listening to Kraftwerk to be.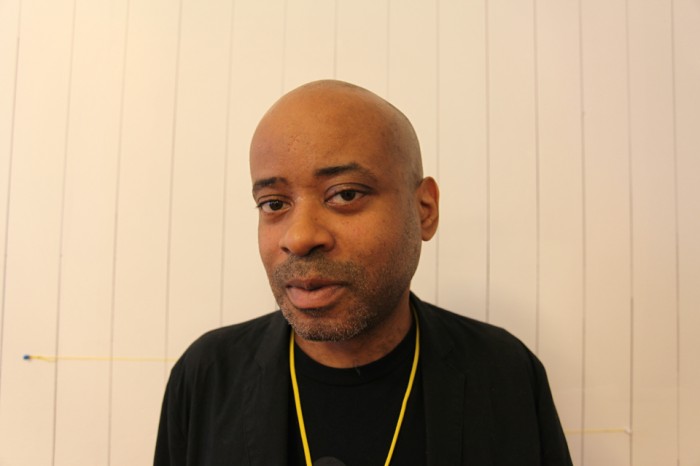 WEDNESDAY
Juan Atkins, electronic musician and founding father of Detroit techno
Photo: Luci Lux
The first time I heard Kraftwerk was on The Electrifying Mojo's radio show in Detroit in the late seventies. This is when FM radio was still young, and there were only, like, three stations. There really was no specific format for FM radio at the time—DJs were allowed to do what they wanted. You heard them play entire albums when they felt like it, which couldn't be more different from today's radio format. Mojo used to play 'Trans-Europe Express' and 'We Are The Robots' pretty regularly, but the first time I heard 'Robots' I just froze. My jaw dropped. It just sounded so new and fresh. I mean, I had already been doing electronic music at the time, but the results weren't so pristine—the sound of computers talking to each other. This sounded like the future, and it was fascinating, because I had just started learning about sequencers and drum programs. In my mind, Kraftwerk were, like, consultants to Roland and Korg and stuff because they had these sounds before any of the machines even appeared on the market.
Needless to say, Kraftwerk definitely influenced my sound, because when I heard their music I automatically knew I had to tighten up what I was doing; I had to make it cleaner and better—though not necessarily more minimal, because what I was doing was pretty minimal for the time. A lot of people think that I was copying Kraftwerk directly, but that's absolutely not the case. For me, they weren't any more of an influence than, say, funk—P-Funk especially. I actually had a chance to talk to Florian [Schneider] when we played Tribal Gathering together a few years back. We met up behind the Detroit stage and chatted a bit and I was really surprised to learn that Kraftwerk were hugely influenced by James Brown. Of course, P-Funk was made up of at least half the JB's first line-up, so somehow Detroit techno was a very natural, even "fated" progression. I mean, there were other funky electronic bands around—Tangerine Dream and Gary Numan and all that—but none were as funky as Kraftwerk­. I mean, you could actually play the stuff on black radio, and that wasn't a small feat. You could go to an all black club in Detroit and when they put on 'Pocket Calculator', everybody just went totally crazy.
Kraftwerk's minimal lyrics were part of their overall concept, and definitely contributed to their special blend. I can say for sure that they put Germany on the map for me. When I was a kid in school in America, the only thing we learned about Germany was World War II. Also, I always had this impression—independently of the war—that Germany was very logical, very machine-oriented. And without a doubt, when I went to the Man Machine show at the MoMA retrospective, I could definitely hear the way they combined the machine-driven syncopations with a more human take on improvisation. And the visuals were phenomenal. I had only heard after the fact that Ralf Hütter had played an important role in choosing both Francois K and I to do our DJ sets for the Kraftwerk exhibit at the geodesic dome at PS1. I'm proud to have been a part of it.
Day One
April 10, 2012
4:45 a.m. wake up call.
5:30 a.m. taxi from Neukölln to Berlin Tegel airport.
7:00 a.m. flight BA 0981 to London Heathrow (Int'l Terminal 5).
9:55 a.m. flight BA 0175 to John F. Kennedy (Terminal 7).
12:21 p.m. arrival at John F. Kennedy (Terminal 7).
12:52 p.m. US border control.
Mr. Schneider, the primary purpose of this trip is business? No.
Are you bringing fruits, vegetables, plants, seeds, food or insects to the US? No.
Are you bringing meats, animals or animal/wildlife products to the US? No.
Are you bringing disease agents, cell cultures or snails to the US? No.
Are you bringing soil or have you been on a farm, ranch or pasture? No.
Have you been in close proximity of (such as touching or handling) livestock? No.
Are you carrying currency or monetary instruments over $10,000 U.S. or foreign equivalent? No.
Well, then enjoy your stay in New York, Mr. Schneider.
Outside JFK Terminal 7, V2 Schneider hopped in a Gypsy cab to Chinatown. It was a warm and sunny spring afternoon. Jumping out on Grand and Essex, he deeply inhaled the exotic smells and embraced the omnipresent bass drone of the Lower East Side.
What was intended as a power nap ended six hours later, and Schneider took a cab to arrive at 7:45 p.m. sharp at the Museum of Modern Art on West 53rd Street, where an atmosphere of excited anticipation permeated the first of eight Kraftwerk shows for their Retrospective 1 2 3 4 5 6 7 8. In light of the massive global buzz that went along with the announcement that Kraftwerk would be playing their entire official catalogue at the MoMA, there were surprisingly few people cued up for the event in front of the main entrance. A beautiful young woman wearing a black two-piece business suit noticed the disorientated Schneider and escorted him to the reception desk. Minutes later, he entered the irritatingly small performance space on the museum's second floor. Unlike any other concert Schneider had previously attended, not a single member of the strangely reserved audience dared move to the front of the stage. Instead, they all politely hovered in the back of the dimly lit white cube. A large, white cloth curtain projected with pixelated black and white images of four musicians standing behind keyboard consoles hid the stage from the audience. Then, at 8:26 p.m., the curtain fell, while Schneider stood in the front row, slowly sipping from a bottle of Stella he bought at the museum's bar.
As Kraftwerk started into "The Robots", V2 Schneider noticed just how close he was standing to Ralf Hütter, the quartet's only remaining original member. Schneider looked into the eyes of a man who has aged with dignity. Poker-faced and in full control of his emotions, Hütter led the band through an impressive set-list that included the album Autobahn in its entirety, as well as "The Model", "Computerworld", "Trans Europa Express", "Boing Bumm Tschak" and other classics. But Schneider was especially moved by "Kometenmelodie 1", "Kometenmelodie 2", "Mitternacht" and "Morgenspaziergang"—tracks that Kraftwerk hadn't played live in decades. Originally composed and recorded analogue, Hütter and Co. brilliantly improvised upon these songs from the four digital consoles. Schneider closed his eyes and listened to the three musicians (the fourth is said to be the VJ). The music was cosmic. And important.
The MoMA is considered the temple of Western modernism and contemporary art. That Kraftwerk chose to play there is, of course, part of a larger strategy of the canonization of their music as fine art. The first step taken in that direction was Kraftwerk's collaboration with the German painter Thomas Scheibitz for the Venice Biennial in 2005. The next was their performance as part of Andreas Gursky's exhibition Rhine on the Dnipro in Kiew in 2008, and subsequent debut of their Kraftwerk 3D stage show at Munich's Lenbachhaus in 2011. These days, the band are represented by Berlin-based gallery Sprüth-Magers, whose roster also includes Jenny Holzer, Ed Ruscha, Joseph Kosuth, Thea Djordjadze, Thomas Demand, Andreas Gursky and Cindy Sherman.
"I guess you should judge people by the company they keep," said Schneider to himself, as he he jumped back in a cab towards Grand Street for a late supper.