Berlin Music Week touches down at Tempelhof
We guided you through Berlin Festival, we gave you a heads-up on ICAS Suite and so now we'll give you a roundup of Berlin Music Week, the merger of international business platforms, musicians, bookers and the live-entertainment industry.
In its second year Berlin Music Week (BMW) will again focus on new developments in music consumption, distribution and marketing as well as building strategic partnerships across the individual segments – which hopefully benefit the individual user in the end. Also, BMW is not a single event, it can be better understood as the entity of all the single events during that week (i.e. ICAS Suite, BMW Clubnacht, Club X-Berg, French Connection, Yellow Lounge, etc).
From September 7-11, Berlin Music Week will take place in many venues around the city of Berlin – in clubs, on the river Spree as well as around Tempelhof Airport, where (besides Berlin Festival) the two platforms Popkomm and all2gethernow Conference are based.
Most of the BMW programme addresses a professional audience – but besides all the business bla one can find interesting panels discussing the future of music and entertainment. Very promising are the workshops during all2gethernow Werkstatt – check out the programme and find your personal favourites. University students can also get themselves a reduced ticket for Popkomm market place and get in touch directly with the movers and shakers of the pro biz. And then there's the Red Bull Music Academy which is inviting for in-depth panels and concerts at Hansa Studios.
This is just the tip of the iceberg, so make sure to have a look at the full programme listing and save some money when choosing just the tickets you need. Last but not least: don't forget to pick up your free copy of Electronic Beats Magazine at BMW Headquarter at .HBC in Berlin-Mitte.
ICAS Suite brings club music to Berlin Music Week, you can win festival passes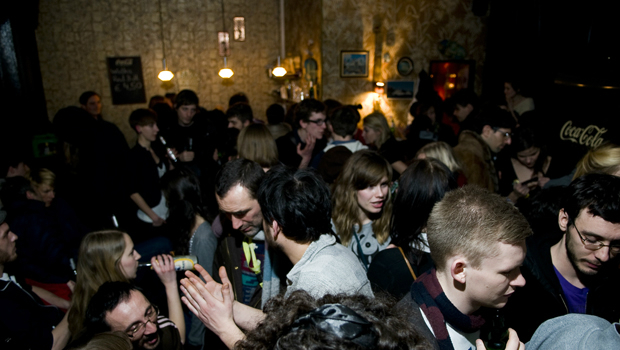 Berlin not only sees the fifth edition of Berlin Festival (for which you still can win tickets to) in a couple of days, a whole entertainment and information programme is built alongside the festival. In its second year, Berlin Music Week (BMW) will once again be hosting discussions on new trends in music and entertainment from a fan and professional point of view. Besides this, the festivals ICAS Suite in cooperation with CTM will be covering all aspects of electronic music.
The network ICAS Suite (an acronym of International Cities of Advanced Sound) consists of around 30 independent, non-profit organizations and festival curators from all over the world, focussing on the international development and presentation of diverse musical cultures and arts.
From September 7-10, ICAS Suite makes stop in Berlin for BMW, presenting a number of interesting showcases. Located around Berlin-Kreuzberg's 'Kotti', ICAS invites you to tiny, sweaty bars such as Paloma Bar, Monarch and West Germany or to bigger venues like Festsaal Kreuzberg and new Blumenbar Club (near Moritzplatz).
To name all of the participating artists would be blowing the space – don't forget to check out the full line-up. Worth mentioning however are the sets of Peter van Hoesen, 2562, Schneider TM, Groove & DE:BUG Magazine dj teams, Jacob Korn and Cuthead, Cosmin TRG, Deadbeat, Ossie, The Mole, Toy Selectah and Kassem Mosse.
Tickets for ICAS Suite are available here as (day) passes from 7 to 30 Euros, you can also merge ICAS Suite with Berlin Music Week Club Night. Or you can win two passes valid for all 4 days of ICAS suite. Simply drop us an email with your full name to win@electronicbeats (Subject: ICAS because you do) until September 2, 5pm (winners will be notified on saturday, September 3 via email).
The EB guide to Berlin Festival 2011, which you can win 2 tickets to!
Festival season is nearly over but the best is yet to come! Early september sees this year's edition of Berlin Festival take place at the historic innercity airport Tempelhof – spitting distance from Kreuzberg's club culture and Berlin Music Week. A festival can't be much more urban than this one – and luckily the artist forecast is delicious, too.
The EB team recommends you watch leftfield heroes LFO, house butches and femmes Hercules And Love Affair, The Rapture with their new album, Apparat Band of course and all of these: DJ Hell, Buraka Som Sistema, Mount Kimbie, James Blake, Rainbow Arabia, Gesaffelstein and Public Enemy!
And, if you're more into guitar noises check out Wire, Health, Steve Morell and Battles! And then there's the highly anticipated reunion set of (Absolute) Beginner of course – so make sure to bring your dictionary with you for some 'hamburgischen Sprechgesang' from Eimsbush basement. Check out the festival website for the full line-up.
As well as the musical programme you can discover arts and culture with the Art Village, their Design and Record Label market and the mobile disco right on the festival compound. And with Tempelhof's festival stages closing during the early evening, the musical vibe won't die though: Club X-Berg and Berlin Music Week Clubnacht offer plenty possibilities to dance away the night.
Last but not least: We're giving away two 2-day-passes for Berlin Festival 2011 (Sept 9-10) so you can save 160 Euros for you and a friend of yours and spend the money at the bar instead. HERE'S HOW TO WIN:
Share this page with your friends! By email, via Facebook, Twitter, MySpace – whatever suits you best! Then take a screenshot of your shared post (HowTo: WIN/OSX) and send this together with your full name and phone number to win@electronicbeats.net. The competition ends on September 4th, winners will be notified on monday, September 5th. Good luck and see you down-the-line at Berlin Festival 2011!