The Week in Photos: 2/17/13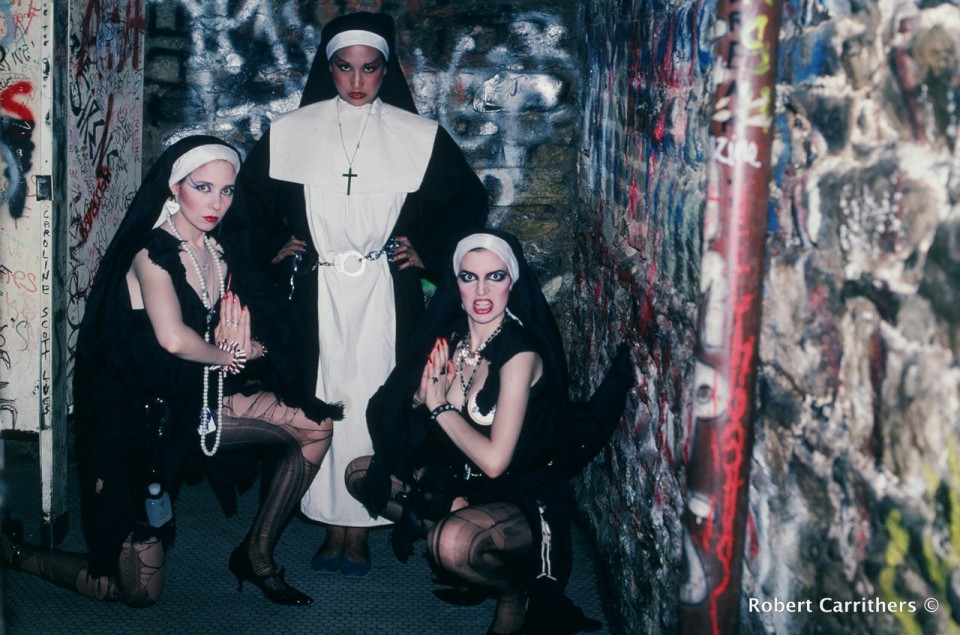 Each day on Electronic Beats, we feature a different photo in our header—be it from an artist, musician or just a snapshot of something we think is cool. Collected below are three of our favorites from the last week or so. Take a peek through; we hope it leads you to discover something new and interesting…or maybe just a new cover photo for your Facebook. And for a look at some of the meatier content you might have missed from last week, be sure to check out our weekly roundup!
1.Karen Constance is perhaps best known as one-half of British noise duo Blood Stereo, a project she shares with her husband Dylan Nyoukis. Together, the Brighton-based pair are lynchpins of the British experimental music scene, not least because of their festival Colour Out Of Space. But Constance's work as a visual artist has proved just as consistently fascinating as a creative strand. This painting (untitled, acrylic on canvas board)—a fine example of striking and rather beautiful surrealism. Check her website for more images of her paintings and collages.
2. On the fringes of the Berlinale, namely at the art space Loophole in Berlin's emerging Neukölln district, an alternative movie festival is happening right now! Big movies with mostly small budgets are shown every night for free in a laid back space. If you are tired of the streamlined Berlinale program and are searching for something a bit more underground and exciting, the Boddinale is your best bet.
3. This striking image is by American photographer and filmmaker Robert Carrithers. You may remember him—he's one of the seven voices that make up the series of monologues for our 24 hours in Prague feature. This Friday in Berlin sees the opening of The Groovy Dada Lounge Revisited, an exhibition featuring Carrithers' work documenting the underground art and music scene of '80s New York—a scene he was actively a part of. Few periods in New York's history are quite as storied as this one Picture of the Day stars, above). The exhibition is part of the Ninth Berlin International Directors Lounge and takes place at Naherholung Sternchen in Berlin-Mitte.Prague-based DJ Ida Taušlová will be playing a set while there's also a screening of Richard Lowenstein's Autoluminescent, an excellent documentary about Rowland S. Howard—a figure hardly estranged from New York's grubbier undercarriage–and a film which had such a limited cinema distribution that actually watching it has hitherto meant laying out a wad of cash for an imported Australian DVD copy.
Berlinale 2012 starts today
Let's pause a moment to reflect on the upcoming Berlinale Film Festival which starts from today. It's the time of the year when our beloved city transforms into a tiny Hollywood where red carpets are rolled out, Paparazzi linger in dark alleys and your chances of running into Werner Herzog on your way home are higher than ever. This year the Dieter Kosslick curated festival will focus on the future. The future of our lives: how do we want to live? What's the impact of the Arab spring, Fukushima, Ai Weiwei and the financial crisis on our lives? "There are a lot of films in this festival about changes happening in the world," Kosslick said. "We are showing the films in order to create a bigger picture about upheaval and awakening…It was natural to link these films with our other activities."
The variety of the selection films sounds promising even though there are not many big names in the competion. The big-hitters still tend to prefer Cannes but that doesn't have to be a disadvantage for the 62nd Festival. Debutants, unknown directors, and countries not associated with film-making can all offer a great deal that will not been seen elsewhere. Twenty-three films will be screened in the competition program, with 18 vying for the Golden and Silver Bear awards. One cool thing is that there are some promising German films on the program with renowned directors such as Hans-Christian Schmid, Matthias Glasner and Christian Petzold making submissions. On the contrary the US is keeping a low profile and is participating in the competition with only one film. In Jayne Mansfield's Car director and actor Billy Bob Thornton offers a family drama set in the US at the end of the 1960s. Some 300,000 viewers attended the Berlinale last year, and that's likely to be the case again this year. You better buy your tickets soon. See you there.
Festival of Iranian Films in Prague
Hollywood's supremacy in the world's cinema has long been contested by the globe's less likely protagonists of contemporary film, and we're not only speaking about India's buoyant Bollywood industry; there's Korea, Argentina and Hungary vying for the spotlight as well. Iran will be the center of attention during the upcoming film festival in Prague, taking place between January 11 and 15 at the city's art house cinema Svetozor.
Cinematic works from this country, especially from its capital Tehran, will be showcased including Nader and Simin, A Separation, an incredibly successful 2011 drama by Asghar Farhadi, the winner of Berlinale and nominated for Oscars. Aside from feature films, documentaries will also be shown including Here is Tehran, an insider view of the capital's graffiti and arts scene.
Berlinale premiers Ballad Of Genesis and Lady Jaye
One of the biggest and most prestigious film festivals in the world the Berlinale has officially announced their program for 2011 and as predicted it's enormous. Some of the festivals highlights include Margin Call with Kevin Spacey and the premier of the Coen Brothers new flick, True Grit.
However there is one film that might go unnoticed that deserves your attention, its called The Ballad Of Genesis and Lady Jaye, it centers on the ground-breaking performance artist and music pioneer Genesis Breyer P-Orridge (founder of Throbbing Gristle, Psychic TV) and his wife and collaborator, Lady Jaye who died in 2007.
The film details the daring sexual transformations the pair underwent for their "Pandrogyne" project. Basically Genesis P-Orridge turned himself into his late wife Lady Jaye as some kind of ode to her.
In a strange twist of events Genesis Breyer P-Orridge ended up bankrolling his cosmetic transformation through a $1.5 million settlement that took place after he was caught in a fire at Rick Rubin's house in 1995.
A film had already been made about the daring transformation called Open, and was premiered last year about the "Pandrogyne" project, so this is more of a follow up.
The film was directed by Marie Losier and it has been rumoured that Genesis and Tony Conrad will perform a violin concert together at Berlin's Haul Theatre as part of the Berlinale premiere.
The film premiers on February 15th, you can grab tickets here for the film right here.
Have a look at the trailer below: