The Book's Cover: Sean Bowie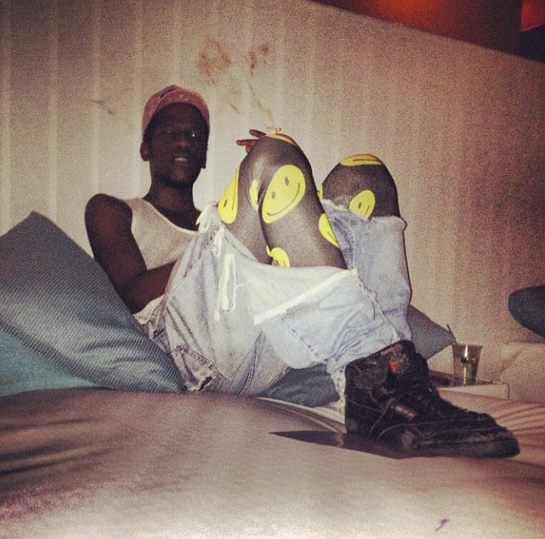 Every time I hear the phrase "Don't judge a book by its cover" I cringe.
Though well-meaning, as an idiom it stopped making sense when most books (and people) ceased to be covered by whatever old piece of brown sacking happened to be laying outside the village weaver's hut. Of course you can judge something by surface appearance. That's why we have graphic designers. Rarely do people have time to read a book before purchasing to determine the contents; in the same way, who has the chance to read a person before having any thoughts on the subject? True, the contents are the most important things, but what makes you discover those contents in the first place? Your eyes; your sense of aesthetics. A good cover speaks volumes, and The Book's Cover gives voice to those who wear theirs well.
Sean Bowie is a man of many talents, both audible and visual. Aside from his advanced fashion powers, he's been crafting a brittle-sweet brand of disco-tinged electronic weirdness under the guise of teams for a couple years now, landing a spot on the equally and delightfully odd Czech label AMDISCS and touring around the world. I'm honestly never quite certain when and where he'll pop up, though rumor has it he's forsaken his current home of Los Angeles for my current home of Berlin. His upcoming album Sierra City Center (a demo of which you can preview at the bottom of this piece) is a completely new direction for Bowie; the strange electronics are still present, but with a psychedelic, surf rock-inspired flavor. Life in LA definitely has that effect on people. What's Sean's ideal cover? Let's find out.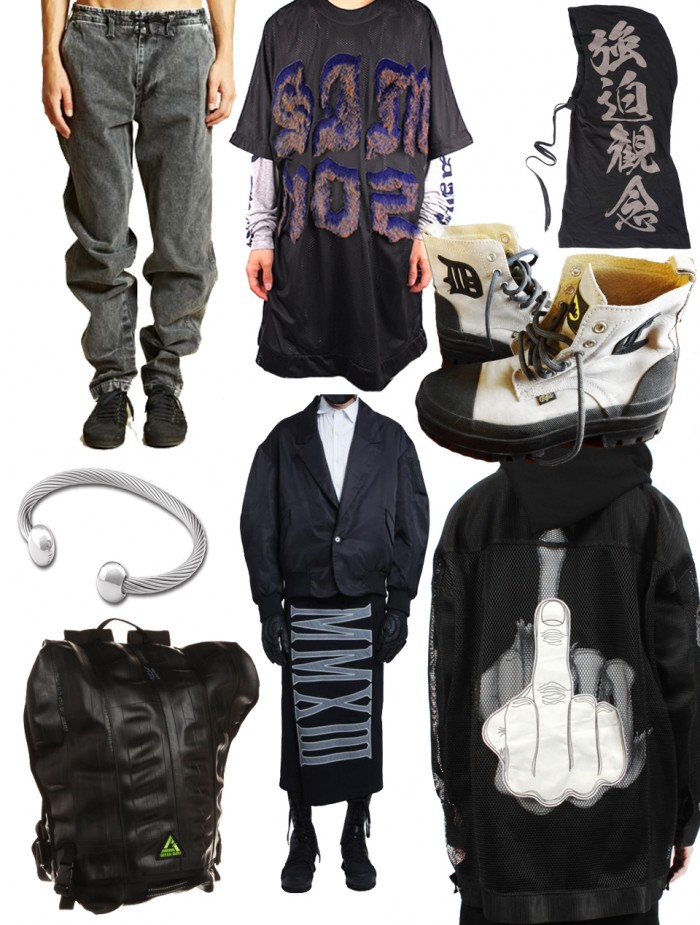 1. Yohji Yamamoto Men's Pre-Washed Jeans
2. Shaun Sampson t-shirt
3. Bernhard Willhelm hat
4. Buffalo boots
5. Daniel Palillo Finger jacket
6. KTZ AW 13/14 skirt
7. Q-Ray magnetic bracelet
8. Green Guru Gear Ruckus Bike Tube Backpack
Photo: Miller Rodriguez / PrettyPuke
Get some wisdom from Ann Sophie Berger
I first came across Anna Sophie Berger when my girlfriend asked me for my wisdom tooth which had been removed in a very painful one-and-a half hour procedure at a dental clinic a few months earlier. I gave it to her without hesitation since after the surgical invention she was the one who nursed me, cooked soup and wiped away the blood from my face. A few days later she turned up with the tooth hanging on a very nice necklace fabricated by the artist and fashion student Anna Sophie Berger.
From that day on, I noticed this girl, who is only 22 years old and speaks Japanese, was everywhere. There was a great photo exhibition called "My Mothers Closet" in June, she shot the cover for an Austrian Loha-Magazine named Biorama and best of all she won the Indie Magazine Award at this year's University of Applied Arts fashion show.
When it comes to her work with which she covers a very big spectrum of different art forms, you will quickly find out about her influences; On the one hand there is her family, and you don't need to be Freudian to get that the early days in her life are a big factor. When you take a look at Anna's photos you will come across her parents, especially her mother, very often.
On the other hand there is her professor at University, Bernhard Willhelm, who's weirdness also seems to be in Anna's head and luckily in her work too. I guess, this is what makes her an extraordinary artist.
Check out Anna Sophie Berger's website and take a look at some of her projects. And you can get the Wisdom Tooth necklace at Wood Wood Vienna.