EB Listening: Stream Ricardo Tobar's debut album <i>Treillis</i> and read a track by track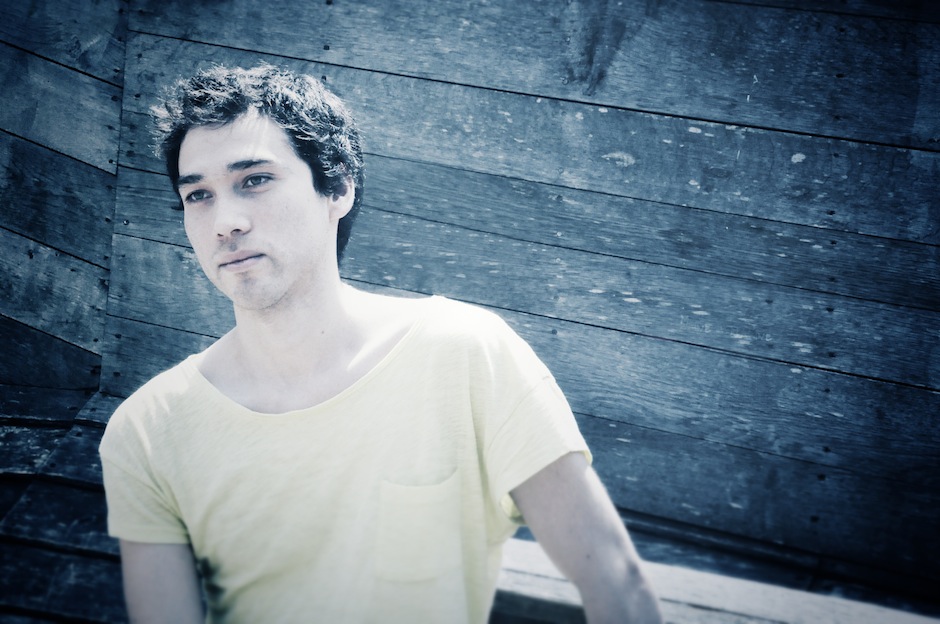 Ricardo Tobar may not be the most prolific of producers—he all but disappeared after his brilliant Boy Love Girl EP was released on Border Community at the height of their florid techno pomp in 2008. However, last year Tobar released Betweener on Dutch label Knopje; fittingly titled, it collated the music lurking on his hard drive from the intervening years and was followed swiftly by brand new material in the form of EP Esoteric Carnaval. The Chilean producer was back on the radar and, as if to seal the deal, his debut album Treillis is dropping next week on French label desire. We're hyped to be exclusively hosting the stream right here.
Like his earlier work for Border Community, the music on Treillis displays his nose for melancholy, for detailed, humid textures and careening melodies. However, this time around those buzzing synths and spry rhythms come caked in noise and distortion—a taste for busted drum machines and creaky gear has given a dark heft to a sound that is now defiantly off-grid and intuitive. We landed a track-by-track with the man himself to explain all, below.
"Sleepy"
Ricardo Tobar: This is one of the first songs I had for the album, along with "If I Love You", "Back Home" and "Essen". I remember listening to this over and over thinking it would be a good intro for something. I like the digital distortion in it, though I usually don't like digital clicks.
"Organza"
RT: This song is all about the arpeggio and the progression. It seems like an easy melody but I remember it wasn't so easy to make. It's kind of an "emo" song, though, so I wasn't sure if it would make it into the album. In the end I thought it had enough roughness and I liked the wow-flutter effect, which reminds me of an old tape.
"Garden"
RT: One of the new songs. I was really into doing the album every day like a day job, not going out of the house and just listening to the same beat over and over again. That's when I decided to do the most melodic thing I could do. I think the album is that really, just me trying to put all the melodies on the table to get rid of them and move on.
"Hundreds"
RT: I can make this kind of poppy melody really easily, and I have loads of songs that I never finish because of that. I decided to put something like that on the album just for the sake of it. I think the only reason why it made the cut is because of the sound—I like the tape saturation and even though it sounds pop it will never be a hit because of that distortion. The name explains the song too: I have hundreds of songs like this one.
"Straight Line in the Water"
RT: This song puts pictures in my mind. I just see someone jumping into the water, going down and down. I wanted to put more distortion into the bassline though. Listening to it now I don't know why I didn't add that.
"Otte's Denial"
RT: This is the last song that I did. It's one of the more melodic ones along with "Garden", I think they are quite related with all the modulation going on the synths. The mix is not the best one and everything melts together in the end, which I like. It also has an epic feeling for me and it's probably one of my favorites in the album. I wanted to push everything on it.
"Essen"
RT: Another one of the old songs. I kept it in the vault for years because I thought it was special, like a mini world…
"If I Love You"
RT: I can understand why people think this is the highlight of the album. It's a really direct song, with a tight structure. I like the detune in it and I love to play it live. The last bit started as another song, but I wanted to put it as an outro here. I think they go well together.
"Mirror"
RT: This song is a loop going through a tape. It has a schmaltzy and corny melody and maybe it's a filler, but in the end I like it and thought it was a good intro to "Back Home".
"Back Home"
RT: I wrote this when I was leaving Berlin for the first time. It was the worst winter I had ever seen and I was prepared to see my friends and family in Chile. I was using my roommate's monitors and I couldn't believe how good they were! I was going back home the next day and it was a weird feeling.
"Le Quartier du Quatrième"
RT: This is one of the last songs I made for the album and it's my homage to Paris. We were living in a tiny apartment and I was fighting with all the insecurity that comes with making an album. This is one of the songs I wasn't sure of at the beginning, but after a few tweaks it turned into this seventies tribute which I thought was cool. Paris is like that to me: it takes you to the past but in the present, and even though the present is hard, it's also the most beautiful and fragile thing you can have. The present is over in one second. ~
Treillis by Ricardo Tobar is released October 28th via desire.
Manuel Sepulveda, the artist behind Optigram, is an art director who has been responsible for a huge amount of fantastic record sleeves over the last few years. He's worked for labels such as Hyperdub, Warp and Planet Mu and has created an œuvre that has something of an eighties retro-futuristic feel. Or just classy and geometric depending on your point of view. And, that's not all: Manuel also runs the Citinite imprint and hosts the monthly radio show called Nitetrax on the London-based station NTS. Recently he has created the stunning artwork for F.C Judd's Electronic Without Tears album plus very soon there will be some new artwork for a new EP from Ikonika on her own label Hum+Buzz.
Hey Manuel. Where are you from and where are you now?
I'm originally from Santiago, Chile, but I've mostly lived in the UK (Winchester and Cornwall) and I'm currently based in London.
Did you studie art?
Yeah I did a graphic design degree in Bristol although I specialised in film. I can't say I learned much from the experience though! It's far more useful to actually work in a design studio, that's where the real learning begins and I was lucky to have spent a few years freelancing at Blue Source in London who specialised in record sleeve design.
What do you like about creating album sleeves?
There's a lot of freedom in most record sleeve projects to just explore and do what you feel; there's not the usual client considerations/compromises that most other graphic design jobs come with. So the work can be very personal. Even when the artist or label gives you an initial concept it's still fun to interpret their ideas in my own way and those early collaborative discussions can be really helpful. Sometimes the artist or label likes the finished piece straight away. Other times it may take them a while but I actually like that period of persuasion until it clicks with them.
Where do you get your inspiration from?
Partly from the music – I never start a project before having heard the tracks and will often have it playing whilst I'm working on the image. If the design doesn't fit with the music then I've failed. Visually I get inspiration from architecture, modern art movements up until the 80s, commercial illustration from the 70s and 80s, comic books, technology etc.
How would you describe your style?
I was actually wondering that myself earlier this year and I realised that it's all very rhythmic, the patterns and colours, which makes sense seeing as I have music playing in the background. I guess a lot of it is quite moody too. But some of it is more playful – silly even.
First cover you designed?
This Ken Ishii sleeve for Tangled Notes, for R&S Records (which I did whilst in my first year at art college).
Take us through an average day of designing for you.
Well I'm either working on a design or I'm not. The day around it can involve anything. Sometimes I put things off until the last minute becuase I want to think and rethink the idea in my head until I'm happy with it before beginning (at least, that's how I justify procrastination). I never sketch out the idea beforehand. Other times I don't think about it at all and just experiment with shapes and patterns until I feel something is working, and then push that around until I'm happy with it. Usually I like to then come back after a day or two of reflection and tweak things. The best thing is when I've been working late, then go to sleep, then in my dreams i think of something and attempt to recreate it the next day – nightmares can be very useful!
Which art directors you love?
I suppose Reid Miles (who did all those iconic Blue Note covers) was the first record label designer who I was really aware of by name. I also love a lot of the sleeve work by Hipgnosis from the 70s. But speaking more generally about graphic design, Paul Rand, Saul Bass and Ikko Tanaka will always be heroes of mine.
What have you got lined up for the future?
I've just finished the artwork for DVA's album on Hyperdub which I'm really pleased with and am currently working on an Ikonika EP on her own label Hum+Buzz. I can't really say what other projects are coming up because I don't think they've yet been announced by the labels concerned. I had a really successful exhibition of my artwork at this year's Unsound Festival and I'd love to do something similar again, either in London or elsewhere.
Tell us a bit about your side-projects Nitetrax radio and Citinite music.
Citinite's been going for about five years now, and the style of artwork is very different to most of the work I do for other labels; it's much more 80s-centric and fits in with the funk-oriented music. Recently I've started to commission other designers to do sleeves for the label; the first one was by Xosar for the Sexual Harrassment EP. The monthly Nitetrax radio show is something I started earlier this year on the internet station NTS and it gives me an opportunity to play both music that has inspired me in the past and that is exciting me currently.
Explore more over at his Optigram website here.
Cómeme – Gonna make you sweat
This autumn European dancefloors have been graced and refreshed with the rhythm and sound of a mad south-American posse. Cómeme is the music label founded by Matias Aguayo and his Argentinian friend Gary Pimiento and it's pretty much been blowing people's minds all over the world ever since it evolved a couple of years ago. "Dancing is the main thing," – they sound passionately serious when they underline this concept – "great musicians do the best music but we, the dancers, enjoy it more." Dancing as an invaluable privilege is their motto. Undoubtedly, few performers behind the DJ booth can make you dance and sweat to such an extent (and for so long), so for those dancers and clubbers wanting to challenge their hips and feet to an intoxicating mix of house music, swing, italo disco, kwaito, techno, electro, cumbia and Colombian champeta, this is the opportunity not to be missed.
Cómeme is not just a music label with random artists and "is not just about releasing vinyls," as Aguayo himself states "it is more about everything around releasing a vinyl." A rich and well-structured experience that has defied the ordinary way we think about the making and distribution of music and has reinvented (or rediscovered) a different approach to clubbing and dancing. In the prevailing music industry crisis, Cómeme's adventure shows that there are also great opportunities to search for new choices and ways.
Most of today's club music, I think we can agree, is pretty far from exciting, and in a scene where it seems most musicians release records in order to get booked for gigs, unconventional and unpredictable artists like Matias Aguayo are a precious resource. When you meet, talk or – better yet – see him perform one of his DJ/ live sets, his musical motivation feels clearly to be about pure enjoyment, maybe even predestination, but never the money. Ten years have passed since his first emergence into the world of electronic music and the widely successful project, Closer Musik. He could have rested on these laurels and the international acclaim of the first album on Kompakt, After Love. Instead, he chose the path of reinvention, resisting getting trapped by some certain 'profile', and restlessly made his way from Europe to South America looking and longing for new inspiration and unfamiliar contexts that could move him and his music forward.
From the magic of 'One Two Three (No Gravity)' up to the catchy pop melody of 'Rollerskate' (one of the highlights from his last album on Kompakt Ay Ay Ay), Aguayo's voice and productions have become a trademark for pure electronic sexiness. No wonder then that his thirst for new adventures in music and new dancing experiences made him disappointed and unsatisfied with today's feeble music business or the hype on soulless 'minimal techno'. A point he made quite clear, in his characteristic half-humorous half serious approach, with the giggly track 'Minimal', another winner on dancefloors across the world about two years ago. In it, Aguayo calls for a music with more groove and balls, "…con un ritmo mas nocturno mas profundo mas sensual…". It's almost a sort of anti-establishment manifesto, which has served as a blueprint for all the projects and plans leading to the creation of Cómeme.
Probably South America, a place to which Aguayo has regularly returned due to his Chilean origins and many friends there, like other cultural peripheries was the most appropriate place to realize his new dance and music dream and be free from preconceived schemes. "Especially," Aguayo explains "because in South America dancing has a bigger tradition and is related to everyday life, not confined to just clubs or closed spaces."Around three years ago, one night in Buenos Aires it all began by accident: Aguayo and a bunch of friends went out to dance in a club in the city, the music wasn't really working for them and since they were for some reason carrying a ghetto blaster, they decided to leave the club and go out in the street to play some mixes and dance to the music they really liked. To their amazement loads of bystanders crowded the place, joined the dancing and the party carried on 'till morning. Aguayo still retains a strong memory of that first time: "Once you are at a street party, dancing on the street under a starry sky, it feels so natural and essential that when you do it you immediately ask yourself why you never did it before."
When something happens so spontaneously and is so much fun, it's natural to repeat it, and that's how the notorious BumBumBox parties came to life. Since that very first time, Aguayo and Pimiento have organized many other free street parties all around South America. They powered up the sound system by adding another two or three ghetto blasters connected to an mp3 player, but always promoted the events with simple DIY actions like word of mouth, self-made videos or little homemade funny printed cards. "And most importantly," reminds Aguayo "people listen to mixes, none of us are playing. We always carry and play some mixes, that we or other DJs have prepared at home, so that we can enjoy dancing as well, therefore knocking down any distance between performers and audience." Maintaining the laidback and spontaneous atmosphere was key, because the true inspirational elements were the surprise guests, the unpredictability of the audience and the choice of open public places.
As opposed to clubs who tend to draw a certain crowd leading to a pretty standardized audience and a more passive consumer mentality (people paying an entrance fee have more clear expectations, expecting fulfillment for the money they paid), the street, with its diverse mix of people, allows for much more freedom with music. People who take part spontaneously in a 'fiesta' don't know what they want to hear. Aguayo and his mates noticed that warmer and funkier vibes or playing a mix by Larry Levan worked better than a mix of modern reduced techno, but as much of the music wasn't 'just right', Aguayo seized the thrilling opportunity to produce fresh new tracks especially designed for these parties. New material where old house and techno influences are accentuated with strong traditional Latin rhythms and the electronic sound meet that of maracas, marimbas, congas and so on. This way the audience was brought back to be the soul of the party, because the musicians involved in the project were driven to improvise music and performances based on their spontaneous responses. "We have also understood," states Aguayo "the importance of having some special 'figures' in the party, like these original people you always catch around in clubs and who are a sort of driving force 'cause they take the initiative, draw people's attention and kind of drag you into a party mood. 'Cause we're conscious that, for a good party, not just the DJ but also the audience has to be good".
The itinerancy of these parties showed Aguayo and Pimiento how public space works differently depending on the city or country, how much freedom there is to use certain spaces. "With time," says Aguayo "we've developed a knowledge about free street parties and about which public space fits more. Pablo Castoldi, the friend who designs Cómeme covers and graphics, is also an architect and he's very important for us regarding the choice of spaces. He made me see, for example, that not every space turns out to be good: a flat surface road or a space that is not too flooded with light are better, and generally it's better to choose an open space that can somehow be reinterpreted (with natural decorations, something hanging like balloons or paper streamers or mirrors to define the borders) into a club dancefloor".
Even more importantly, BumBumBox parties became a way to connect with other local DJs and musicians (Rebolledo in México, Diego Morales in Santiago de Chile, Ana Helder and DJs Pareja in Buenos Aires, Daniel Maloso, to name a few), who were similarly motivated by the idea of sharing and enjoying music on a street level and who, thanks to Aguayo's encouragement and expertise, were spurred to make music that, despite the different sensibilities and tastes of each artist, could be played at the BumBumBox parties.
In order to enhance a common aesthetic, and exchange and improve the communication between artists living so far apart, a Soundcloud presence was set up, enabling each one to upload work while accessing other people's ideas. Being able to listen to what people were doing in other Latin cities, working on another artist's material and using this music in their DJ sets, worked out to be a fantastic strategy in deciding on where to go with the music and what rhythms to do. In less than a year there was already so much interesting ma- terial that it didn't make sense to confine it to street parties or a small circle of friends, so Aguayo's collective opened the material up to the wider internet audience orbiting around applications like MySpace and YouTube. The hugely positive response ultimately let the slowly sprouting idea of releasing the music on vinyl take hold. The Kompakt label in Cologne had always respected Aguayo's independency and always been keen to support his efforts and ideas providing an excellent basis for taking the risk to invest money on an independent label. With Kompakt in Germany providing a sophisticated infrastructure and administration, the moment for Aguayo to help musicians with a big potential by giving them the opportunity to access the European market and audience had well and truly arrived.
This is how Aguayo and Pimiento brought Cómeme to also release vinyls. Home to some of the freakiest and hottest producers of the last two years, since its first release with the legendary track 'Pitaya Frenesie', a joint effort between Aguayo and Mexican wonder-kid Rebolledo, the music has distinguished itself with breathless personality. And thank God, it really is a kind of music you can't easily define. Warehouse house music combines with funky, deep-dark tripping disco rhythms and sexy-nocturnal groove-driven techno is injected with heavy doses of raw psychedelia. Sometimes influences are obvious (Rebolledo makes no mystery of his love for Giorgio Moroder, for example) but there's always much more than that, and whenever Cómeme artists play it is always done with a lot of fun and humour and in a completely unique fashion. And that's the whole story. What's coming next from planet Cómeme? For certain is an album by Rebolledo (there's hardly any new producer hotter than him in 2010) due in 2011, and besides the appearance of Cologne DJ Christian S (his track 'Jagos' on the sixth release is just brilliant!) and the collaboration with London-based producer Capracara, new exciting contributions to the label from other European artists are without a doubt to be expected. After the first two successful BumBumBox parties in Europe this autumn (one in Norway in Tromsø, the other in Portugal in Porto) we certainly hope Cómeme's collective will do more.