The Ten Best Depeche Mode Covers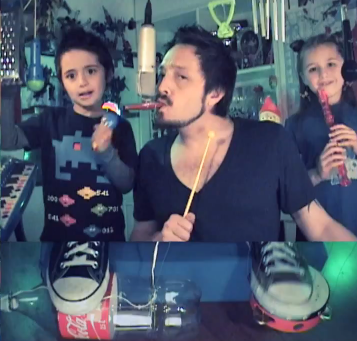 There's a lot to be said against covering other people's music. Some of these things include, "Why would you do that?" and, "Just write your own songs, doofus." But covering a song can be more than laziness—it's also an expression of admiration and reverence toward a beloved and influential band, and in the annals of synthpop, few are as revered as Depeche Mode. That means lots of covers, with a lot of varying results, but we've sifted through these tons to bring you a diverse selection of our favorites.
Bat For Lashes – "Strangelove"
Created as the soundtrack for Gucci Guilty for Him, we find the track itself a lot fresher-smelling than the cologne. We can think of few modern artists better suited than Bat For Lashes to cover Depeche Mode, however; Natasha Khan updates the '80s vibe of the original while still keeping the seductive synth groove intact.
/
Converge – "Clean"
While most DM fans back in the day were probably trying not to sweat too much in the club (that New Romantic makeup takes forever to get right) this 2001 cover by legendary hardcore punks Converge could open up a morose pit just about anywhere. While those same aforementioned fans are now likely more busy with their families, their kids will certainly appreciate this updated, more aggressive treatment.
/
Johnny Cash – "Personal Jesus"
Released on his final album American IV: The Man Comes Around, Cash brings a whole new level of depth and emotion to "Personal Jesus" that speaks closer to his owns troubled history with his religious beliefs. The sparse, stripped-down acoustic riff coupled with Cash's plaintive baritone makes this one of the most haunting DM covers we've ever heard.
/
Tricky feat. Martina Topley-Bird – "Judas"
We're not sure, but we might like this densely bleak reworking of the Songs of Faith and Devotion classic better than the original. Maybe it's that rolling, military snare punctuated by thundering bass booms; or perhaps it's the disorienting and subtle moans that lurk in the background. Whatever the case, we have it on repeat.
/
Tangerine Dream – "Precious"
This rather faithful adaptation, featuring vocals from Thorsten Quaeschning, comes from the pioneering electronic group's collection Under Cover, which also features some rather interesting takes on the likes of Chris Isaak, Kraftwerk, David Bowie, and, uh…the Goo Goo Dolls. Er, what?
/
The Smashing Pumpkins – "Never Let Me Down Again"
Dave Gahan liked this cover so much, he proclaimed it "a lot better" than the original. It's easy to see why: Corgan and co. capture the essence of being a teenager into a single song—perpetual turmoil combined with the attitude of living entirely in the moment, the idea that everything will work out for the best.
/
RuPaul – "People Are People"
RuPaul knows exactly what makes a man: attitude! Long before Drag Race ever premiered, she recorded this club-friendly cover for her third album Red Hot. Tongue firmly in cheek, it still packs the same message—just with a nicer wardrobe.
/
The Cure – "World In My Eyes"
Imagine the insane number of of eyeliner-streaked faces that lit up when this one was released. It's like Dracula dropped down the chimney screaming, "MERRY CHRISTMAS!" Released as part of the DM tribute album For the Masses (which The Smashing Pumpkins cover also appeared on), this is also one of the few tracks from that release that added a unique take to the original.
/
Röyksopp – "Ice Machine"
This beautiful and atmospheric live cover blew us away the first time we saw it, and you know what? It still does. A perfect combination of retro New Wave imagery and modern electro tropes. Hearing Susanne Sundfør belt that chorus is just such a wonderful and unexpected moment in pop.
/
DMK – "Everything Counts"
This is the kind of video your mom forwards to you and 30 people you've never heard of, and you click on it against your better judgement and end up watching the whole thing and making little kitten faces the whole time because it's just that cute. DMK is the project of Columbia-based video artist Dicken Schrader and his two children Milah and Korben, which features the three performing DM covers on instruments that range from cheese graters to soda bottles. It's very, very sweet and pretty damn cool as well, and we highly recommend watching them all.
Comme des Garçons PVC Biker Jacket
I saw this jacket about a week ago, and I'm still trying to pick my jaw up off the floor. Designed by Rei Kawakubo for Comme des Garçons' S/S11 collection, it's a see-through PVC dream that will likely become one of the most-loved pieces in your wardrobe. I'm still not entirely sure what to call this piece; post-rave? High Fetish? Gucci Goth? With a €1,170 price tag it's certainly not likely to be spotted on the backs of your local trash-bar biker, but as an accessory to something bright and flashy it slays. Combine it with a monochromatic outfit and I guarantee that you'll be the most swagged-out punk in the club. Keeps that fog-machine smell off your clothes while still showing off that new Damir Doma top, and the envious drool from everyone who sees it will slide right off! PVC may not be the most sensible material for summer, but it's definitely the most sexual.
Comme des Garçons create Beatles sneakers
You know how the old saying goes: "try walking in my shoes". Well, here is your chance to walk in a pair of haute couture Beatles footwear. High end fashion label Comme des Garçons has collaborated with Apple Corps Ltd., in order to stitch up a pair of limited Beatles shoes as part of the COMME des GARCONS x The Beatles Collection.
The collection stems back to the original partnership, which materialized in late 2009, which has spwaned different pieces of Beatles/Comme des Garçons wares over time, like the new Apple black bag below.
Although the shoes aren't cheap retailing at around $300 USD, they still look pretty special and are the same style of shoes John Lennon rocked on the cover of Abbey Road album.
Beatles CDG Bag (black)
The model of these canvas shoes are the G1 Low Top sneakers better known as the Spring Court sneakers and were designed by Rei Kawakubo.
The shoes come in male and female sizes and you can get them right here.