24 hours in Prague – Part five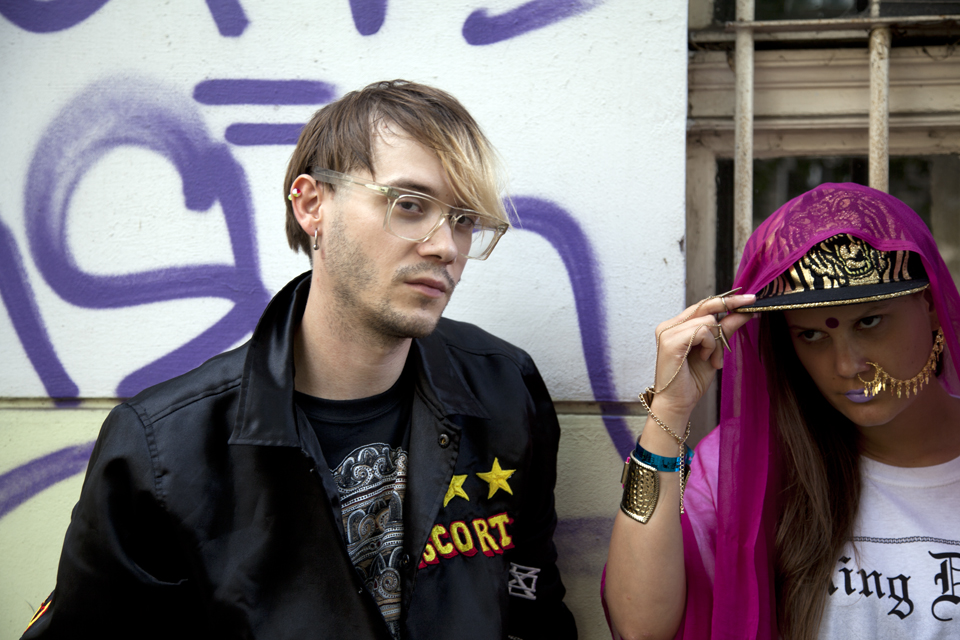 Jakub Hosek is an artist, promoter and owner of the AMDISCS label. He is part of the A.M.180 collective, and runs the festival Creepy Teepee. For this feature he is one of seven voices in our series of monologues on the city of Prague. Read more here.
5:50 pm: Jakub Hošek
It all started here at Utopia in Belehradská 45. When we were still teenagers and just starting to get involved in the activities which now define our lives, we shared this space with friends that we met at the Ladronka squat in Prague… although, in those days, I had to climb in through the window. While the squatting-scene eventually brought Utopia into the orbit of the greater anarchist movement as an information cell, it also laid the foundation for many of our future projects.
Soon after we started our gallery, we set up a show in this space with Nina Nastasia from Touch and Go Records, which was the very first concert that we organized independently. Because we felt at the time that there was very little happening in the city that was of interest to us, we decided in 2003 to set up the A.M.180 Collective as a means of strengthening alternative culture in Prague. Since all of us are connected to the art scene—two of us being painters—and we all share a love for music, our initial idea was to bring art into contact with people who are into music, and vice versa. Even though it's still unclear whether this idea has fully materialized in a larger sense, the inter-connection between different kinds of art is definitely the main theme of our festival, Creepy Teepee. And while there seems to be more and more people experimenting with new artistic material in Prague nowadays, the audience for this kind of creative material strangely does not appear to be growing. We are still only talking about a few dozen people on the scene here. When we started all this around 2000, there was great hunger for alternative culture. We used to invite people to our gigs by passing out burnt CDs. Now we are situated somewhere at the intersection of various scenes. With both music and art, we are generally very open, and are into everything from punk and hardcore to electronic music; from video art to painting. Most of these subcultures tend to be pretty insular, so, in contrast, we try to emphasize transgression and boundary-crossing where the different genres intersect or maybe even dissolve… which is sometimes a pretty thankless position to have. Most people want to belong somewhere, but that's not what we offer. These days people are always talking about hipsters, but they often mistake hipsters for trendsetters. Hipsters have a herd mentality, and are driven by a desire to profit. We are driven by the discovery of something unique for us and other like-minded people, something difficult to name that makes a scene interesting and worthwhile.
This attitude toward culture is different abroad, especially in places where art has a revered position in society. In Prague, however, people have the feeling that they need to show off when they go to concerts, which makes engaging in cultural activity here seem more superficial. For example, when a fifty year-old comes to the MeetFactory, people will laugh at him, even though he probably came for the same reasons they did.
In addition to the gallery space, the festival, and the concerts, we also run a label called AMDISCS. While the label is definitely a useful channel for forging contacts with international artists, we also founded it in order to release and promote more Czech acts. At first, our goal with the festivals was to help bring Czech artists into contact with foreign music, but we later realized that most of them weren't that interested. However, some of the people who attended our gigs were inspired to start making their own music, which led to the release of several Czech projects like dné or Table, along with the local project Climatizado, our first release. It was a bit off-putting, though, that so many of the artists were so reluctant to pay attention to the international context when promoting their work—such as blog-culture, for example. I'm not saying that we won't release a Czech act in future, but right now, we are more interested in stuff that can make it on an international scale.
We care about our small, practically non-existent scene here, and we are fond of Prague, the city we were born in and remain connected to. Everything we do—be it our own art, concerts, exhibitions or the label—is taken with equal seriousness. The interconnectedness of these projects is of the utmost importance; one can't function without the other. And we personally wouldn't be able to function without this in our lives as well.
This text first appeared in Electronic Beats Magazine N° 31 (Fall 2012)
Photo: Luci Lux
10 x 4 – Dné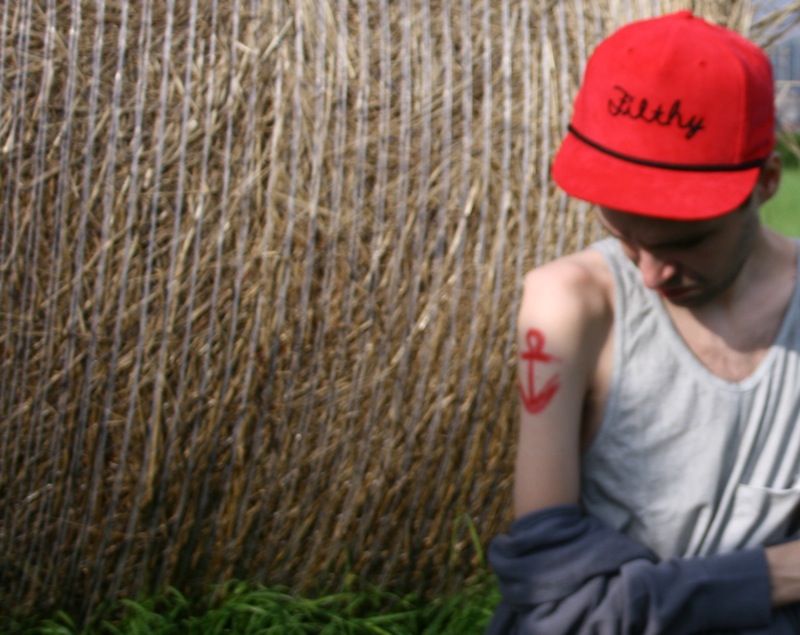 Ondřej Holý has been a fixture on the Prague art and music scene, primarily due to his 21st century electronic compositions. His tape Eating A Wrapper Instead Of Candy appeared on AMDISCS in 2010. On his 2011 remix EP Reading Lyrics Aloud Means Singing, he didn't just graft the likes of Former Ghosts to rehash his song—he had the recontextualizers use their own vocals only. Currently, dné is working on new tracks, adding his own vocals or hiring rappers. His next single is expected to come out in Autumn 2012.
1. Your most memorable show?
The weirdest show I've had, in a good way, was probably the gig at Fluff, which is a post-hardcore/screamo festival. Throughout the whole day intense stuff was happening on the main stage and then it got dark, started to drizzle and people cooled off. We played in an afterparty tent and due to limited and unstable sound equipment we had to ditch some of the instrumentation. I had been in a spa for a month before that and written some solo guitar and piano stuff. The tent was packed, the PA was quiet and I think only a couple of people in the first rows heard it properly. It had its own magic, though. It was beautiful because it was unexpected for everyone. My sister told me she enjoyed that whole situation, watching tough hardcore guys with moved facial expressions.
2. If you were still in high school, which clique would you belong to?
The bored one that can't wait to get out of high school. In hindsight I didn't have a good time at high school. The first year was ok, but after I got to know the people around, I lost interest. I didn't have any girls, had awful hair and wasted four years on something I stopped caring about immediately after the school gates finally closed. I had a nice childhood though, then nothing much. It was only around my 23rd birthday, that I really started to live the life I enjoy.
3. An album that changed the way you thought?
Khonnor's Handwriting. Apart from the obvious that he made the album while still being a teenager, it is an incredibly timeless record. It came out in 2004 and I've been listening to it ever since. And every year I enjoy it just as much.
4. Better show: Buffy or X-Files?
5. What defines your music-making process?
Lack of production skills resulting in an inability to finish a song. I can make nice melodies and harmonies but am a lousy producer. Recently I finally admitted this to myself and have begun to look for someone who can help me. In this day and age it is quite common for people to do everything by themselves at some level. I don't know. I rather like the idea of a person who is just a really great engineer and nothing else instead of mediocre engineer who also writes mediocre songs.
6.Tell us what you think of this song.
I love R.Kelly. He is so much more than a lame piss joke on the Pitchfork Facebook page. Feelin Single is one of his better songs and arguably the best on his latest album.
7. Name three essential artists.
Throughout my life it has been French Kicks, Khonnor and Roly Poly Rag Bear.
8. A film or book that greatly influenced your music?
Only titles. I named a song 'System and Factory' because of Murakami's Hard-Boiled Wonderland and 'Cheaper Sneakers' because of the Flight of the Conchords. Right now I've got a love tune for Aubrey Plaza and a song called 'Kallocain'.
9. Do you believe in the paranormal?
I believe that the human brain can create anything and different people have different types of energy. But we want to be way fancier and that's why there are ghosts. I am ok with that.
10. Raging or chilling out?
Chilling out. I can't even yell at people. If you are across the road and don't see me, we will never meet. It's sad.
Eastern Haze: July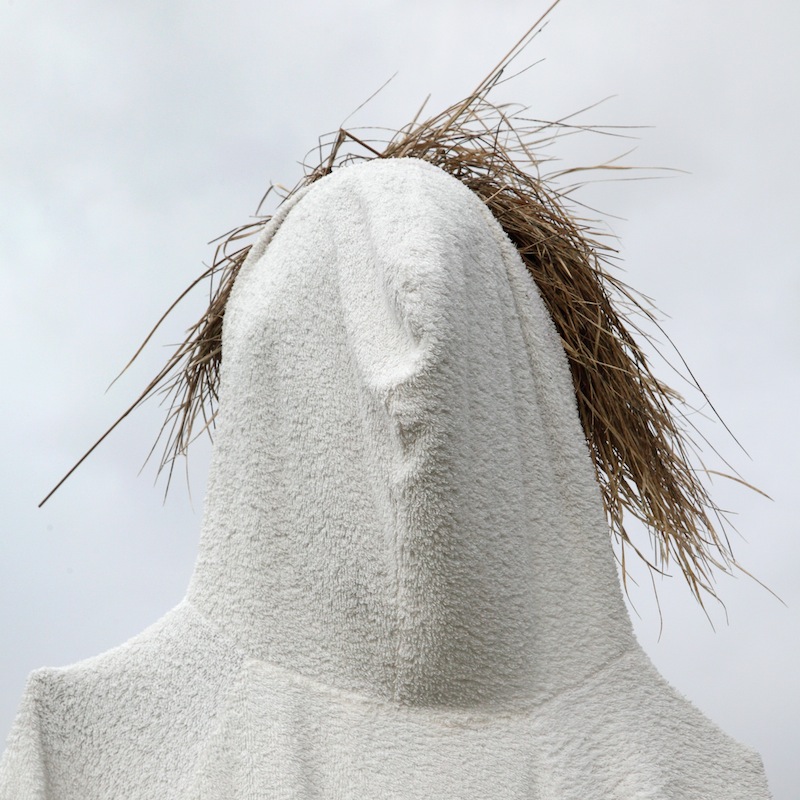 We shall commence our monthly explorations of Eastern beats, bass and other sonic ephemera from the fringes of the musical spectrum with the aptly-titled RSS Boys, a perfect nerdy evocation of sizzling summer settings. Taking cues from afro-beat, the members of the project claim they met while travelling in Africa. Brushing off tired house, their new record W DONT BLV N HYP (out on the recently resurrected Polish label Mik Musik) is a proclamation of their defiance. At the same time, their music doesn't distance itself from contemporary sonic topographies.
Makunouchi Bento, the idiosyncratic duo of musicians based in western Romania, make music for imaginary movies— a rich tapestry of sounds interwoven into a magic flying carpet. Their latest offering is a batch of remixes made for their friends, including Ben Mono and Romanian colleagues Norzeatic & Khidja. The resulting recontextualizations are imbued with MB's trademark fairytale-like atmospheres, and are free to download here.
Prague-based Ond?ej Holý, working under the nom de plume dné, has developed his sounds from folksy to chill, and now resurfaces with a little taste of his eagerly-awaited album. 'The music is all mine. I used the acapella from 'Touch the Sky' because I wanted to try some rap and don't know any good rappers,' he explains on his Soundcloud profile. 'I want to find some and then release it properly. (Kanye's verse didn't fit to the music so I cut him, sorry Yeezy)'.
Let us bid a sonic farewell for now with some soft, crackling, '90s-influenced deepness, rich with echoes of rave, techno, jungle and dubby inflections. This comes courtesy of Piotr Dabrowski, aka ptr1. His new EP Carte Blanche is out now.
For more news, head to the Easterndaze blog.