Counting with Róisín Murphy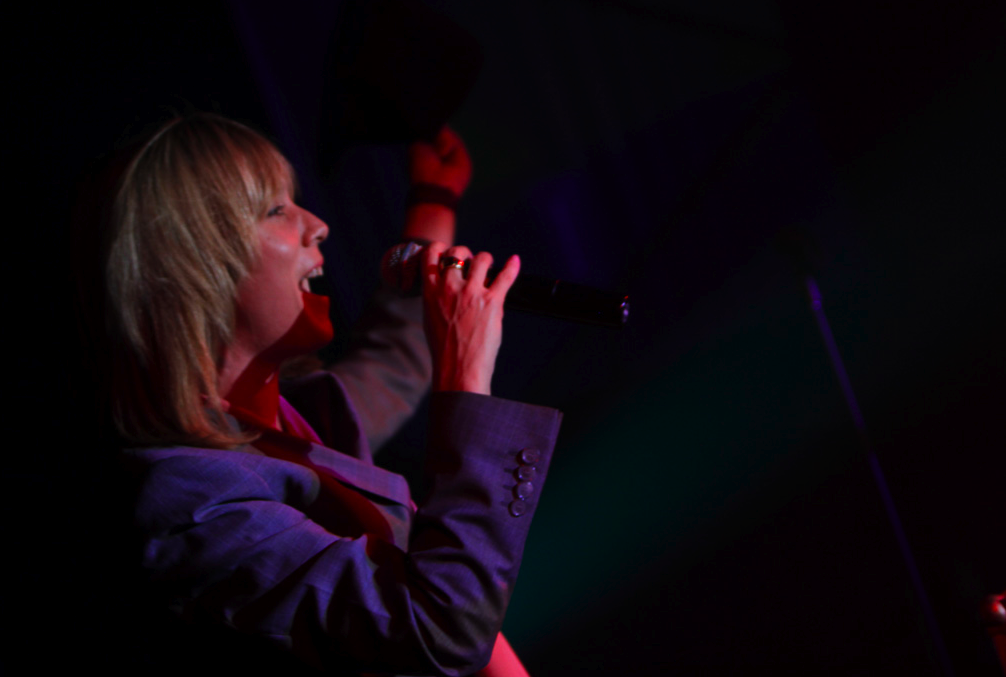 We hope you know the score now. Ten numbers for one of the stars of the Electronic Beats Festival in Zagreb, the one, the only Róisín Murphy.
1 memorable line in a film or a song:
In a song… I have to say something really cool, but I'll probably end up saying Jingle bells, Jingle bells, since Christmas is coming.
2 decisions I regret:
Decisions I regret? I don't really have any.
3 people that sould collaborate:
Uf, this is like homework… Barack Obama and… I don't know, I don't know…
4 things you haven't done yet:
Learn to drive, learn to garden, learn to cook and learn to pace myself.
5 things I used to believe:
I used to believe in fairies. I used to believe my father could get me the magic wand from the fairies so I can change something like a chair into Elvis Presley. I used to believe he ( Elvis ) could be my boyfriend. I used to believe it was all over, but it isn't.
6 hours ago:
I arrived to Zagreb to play the Electronic Beats show.
7 records everyone should own:
Astral Weeks, Daydream Nation, Raw Power, Hervest, Padlock. Ummm, maybe just one more: Around the house by Matthew Herbert.
After 8 PM:
I've just finished bathing my baby and I sit down and have a cigarette.
My 9 lives:
You only have one life and you really have to rinse it while you can.
I wouldn't touch it with the 10 foot pool:
The euro crisis.
Róisín Murphy – I'm waiting for things to happen
Zagreb. What a night, what an Electronic Beats festival! One of the artists, who turned in a star performance last Friday, was Róisín Murphy who's all singing and dancing DJ set almost tore the roof of the venue. Mixing her own tracks and Moloko classics with up to the minute ghetto house and electro whilst singing live and prowling the stage like a cat, her show was as over the top as it was enjoyable. She also happens to be a thoroughly nice person, as we found out, when we had a quick chat with her backstage. Read on to find out, who Róisín Murphy has been working with and what's coming up next for the Irish chanteuse.
How does it feel as an independent artist these days?
Fine, good. I haven't been doing very much music recently, but I'll get back into it.
Any plans to return to EMI or not?
I don't know, what we'll release next.
After 'Orally Fixated', 'Demon Lover' and 'Momma's Place', there haven't been any new releases, you've been pregnant with your daughter. How did this huge personal step influence you as an artist?
Well, I took a lot of time off; and quite often I think, I was ready and then realised I wasn't. I didn't quite have the identity to go for with the whole album. I didn't have in mind the kind of an artist, that I want to be … after baby … after 6 albums. And this is still forming for me, to be honest.
Did you work on any new songs since then?
Yes, I've worked on few bits & pieces. I have recorded a track with David Morales, and that will be on his record, I've done a big, sexy song called Simulation with some people, and it will be performed tonight.
Your latest new work comes in form of a duet: Tony Christie's '7 Hills' …
Friends of mine from Sheffield were working on an album and asked me to write a track and it turned into a duet.
There were quite a lot of collaborations for you lately. Why did you choose to focus on collaborations?
It's really hard to answer why I do those things, but basically things just come into my life. People chose me already and I've just reacted. It's more a reaction then a proaction recently, so if somebody ask me to do something I like, Ill do it. And usually that's how everything works in my life. I allow it to kinda happen to me. And that's how my career has always been – I'm waiting for things to happen.
When will your next solo release come out and what can we expect from it?
I don't know and I don't know.
You previewed your song 'Demon Lover' for the first time during the Viktor & Rolf 2009 Paris Fashion Week show. How did this came together?
They just asked me to collaborate musically and I did something almost like now, DJ and sang. Simple as that.
Any plans of repeating this kind of event?
There are always things going on with connection to fashion for me. I love it, so you never know.
Electronic Beats Festival Zagreb 2011 in review
A freezing Zagreb was the setting for the latest Electronic Beats Festival with Digitalism, Róisín Murphy, Totally Enormous Extinct Dinosaurs and When Saints Go Machine all packed into the Tvornica Kulture centre. With crowds of people trying to get inside and excitement levels rising, we got the feeling that this was going to be an epic event.
After a short and energetic warm up by DJ Itch it was time for the evening to begin. First on stage were Croatian band How Convinient, after whom came When Saints Go Machine with their soaring, powerful electronic torch songs that were eagerly received by the crowd.
The moment many had been waiting for – Digitalism. Even cut down by one because of illness, the band appeared on stage, flanked by masses of equipment and got straight down to business. The next hour went past in something of a blur, with their hits from newest album I Love You Dude morphing into one big happy dance-athon. After closing their act with Pogo, it was time to cheer the headliner – Róisín Murphy.
Róisín Murphy was performing just a DJ set in Zagreb last night, but decided to give as much performance as she could muster – which was a lot. Giant screens with projections, booming bass and reworked versions of Moloko classics with Murphy singing live on top saw people really losing their minds (and feet) to the Irish singers surprisingly ghetto beats.
After the briefest of pauses after Róisín literally turned on the heat at the venue, it was time to move on and the last artist on stage was the irrepressible Totally Enormous Extinct Dinosaurs with his fragile electro-pop and smart dance grooves. He was welcomed on stage like and old friend and the crowd danced along with his two showgirls cheering on stage. DJ Moz, Illectricity festival nucomer winner, had a chance to close the perfect Zagreb night.
When Saints Go Machine Interview
We are super excited about today's Electronic Beats Festival in Zagreb and hope you are, too. To get you warmed up, we spent some time with one of the bands on today's line-up, When Saints Go Machine.
It seems that you are inspired by a lot of different genres – house, nineties pop stuff, trance, and parts were really quite funky : which artists in particular inspired you?
It´s hard to say, which artists we're inspired by, I believe we're more inspired by the working progress and being in the same room together, and I think, there's a bit of almost everything in our music. If I have to name some artists that we all listen to…it's hard, since we're all into different stuff; but I would have to go with Deerhoof, Sugarcubes, Broadcast and The Smiths.
Your songs seem to be quite dark – what themes do you discuss with your lyrics? Is it a therapeutic process?
Our songs are about all the stuff every other song is about. Loss, love, death, loneliness, sin, illness, flowers, aging and the big lemon. A lot of times the lyrics are just a stream of edited consciousness, so I guess, there's a lot of therapy in there – but analyzing everything is not always good either.
You've recently done a remix for Planningtorock: which other artists would you be interested in doing remixes for?
There are a lot of artists, that would be funny to remix for, but we would rather work with them, than just get stems to play with. Artists, that we would like to work with, include Björk, St.Vincent, Róisín Murphy if she makes a new album, Greg Saunier, Colin Stetson, Patti Smith and Sinead O'Connor
Which current artists do you find exciting right now?
I don't know, there are a lot of amazing artists out there, and something is always happening, but right now I'm looking into the past, because I figure I missed a lot of good stuff from there, but I really like Colin Stetson, Thulebasen, Tom Waits, St. Vincent and The Silver Jews.
Who are you most excited to see at today's Electronic Beats festival in Zagreb?
Really looking forward to The Audience.
What does 2012 hold for the band?
A lot of touring and a lot of writing, I hope. I really feel we have to figure out where to go next.
Planningtorock reworked by When Saints Go Machine
What a great concoction: two of our favorite artists together for an absolutely genius remix! This remix is one of a number on Planningtorock's new Living It Out EP for DFA that also features remixes from Billy Lock, Jackson, Cosmodelica and Laurel Halo. Have yourself a treat and listen to the When Saints Go Machine rework below. And, if you like this, make sure not to miss When Saints Go Machine playing live in Zagreb, at the Electronic Beats Festival – this friday, November 25th, 2011.