EB Video Premiere: Crime & The City Solution's "Beyond Good and Evil"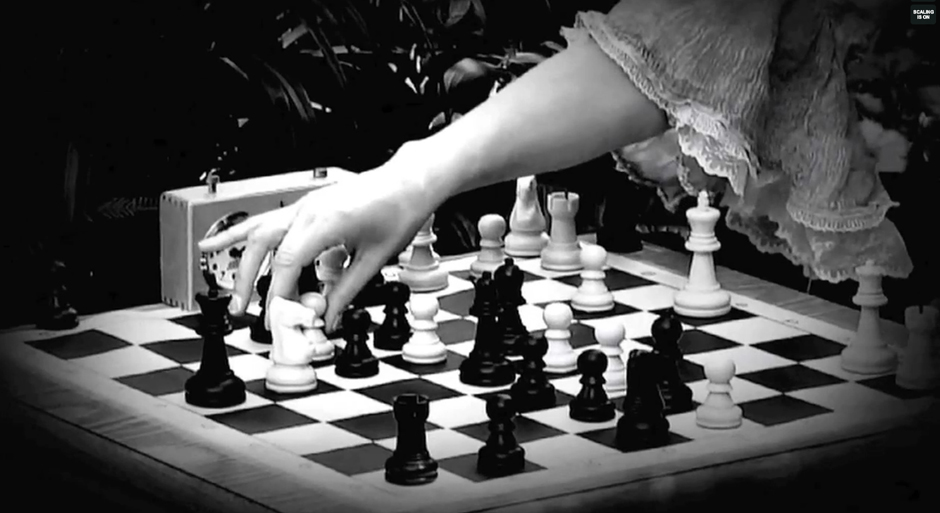 After already launching the first video (for "Goddess) from their first new album in decades, American Twilight, EB is proud to again present the new video—the second from American Twilight—for Crime & The City Solution's avant-country ballad "Beyond Good and Evil". Like "Goddess", it was directed and filmed by Danielle de Picciotto, who is also the newest addition to the group. As the titles say, the original Berlin era members of Crime & The City Solution—Simon Bonney, Bronwyn Adams and Alexander Hacke (Einstürzende Neubauten)—are  now joined by David Eugene Edwards (16 Horsepower, Wovenhand), Jim White (Dirty 3, Cat Power), Troy Gregory (Witches), and Matthew Smith (Outrageous Cherry, Volebeats). Read our brief chat with the director and watch the video  below:
How did you come up with the idea of using animation mixed with filmed footage and why?
I wanted to give the video a feeling of magic and layered realities. Mixing the filmed footage with drawings made it possible to add a more symbolic nuance to the story.
Are the figures you used reminiscent of something?
It is a fairytale…
All the new Crime tracks have an accompanying video. Why now?
Simon asked me to become a member of the band because it has always been an dream of his to have a visual artist participating in Crime & The City Solution. As I am an interdisciplinary artist and also work with music it was a perfect match. During the recordings, I not only sang the background vocals with Bronwyn but spent months filming the band and creating visuals to show on stage during the concerts. Then I started making the music videos from all of these images. These are the clips we have been releasing and they add the special touch to the bands image which Simon had hoped for.~
Crime & The City Solution's American Twilight was released in March, 2013, via Mute Records.
EB Video Premier: Para One – Lean On Me
You might not know it, but the man behind Para One, Jean-Baptiste de Laubier, is also a film director, and we're pleased to premiere his latest music video for his Teki Latex collaboration 'Lean On Me'. In fact, it's given us summer fever thanks to the sunny electropop beats bubbling beneath synthesized vocals. Set in Tokyo, it follows a beautiful day between two lovers as they stroll beneath cherry blossom trees, share laughter, and fall asleep together on the train.
EB Video Premier: Tomas Barfod – Broken Glass
May Day might be over, but there's still few things more satisfying than the sound of breaking glass. Just ask Tomas Barfod, whose Broken Glass EP was released earlier this year on LA's Friends of Friends. The Whomadewho drummer has been garnering heavy praise for his melodic, beautiful tunes, and is set to drop his next LP Salton Sea on May 21st. But back to the present for a present we're pleased to present. 'Broken Glass' is the title track from his EP, and what a lovely track it is. The delicate tune is offset by the implied violence of stone-throwing, glass-breaking, and a collection of earrings that remind us of being sixteen again (with a much better wardrobe).
EB Video Premier: Christian Löffler – Feelharmonia
Though the color palette for Christian Löffler's new video for 'Feelharmonia' is predominately blue, the song itself is anything but cold. Taken from his upcoming debut A Forest, the track interweaves the sultry, ethereal vocals of Danish musician Gry Noehr Bagøien with clacking wooden percussion and a chugging, muted beat that absorbs into the skin and leaves your body soundsoaked.
Directed by Israeli visual artist Ronni Shendar, the loose narrative conveys a connection with nature that has nothing to do with distancing yourself from humanity, but rather connecting with the humanity of the world. "Feelharmonia for me was about creating, or feeling, this perfect harmony with the wild." says Shendar. "A sort of mirror of a self – of limbs and appendages that stem like a projection of our own, as the borders become blurred."
EB Video Premier: Last Days of 1984 – River's Edge
Ever feel like your existence as a tentacle-faced singer is defined by the numerous exploding vases of flowers that are one of the few material objects inside the black void you live in? Err…yeah, nor us (unless you count our Burning Man experience, maybe) but Last Days of 1984 might be able to relate. The young Irish duo of Brian Rice and Darren Moloney have just released a video for their track 'River's Edge', a lovely slice of tropical-influenced electropop that will leave your mind spinning as they fragment, shatter and reform into a mass of writhing, wormlike limbs. Just another day for these two. Their debut album Wake Up To The Waves is due out this summer on Osaka Records.