Best of #EBfestival2014 – in pictures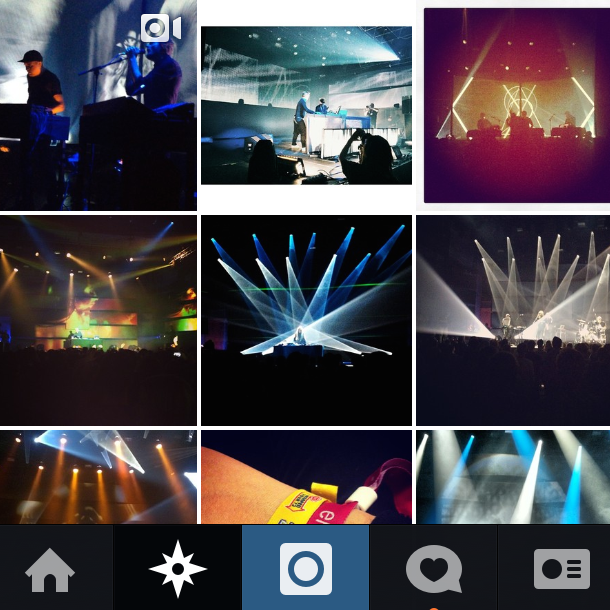 Two is a crowd, three is a party, thousands is a festival. Thanks to everyone who came along so far—here's our recap of the first three EB festivals this year. Photos by: You. (If you want to be included in the next one, use #EBfestival2014 when uploading your pics to Instagram)
Live Report: Electronic Beats Festival Warsaw 2014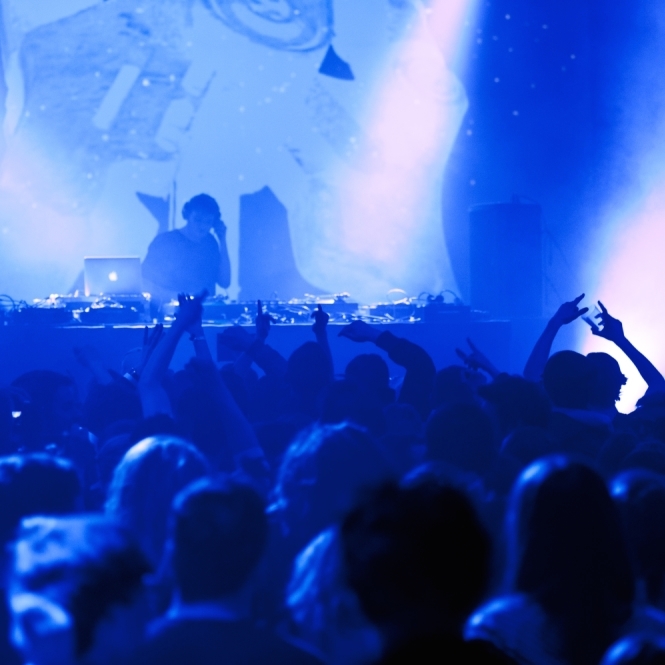 Last night Warsaw played host to a two venue EB blow-out with José Gonzáles, Hudson Mohawke, Ólafur Arnalds, John Talabot, Mooryc and Król. This is how it went down. Photos by Lukasz Jaszak and Joanna Kurkowska.
It was once again an evening of superlatives at last night's Electronic Beats Festival in Warsaw, held at both the Palladium concert hall and Basen club in Poland's capital. Of course we'd say that, right? Well, fuck objectivity. And while we're at it, fuck constricting genre categorizations, because the array of music presented at the two-phase event (one part concert, one part club) blew minds and won over the hearts of not a few skeptics we spoke to. Initial naysayers who wondered aloud in the beginning of the night about how the understated atmospherics of José González and Ólafur Arnalds would match up with the maximal aesthetics of Hudson Mohawke became true believers in the dogma of Mixed Line-ups. (You know who you are, don't want to say we told you so, but…)
Kicking off the night for the Palladium headliners was Polish duo Król, whose four-to-the floor atmorock was a pleasant lead in to the contemporary electronic chamber music of Ólafur Arnalds. In a stroke of bad luck, Arnalds was forced to go on a few minutes late due to his guest singer's thrown out back. But with typical showbiz moxy and some help from the local paramedics, the singer mustered up the strength and hobbled astage. Thank the Nordic gods of lumbar. Arnalds isn't classically trained, but you wouldn't know it by his piano chops. Together with a mostly bearded string section, the Icelandic composer infused the sold-out theater with his brand of melodic melodrama, playing a selection of classics and newer tracks off of 2013's For Now I Am Winter. Arnalds' prog/metal roots were audible in form if not instrumentation and judging by the crowd's enthusiasm, the performance struck the right balance between complexity and accessibility i.e. between the solo piano work of "Words of Amber" and baroque-indie of "Only the Winds".
Indeed, accessibility was also the name of the game for José González's stripped down solo show. The Swedish singer-songwriter is known widely for his folky versions of The Knife and Bruce Springsteen and, like Arnalds, has also brought his tender vocal stylings to the big screen, most recently as the composer for the soundtrack to comedian-narcissist Ben Stiller's The Secret Life of Walter Mitty. As always, González's approach was soft and Varsovian concertgoers answered with hushed listening—that is until the songs were over. Their response was much applause and whistles of appreciation for songs that at first appear peaceful, but gradually betray an edgier subject matter than your average indie-folk. Music for lovers? Atheists? Outsiders? All of the above? Not that we passed out questionnaires.
After the show, the blissed out the crowd made their way to the Basen club for the storm after the calm. It was a gradual darkening of the clouds, with Poznan-based Maurycy Zimmermann, aka Mooryc kicking off the second half of the night with his trademark atmospheric, tail-heavy techno and vocals. While not a Warsaw local, the Polish native son clearly was surrounded by fans, with many a blurry-eyed Dziękuję shouted to and from the stage.
But there was no rest for the wicked and when Hudson Mohawke went on stage, it was clearly time for release. Fresh from collaborations with pop production titans Quincy Jones, Rick Rubin, and Kanye West, HudMo let loose a barrage of muscular trap bordering on the psychedelic—an obvious crowd pleaser for those thirsting for a music less moody. Explosive visuals accompanied the Scottish producer's trademark steroidal beats, with a sample proclaiming "YOU LOOK LIKE SHIT!" repeatedly blasted over the top. Nobody took it personally. Very much the opposite really. Blood on the trees. Bleeding ears. Smiling faces. Profane.
Eventually the clock struck three, and it was once again time to decelerate—or so we thought. John Talabot's DJ set was certainly not the the sonic valium to HudMo's pure white lines, but rather a different trip altogether. Techno, techno and more techno, and pumped harder than Talabot's own productions. Entrancing. This was the steady drive we needed to get home at the end of a long night. Until next year Warsaw… ~
…
Wish could capture these colours properly, stunning Warsaw sunrise pic.twitter.com/hbOMWsBcMg

— Hudson Mohawke (@HudMo) April 5, 2014
Electronic Beats Festival Warsaw 2014: Last tickets available now!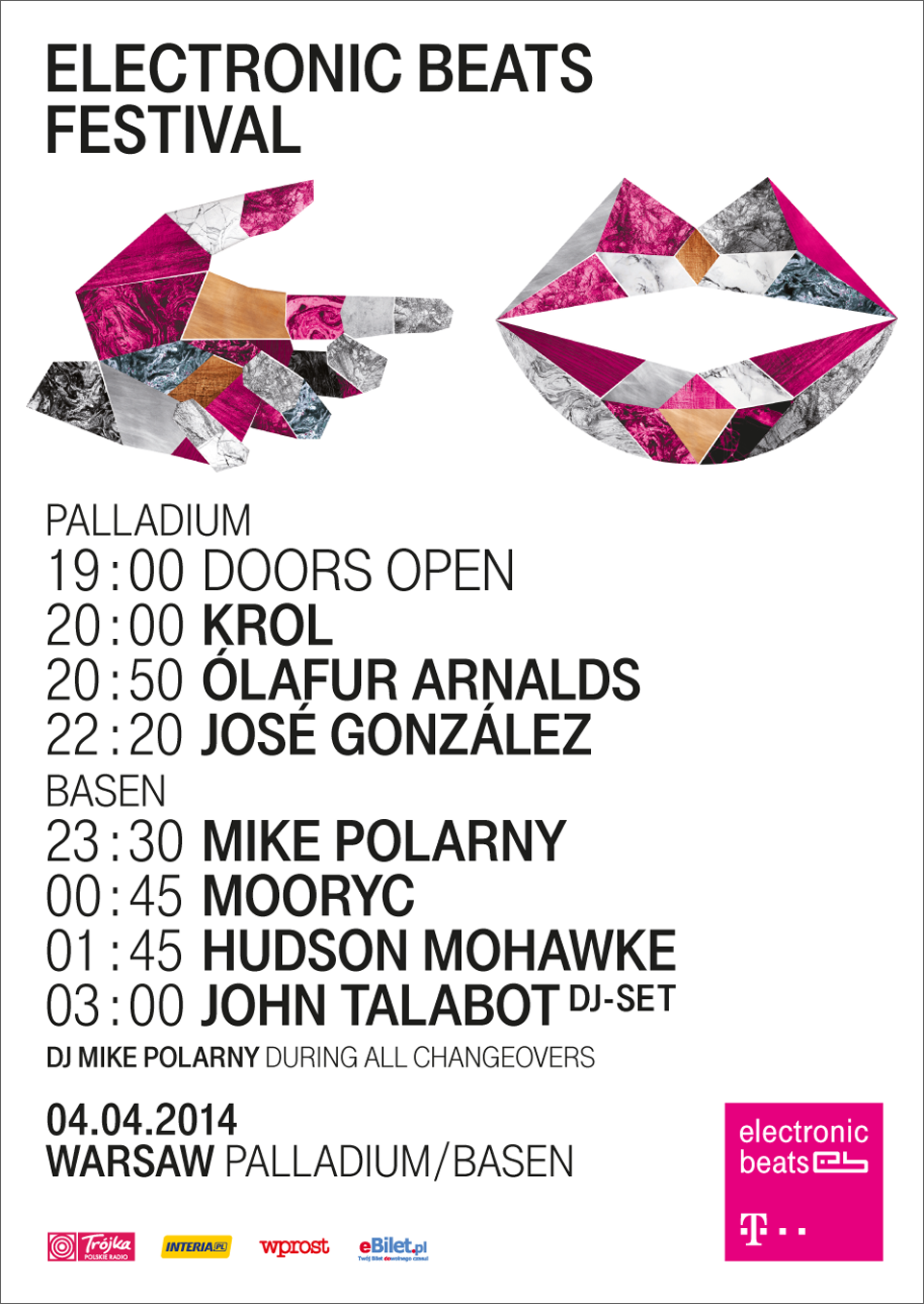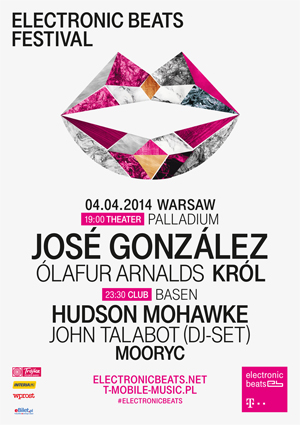 IMPORTANT UPDATE #4: Here's the running order for tonight: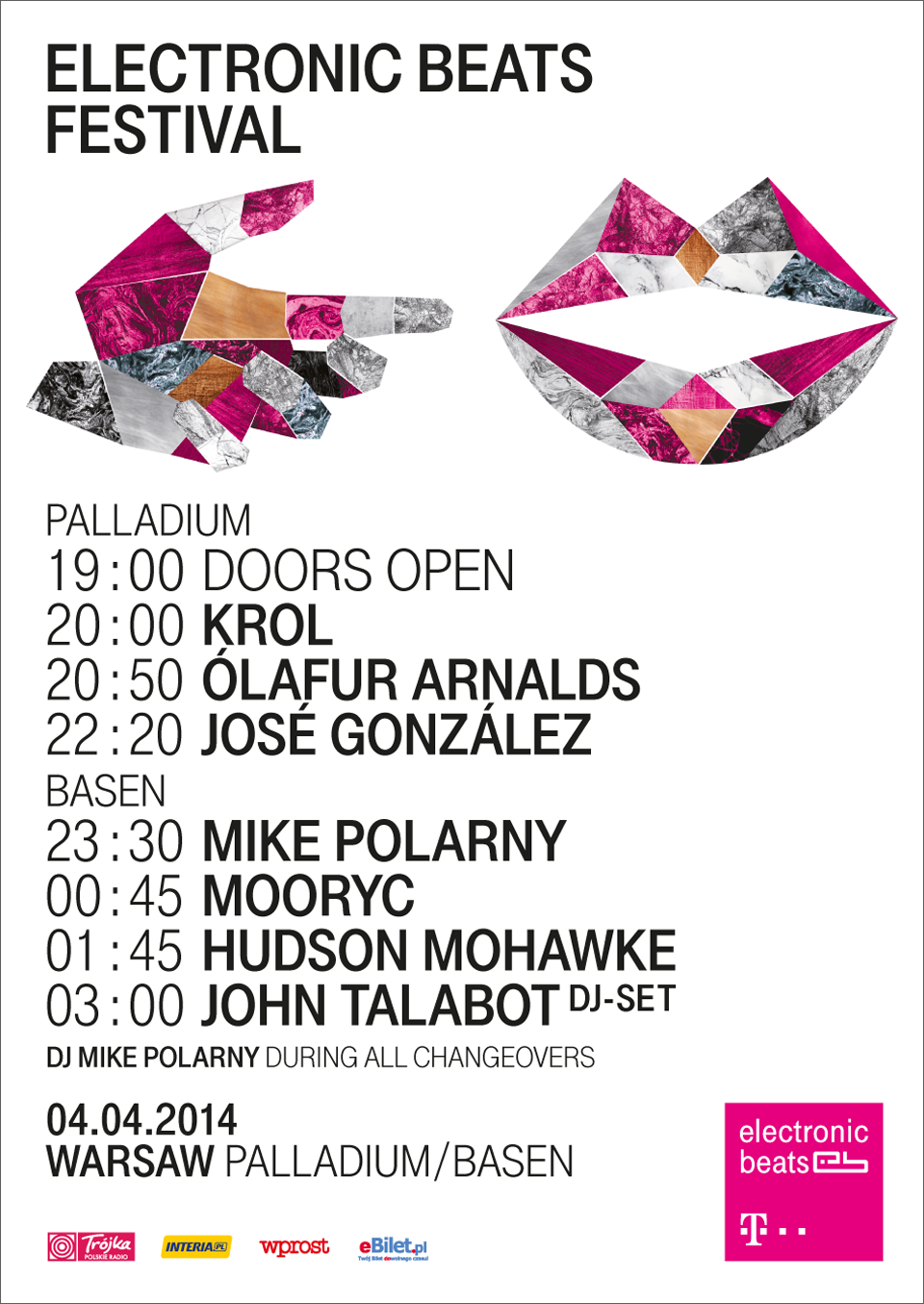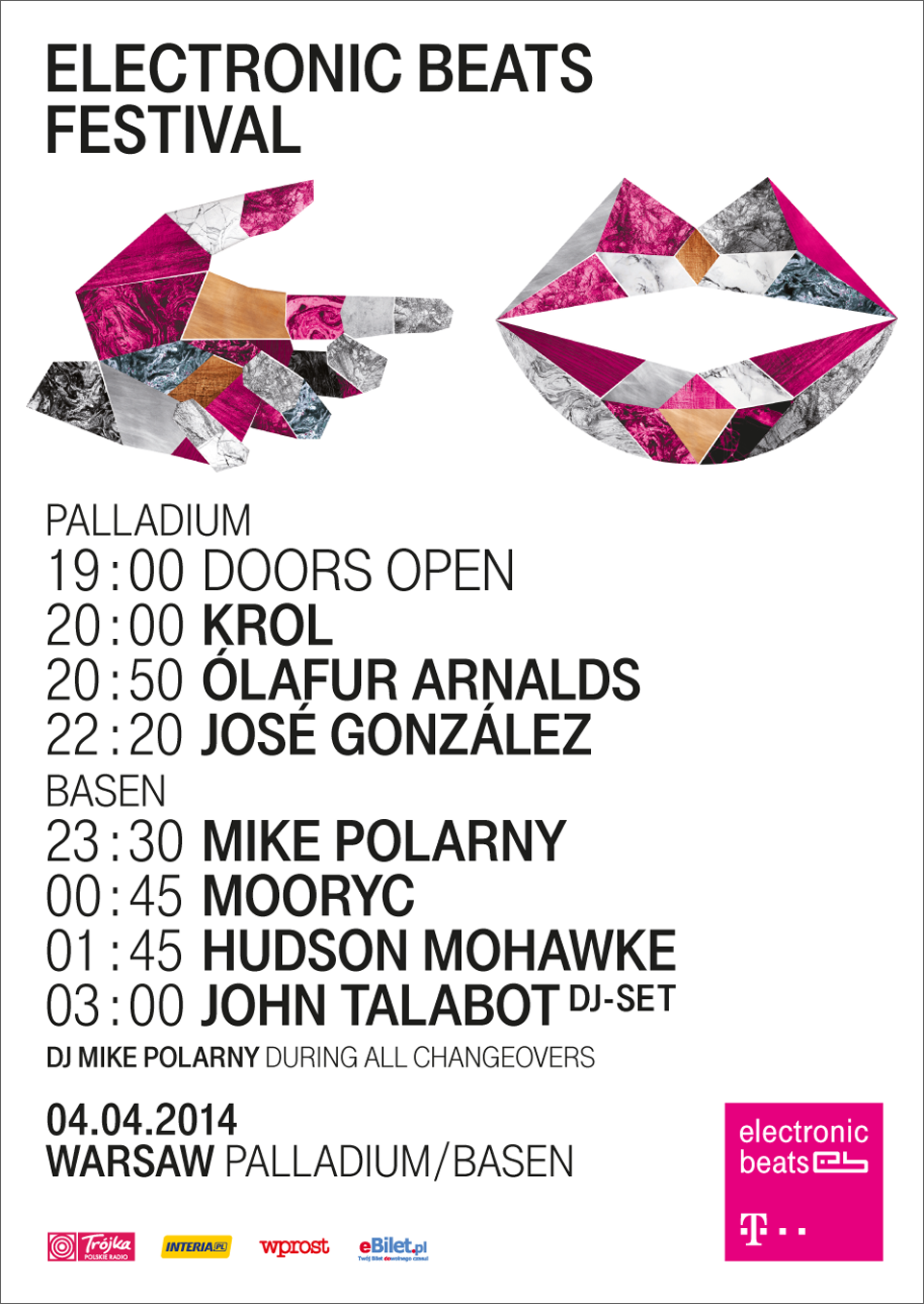 IMPORTANT UPDATE #3: Due to overwhelming demand, we're giving away 10 more tickets to the Club Basen party! Once more, see our Facebook page for details.
IMPORTANT UPDATE #2: We have 10 tickets to give away for the sold-out Palladium Theater event, and 10 for the Club Basen party (tickets still available for sale as well). Please see our Facebook page for details.
IMPORTANT UPDATE #1: Julio Bashmore has had to cancel his DJ set at Electronic Beats Festival next weekend due to personal reasons. We are happy to announce John Talabot will DJ instead.
You all know Glaswegian producer Hudson Mohawke as LuckyMe's maximalist rave trailblazer, his multicolored and hybridized strain of bass music always staying firmly on a psychedelic and hip-hop tip. His debut album Butter and, later, the Satin Panthers EP noisily redefined electronic music in the oughts and landed the young talent spots manning the desks for global stars Kanye West, Chris Brown and Azealia Banks. He also has form with EB festivals, having stepped up in Vienna 2012 (watch the video here).
Maurycy Zimmermann, aka Mooryc, will be making his EB festival debut. The Poznan musician creates melodic electro pop that is driven by mood and texture. It's a natural fit for the forward thinking Freude Am Tanzen label. With debut Roofs released recently, we're looking forward to seeing how that translates to the live setting.
Our Warsaw festival will be split in to two event locations: the Palladium Theater, and Club Basen. As well as Hudson Mohawke and Mooryc, the previously announced Julio Bashmore will be in charge of bringing the party. (Bashmore has since had to pull out, see above).
Over at the Palladium we've got three more acts to get your blood boiling. Swedish singer-songwriter José González may have cut his musical chops in the world of hardcore punk, but these days he's more known for his distinctively minimalistic indie-folk songs, comprised primarily of his beautiful singing voice and guitar work. Ólafur Arnalds also started his musical career in hardcore groups—this time as a drummer— but the young Icelander has certainly proven he can balance pounding fury with throbbing beauty. His music feels immediate and rich, balancing a number of aesthetics—from soundtrack-esque orchestral ambience to post-rock pop—perfectly, and his recent album For Now I Am Winter is as morose as it is infectious.
Rounding out the theater night is KRÓL, who will be performing fresh off the release of his debut album Nielot. One listen to lead single "Szczenię" will prove why Błażej Król's work has consistently been considered some of the most important electronics to come out of Poland in recent memory. Be sure not to miss this intense blend of pop-fueled electronics! Warming up both locations is radio host, blogger and DJ Mike Polarny, who—as you might remember from his EB mixtape—knows just the right blend of new and classic electronics to keep dance floors jumping.
Separate tickets for each venue as well as combi-tickets for both are available to purchase via presales. Discounted tickets for T-Mobile clients are available to purchase here, and a very limited amount of discounted combi-tickets is available for Slovakian Telekom clients via Telekom Benefit. Don't forget to RSVP on Facebook. See you there! ⁓
John Talabot live in Budapest (2013) von electronicbeatstv