10 x 4 – PBR Streetgang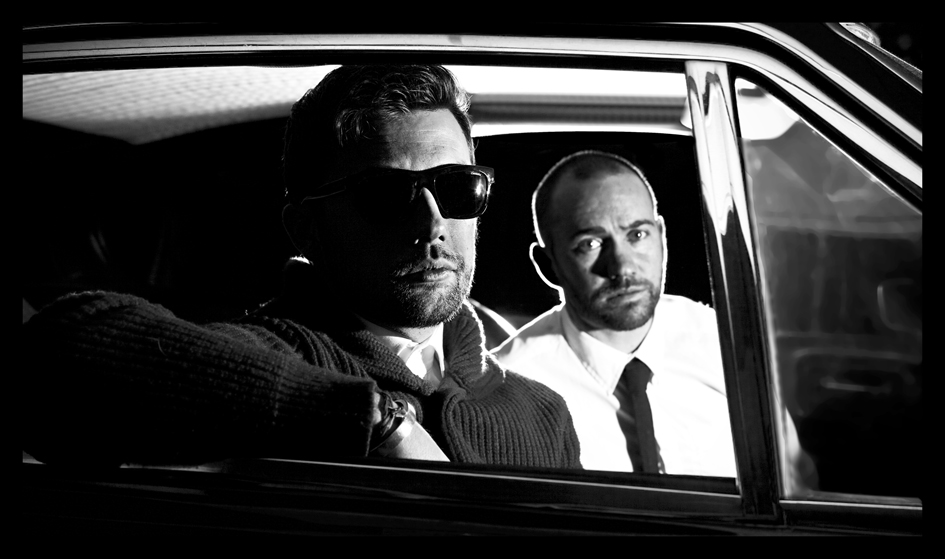 PBR Streetgang is the troublesome twosome of Bonar Bradberry and Tom Thorpe. DJs for a number of years with gigs across the globe and a residency at Space Ibiza under their belts, they are knee-deep in sleazy, funky house music. They have just released the killer 12″ 'Downstroke' on Hot Creations and there's more in store with the likes of 20:20Vision and Futureboogie. Hot shit. Did I hear the call of a 10 x 4?
Favourite part of the day to create?
B – Just after the 2nd cup of tea has been made
T – Once the drugs kick in
Method or madness?
B – Depends what time of day it is.
T – A mix of both
Most influential person? to me .. ?
B – My Dad
T – David Attenborough
First musical love?
B – The Banana Splits Theme Tune
T – One of the first records I can remember owning was 'a view to a kill' by Duran Duran. So I guess that.
Last musical love?
B – Well I just heard heard Neil Diablos new edit of 'For Your Love' .. thats makes feel me in Love
T – The Chromatics, 'Tick of the Clock' from the movie 'Drive'
One thing you cannot live with out?
B – Sad but true.. my mac laptop…
T – Yorkshire tea
One thing you would live without if you could?
B – My mac laptop!
T – Certainly not clothes, that could be really embarrassing.
Favourite instrument?
B – My Juno 106 Keyboard.
T – Bonar's Juno 106.
Your biggest break so far?
B – I hurt my ankle real bad last year but I don't think you could call it a break .. It wasn't in plaster or anything.. no breaks so far so I'm pretty lucky!!
T – I can beat that. iIbroke my clavicle other wise know as your collar bone when I was at school. it hurt, but I took it like a man, a real man. I know you're all impressed.
Eureka moment?
B – I get them daily I think .. and usually I forget them as quick as them came!
T – All the time, then quickly realise it may not be as good as originally thought.
Biggest surprise?
B – My surprise Birthday party my girlfriend threw me last year.. I really didn't expect that .. amazing !
T – Knowing we've come so far at such a young age!
Biggest disappointment ?
B – When they re-made The Wicker Man. That bummed me out a bit..
T – Making yorkshire puddings for a friend recently. They really didn't work out. I'm normally amazing at doing them.
Love of your life?
B – It's an obvious answer… but its music ..
T – That + missus, dog, mates.
Secret tip?
B – Always wrestle a bear after he's eaten… they'll be more lethargic and less aggressive .. that.. and don't take advice from me..
T – I'm so impressed with Bonar's answer, I have no answer.
Favourite Tumblr?
B – What like a glass? I don't think I understand the question.. I don't really have any crystal tumblers but I have a favourite mug if that helps ?
T – In English please, I don't speak Spanish. I don't understand???
A place to create?
B – Anywhere that my train of thought wont be disturbed for more than 20 minutes.
T – Mentally I create ideas when i'm relaxed, which is often in strange places like the bath. That's pretty weird, right!!
Last thing that inspired you?
B – Opening the curtains this morning and taking a look outside .. everything inspires me!
T – Bill Withers documentary I watched last night.
Coat of Arms very successful debut on Futureboogie
If you are not aware of UK-based duo Coat of Arms, then maybe they will be better described as Futureboogie's hottest new act consisting of Birmingham's own Chris James (founder of Dubnoir label) and Eats Everything (Pets Recording, San City High) hailling from Bristol. Together they have combined their deep house, disco, funk and soul influences to create what they call 'bumpin house', the kind that has the subtle power to keep you boogying on the dancefloor at 5 in the morning, whether you want to or not.
With just one track under their belts, the British boys have already risen to fame – boasting support from the likes of Claude VonStroke, Julio Bashmore, Catz N Dogz, Justin Martin and Maya Jane Coles to name a few. The debut single 'Is This Something?' features on Jamie Jones' new mix for 'Fabric 59' out in August, and has been dropped in countless sets surrounding its release last week. It also stars on Futureboogie Recording's Summer Riot EP along with fellow label artist's Lukas and Behling. Sampling snippets from a myriad of sources, including Faith Evans 'Love Like This' (check her out at 1min57secs in…"this is something I wanna hold on to"), and transforming it into a sexy Burial-like vocal with Detroit-esque synths and big bass. Put it all together and this is what you get:
Coat Of Arms – Is This Something (5AM Original Mix) (Futureboogie Recordings) by Coat Of Arms Music
With a forthcoming track soon to appear on Catz N Dogz label, Pets Recordings, these guys' spacious house beats are definitely the one to watch. Interview with the pair to follow shortly.