Fast Food 5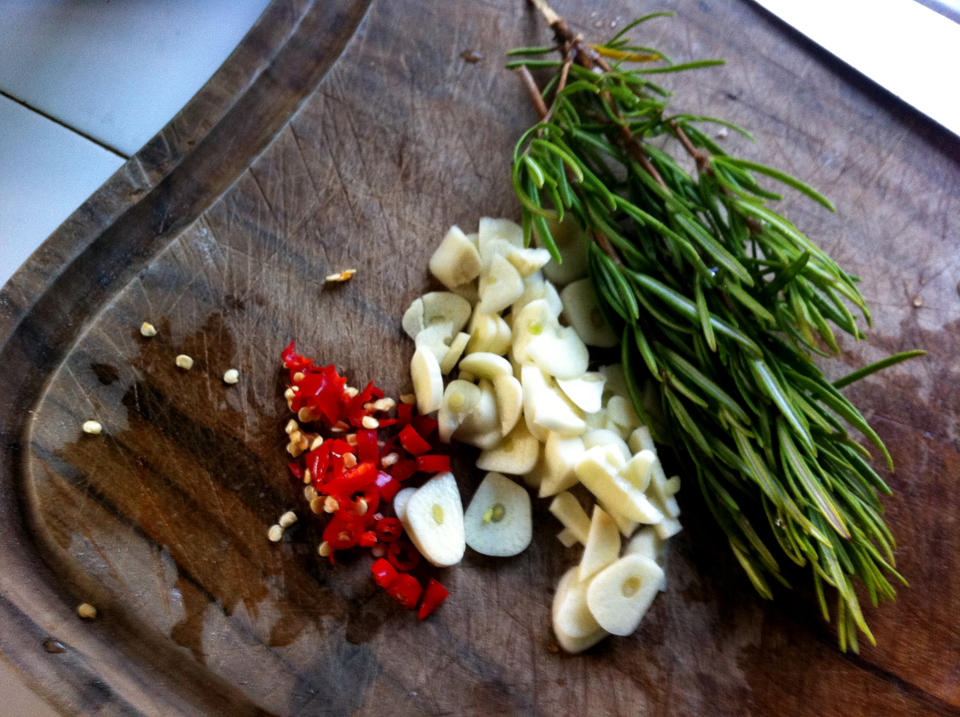 Fast Food is a new, regular feature on EB.net by Thomas Schoenberger and Max Dax. Every Saturday you can read a new piece of a sophisticated ongoing conversation about cooking, traditions and how to read the menu of any given restaurant. It is a discussion about disappearing spaces and why so many chefs listen to Miles Davis' so-called 'electric period' after an exhausting night in the kitchen.
Read previous episodes of Fast Food here.
Dax: The semi-legal Hafenstraße backdrop was essential for the restaurant's founding myth. It is in fact only possible to pin down the story of the Restaurant Schönberger—and I know that this might sound redundant at first glance—because there is a story to tell. As opposed to, say, all those franchises of restaurant chains where no real story can ever to be told or written down. You need a story like this to make an inventory of a restaurant. I believe that you can approach a restaurant with a similar methodology and vocabulary as you classify, document and contextualize a piece of art. By talking about the Restaurant Schönberger we save it from oblivion.
Schoenberger: Let's face it: We are very much aware of the fact that we conduct this dialogue about cooking not only in a public space . . .
Dax: . . . we are sitting in the Osteria al Bacco opposite the Geto Novo in Venice's Cannaregio quarter. It is now 10 p.m. and we are recording this conversation with my tape recorder, a digital Olympus Dictaphone. There is five other guests in the osteria.
Schoenberger: Not only that. Even more important is the fact that we are fully aware of the fact we are conducting the dialogue in front of a virtual audience. Everything we discuss will be transcribed and published in this blog—before it will eventually be released as a book. Every mental leap and every cross-reference leads somewhere in this stream of consciousness. We chose the story of the Restaurant Schönberger as a starting point for this narration as we knew that we literally needed a heavily charged location. A space that serves as a proxy for the hundreds or thousands of spaces that we could have mentioned instead. Fast Food reports about the enjoyment that can be found in everyday occurrences such as dining, cooking and drinking. It repeats the idea that certain traditions must not be forgotten. As I said before: Every family-run restaurant with a story that has to close because a quarter becomes gentrified is a real loss. We have to defy perdition in the same cadence as the Hafenstraße squatters who couldn't accept their street becoming an object of real estate speculation—that would have changed the face of St. Pauli forever.
Dax: I remember: At a certain point I had finished cleaning the string beans. You were still on the phone discussing something with someone I didn't know. You had put on a record called "Pangaea" by Miles Davis—by the way my first introduction to jazz. I was sitting at my table, enjoying my white wine when the kitchen brigade arrived. I had to go then and we didn't see each other for some time. Even though we had barely said a word, I associate this dizzy fall afternoon with the beginning of our friendship.
Schoenberger: For sure it was a memorable encounter. I still remember what I thought when you started to clean the beans. I thought: Here we have a guy who had no connection to me whatsoever except that he liked what I was doing. But the appreciation was mutual. I knew quite a bit about you because I had done my research. I knew, for example, that you had quit your work at Alfred Hilsberg's. And I knew that you'd been Jeffrey Lee Pierce's personal assistant and that you had—when you were still living in Kiel—suggested a caterer friend of yours in Kiel to order large amounts of Trebbiano from my Vertrieb trockener Weine. You had changed sides and become a journalist. I very clearly recall how I became aware of you and why I eventually did this research about you. One day, my maître d' approached me and insisted that I read an article about the restaurant that he'd found in a newspaper. As usual, I resisted. I hate food journalism. It didn't even matter if an article had been written about the Schönberger or about another place. I hated them all. The vast majority of journalistic pieces about restaurants or food are crap. They are written without any consciousness of tradition and knowledge of context. These articles usually, first and foremost, display the ignorance of their authors. It becomes even worse if the writers actually do know a bit about cooking. Most of their articles use language as a deadly weapon. They kill or hail chefs and restaurants with their writing as they are pretty class-conscious in the worst sense of the word.
Dax: The role of the critic has dramatically changed with the triumphal procession of the Internet and the availability of information in general. I totally understand your aversion against journalists whose job it is to professionally criticize. Nothing against that job description. Every now and then I read fantastic reviews. The way The New Yorker's Richard Brody reviews "Shoah" by Claude Lanzmann, for instance, is just state of the art.
Schoenberger: The same goes for food critics like François Simon of Le Figaro fame or Maurice-Edmond Sailland, better known as "Curnonsky". I don't know how to put it: They were different.
Dax: . . . or take music critics such as The Wire's Chris Bohn or, in Germany, Diedrich Diederichsen who successfully invented a brand new way of saying complex things in the German language. To me, these are real writers in a literal sense. But the profession of the critic is at stake today. Yes, we need people who filter for us—and they have to find ways to filter better and even more accurately than the stunning algorithms that Google or Amazon are using. But no, we don't need point of view journalism anymore if the human being behind this point of view doesn't have the time to fundamentally look into the complexity of a given topic. For decades now, I doubt the so-called objectivity of the critic. I always preferred the subjective aggregation of information and context that admits that nobody can know everything. It's like that famous Socrates quote "I know that I know nothing". I would never predicate anything else than that. As a consequence, an article about the Schönberger or any other place would have to explain contexts such as the tradition of the working man's canteen, the tavern and the osteria to rightfully carve out the differences and the unique aspects of any given space. If you don't integrate this knowledge and if you don't display these rhizomatic connections, you'd run the risk of comparing a telephone book with a novel. Or, to refocus back onto the field of gastronomy: to compare the typical pizzeria in a German provincial town with a Napoletanian place that only sells two types of pizza vera.
Schoenberger: Well, my maître d' didn't allow himself to be put off. He insisted that I read your piece about my place. Your article was headlined "Remembrance of Things Past", just like the novel by Marcel Proust. When I read that line I wanted to read the rest of the review, too.
Fast Food 4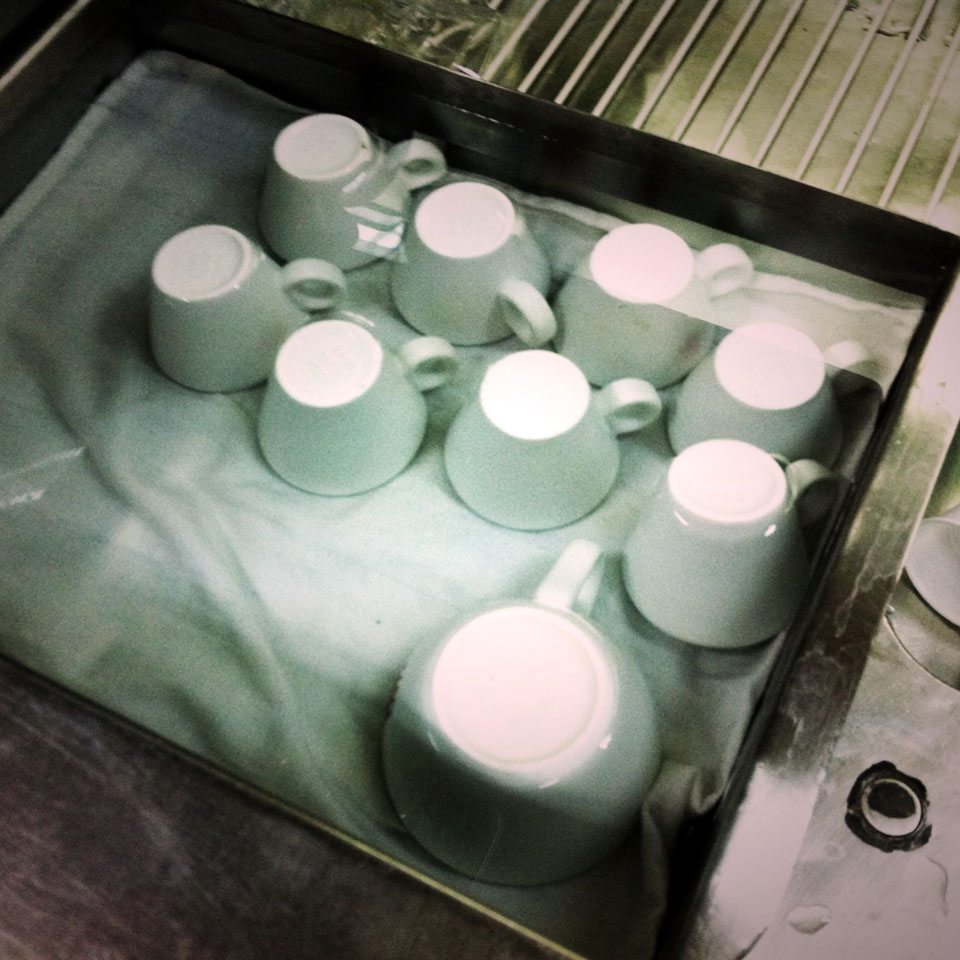 Fast Food is a new, regular feature on EB.net by Thomas Schoenberger and Max Dax. Every Saturday you can read a new piece of a sophisticated ongoing conversation about cooking, traditions and how to read the menu of any given restaurant. It is a discussion about disappearing spaces and why so many chefs listen to Miles Davis' so-called 'electric period' after an exhausting night in the kitchen. Photo: Max Dax
Read previous episodes of Fast Food here.
Schoenberger: It was a fluent passage. I made my cut by selling the last remaining pallets of Orvieto, Chianti and Prosecco. From the proceeds of the sale I bought Ytong bricks and white paint. Step by step, the depot was converted into a space to cook. We built walls, toilets and a kitchen and we bet a hole in the floor to get a direct access to the cellar we from now on used as a huge food locker. In its early days, the Schönberger was a place of constant unrest. By the way: The conversion into a restaurant was only able to succeed because the guys from the Hafenstraße were helping us. With these squatters I had, in a joint venture, produced and sold many hectoliters of Riesling sparkling wine—which Vertrieb trockener Weine and the Hafenstraße had marketed under the label Hafenstraßen Sekt. One Deutschmark of every bottle that we sold went as an emergency contribution straight to the squatters.
Dax: I remember the Hafenstraße mainly as a myth. In the late '80s, I had moved back from Italy to my hometown Kiel, only to relocate to Hamburg after I was offered a job as a music promoter and assistant by record producer Alfred Hilsberg. When I was still living in Italy, every now and then I'd read short snippets of news in La Repubblica about the Hafenstraße squattings and the battles with the police that followed. Volker Ippig, the iconic goalkeeper of Hamburg's St. Pauli football club, lived in a tent on one of Hafenstraße's roof truss'. I vividly recall the night of the World Cup finale in 1990—Germany versus Argentina. That night, after the German victory against Diego Maradona, riots took place between the (by tendency riot-prone) right-wing football fans and the inhabitants of the Hafenstraße. Hundreds of drunken hooligans, all dressed in the same black-and-white German jersey, wanted to rough up the squatters. Funnily enough, to protect the Hafenstraße the Hamburg police brought the same anti-riot water cannons into action.. the ones that were usually used against the squatters. I couldn't believe what I was seeing as I had my late supper at Taverna Hellas, a small Greek tavern in the adjacent Davidstraße. The Taverna Hellas, by the way, was not only located right on the street-walkers' patch—it was and still is one of those true original food places that define my culinary memories. It was a tiny canteen, painted in Greek's proud national colors of blue and white, where you'd eat your grilled lamb chops, Balkan salad and olives next to prostitutes and their johns. Of course, everybody was boozing chilled Retsina and ice-cold Ouzo. There was a jukebox, as well—you'd insert one Deutschmark and pick some rebetico tunes from a seemingly endless selection. So, there we were hanging out, listening to rebetico, drinking Retsina and enjoying sucuk sausages as we watched the riots escalate.
Schoenberger: A group of Hafenstraße autonomists paid me a visit only days after I had made the decision to convert the wine storage room into a restaurant. They were curious about what I had been doing since we had sold the last bottle of the Hafenstraße Sekt. They inspected the building site and became part of the building crew—they just appeared out of the blue and started working. When we were finished with the conversion, they stayed and became part of the restaurant crew, the 'sturmtruppen'. Again, everything just happened naturally and without a master plan. A toast to the Hafenstraße!
Dax: I get what you mean when you use the term 'sturmtruppen' . . . I even like the black humor that I sense there, but tell me one thing: Why do people who work in the gastronomic field always use military terminology?
Schoenberger: I can't see a huge difference between a kitchen brigade and a squad of stormtroopers. A kitchen in a restaurant is organized like a combat unit in the army. Interestingly enough, this didn't upset the autonomists of the black bloc. On the contrary, the early days were characterized by ambivalence on both sides. On the one hand they didn't like me being a capitalist wearing expensive Italian suits; on the other hand they were fascinated because I was a capitalist who had shown more than solidarity with the Hafenstraße by producing and distributing the solidarity Riesling. And I was irritated by these people because their demeanor was quite elitist. Would you expect an elitist arrogance from radical left-winged street fighters?
Dax: Did you ever take part in a street battle?
Schoenberger: Yes. Once. The Hafenstraße had invited me to join them fighting against an organized neo-Nazi militia that tried to raid the squatted houses. Never ever before had I attended such an action. I was nervous and curious at the same time. When the battle started, I was totally stunned witnessing the level of professionalism and organization the squatters were displaying. They fought very disciplined and according to rules they had invented and—I suppose—already tested and subtilized in previous battles. As a matter of fact they routed out the some two hundred Nazis.
Dax: And what did you eat afterwards?
Schoenberger: They were serving beer, wine and vegetable stew with white kidney beans for everybody in their so-called Volxküche—like 'poor man's canteen', but misspelled in German on purpose. Each of us had to grab a plate and walk to the counter where we'd get our portion and then sit down on one of the tables the squatters had picked up from the bulky waste. There were injured people lying on the floor, too. Everybody talked about the battle that had just ended. Finally everybody went to the reggae and dub party at the Onkel Otto bar—this was the interface between the Hafenstraße and the rest of the world. The Onkel Otto bar was a semi-public space where other people were allowed to enter; not only squatters.