Bogner's TV Guide No. 19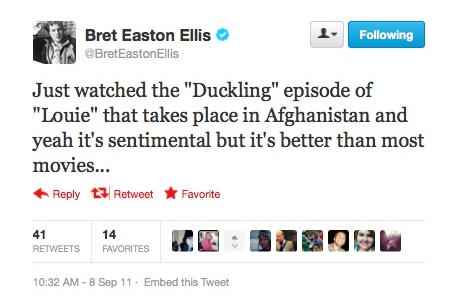 After last week's episode and what is sure to be another amazing season finale airing this Thursday, we don't need the Emmys to tell us that Louie is without a doubt the greatest comedy on TV. It may even be the greatest show ever. Follow David Bogner through the last season.
A few weeks ago I told you about the upcoming third season of Louie, a semi-autobiographical masterpiece created by the red haired, balding genius Louis C.K. for FX. Back then I came up with a short introduction to the work of C.K., a stand up comedian with Hungarian roots who believes in masturbation as much as he does self-marketing. This may or may not have compelled you to watch the last season of Louie, but either way, I was so blown away by the power and emotional impact of last week's episode that I felt the urge to do another post on the topic. Especially, since Louis C.K. won the Emmy on Sunday night for Outstanding Writing for a Comedy Series, but didn't get the one for best acting (Charlie Harper – seriously??) and directing (instead Modern Family won). To give you an idea how desperately wrong this decision was, imagine Martin Scorsese never winning an Oscar or Usain Bolt not winning Olympic gold in the 100 meters.
The third season of Louie is exceptional in so many ways, and you need to find a way to watch it immediately after reading this in case you haven't done so yet. I promise you, you will be on the verge of tears both from laughter and because you care for this character so much and want to see him succeed so badly. Even king of the unsolicited opinion Bret Easton Ellis gives it the thumbs up.
Just watched the "Duckling" episode of "Louie" that takes place in Afghanistan and yeah it's sentimental but it's better than most movies…

— Bret Easton Ellis (@BretEastonEllis) September 8, 2011
It's only fair to say that all seasons so far have been great, but while season one and two were more stand up comedy oriented with the shows signature beginning set at the Comedy Cellar in Manhattan, season three changed the formula by having episodes with no stand-up at all. And, despite the initial skepticism, those episodes turned out to be some of the best 20 minutes in TV history. Take "Miami" for example, the episode in which Louie has booked for a few shows at a hotel in Miami and becomes friends with a lifeguard who thinks he saved Louie's life. With all its absurd comedic elements and funny misunderstandings I still believe I haven't seen a more heartwarming story on TV ever before. The episode also succeeds in boiling the difficulties of male friendship down to an essence and makes passing fun of men's fear of homosexuality.
Everything else aside, it's the writing and – of course – Louis C.K. himself that make the show so exceptional. Another episode I will never forget was the one in which Louie had to face his father but all along the way got constantly sick from fear and anticipation. It's C.K.'s ability to take dead serious problems from everyday life (like how to deal with your parents after you've been avoiding them for years) and alchemise them into comedic art that makes you laugh. Even when making use of stylistic devices like exaggeration and straight up Dadaism you can still relate to everything he does. An example is when he decides to run instead of meeting his father and doesn't stop to catch his breath until he is far, far away.
http://youtu.be/KpnWlpLrsDk
No "Brother Louie" intro in the last two episodes – sad.
If I wasn't already convinced of Louie's dominance in the TV comedy arena, the last two episodes that aired left absolutely no room for doubt. In the interest of your own viewing pleasure, it would do well not to spoil to much, but I can assure you: I've never ever rooted more for a character than I did for Louie in these past two episodes. And if you still aren't convinced (what is wrong with you?) David Lynch makes cameos in all these episodes, but Louie still manages to steal the show. What are you waiting for? Watch it!
2011 Editor's Picks: David
Over the last decade everyone has been making a fuss about how TV-series are becoming more important and innovative than big screen movies. This is totally wrong. Even though both use moving pictures, they are two quite different forms. It's like comparing a 7 verse poem to a 500 pages epos or a one page comic in a newspaper to a graphic novel.
That said I hereby present you my top five TV shows this year.
5. Beavis and Butthead Season 9
Forget about any fuckin reunion of any given band on earth. Mike Judge's Beavis and Butthead is the comeback of the year. What I've seen so far, was more than great, which is why Charlie and the Gang haven't been in my year's end list for seven years now.
4. Louie Season 2
The second season of stand up comedian Louis CK started with a big fart and made me cry in the last episode. In-between there have been more touching scenes than in all seasons of Six feet under together.
3. Game of Thrones Season 1
It's been epic. Not only in terms of money (allegedly the pilot alone cost more than 20 million dollars) the cast (from Sean Bean as Ned Stark to any given squire, all the actors were brilliant), but regarding the story. George R.R. Martin works on a seven books long fantasy series and HBO turned book one into the first season of an epic TV show. There is much more to come!
2. Workaholics Season 2
Season 1 was so so, but season 2 turned Workaholics in the most fun TV show this year. Blake, Adam and Anders are three post graduate mid 20ies guys who work at a telemarketing company and share a house. The humor is as stupid as it sounds, but it works. Also great: guest appearances of guys like Tyler, the Creator and his gang among many others.
1. Homeland Season 1
Originally an Israeli TV show (like the great In Treatment), a team around Howard-24-Gordan developed it for the American market. And like no TV show before it turned all our fears into 10 episodes ala 50 minutes of pure thrilling entertainment. You never guess what's coming next yet nevertheless it's always plausible. In addition to that it features performances by Claire Danes and Damian Lewis and is one of the best in TV show's history.
Haven't seen more than two seasons of Breaking Bad though.