Fast Food 12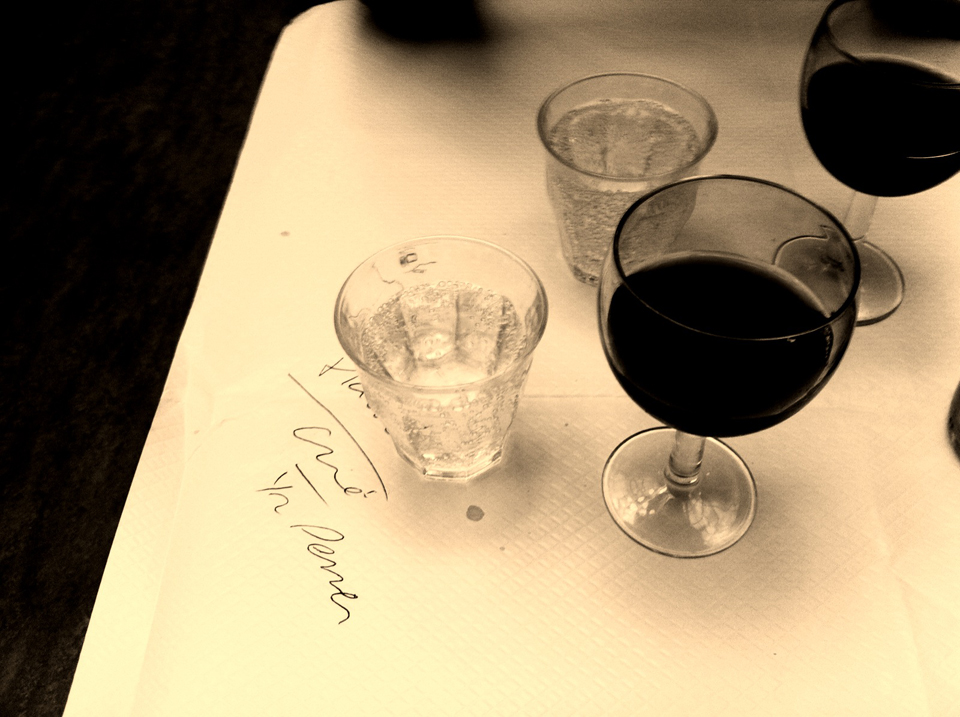 This week's installment of Fast Food covers thoughts on discretion and toughness. If you happen to be famous you probably don't want to be bothered while dining. Fast Food is a weekly blog about cooking and the micropolitics of dining by Thomas Schoenberger and Max Dax. Due to a heavy traveling itinerary, this week's episode didn't get published until today. The photo was taken at Bouillon Chartier in Paris. ~ Photo: Max Dax
Read previous episodes of Fast Food here.
Dax: While the cooks at Themroc experienced their own visibility by stepping out of the anonymity of the kitchen, the waiters had to take care not only of the service but also provide the audience with a space where they could behave freely. I am talking now about discretion and shelter. Sometimes big stars frequented the Themroc, such as The Fall's Mark E. Smith, Atari Teenage Riot's Alec Empire, Portishead's Geoff Barrow and Adrian Utley or Faust's Jochen Irmler—as well as Nan Goldin, John Giorno or Michael Stipe. They all had heard about the Themroc being a particular space offering something they probably wouldn't get that often elsewhere: They were treated as equals among equals.
Schoenberger: I'm not sure I get your point. The guests in the Themroc were visible. The place was brightly lit. What do you mean when you say that the guests felt protected?
Dax: Nobody seemed to take advantage of it being well lit. That was definitively the case. They could feel safe.
Schoenberger: Only 300 meters up the Torstraße, in yet another restaurant with an open kitchen, things were handled in a different way. That other place attracted a lot of Hollywood's A-list stars. The restaurant seemed like they wanted to capitalize on their reputation as being one of Berlin Mitte's hottest spots. Every time a star would show up you could be sure that the local newspapers would have a photo story ready the next morning.
Dax: How did you treat celebrities at the Schönberger?
Schoenberger: We treated them like non-celebrities. As you were saying, confidentiality is important. It doesn't matter if people are famous, if they are gangsters or if someone's dining with his or her affair, cheating on their partners. They all had their privacy.
Dax: I have to point out yet another aspect of that particular philosophy that was shared by both the Schönberger and the Themroc. Both had a squad of tough women who served the guests. I remember plenty of moments at the Themroc in which, for instance, a waitress called Tatjana Kononenko insulted her guests. She was and is a stunningly beautiful film director from Ukraine who was working shifts at the Themroc to finance her studies at Berlin's film academy. Being a proud woman, she refused to accept money from her family, insisting to fund her life and studies all by herself. Growing up in both Ukraine and a Soviet military barrack near Weimar, as a girl she used to play tactical warfare with her pals in old, discarded Red Army tanks. So, whenever a guest would behave arrogantly, was pushy or confront her with sexist preconceptions because she was beautiful and from Kiev heritage, she had her ways of turning the guest's stay at Themroc into a living hell.
Schoenberger: How did the owner Alireza deal with it?
Dax: For some time, say, for two years, he'd let her perform that way—knowing that this would help build the Themroc's reputation as being a somewhat different place. I will never forget how Tatjana once refused to serve a hipster couple that annoyingly continued to boss her around, calling her "service". After a short while she didn't serve the table anymore at all and ignored the couple. When they apprehended her she presented them the bill and calmly told them the address of another restaurant nearby, the Grill Royal, where they could try their luck instead.
Schoenberger: That reminds me of our tough women at the Schönberger. I officially sanctioned such a behavior. I considered it proud and professional. My waitresses didn't have to fear punishment if they'd piss off a certain kind of customer.
Dax: Didn't you also run this system of putting "reserved" signs on the tables even though they weren't booked at all? This way you could always refuse to seat people you didn't want to have in your restaurant.
Schoenberger: That's partly true. But we mainly used the "reserved" tables policy to make sure that regular guests would still get a table when we were overcrowded. But tell me more about the women at Themroc. Your wife Luci used to work shifts there too. How would you describe her role as a waitress in this context?
Dax: I'd say she was as important during the formative years of the Themroc as were the other members of the core crew—the three owners Alireza Farahmand, Manuel Schubbe and Olivier Lapeyre, but also Tatjana, the French cook Julien Ponthieu and the Danish steward Ole. They all played their part in defining the Themroc as a nocturnal refuge for Berlin's lost and hungry drifters. If you had Luci as your waitress, you could be sure that you were served correctly and warm-heartedly. But if she didn't like you, she'd kill you with her gaze. An ordinary night at the Themroc ended around 4am. That's tough shifts for anybody involved. You have to find ways to survive such patterns. You have to be tough on a certain level or the job will destroy you.
Schoenberger: Let's talk about the extreme working shifts for a moment. Unlike the usual restaurant we didn't serve the regular dining hours. That's just another similarity between the Themroc and the Schönberger. Tell me a restaurant in Paris or in Rome that would serve food after 10pm? You will not find any. Whereas in our joints you could be sure to still get some of the menu's remaining dishes at around 11.45pm. And of course, after the last one was served you were allowed to smoke and the whole set-up would change naturally. It would give way to a more bar-like situation where everybody would continue drinking—and, by the way, from this point on music would matter too.
Dax: At the Themroc the same girls would serve the guests when the kitchen had already closed. That's what made these working shifts so draining.
Schoenberger: As you know, we had this bar in the next room. We called the bar the Nebenraum—German for "the adjacent room". Different girls were working at the bar alongside Ernest Hausmann who was running it. The waitresses by then had ended their shifts. Nonetheless you'd usually see them around until the restaurant closed its doors late at night. I'd call it a certain lifestyle that you don't just want to go home after an exhausting working shift but to stay and talk to the various guests, many of them being friends and acquaintances. Basically, the whole place turned from a restaurant into a bar. That moment often reminded me of these magical situations after a theatre premiere when the actors and the staff intermingled with the opening night audience at the theatre's canteen. At the Schönberger, we witnessed on a daily basis how the bar attracted its own audience night after night after night. Arriving at the Themroc or the Schönberger at, say, 12.30am. on any given day, you could be sure to experience the same solemnity you'd have after a celebrated theatre premier.
Interview: Adrian Sherwood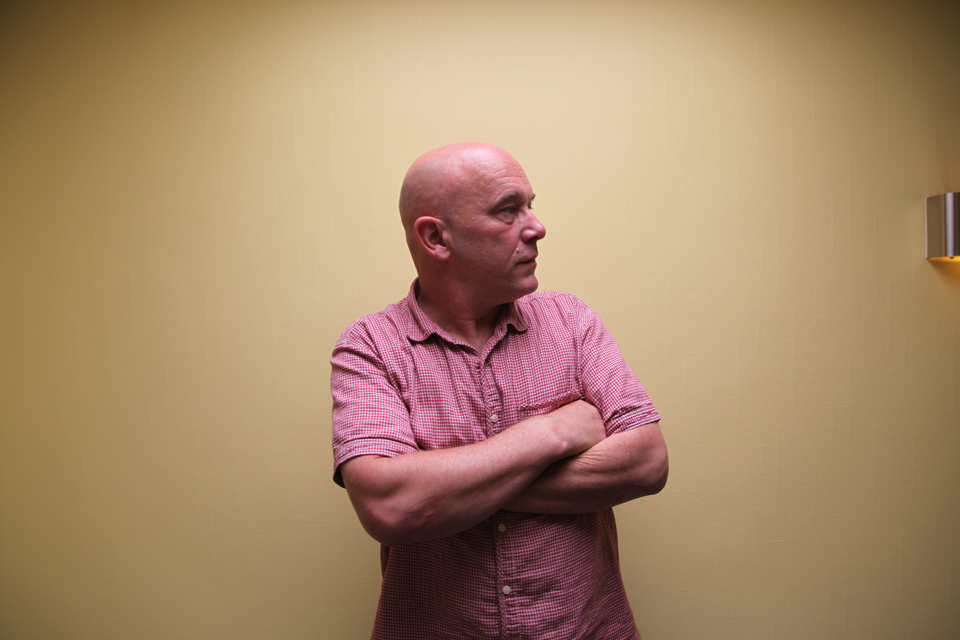 Adrian Sherwood has been running his label On-U Sound for 31 years. Quite a feat in itself, but made that much greater by his steadfast refusal to submit his vision to corporate dilution. While this may have led to mainstream indifference, he's one of the most respected innovators in dub music, working with everyone from Lee "Scratch" Perry and The Pop Group's Mark Stewart, to a whole new generation of producers including The Bug and Pinch. His new album Survival & Resistance is out now through On-U Sounds. Photo: Luci Lux
The title of your new album Survival & Resistance sounds like a political statement. Is this album an extension of the protest songs from the sixties?
The album is an instrumental album, it's only got two actual songs and I wrote or co-wrote the lyrics for both. 'Trapped Here', the Ghetto Priest track, is basically saying there's no point trusting in capitalism, and the second track 'We Flick the Switch' is about the god of money, the god of mammon, so they're both vaguely relevant to money masters. The name of the album fits the history of On-U Sound because I've resisted taking the path of becoming a career producer. The name comes from a book about the struggle of the Palestinian people.
Were you ever tempted to become, what you call, a career producer?
I am actually very proud of myself. All the time I was running On-U Sound I thought, instead of selling 10,000 or 20,000 units that I was actually very near to people liking it enough to sell 100,000 or 200,000. I've taking jobs to put money back into the label all my life. If I'd not run the label I would have become very successful financially but then after the interest dips, what's left? Instead, I've maintained a fanbase since the late seventies who respect the work. The last six albums I released nobody even knew they came out because my business got fucked with the likes of EFA going down, the EMI debacle. Now I'm just rebuilding myself, I'm going with Warp, I'm currently making another new album with dubstep producer Pinch.
You've always worked with interesting people rather than fulfilling market interest.
Yes. And I did various remix jobs that had nothing to do with On-U because I thought I could do a good job on whatever I took and also I was getting paid for it. As I said before any money I made went into the label. I'm glad I did the collaborations, but a lot of the times the record companies were making the deals and not even talking to the artists. It's revealing: Each time I worked with the artists together on the remix or the production it turned out good. But when it was the record companies saying 'go and do this' it was less so. I'm happy with where I am now my private life, I'm not rich or anything but I've got a nice studio, I've got a roof over my head.
It takes a lot of strength to choose your path. Where does it come from?
Fear. I wanted to be able to create my own destiny. It tends to go in patterns, sometimes I would be very busy and other times people don't want to know you. The tides turn and if you're any good you can come back again and reinvent yourself.
What inspires you?
Continuity is good. Longstanding relationships in life are good. If you have old friends and you know who your friends are. For me, the oldest working relationships is with Skip McDonald. Working with people like Lee 'Scratch' Perry is an honour because I was a fan of him and now I've worked with him now for 27 years and made some good records with him like 'Time Boom', 'Secret Laboratory' and 'The Mighty Upsetter'. I still work with Style Scott, the great Jamaican drummer. There's nobody of my old friends I'm not in touch with. Having said that, I'm trying now, in the next part of my life, to work with new faces because I don't want to stay on the same page. If you don't start working with great new producers or musicians you end up staying in the area of nostalgia, and that means death.
On the list of contributors you credit Skip McDonald with 'tunings'. What did you mean?
Part of the record was cut in Brazil and I had all these Turkish and Brazilian percussion instruments, so we drastically tuned them down – Skip fine-tuning everything as he happens to have very fine ears. I challenge anyone to name the synths used on the album because nearly all of the things that sound like synths – aside from two tracks – are not actually synths. There's no synths on 'UR Sound', there's no bass either; the part which you think is a b-line is not, it's tuned down percussion.
Returning to my initial question, I believe you don't necessarily need words to write a protest song, sometimes the title is enough. Alec Empire once wrote a song called 'Hetzjagd auf Nazis!' which was a techno track without any words. When I see the On-U history and the way you've survived the last 30 years, resisting the system seems to be a common thread.
The whole record industry was full of people who might as well have been trading pork bellies instead of music. It was controlled by rich people who owned these labels who employed their friends and they bought catalogues. I was told early on by the reggae people to build a catalogue, which I did. The principle is if you get enough catalogue numbers the distributors will deal with you. What the record companies had was these massive catalogues of music from the forties, fifties and sixties and when the CD came along in the eighties they could suddenly reissue every single album of their catalogue, resell anything. It made them so much money, millions of pounds swilling around the record industry. But when it came to getting new artists they'd make their cousin head of A&R and sign anything, spend hundreds of thousands on videos and promoting rubbish. Nobody was looking on artist development and that's when I went 'fuck this'. Whenever I had to set my foot into the offices of one of these companies I recall that I wanted to just take drugs and piss on the carpet. I felt that offended.
What was it precisely that offended you that much?
They didn't want to deal with us because there were too many black people involved. They were rather looking for desperate white kids who wanted to be famous. That was the lure in the eighties: To go and become part of this Babylon system, kissing the arse of some idiot running the record  label who doesn't even is interested in music. It was unbelievable: In England and America, they would buy and sell shares in the company, rape the company of money and go and buy real estate and golf courses. I was desperate to make our little model where we shared the profits work. I just never managed to get the sales we needed. But I did stick religiously to my guns, and in the end we did survive.
A week in the life: 168 hrs Kraftwerk, NYC part 1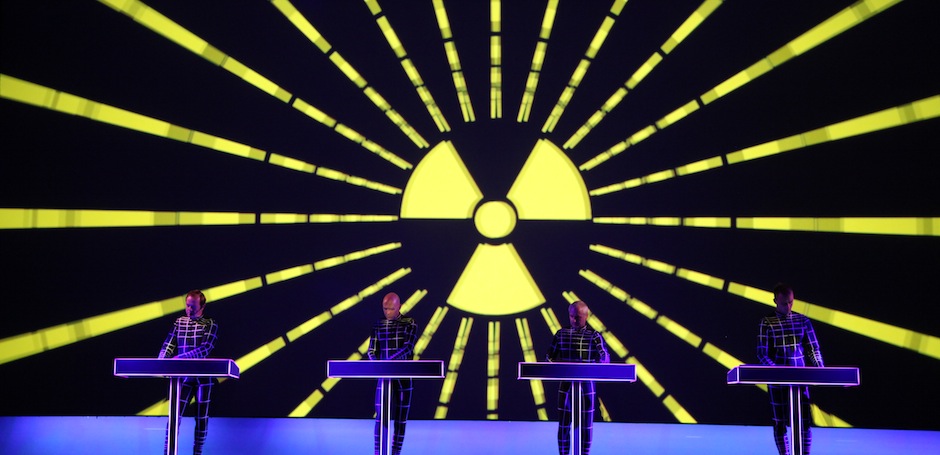 Photo: Max Dax
Few bands cast a shadow as long (or wide) as electronic pioneers Kraftwerk. The influence of the band's trail-blazing retro-futurism, conceptual precision and electronic minimalism is difficult to overestimate, extending beyond numerous genres of electronic music into the broader realm of art and popular culture. And the art world seems to have caught on. This past April, New York City's Museum of Modern Art presented Kraftwerk Retrospective 12345678, a series of eight sold-out 3-D concerts, one for each Kraftwerk album, beginning with 1974's Autobahn and ending with 2003's Tour de France Soundtracks. The result was an audiovisual tour de force that put the "werk" into Gesamtkunstwerk— with peerless kraft.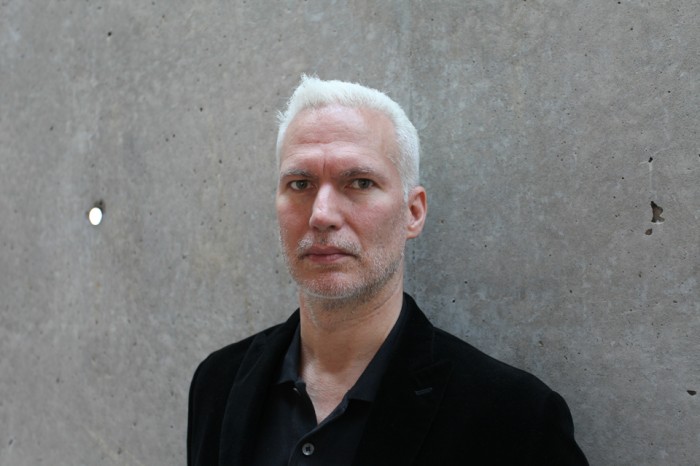 TUESDAY
Klaus Biesenbach, Director of MoMA Ps1 & Chief Curator At Large at the Museum of Modern Art
Photo: Luci Lux
Honestly, I don't really know anything about the music world—I just know a lot of musicians. So when I first contacted Kraftwerk in 1998 for the Berlin Biennale, while I was working with Christoph Schlingensief, I had no idea what to expect. I think at the time, Kraftwerk were at a point in their career when they had yet to decide if they really wanted to commit to the art world. The thing is, 1998 was also the height of the Love Parade in Berlin, and the organizers also asked them to take part, which they didn't do. But I think maybe they were scared off because we both asked at the same time. It took a while, but they answered our call in 2007. That's when we first started putting this in the works.
What we've done in the MoMA atrium is pretty much recreate Kraftwerk's Dusseldorf-based Kling Klang studio, down to very minute details. Attending every show and being so caught up in the process, I've experienced the retrospective in a very specific way: The first night I was completely exhilarated; the second night I was irritated by the rhythm and duration; the third night I was completely addicted. It was like being on a bicycle, cruising along, eventually having to go uphill, and then coasting back down again and hitting your rhythm. Then it's in your body. When I did the interview with Jon Pareles for The New York Times together with Ralf [Hütter] the word "tangible" kept coming up. Ralf said that when he speaks during concerts, he does so from inside the music. For the Trans-Europe Express show, they performed 'The Hall of Mirrors' which is all about Echo and Narcissus. These are the audio and visual reflections that are both sent and received, like a radio station transmitting and receiving, an artist looking and being looked at. It's an excellent metaphor of what's been done here at the MoMA, which has cost a considerable amount of money to produce and involved an incredible amount of building and restructuring. My colleague from the Whitney thought that the exhibition space had already existed. No, this was created to bring people into the image, into the cube. And within the cube, people are inside the cone of 3-D projection, which extends from the screen onstage to the projector in the back. Both the band and the viewers are literally inside the art. You can't stand on the side. I told people when they watch, they have to be in the cone.
During the first dress rehearsal, when the sub-bass came on during 'Kometenmelodie 1', several light fixtures started rattling. We took the frequency out, because I thought the building would collapse—I thought the paintings would fall off the walls. We ended up solving the problem of course, but it gave us a scare. The fact of the matter is that when you're curating, especially doing a retrospective, you give up your own personality. It's the strangest thing. When I was doing Marina Abramovic, I had to completely dive into her world and live her speed and velocity. Or better: stillness and duration. It's an intimate experience with a work of art. It means you have to be completely available. So I've been listening to Kraftwerk straight for the past four months. You know, with every artist, there's a first work where the nucleus of all future ideas is contained. And that's extremely important to know when creating a retrospective. Here it's Autobahn, for me. That's subjective, of course.
I think Kraftwerk have been artists from the very beginning, but they were kidnapped by their mainstream success. Of course, everybody is happy to be kidnapped by success, but it makes it more difficult to recognize who and what they are. Still, in the sixties and seventies their studio was right next door to Gerhard Richter's. They could have drilled a hole in the wall and been right there. But honestly, not a lot of people have understood the extent to which Kraftwerk are and were artists, in Germany especially. Of course, I assume that people like Gerhard Richter and Sigmar Polke got it. Joseph Beuys got it. Werner Herzog and Fassbinder got it. Katharina Sieverding got it. But not many others.
For me, Kraftwerk are very much children of the BRD, the Federal Republic of Germany. I am like a grandchild of the country, and Kraftwerk are father figures. The BRD, like the GDR, dissolved—it doesn't exist anymore, but artistically speaking, it was all about Kraftwerk, Heinrich Böll and Joseph Beuys. It used to be that Germany had the first truly active Green Party, and culturally—in art and music—this played an important role. Beuys sang 'Sonne statt Reagan', and there were massive anti-nuclear protests, especially against the stationing of Pershing missiles. Fassbinder's Berlin Alexanderplatz featured Kraftwerk's 'Radioactivity', of course. I see all this in a very specific historical context, but also in an artistic one. The incredible thing is how Kraftwerk have been capable of not just updating but upgrading their material over the course of their careers.
Somehow it seems like people haven't understood that the retrospective is an exhibition and not just a concert. People just don't get that, and it's been very hard to get people into a different mindset. It's like with movies—film was the leading art form of the twentieth century, and it still hasn't really made it into art museums. Museums can be so slow. With a time delay, art arrives with cinema, which is something I'm trying to push. I did Doug Aitken at MoMA which was big, cinematic images with no sound, then I did Pipilotti Rist, which was cinematic images with sound, then came Marina Abramovic, which was cinematic image with sound and live performance. And now it's gone one step further. Kraftwerk is the fourth step. But there's a fifth step, and I'm not sure what it is yet. A few months ago I went to the Cologne Cathedral to check out Gerhard Richter's stained-glass works. And all I could think is what it must have been like a few hundred years ago to come from some mud-hut, some tiny town with no electricity, no heating, and see this incredible thing with image and sound. That's what I imagined seeing and listening to Kraftwerk to be.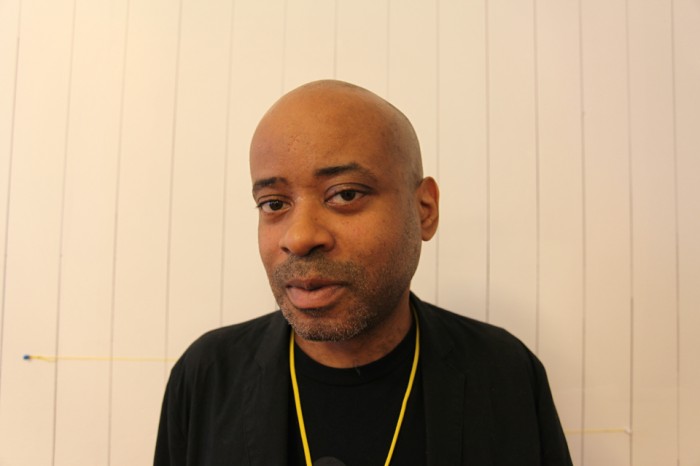 WEDNESDAY
Juan Atkins, electronic musician and founding father of Detroit techno
Photo: Luci Lux
The first time I heard Kraftwerk was on The Electrifying Mojo's radio show in Detroit in the late seventies. This is when FM radio was still young, and there were only, like, three stations. There really was no specific format for FM radio at the time—DJs were allowed to do what they wanted. You heard them play entire albums when they felt like it, which couldn't be more different from today's radio format. Mojo used to play 'Trans-Europe Express' and 'We Are The Robots' pretty regularly, but the first time I heard 'Robots' I just froze. My jaw dropped. It just sounded so new and fresh. I mean, I had already been doing electronic music at the time, but the results weren't so pristine—the sound of computers talking to each other. This sounded like the future, and it was fascinating, because I had just started learning about sequencers and drum programs. In my mind, Kraftwerk were, like, consultants to Roland and Korg and stuff because they had these sounds before any of the machines even appeared on the market.
Needless to say, Kraftwerk definitely influenced my sound, because when I heard their music I automatically knew I had to tighten up what I was doing; I had to make it cleaner and better—though not necessarily more minimal, because what I was doing was pretty minimal for the time. A lot of people think that I was copying Kraftwerk directly, but that's absolutely not the case. For me, they weren't any more of an influence than, say, funk—P-Funk especially. I actually had a chance to talk to Florian [Schneider] when we played Tribal Gathering together a few years back. We met up behind the Detroit stage and chatted a bit and I was really surprised to learn that Kraftwerk were hugely influenced by James Brown. Of course, P-Funk was made up of at least half the JB's first line-up, so somehow Detroit techno was a very natural, even "fated" progression. I mean, there were other funky electronic bands around—Tangerine Dream and Gary Numan and all that—but none were as funky as Kraftwerk­. I mean, you could actually play the stuff on black radio, and that wasn't a small feat. You could go to an all black club in Detroit and when they put on 'Pocket Calculator', everybody just went totally crazy.
Kraftwerk's minimal lyrics were part of their overall concept, and definitely contributed to their special blend. I can say for sure that they put Germany on the map for me. When I was a kid in school in America, the only thing we learned about Germany was World War II. Also, I always had this impression—independently of the war—that Germany was very logical, very machine-oriented. And without a doubt, when I went to the Man Machine show at the MoMA retrospective, I could definitely hear the way they combined the machine-driven syncopations with a more human take on improvisation. And the visuals were phenomenal. I had only heard after the fact that Ralf Hütter had played an important role in choosing both Francois K and I to do our DJ sets for the Kraftwerk exhibit at the geodesic dome at PS1. I'm proud to have been a part of it.