Readers Poll 2012- Restaurants –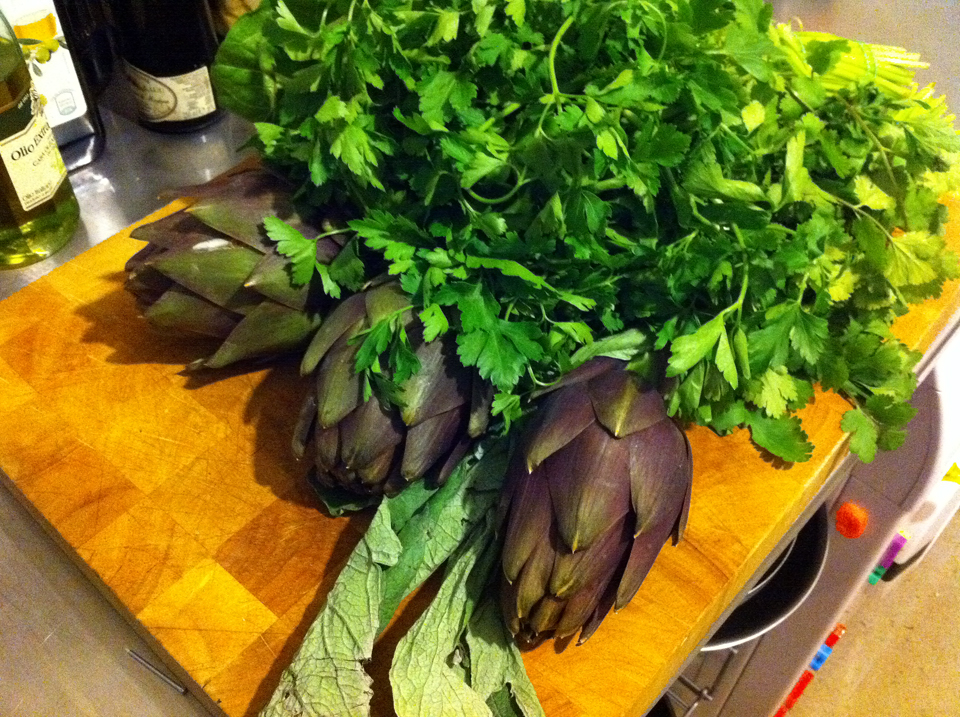 As we all expected, things get a little more complicated when it comes to food. To quote Miss Piggy: "After all the trouble you go to, you get about as much actual 'food' out of eating an artichoke as you would from licking 30 or 40 postage stamps." Well, we asked you to tell us your favorite restaurant—and we got more than 200 different answers from you. But five restaurants/institutions received more votes than any other place.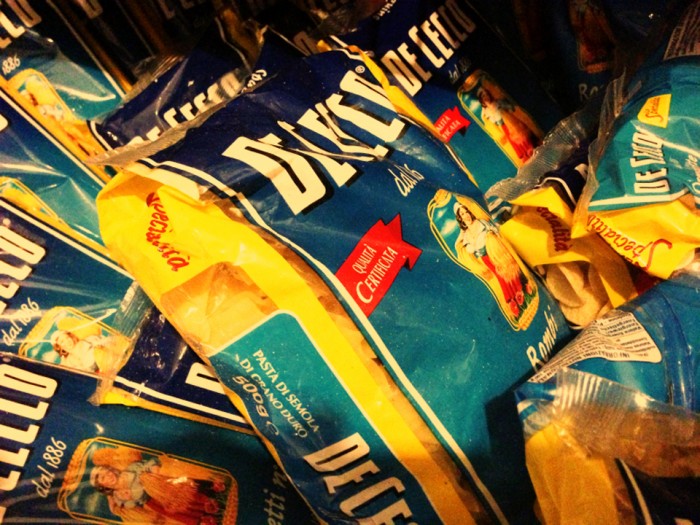 1. My own kitchen / Home / My mum's / Home is where the heart is
There's no doubt that if you know how to prepare a decent plate of spaghetti with tomato sauce in your own kitchen you'll survive every kind of trouble—because this means you can always invite your friends to join you (and they'll like your dishes). Here are the five basic rules for immediate success: As for the spaghetti, make sure it's cooked in salted water (for every 100g of pasta you need one liter of water and 10g of salt) until they are al dente. Your Italian friends will rightfully avoid your table if you don't internalize this commandment. As for the sauce, only use olive oil, never butter. Heat it up but don't let it burn. Add salt, garlic and a little bit of red hot chilli pepper, then pour in the tomatoes. Don't add anything else. Let it boil for a few minutes until it's a sauce. Synchronize the time the sauce is ready with the moment you take out the spaghetti from the water. Serve it with freshly grated parmigiano or pecorino cheese. ~ Photo: Max Dax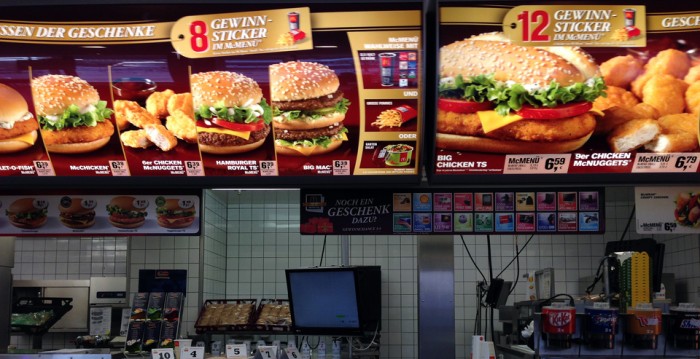 2. McDonald's
Many people like McDonald's (as there are many who hate it)—and both have their good reasons. In our regular column Fast Food, Thomas Schoenberger and I discuss the many aspects of cooking and the micropolitics of dining. In episode #14, we conversed about McDonald's:
Schoenberger: McDonald's is a very good example of a system that is stronger than everything else. McDonald's—or Burger King for that matter—is like a dictatorship: Nobody has any rights—neither the guests nor the people at the cashpoint. You want more ketchup? That's 20 cents extra. A seller at McDonald's probably gets fired if he or she doesn't ask every guest, and I mean every single one without any exception, if they could consider ordering the full menu instead of a plain burger. That's how they maximize the turnover.
Dax: You cannot order your burger rare or medium rare at McDonald's. This would already bust the system. A perfect system by the way, don't get me wrong. It would never occur to me to really have "dinner" at a fast food restaurant such as McDonald's, but I am certainly willing to give props whenever appropriate. ~ Photo: Max Dax

3. Vapiano
You happen to still not like McDonald's? No problem. Vapiano is the slow food version of your favorite burger parlor. Located in almost every major city in the (Western) world, Vapiano offers Italian standard dishes for good money. Even wine in bottles served at your table becomes affordable. For instance the Adobe Gewürztraminer from Chile, "a beautifully floral and exotic wine, with enticing perfume and a slight sweetness" comes for €18.50 a bottle. It's still money, but nothing compared to the prices you'd pay in a proper Italian restaurant. Vapiano's mission statement seems to catch the zeitgeist: "Somewhere between the nicest of fast casual and hippest of casual dining restaurants." ~ Photo: Vapiano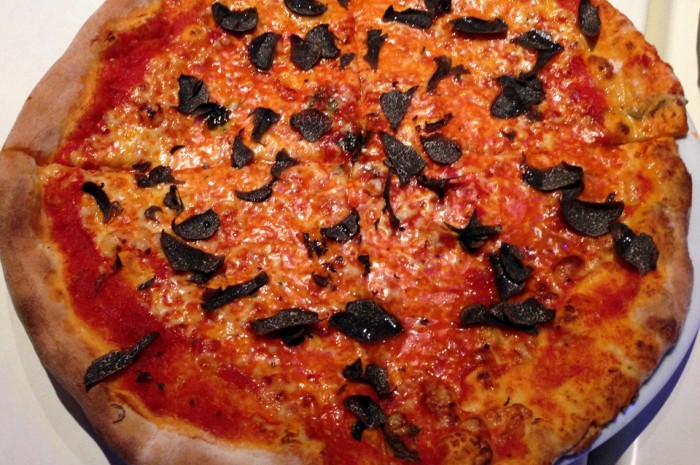 4. The pizzeria at the end of my street
Sometimes nothing will quell the desire for comfort food other than a slice of the rucola e crudo with extra mozzarella from the guys that know your name and your regular order. Think of all the great records which would have never seen the light of day if it wasn't for the act of sending the bassist out at 11 p.m. to go pick up a takeaway from the restaurant two doors down. ~ Photo: Max Dax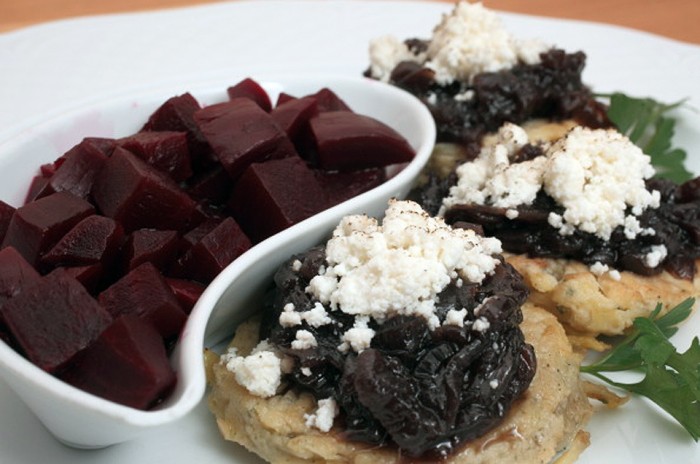 5. A38, Budapest
A38 is more than just a restaurant, it's a venue, a bar and a cultural hub that caters to and reflects Budapest's burgeoning music scene. ~ Photo: Nagy Géza
The 9th prize—a one year subscription to a Musicload pro account—goes to Donat Radas, Zagreb, Croatia.
Your favorite TV show of 2012 will be following on Monday, December 24. Find all poll results in here.
Fast Food 14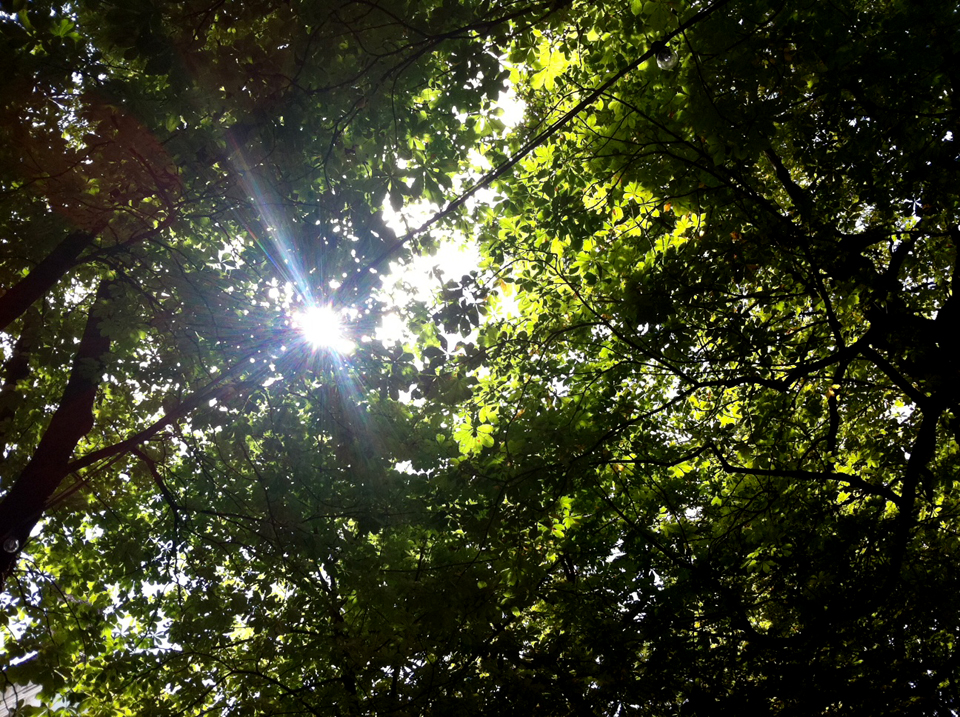 This week's installment of Fast Food covers thoughts on the concept of the Bavarian Biergarten as well as why we shouldn't be too angry with McDonald's. Fast Food is a weekly blog about cooking and the micropolitics of dining by Thomas Schoenberger and Max Dax. The photo was taken at Hofbräu Biergarten in Munich under the chestnut sky. ~ Photo: Max Dax
Read previous episodes of Fast Food here.
Dax: The funny thing is that in a McDonald's restaurant nobody would ever place a special request.
Schoenberger: McDonald's is a very good example of a system that is stronger than everything else. McDonald's—or Burger King for that matter—is like a dictatorship: Nobody has any rights—neither the guests nor the people at the cashpoint. You want more ketchup? That's 20 cents extra. A seller at McDonald's probably gets fired if he or she doesn't ask every guest, and I mean every single one without any exception, if they could consider ordering the full menu instead of a plain burger. That's how they maximize the turnover.
Dax: You cannot order your burger rare or medium rare at McDonald's. This would already bust the system. A perfect system by the way, don't get me wrong. It would never occur to me to really have "dinner" at a fast food restaurant such as McDonald's, but I am certainly willing to give props whenever appropriate.
Schoenberger: Yesterday night, I was having dinner with my ex-officer Werner Geyer at the Paris Bar in Berlin Charlottenburg. We got served a steak that tasted like rotten meat and squishy French fries. It was just horrible.
Dax: That's interesting: Claude Lanzmann was equally disappointed having dinner at the Paris Bar the other day. I had to invite him to Grill Royal to get him back on the tracks.
Schoenberger: Funnily enough, going to the toilets I met Rolf Eden on his way out.
Dax: So you at least caught a glimpse of what the Paris Bar used to be.
Schoenberger: What I'm trying to say is: If you've got a working system, don't you ever dare changing it. That's why I want to pay my tribute, too, to McDonald's—because they would never change their laws, regardless of what you could criticize, ethically or otherwise.
Dax: I can see real beauty in perfectly functioning systems. It occurred to me the other day when I went to have a late night dinner at Adana Grillhaus in Manteuffelstraße after a Wolfgang Müller exhibition opening at Künstlerhaus Bethanien. This is probably the best Turkish restaurant in Berlin, if not in Germany—open 24/7. Many dubious low-life and backstreet people seem to gather there during the night shift. Some of the regular customers are musicians. Sometimes they start to play Turkish music there at 4am in the morning.
Schoenberger: What are they specialized in?
Dax: We went there once or twice together. They have an open wood charcoal grill—in a way it looks just like the Themroc as the grill is visible for all the guests. They offer lamb chops, shish and adana kebaps and many other grill dishes. Actually the adana kebap is their special dish, thus the name of the place. Kebap in Turkish means 'spit'. You must not mix it up with the fast food of the same name.
Schoenberger: I remember. You'd order an adana kebap there and drink ayran.
Dax: It's basic traditional Turkish food, but they've brought their dishes to perfection. Of course, they don't serve pork. But they do serve grilled gilthead if you happen to be a vegetarian. I could eat there every night. I don't know why, but strangely I don't even feel bothered by the TV set that is running there all the time. They are only showing süper lig football matches and traditional Turkish music programs anyways.
Schoenberger: The German equivalent to these kind of perfect gastronomic structures would probably be the concept of the Bavarian Biergarten.
Dax: Nothing compares to a lazy afternoon in a Munich Biergarten under the chestnut trees, boozing Bavarian lager and enjoying grilled sausages or Schweinshaxn.
Schoenberger: True that. But let's focus on the enormous quantities of beer and food being sold there on any lovely afternoon. On a good day the big beer gardens in Munich such as the Hirschgarten or Chinesischer Turm sell hundreds of hectoliters of draught lager and thousands of meat dishes— they have seating capacities of more than 7,000 each. The system has proven efficient over the centuries, so the system works out very smoothly. As a customer you usually have to queue to get your Maß of lager at one of the enormous dew points. In some of these traditional places you even have to flush out your Maß in deep barrels of ice-cold water on your own in order to get your refill.
Dax: There we go again: McDonald's didn't only copy the concept of the French brasserie, but also that of the beer garden. You have to queue at the counter to get your food and drinks.
Schoenberger: No gastronome would ever challenge this concept. It's like a mathematical formula, like Sudoku. Especially when it comes to sausages and Schweinshaxn. Point is, you can prepare endless amounts of these kinds of dishes if you know there is a demand. Brez'n and Weißwürste, baked Leberkäse and Obatzda served with fresh cottage loaf. You can literally prepare thousands of Bohemian dumplings that are kept warm in meat broth in enormous copper pots—if you have the logistics ready. If somebody wants a plate of these Knödel, you just fish out one or two of the broth with a skimmer and put them on a plate. Once everything is prepared you just bang the dishes out one after another. I have been fascinated all my life by logistics like this.
Dax: Obviously, you can't order à la carte in a Biergarten. The Bavarians probably invented the self-service restaurant.
Schoenberger: Exactly. I know a small beer garden in Berlin—the Berghain Biergarten—where they tried to serve sophisticated food. It was a nice try, but it went down the drain. You just can't put carré of lamb cooked à point on the menu when the goal is to serve as many hungry lost souls as possible. I was there and I immediately had to think of Don Quixote.
Dax: The system is the challenge. It's like a matrix you can put on any setup. The Themroc is a different setup compared to the Schönberger or the Chinesischer Turm. It's less a question of the selection of dishes you offer than knowing what is doable. The setup defines the terms and conditions. At the end of the day people want to have the best food the system allows. And to make this clear: They have a right to get the best food. Regardless if they are willing—or capable—to spend ten Euros or 100.
Schoenberger: Let me explain something: It is a huge misunderstanding to offer a large variety of differently cooked dishes just to please any possible consumer's wishes. Wrong. You need an army in the kitchen and the according logistics to offer various modes of cooking things correctly from the same stove. Of course you have to do your job well. But if you do so, it's enough to offer variations on the same method. The pizza is the best example for this: You can offer forty different pizzas—but it's still always a piece of dough that will be baked and delivered with a variety of toppings.
Thomas Schoenberger and Max Dax dine with Gerard Joulie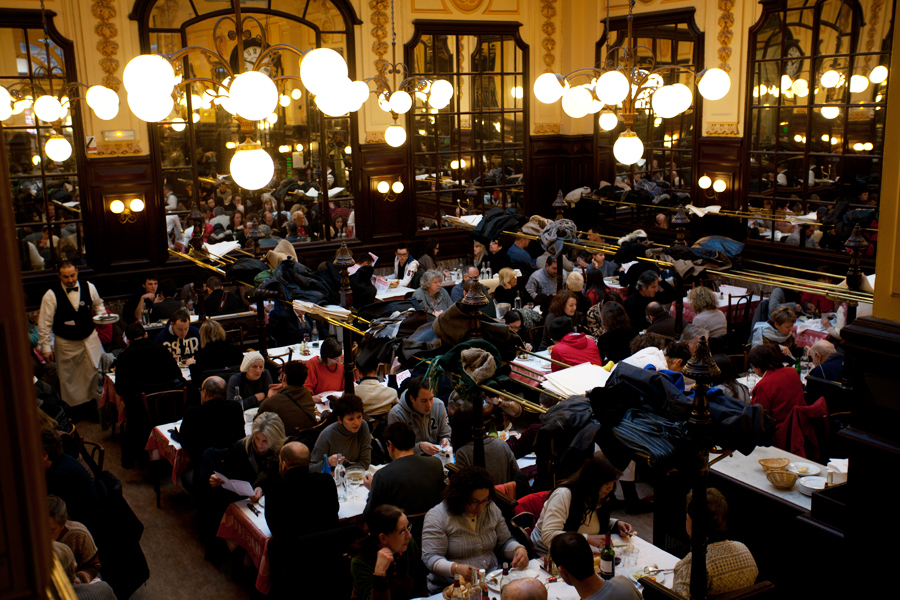 Photo: Luci Lux
Usually, judging a restaurant by its menu is about as reliable as judging a book by its cover. But at Bouillon Chartier in the heart of Paris' ninth arrondissement, what you read is what you get. And what you get is what patrons at the historical bistro have gotten for the past one hundred fifteen years: delectable, unpretentious and affordable French cuisine. Max Dax and Thomas Schoenberger broke bread with owner Gerard Joulie, who, over a plate of steaming calf's head and a bottle of Sauvignon blanc, explained the art of serving slow-cooked food fast.
Max Dax: Monsieur Joulie, the Bouillon Chartier opened its doors in 1896 and legend has it that the menu's never changed…
Gerard Joulie: Well, day in, day out, we serve strictly traditional French cuisine. This includes classic dishes like the steak frites or pot-au-feu — classic French beef stew. But still, the menu changes slightly here and there on a daily basis. It depends on the assortment of what we get wholesale. Sometimes you can't find a certain vegetable in the necessary quality or quantity. Other times, a product might be too expensive. And last but not least, we're constantly analyzing the daily statistics. Dishes that aren't selling well are replaced by others, ones that fit better to the season or better complement the rest of the menu. It might sound like a paradox, but you have to improvise and continuously make minor changes every day to guarantee consistency over a long period of time. We've only really made one major change in the last decade—that is, we completely modernized the kitchen. But for the customer, it's a change that remains invisible.
Waiter: Bonjour messieurs. What would you like to order?
Gerard Joulie: Sauvignon? Alsace? Do you prefer white or red wine? Allow me to choose one bottle each. We'll have
a bottle of Pays du Val de Loire Cépage Sauvignon and a bottle of Touraine Marionnet. Have you two already decided what you'll have for lunch yet?
Thomas Schoenberger: I'll have a dozen escargot and the entrecôte saignant avec frites [premium cut of beef with french fries], s'il vous plaît.
Max Dax: I'll have the escargot, too. And the tartare de boeuf [beef steak tartare]. Merci.
Gerard Joulie: And for me the oeuf dur mayonnaise [hardboiled eggs with mayonnaise] and the tête de veau [calf's head] please. We'll decide on the cheese and the dessert later on.
Waiter: Got it. Merci.
Max Dax: Interesting—he wrote the whole order on our paper tablecloth. He didn't take any notes for himself . . .
Gerard Joulie: Writing the bill on the tablecloth is, like the recipes, an age-old French tradition. In Paris, the Bouillon Chartier is probably the only remaining restaurant that's still allowed to do it. We had to fight hard for an exemption, though. The tax authorities are very strict when it comes to keeping up with handwritten bills and our accounting in general. And, of course, we only employ waiters with very good memories.
Thomas Schoenberger: How do you keep your books?
Gerard Joulie: We have a fail-proof system. It goes like this: Our waiter will place our order in the kitchen. When our appetizers are ready, he has to go to the cashier to enter his waiter's number, the number of our table and the appetizers. He may have to wait in line for a few minutes with other waiters when it's busy—carrying up to ten, twenty hot plates at a time mind you. After everything's been registered, he'll rush to the tables and deliver the food and then take new orders. But as guests, all we get to see is the handwritten order on the table. And the escargot, of course.
Max Dax: The main reason why we wanted to meet you to talk about your restaurant might seem obvious, but I think it has larger implications. One of the things we'll never be able to digitize is food. And yet, all over Europe people are less and less able to relate to basic traditions, traditional food or communal seating. Unfortunately, it's a mindset that the majority of restaurants accommodate these days. Try asking a waiter about the ingredients of a given dish—I'll bet they have to call a factory to find out.
Gerard Joulie: I agree. And the funny thing is: We can be faster than McDonald's! The tourists who come here love our system. They realize that they'll get their food fast, but it's not fast food.
Thomas Schoenberger: What would you call it instead?
Gerard Joulie: I'd describe Bouillon Chartier simply as a relatively cheap cafeteria in the heart of Paris. Here, you could invite, say, ten people for dinner and you'll pay maybe three hundred euros. This is something that you won't find in the rest of Europe anymore, and certainly not in Paris. In fact, "bouillon" is the historical French term for a simple working-man's tavern. Back in the day, regular customers could rent a little drawer here where they'd store their personal napkins . . . as long as they were able to memorize the drawer number, that is. Some of the walls are still covered with these huge old chests full of drawers, as you can see. In fact, the restaurant is actually a national monument.
Max Dax: How many meals are served at Bouillon Chartier daily?
Gerard Joulie: The most we ever served in a single day was exactly 1,939 dishes. Our yearly average is around 460,000. When you run a place with numbers like this, there is absolutely no room for experimentation.
Thomas Schoenberger: In other words, when it comes to tradition, creativity is a mortal sin?
Gerard Joulie: This restaurant would lose its reputation if we'd start to vary the way we serve the food. Creativity in the kitchen is something you can have in smaller, more sophisticated restaurants, frequented by customers who can judge and value the little changes. And afford them. But more often than not, I'm disappointed when I eat in a fancy restaurant. At Chartier, we have five cooks and twenty aides. And our book of recipes is law—it's our constitution. No cook is ever allowed to change a dish. Ever. [spotting the food from a distance] Ah, here come the starters! Just imagine getting your escargot lukewarm and without the herb butter. Some regulars have been coming here for decades now. And it's because they don't like surprises. They prefer reliability. You might have noticed the long line every evening here at dinnertime. All kinds of people eat here and they usually know what to expect.
Thomas Schoenberger: Here it's the waiter's job to seat you. And if you're alone, you get seated at a table with strangers—also a time-honored custom.
Gerard Joulie: Indeed. But we couldn't offer the low prices if we didn't use the space we have to full capacity. Custom is born from practicality.
Max Dax: When do you put together the menu?
Gerard Joulie: Every day, very early in the morning, two buyers do all of the shopping from our wholesaler. Usually around ten o'clock someone will update the menu according to the supply and then print it out. This place is organized around a very strict time schedule. Indeed. The mayonnaise, the boeuf bourguignon, the pot-au-feu—every dish has its own timeline. We prepare a lot of them in advance. The tête de veau, for example, is slowly cooked overnight so that it's always ready by lunchtime.
Waiter: Attention! Entrecôte! Tête du veau! Tartare de boeuf!
Gerard Joulie: The tartare is made on the spot, of course. That's strict law in France because it's raw meat.
Max Dax: Would you say dining at Bouillon Chartier is educational? It seems that if you're a regular customer, you'll automatically learn about the history and traditions of French cuisine.
Gerard Joulie: I suppose you could call the restaurant a living museum. When we renovated it two years ago, we only painted the walls and polished the mirrors and the wood paneling. Nothing else. And in terms of food, what you can eat here is prepared the same way it was a century ago. Take, for instance the dorade au choucroute de la mer [seabass with seafood sauerkraut], a dish we offer regularly. In France, it's an old tradition to eat fish and seafood with sauerkraut. I know that you don't eat it that way in the rest of the world, but if you're open-minded, you come here and give it a try. Who knows? Some people even get addicted.
Thomas Schoenberger: So really only some of the logistics have changed.
Gerard Joulie: Exactly. Nowadays we type up the menu on a computer whereas we used to use a typewriter. But the waiters and most of the staff—some of them have been here for decades, doing the same job every day. As time goes by, they've become specialists. You just can't internalize that kind of routine in a week, you know? And tips are divided amongst all staff members. As for the regular customers, you shouldn't underestimate the importance of recognizing the familiar face of "your" waiter. Everything at Bouillon Chartier is built on sustainability. And this is a big part of our formula for success. At the end of a regular day, almost every dish has been sold. Week after week, month after month, year after year. The system works.
Waiter: Cheese and dessert? Coffee? Cognac? ~
—
All photos by Luci Lux.