Erol Alkan – Interview and exclusive track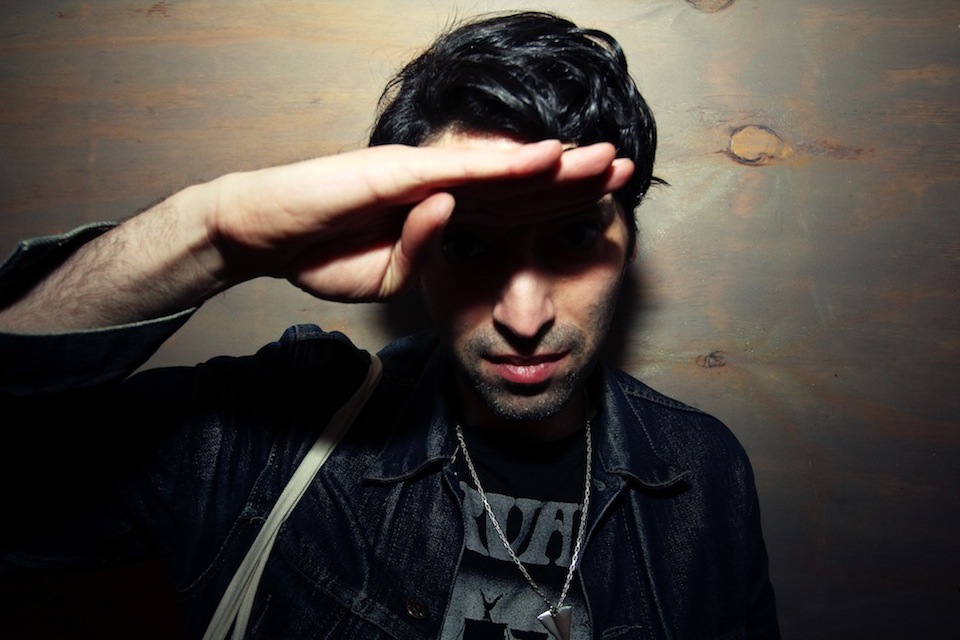 Erol Alkan was a demigod when I was a graduate in London way back when Monday nights meant one thing: Trash. His night, along with a handful of other alternative parties like Nag Nag Nag, helped wrest London's nightlife from ailing superclubs and beer-stinking discos. In 2005 he released his acclaimed Bugged Out mix, but, just when the mainstream was ready absorb him into its clammy embrace (Hello, Mixmag DJ of the Year 2006) he slunk off to produce indie bands.
That's not to say he's been taking it easy; this month sees a new collaboration with Switch due to drop on his label Phantasy and, intriguingly, he's also had a second pop at putting together another Bugged Out mix. To mark this occasion we've got an exclusive track from the Bugged In disc, a rework of Mickey Moonlight's 'We'll Meet Again'. We also collared him for an interview, ostensibly about the mix, but in reality it became something more interesting: a chance for the tastemaker to put the world to rights. Listen up.
It's been five years since Trash stopped running but it seems like the clubbing landscape has changed inalterably; there's less purism and terms like post-genre have gained traction. Is it something you've noticed as a DJ?
When people talk about what's happening in the mainstream it doesn't register with me, I don't really pay attention. Sometimes I do take a look and see what's going on and it horrifies me.
Horrifies you?
Distillations of what … I might have been part of a while ago and where it's led. I think just being a DJ in general is kind of … [long pause] I'm trying to be nice … The best way of putting it is that being a DJ has become almost like an option for people who want to be famous. I feel the same thing about bands though. There's a lot of a DJs, a lot of bands, there's a lot of everything. There's just a lot.
Do you think, now more than ever, it's important to have some kind of quality control?
There's too much shit out there, absolutely.
It seems to me that when we need those filters the most; they're buckling under the strain.
Yeah, the screen's too bright. You have the entire history of music on your mobile phone and as incredible as that is, it's dangerous. It puts the individual at a loss because you don't know what you want. Limitations are something to be embraced and celebrated; you then have to think on your feet. You can drive yourself into psychosis if you think about what you potentially have at your fingertips.
There was the recent news that teenagers' were mainly listening to music via YouTube. I wonder what the ramifications of that will be.
Well, it ensures that any music that is made has a visual accompaniment – which is one positive. Sonically, at this point, it doesn't sound good but that will change when bandwidth is wider. The negativity towards compressed audio will soon disappear. It could lead to audio and visual being approached in tandem, at the moment the visual is secondary, but how to make it less to? But whether or not kids are buying CDs? I understand if kids don't want to do that, it's not in their generation to do so, just like there were certain things in my generation that we didn't do.
I was going to ask you what you of what you felt about this movement towards outsider's making dance music – 100% Silk for example – the idea of this anti-purist mentality seems to align well with what you've done over the last few years.
Yeah, I have some of 100% Silk's records, I like that all this stuff sounds like it comes from a fifth generation cassette. It's quite skewered music and I've always loved that.
One of the things that has come out of this exposure to the entire history of music is that it's allowed artists to try and recreate processes without really knowing how.
I love it when people try and do something and get it totally wrong, that's how the best pop music is made.
I was intrigued to see that you mixed the latest I Love Techno compilation, it's not something I would have associated you with, necessarily.
It was a challenge. Track wise, there's stuff on there that you'd know from me but then there's a lot of other records like a new one on L.I.E.S called 'More Bad News' and Blawan. I mean Blawan isn't classically techno in a sense but he feels techno to me. That 'Why They Hide Their Bodies Under the Garage' track is like Chemical Brothers at their weirdest; strange, left field club music, as much punk as it is bass music or techno. That feels like outsider music to me. I don't know what people would expect from me doing an I Love Techno CD but I wasn't going to an 80 minute ascending synth tone with snare rolls. If I can go in and put these records out there of course I'll do it.
We're back to that idea of electing cultural arbiters.
We also need people to go out and stop being such fucking crowd pleasers. Be interesting.
Videodrome #53 – This week's best videos
After last week's pause, today we bring you another round-up of the best music videos. Lean back, relax and browse through some visual joy with the likes of Woodkid, Citizens!, Lemonade, Totally Enormous Extinct Dinosaurs and many more.

# 1 Kindness – House (directed by Daniel Brereton)
Here we can see Adam Bainbridge teaching Ramon, a 11 year old boy, how he did the song. Funny, indeed.
///
#2 Nite Jewel – Memory Man (dir.?)
'Memory Man' is the third single from Nite Jewel's latest album One Second of Love. Watch the video and get an idea of their extraordinary live-perfomance qualities.
///
#3 MS MR – Hurricane (dir.?)
The New York duo share the video for their first official single, which we can only describe as 'Tumblr Glitch Pop'. Picture-Power, here we go.
///
#4 Totally Enormous Extinct Dinosaurs – American Dream Part II (dir.?
The long-awaited debut from young British producer Orlando Higginbottom comes out June 11. Until then from time to time he's releasing music videos. Here's the latest one. Magic.
///
#5 Lemonade – Neptune (directed by House Plants and Weird Days)
The Brooklyn trio's new vid features two things: them, and a hot girl taking a shower. NSFW, totally SFM. Next week their new album Diver will drops on True Panther. You should buy it.
///
#6 Hot Chip – Night & Day (directed by Peter Serafinowicz)
Once again, British comedian Peter Serafinowicz joins forces with the Chips for a video full of choreography, strange cults, Reggie Watts, Lara Stone and much more. Enjoy.
///
#7 Woodkid – Run Boy Run (directed by Yoann Lemoine)
We're pretty into Woodkid. After completing music videos for pop beasts Lana Del Rey and Rihanna, Yoann found time to shoot his very own music video, which turns out to be a totally mystical voyage.
///
#8 Mickey Moonlight – Come On Humans [Sam Tiba Remix] (dir.?)
Mr. Moonlight brings us a music video that looks like made in the pre-Internet age. Merci.
///
#9 Frank Ocean – Summer Remains (self-directed)
Not a music video, but here you can enjoy some semi-private moments with the real Frank Ocean, direct from his mansion.
///
#10 Citizens! – Caroline (directed by Jeppe Kolstrup)
Before you can see the Citizens! live during our EB Festival in Cologne, make sure to watch this music video for 'Caroline'.
Videodrome #9 -This week's best videos
1. Hanin Elias – Future Noir (directed by Fähler, Pinheiro & Ehrhardt)
Time has come for Hanin's next solo album called Get It Back, which features collaborations with Tying Tiffany, Vigilante, SinDaddy or Marcel Degaz (Die Krupps). Check it.
\
2. Motion Sickness of Time Travel – Synastry (directed by Rachel Evans)
This one we found over at the niiice nofearofpop blog. MSTT's new full-length Luminaries & Synastry was released two weeks ago via Oklahoma-based Digitalis.
\
3. Hypnolove – Holiday Reverie (directed by Marco Dos Santos)
Youtube commentator Efrait described the video pretty fitting = "This is the best music video I? have ever seen". The track is off Hypnolove's Mickey Moonlight-produced Holiday Reverie EP, released via Rekord Makers.
\
4. Ossie – Set The Tone (directed by Kieran Pharaoh-Sinclair)
Hyperdub's finest UK funky star Ossie just released a new video for his 'Set The Tone' – chooooon!
\
5. John Maus – Cop Killer (directed by Lawrence Woolf)
Unofficial video for John Maus' 'Cop Killer' from the his latest drop called We Must Become the Pitiless Censors of Ourselves.
\
6. Fl?sh$i† – Black Roses (directed by Julieta Triangular)
We just learned from Pendu that there's a new Fl?sh$i† track and a cool video, made by the lovely Julieta Triangular.
\
7. Innergaze – Midnight Riding (directed by Aurora Halal)
Innergaze = Aurora Halal + Jason Letkiewicz. Do you have a soft spot for minimal synth pop? Then you'll love this. Make sure to check their artist page over at Minimal Wave Records for more.
\
8. Actress – Maze (directed by Luke Alexander)
'Maze' from Actress's excellent 2010 album Splazsh finally got a music video, done by Werk Discs' graphics man Luke Alexander and Jamie Thompson.
\
9. E*Rock – The Palace Of Light (directed by Yoshi Sodeoka)
New video from Portland's E*Rock for his smasher 'The Palace of Light (Revisted)' – directed by Yoshi Sodeoka.
\
10. Africa Hitech – Out In The Streets (directed by Sixty40)
Fresh out the box: video for Africa Hitech's 'Out In The Streets' taken from the 93 Million Miles album. Learn more about the amazing video-making here.