Videodrome 88 – This week's best videos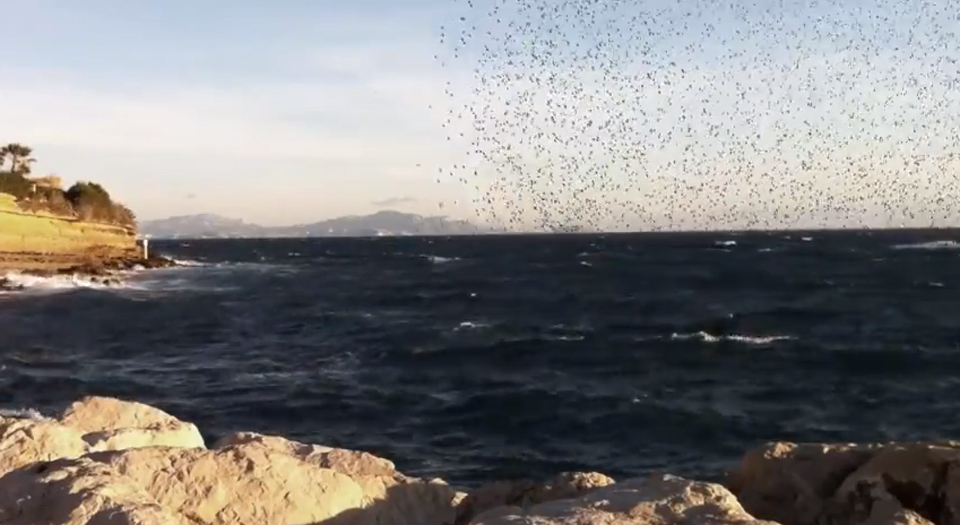 Hello, again. Well, the video game is certainly not boring in 2013 and while most of you know how hard it is to find something as simple as a working video on YouTube here in Germany, you also know that you can count on us to track down the hidden backdoors and clever shortcuts to any given video that we deem worthy. This week's Videodrome is brought to you courtesy of Julia Kent, Lemieux, Rihanna and a whole bunch more. Take that, GEMA.
#1 Sunless '97 – Aurora I, directed by Tom Walker
This will be big soon, no doubt. The clip will keep you going until you get hold of the whole album, which will be out soon via Moshi Moshi. Synth pop isn't dead, just in case you were wondering.
#2 Ghost Loft – Seconds, directed by Ends
New video for "Seconds" which was actually released last year. Kudos to directors Daniel Iglesias Jr and Zack Sekuler who've edited something pretty together for Los Angeles-based producer Danny Choi.
#3 Lemieux – Bass Unit, directed by Robin Smeds Mattila
Swedish up-and-comer Lemieux has only just dropped the audiovisual accompaniment for this already outstanding track. I like this a lot.
#4 Antoni Maiovvi – Darkroom, directed by RS Haysom & TJ Lee
Incubate 2009 artist Antoni Maiovvi has released his new music video for the track "Darkroom". Watch the slightly NSFW video above.
#5 Drake – Started From The Bottom, dir?
Here's Drake's new single "Started From The Bottom"—you might need some watches, but then it works fine.
#6 Isolée – Allowance, dir?
Rajko Müller aka Isolée is back with his first single "Allowance", taken from the Allowance EP. It's out February 13 via Pampa.
#7 Wet Nuns – Broken Teeth, dir?
Don't be afraid to watch this just because its rock—it's rad, well-made and guaranteed to distract you from whatever it is you don't want to be doing.
#8 Julia Kent – Tourbillon, directed by Levin Haegele
We continue this week's 'drome with some astonishing work from Canadian cellist Julia Kent. The video premiered earlier this week over at Self-Titled while Character, Kent's full-length, is scheduled for released on March 5 through the Leaf Label.
#9 Au.Ra – Morning
Australian duo Au.Ra just dropped their video for their single "Morning"—get your postcard here for $1.
#10 Rihanna – Stay, directed by Sophie Muller
Rihanna ft. Mikky Ekko ♡ Stay (Full Version… von wonderful-life1989
It's not too bad to end this week's Videodrome with Ri-Ri alone in her bathtub, right? I'm not sure if this was meant to the published like this, but hey, that's the internet.
Disclosure go with the Flow
Another Electronic Beats exclusive,new music from Disclosure, two brothers who craft garage-inflected dance pop of the highest order. 'Flow' is the latest single from the pair who have recently touring the UK with Annie Mac, T.E.E.D, Zinc and The 2 Bears. They will also be supporting SBTRKT on his tour later this year and have some very exciting releases lined up, that we are not allowed to mention! So until then, get your ears wrapped around 'Flow' which is released on Make Mine Records on January 30th.
Flow (Forthcoming Make Mine) by Disclosure.
Stay+ Dandelion video premiere
More mysterious than the Mysterons Stay+ are a duo from.., somewhere. We really don't know, but we do know they are called Christopher Poole and Matt Farthing and if we were betting types the UK would be our guess. Then again with gorgeous dreamy future-pop that comes ready wrapped in a bubble of fog and satin static the why's and wherefore's don't really matter. With that in mind we are very pleased to be able to present the video premiere for the band's single 'Dandelion'. We can also tell you is that 'Dandelion' is available on 10″ on RAMP Recordings featuring Moshi Moshi's Psychologist on vocals. The track features on an upcoming EP due in Spring 2012 also on RAMP. We recommend you spend some time immersing yourself in their website here.
D/R/U/G/S' 'Hathaways' – free download
D/R/U/G/S is the project of Callum Wright, and he's crafting some of the most euphoric, radical new music around. As a teaser to his forthcoming EP Connected, Manchester's D/R/U/G/S is treating us to a fresh track which, while it isn't going to feature on the record, is definitely worth a spin. A more chilled-vibe than Wright normally produces, 'Hathaways' is serene for the most part until chopped vocal samples start bouncing through the layers of synths. Made with the free-form attitude of synth visionary Oneohtrix Point Never, 'Hathaways' is a stuttering but beautiful gift which you can downlaod below. The Connected EP will be released on November 28th via Tender Age/Moshi Moshi and follows Wright's acclaimed debut 12″ Love/Lust; check the tracklist below.
Tracklist:
1. Connected
2. Hyperdream Clap
3. Unified Field
Psychologist is the alter ego of Iain Woods who makes bastard-future pop that is by turns delicate, vulnerable and utterly uncompromising. Currently releasing the second in a brace of E.P's that have been released weeks apart but are conjoined like a musical puzzle, the enjoyment is to be found fusing the pieces to make one stunning whole.
Riding roughshod through waters currently occupied by the likes of Debukas, and Rudi Zygadlo, Woods' skewed pop songs inject emotion and feeling into stone cold drums and omnipresent bass-lines. Performing recently with a 12 person choir, the choral-connections makes sense with an ethereal thread running through the two E.P's 'Waves of OK' and 'Propeller' that make up 'The Epidural Collection'. In fact ecclesiastical drama and theatre is one of touchstones on the 'Propeller' EP intercut with moments of minimalistic beauty and rude boy bass.
Channeling the spirit of David Lynch through scattergun clicks and a shirt tearing vocal performance on 'Twin Peaks Disco' – which you can download below made me realise that avant-garde explorations of 'club' music are rarely so rewarding. Have you seen a Psychologist recently? Perhaps it's time you did.