Made in Detroit: Highlights from America's Best Techno Festival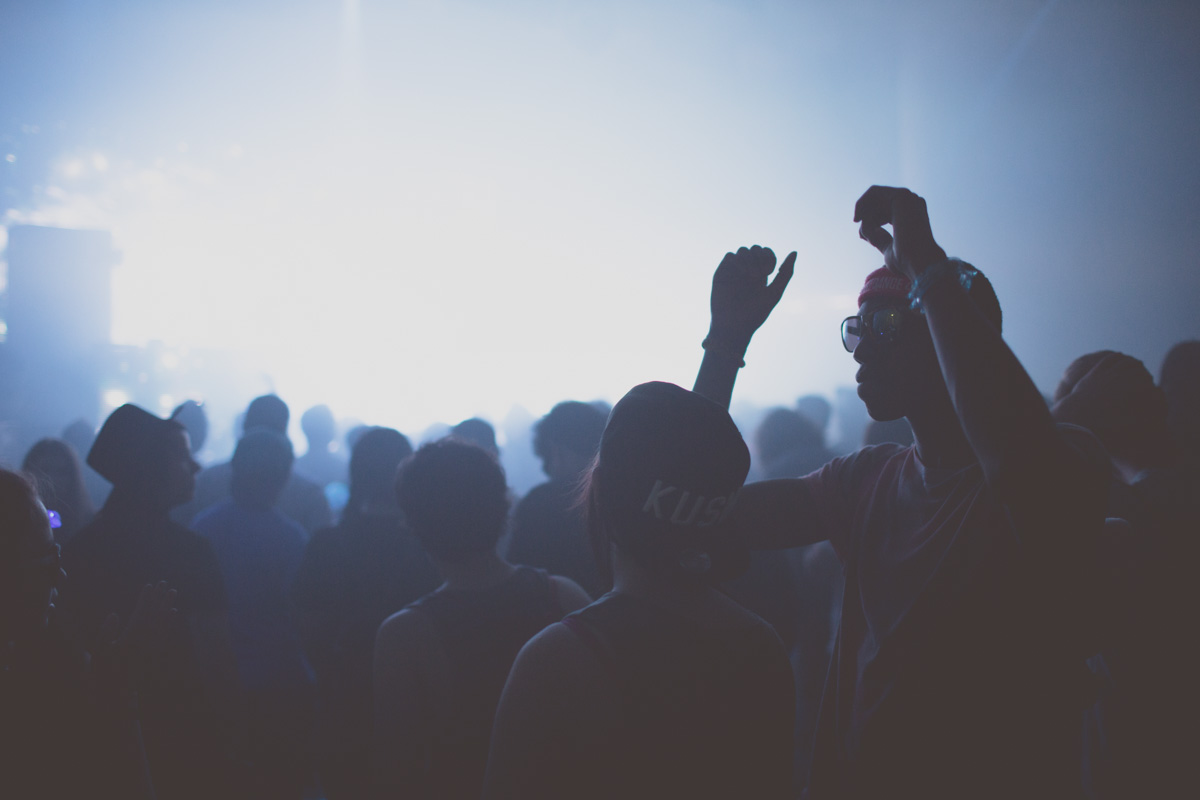 A as in Atom™ and Tobias. Despite giving their best German poker faces throughout their performance, Uwe Schmidt and Tobias Freund's live set at the Beatport stage was anything but flat. The duo followed a typically upbeat set from Soul Clap, laying down a more serious narrative that traversed moments of compelling techno, experimental, and cerebral electronics.
B as in The Black Madonna. It was just after 3 pm at Monday's Industry Brunch, the daytime version of the infamous No Way Back after party at the Tangent Gallery. The crowd had thinned since NWB but The Black Madonna (who sounded off on women in dance music in a conversation with EB earlier this year) kept everyone's energy up outside with a house, disco and dancehall-booty mash-up. Known for her impeccable track selection and optimistic direction, her set had a lot of amazing moments, in particular when the heat broke and it started to rain.
C as in Carl Craig. As one of the founding fathers of what was then called the Detroit Electronic Music Festival, Carl Craig is a local hero whose presence at Movement is a guaranteed good time. He took to the Made in Detroit stage alongside fellow Detroiter Mad Mike Banks for a tag-team set that spoke to the heartbeat of the city: classic techno with a mercenary edge.
D as in Detroit. It's safe to say that this festival wouldn't be as special if it were held in any other city in the world. Seeing the best artists the music industry has to offer in the city that techno built is truly a unique and moving experience. And at Movement, unlike a lot of other commercial festivals, everyone is there for the music.
E as in Eddie Fowlkes. Eddie "Flashin'" Fowlkes has graced the stage at Movement many times, and while his sets at the Made in Detroit stage focus around classic techno, his performance on the Red Bull stage lived up to his nickname. Basslines were ablaze with rolling energy, while lightning-fast mixing and bursting highs kept the pace.
F as in Floorplan. The Made in Detroit stage proudly supports local artists, and this year they hosted the father of minimal techno, Robert Hood. Though he caused some waves last year when he brought his daughter on stage for a 15-minute mini-mix, his set this year as Floorplan was widely talked about for good reasons. Hood always manages to retain his signature groove while holding nothing back. It was a treat to hear his classic "Never Grow Old" played at various stages around the festival.
G as in Grandma Techno. A Movement festival icon, Patricia Lay-Dorsey, better known as Grandma Techno, is a Detroit legend. Rolling around the festival grounds in a motorized scooter with a "Grandma Techno Hustles Harder" badge fixed to the basket, she often receives standing ovations when passing by and is almost always surrounded by a swarm of admirers. It's not hard to see why: a 72-year-old self-described former hippie, her ineffable spirit and warm smile are just two of the reasons why she's so beloved.
H as in Hart Plaza. Located directly on the waterfront in downtown Detroit, Hart Plaza has been home to Movement since its beginnings. There's something special about having the best of every world as your dancefloor: the concrete jungle of the Underground stage, the riverside Beatport stage, the lush greenery of the Red Bull stage, and the lit-up city skyline at the Made in Detroit and Movement stages.
I as in Interface. The Works, located in Detroit's Corktown district, is small and sweaty. A plain rectangular room with a concrete floor, The Works is nothing fancy but the sound is always great. We knew we were in for something special when Droidbehavior and Blank Code paired up to bring us the Interface after party featuring techno kingpins Sterac, Reeko and Rødhåd, alongside Raiz, Mike Gervais and DJ Hyperactive.
J as in JTC. Part of the Ghostly International showcase, Tadd Mullinix (AKA James T. Cotton or JTC) played in the early evening at the Made in Detroit stage. Another local who threw down animatedly, JTC's set was bouncy and full of groove as techno mixed with psychedelic house and acid soundscapes.
K as in KiNK. Bulgarian DJ/producer KiNK kicked off the first day of the festival, playing out under the sun in the early afternoon at the Beatport stage. An equipment guru with rapid-fire mixing skills and a keen ear for what the dancefloor wants, his live set referenced techno and house with experimental beat breakdowns.
L as in Loco Dice. Although Yassine Ben Achour, better known as Loco Dice, has reached levels of popularity akin to that of Richie Hawtin or Maceo Plex, he has never sacrificed his musical palate. While his set at the Movement stage wasn't a personal favorite, there is a lot to be respected where Dice is concerned, and his headlining effort was strong and consistent.
M as in Made in Detroit. What started as a homegrown clothing brand in the early '90s has quickly evolved into a living legend and a proud slogan for all things made in the Motor City. This year, Made in Detroit worked together with Vice's Thump to sponsor a stage, billing local artists like Floorplan, The Saunderson Brothers, Al Ester and Stacey Pullen alongside a Ghostly showcase that featured the likes of Heathered Pearls, Fort Romeau, Matthew Dear and Ryan Elliott.
N as in No Way Back. A Movement festival mainstay, the No Way Back party by EB's own Movement previewer Brendan Gillen (founder of Interdimensional Transmissions) is considered the after-party elite. Don't be fooled though, there's no politics here: it's a simple, grassroots party that's part dancefloor sweatbox, part backyard tailgate as the night wears on into the day's Industry Brunch event. Always with sterling bookings and a solid crowd, No Way Back is one of the weekend's most attended after parties.
O as in Old Miami. What used to be Detroit's best-kept techno secret has quickly become the most popular after-after party, held at The Old Miami backyard and bar in Midtown. Thrown by local hero Seth Troxler, Old Miami only costs ten bucks and is the perfect laidback daytime event, starting from 7 am and running until 8 pm. This year, the line to get in formed well before 7 am and wait times were long—luckily it was all worth it. Sets from Daniel Bell and Stacey Pullen b2b Carl Craig will live on in Detroit legend.
P as in Plaslaiko. Berlin transplant Derek Plaslaiko never forgets his roots. Despite a move to the European capital of techno, Plaslaiko's return to his hometown for Movement festival was highly anticipated, and brought out old school acid house and techno records in a throwback-style set that moved the dancefloor. A family man at heart, he brought out his baby on stage, beaming with pride.
Q as in quality. Given the history of Detroit's relationship with techno, Movement festival is a particular brand of memorable. Every artist invited to play the festival, whether at an after party or on site, gives it their all. Movement is a place where you'll see and hear the best sets of your life and every year brings a new kind of magic.
R as in Reeko. Playing out at the Interface after party at The Works, Barcelona's own Juan Rico (AKA Reeko and Architectural) got dark and deep. Occasional atmospheric washes softened the blows of his fully fledged techno set before a bassline kicked back in, the venue was wall-to-wall packed and despite the close quarters, and everyone's dancing was as relentless as the music.
S as in Servito. New Yorker and The Bunker resident Mike Servito is always a hit at Movement. This year he played both the Made in Detroit stage as part of the Ghostly showcase and later on in the weekend at the No Way Back party. While his on site set was a lively take on retro house and contemporary techno, his after-party performance was brought out his darker side.
T as in Three Chairs. Taking place at Bert's Warehouse Theater in the Eastern Market, the Three Chairs showcase saw the Detroit supergroup (consisting of Kenny Dixon Jr., Marcellus Pittman, Theo Parrish and Rick Wilhite) take to the stage for a night of funk, soul, groove and techno. An undemanding start to the weekend and ease into the festival itself, the music was nice to move to, particularly with Moodymann's eclectic and playful track selection.
U as in Underground Resistance. Detroit wouldn't be where it is musically without the influence of key players like Underground Resistance. A collective started by Jeff Mills and Mad Mike Banks in the late '80s, UR did a lot the spur the rise of techno, releasing some of the best known and best produced albums the genre has ever seen, and focusing on a strictly anti-commercial ethos. Such a mantra has lived on in Detroit and continues to thrive at the festival's after parties and on the dancefloor. Should you want to learn more, we suggest you visit the Submerge headquarters (known as the techno museum) at 3000 East Grand.
V as in Vatican Shadow. A break from the weekend's more danceable techno came the Eden One party at the Garden Theater in Midtown. A night of experimental music, the party was seemingly the weekend's wildcard event; a lot of people said they were interested, but sadly the turnout was pretty bleak. A half-empty room saw most of the audience standing around in chin-scratching contemplation while others still sat on the floor. Luckily the music from Ian Dominick Fernow, (better known by his aliases Prurient and Vatican Shadow) made up for the lackluster crowd.
W as in wristbands. The long lines and ticketing disaster will go down as the most poorly handled first day in Movement history. What was supposed to be three separate lines for will call, cash purchase, and guestlist/VIP quickly turned into an angry mob of over 6000 people being checked in by three staff members. Those who had bought tickets weeks in advance waited in line for hours in the sun with no bathroom or water access in order to pick up their wristbands; many people skipped the festival's first day entirely. The disaster was amplified by Movement's poor excuse for an apology on social media and the whole affair was an inescapable talking point all weekend.
X as in xenos. From the early Greek language, "xenos" most typically translates as "stranger," but can be interpreted as "guest friend." It's not such a foreign concept as the word might suggest, particularly where Movement is concerned. Festivals are a dime a dozen, but Movement is one of the only music events that brings people together quite like it does.
Y as in you. Of course, as the Movement staff eagerly points out, the festival wouldn't be what it is without you, its attendees. The people you meet on the dancefloor, at the after parties, in the streets and even in your hotel elevator are always kind and enthusiastic, bringing an insatiable energy to the dancefloor and an unstoppable support to a festival that helps keep Detroit alive.
Z as in zombie. There's nothing like the flight or drive back to your home city after four straight days of non-stop dancing to remind you just how human you are. The difference in energy between day one at hotel check in and day four at check out is laughable; everyone packs their bags in silence, quietly says their goodbyes, and heads home for a long recovery.
Header image: Aaron Jones
Ectomorph's Insider's Guide to Movement Detroit Festival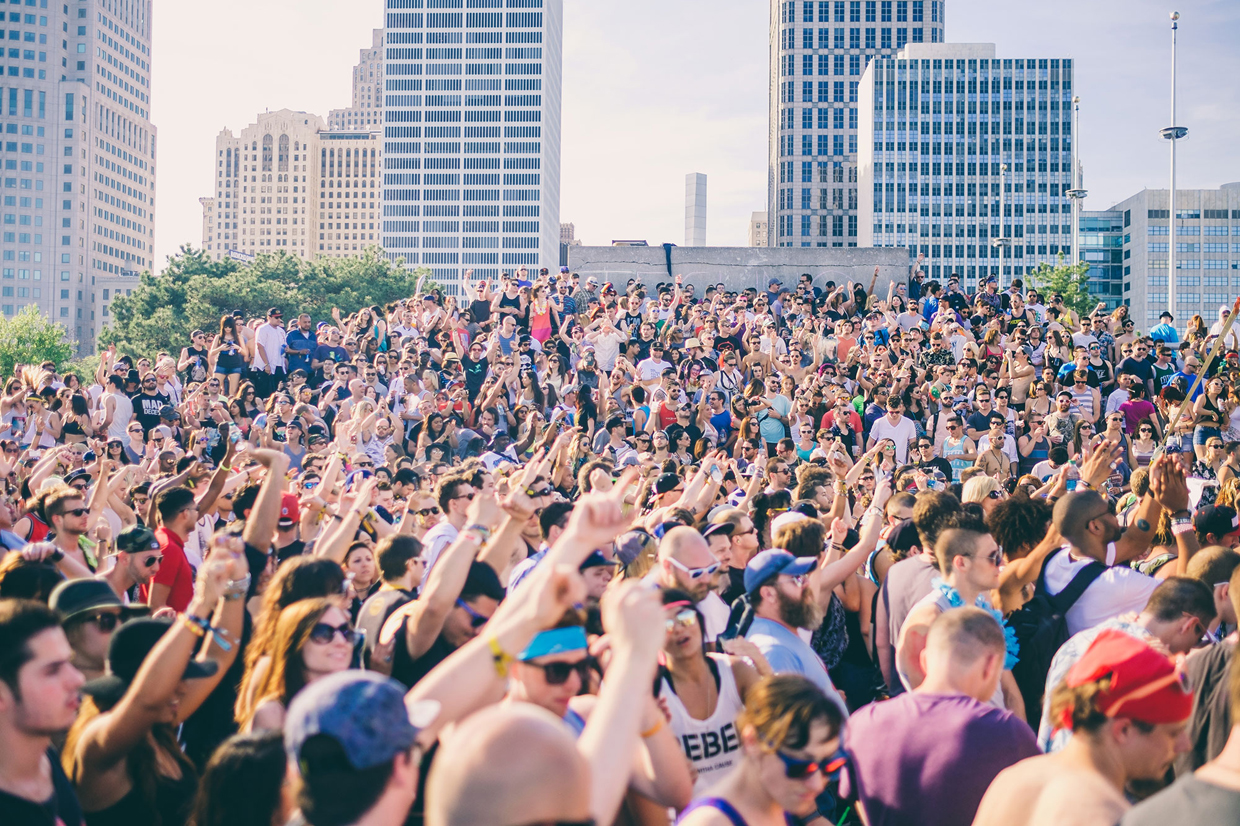 Photo by Douglas Wojciechowsk and courtesy of Movement Detroit.
In a country where an "electronic music festival" can mean hordes of teenage kandi ravers and neon SEX DRUGS AND DUBSTEP tanks, Movement Detroit is a crucial anomaly. Over the past 15 years, it has become the United States' only large-scale dance music event that focuses on Detroit's techno pioneers and other artists who don't quite fit the bill for a typical American EDM blowout. This year's installment launches on Saturday, May 23 with a lineup that includes hundreds of DJs and producers, including Carl Craig, Ryan Elliott and Joy Orbison, not to mention a slew of after parties every night after the fun at Hart Plaza winds down. The endless opportunities can paralyze even a veteran festivalgoer, so we tapped Detroit local and longtime Movement attendee Brendan Gillen, who runs the Interdimensional Transmissions label and founded the group Ectomorph, to help us navigate the bill. Here are his picks for Movement's must-see performances and after bashes.
Saturday, May 23 @ The RBMA Stage: Rick Wilhite, 15:00
Rick Wilhite is the godson and one of the original Three Chairs, his group with Moodymann, Theo Parrish and Marcellus Pittman. He's the real deal, a Detroit head whose roots stretch to the beginning. He's also throwing an after-hours on Friday with all four members of Three Chairs.
Saturday, May 23 @ The RBMA Stage: Octave One Live, 19:00
On the same stage that day, Octave One will bring an entire studio with them to play live. It's actually a really dynamic show. My favorite track from them is "I Believe," which has lyrics from Anthony Shake Shakir. It's a pivotal record that marked the dawn of Transmat's next generation. Mike Banks gave them the responsibility of marketing "Knights of the Jaguar," and they got Derrick May to come out of retirement to make a remix for that. They showed up at his hotel, called him from the lobby and were like, "Hey man, you still wanna do that remix? OK great, we're in the lobby and we have all your equipment."
Saturday, May 23 @ The Beatport Stage: Atom™ & Tobias, 20:00
The stages at Movement have different characters. Beatport's usually the place where you'll catch Seth Troxler or Magda or something like that, so it's surprising to me they booked Atom™ and Tobias. Regardless, that's one of the best live shows you can catch in electronic music. There are about ten great live techno acts, and on Saturday we've got two of them.
Saturday, May 23 @ The THUMP Stage: The Detroit Love Showcase with Urban Tribe, Recloose, Carl Craig and Mad Mike Banks
The Detroit Love showcase opens with Urban Tribe, an unsung project by DJ Stingray that's also one of the most futuristic. Recloose is also a hometown hero. He's lived in New Zealand for a long time and finally moved back to Brooklyn, so it's great to have him again. Then Carl Craig will close it out with Mike Banks—I haven't seen them play together yet, but people who have seen the project were blown away. Mike brings the church to it.
Saturday, May 23 @ The Underground Stage: Kangding Ray (15:30) and Regis (22:00)
Regis is closing out the first night at the Underground stage. If you like that techno thing, he's one of the Official 12 Inventors of Techno. And Kangding Ray's live show is absolutely out of this world.
Sunday, May 24 @ The RBMA Stage: Waajeed, 17:00
https://soundcloud.com/jeedo_x/jeedo-hood-tech
Waajeed's contributions to the Dirt Tech Reck label as Jeedo expanded his musical repetoire to include a hybrid form of techno that combines Detroit hip-hop and bass music. He's real Detroit hip-hop, which is a rare thing. There's far too little of it. Who knows how he'll play; he's so across the board.
Sunday, May 24 @ The THUMP Stage: The Ghostly International Showcase
The huge deal for me that day is the "Untitled" portion of the Ghostly International showcase. The Untitled showcase is the heroes. It's a celebration of the Midwest mavericks and what they launched. Untitled was the name of a night with Johnny O, who used teamed up with [Ghostly founder] Sam Valenti and put together a tag team with Matthew Dear, Tadd Mullinix, Derek Plaslaiko and Mike Servito. Then Todd Osborn got into regular rotation. And it'd be insane not to mention Ryan Elliott, who was usually Matt Dear's tag-team partner. He's part of this too. To me, Ryan is the heart of Ghostly, and he was my favorite DJ in Detroit.
Sunday, May 24 @ Tangent Gallery: Interdimensional Transmissions & The Bunker NY Present No Way Back
There are up to 50 after parties each night, which is a miracle because on any other night of the year it's a feat to pull over 300 people. I saw Marcel Dettmann play for 15 people. But during the festival, it's possible to have well over 500 people at a party. For one weekend every year, there's an illusion that we're a part of the world on that level. On Sunday there will be ten after parties where the promoters make a real profit, and this city is a place where people break even. That night I have my own after party called No Way Back. The first time we threw the party, we used an old bank with an unfinished ceiling, so it rained on the dance floor, which turned into a legendary aspect.
When I moved to Detroit from Ann Arbor, I thought, "Where is the nightlife that I dreamed of and used to come to?" So I threw a party that referenced what had inspired me about the '90s—not the crappy part; the amazing part where it felt like everything was possible. No Way Back spawned into this huge organic thing, and each year it gets a little bit bigger. Everybody's there to see the masters performing on a major soundsystem in a fully transformed place, decorated with a level of attention that we used to put in the '90s when rave was still outlawed here. It references all that, and it's a rare chance to see the pre-industry version of Detroit late-night partying. This year, the reaction has been even huger, so we added a second room of mental stimulation music, outer space music. We got John Elliott from Spectrum Spools to do his debut DJ set.
Monday, May 25 @ The RBMA Stage: DJ Godfather, 15:30
DJ Godfather's set at Movement is a Detroit tradition, and he does it every year. He plays sinful music that makes you go nuts, whether it's ghetto house, booty bass, or ghetto tech. It'll be an hour of aural pornography, and it's the only thing happening here that touches on one of Detroit's flagships at the end of the '90s.
Monday, May 25 @ The Sixth Stage: Shawn Rudiman (21:00) and Detroit Techno Militia (21:30)
Shawn Rudiman is doing an all-hardware live show on the mysterious Sixth Stage. He's a stalwart from our crazy underground scene. He's got records out, and they're great, but he's 50 times better as a live performer. He's living, breathing Detroit techno, and the Detroit techno everyone wishes there was more of. After that Detroit Techno Militia will close out with a half-hour tag team. They're going to use six turntables and all play over each other, but it's fluid and incredible. I've never seen any other group pull it off. They know the music and they know each other, so it's something bizarre and special. All these weird anomalies can only happen in Detroit.
Click here to read more insider's guides to the most exciting festivals of the year, including Weather Festival in Paris and Berlin's CTM.