10 x 4 – Shelter Point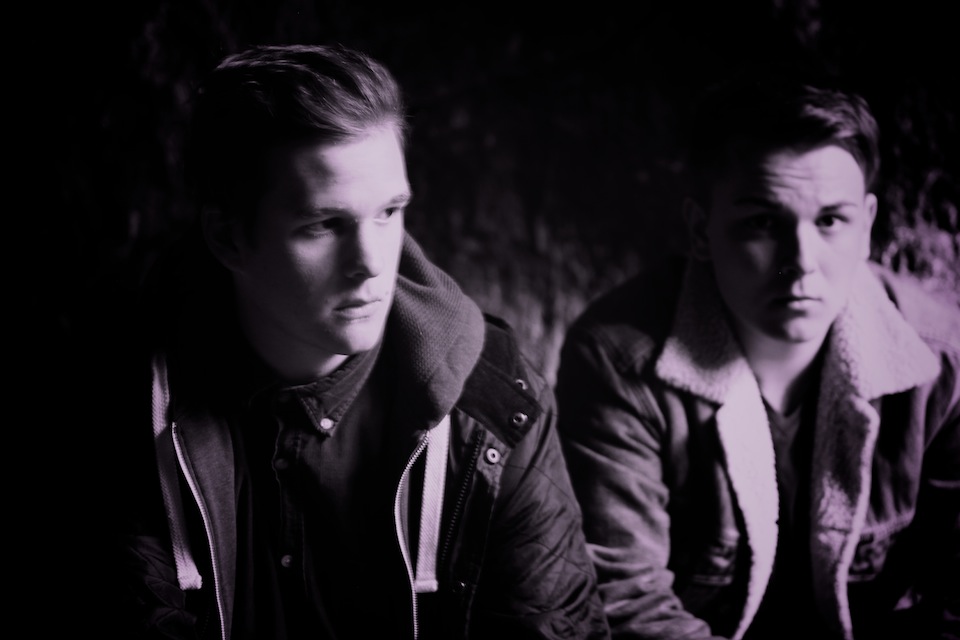 While there's no shortage of garage-informed production duos with youth on their side and a fetish for yearning, treated sonics, Nottingham's Shelter Point have certainly caught our ears. And we're not the only ones – their EP Forever For Now will be coming out later this month on Scuba's respected Hotflush label, a departure for a label perhaps more acquainted with the grittier end of the dancefloor. Essentially, If you've a soft spot for Breton, Mount Kimbie or the watery sonics of Joy Orbison, we reckon you'll be into these boys. We decided to pose Liam and Robin a few character-testing questions to help us get better acquainted.
1. Is any aspect of fame important and if yes, why's that? 
Liam: I think getting our music heard by a larger audience is the important part. When we're doing something that we love, and people are appreciating it, that's awesome.
2. If you were still in high school, which clique would you belong to?
Robin: Liam used to bully me back in school. He once backed me into a corner and whipped me with a tie until I cried.
L: I'm not that person anymore.
3. An album that changed the way you thought?
R: Flying Lotus – Los Angeles
L: Radiohead – The Bends
4. What does underground and mainstream mean to you?
R: People tend to take you more seriously when you're part of the underground scene nowadays, though there isn't much underground in Coventry.
L: There's a lot of great music in both mainstream and underground. Underground is slowly becoming more and more mainstream in a way, but I don't tend to label music in that way, I just listen to it for what it is.
5. What defines your music-making process?
R: We struggle to make a tune without Pop and fags.
L: Pepsi or Coke, either of those will suffice. We reward ourselves with victory cigarettes once a tune is finished.
6. Latest find on Soundcloud?
L: Anything by Lapalux or T.I.P, they both continue to amaze me with each tune.
R: My flatmate Matt has spent the last 6 months making some spacey triphop r'n'b. He goes under Warner on Soundcloud.
7. Name three essential artists.
Both: Wu-Tang Clan, Jeff Buckley, Dilla.
8.  Indispensable outfit?
R: Liam's homemade sleeveless jackets.
L: I'm definitely going to throw them all away, they're shit. Robin's Casio Watch/Calculator combo is the cherry on the cake for any outfit he wears.
9.  Do you believe in the paranormal?
L: I was sleeping a couple of nights ago, and I'm certain that something pulled my toe, so I dipped under the covers.
R: Sometimes, depends how much I've smoked.
10. One thing you can't live without?
R: The internet.
L: Pokemon.
Lone makes music that has the optimism of early rave and house hermitically sealed into it's DNA. Moving between past and the future with the deftest of movements he guides his machines to somewhere that sounds like the promised land of your youth, and yet at the same time is thrillingly contemporary. With releases on Actress' Werk Discs label and the resurgent R&S Lone's mutations of dance music coalesced on last years' Emerald Fantasy Tracks – an ecstasy fuelled trip into retro-futurism released on his own Magic Wire Recordings imprint.
I caught up with Lone, aka Matt Cutler to find out some more.
Hello Lone, please can you introduce yourself.
Hello. My name is Matt [Cutler] and I make electronic music under the name Lone. I'm from Nottingham in England, but I'm currently living in Manchester.
How did you get started in making music?
Through playing video games and listening to hardcore tapes, and an Aphex Twin CD.I was just so inspired by these things, I had to give it a go my self. This was around 1995 I think.
How did you first get connected with Actress / Werk?
I sent him a bunch of tunes because I loved his music and what he was doing with his label, like, Lukid and Zomby in the hope that he might be in to the idea of releasing some of my music. One of the tunes I sent to him was called 'Joyreel' which he said he liked and would be up for putting out as a 12″… that was really cool, so I kept sending him tracks and he agreed to make it a full-length album, which became 'Ecstasy & Friends.'
Do you think there are still local scenes in dance music?
There are so many little local scenes appearing in music these days, it all gets a bit too much for me to be honest so I don't pay much attention to them… I just get on with my own thing.
Has this affected the music you make?
Nah, I try not let anything affect what I do to be honest.
Does Nottingham have a strong scene?
I really hope so. I haven't visited Nottingham for a while though so I'm a bit out of touch with what's going on. Obviously Neon Jung and all the Wigflex crew are doing really cool things. Look them up if you aren't already familiar.
Do you think it is important to support your peers where you come from or to move where things are happening most?
Always support what your friends are doing totally..
You have mentioned in the past that you are influenced by nostalgia – do you think that will always be the case? is it tangible things you feel nostalgia for, or feelings?
Yeah I think that will always be the case. I'm always looking to the past for inspiration, whether it be drawing on emotions I might have felt at a particular time or actual events, happy or sad memories from particular times..
How do you channel that into your work?
I'm not entirely sure how I manage to get it channelled into my tracks to be honest with you… it seems to be something that just happens completely naturally – almost sub-consciously. I tend not to analyse it too much, and just let my ideas flow organically….
How did it feel to get release with R&S?
It feels very very strange as a lot of the earlier music they released had a massive impact on me creatively as a kid… It's really exciting too, to be part of the history of the label in some sense. It inspires me to make the best music I can possibly come up with
Do you feel under any weight of expectation being hyped as an artist?
I really don't see my self as 'hyped' at all – so no, definitely not. If I felt like I was getting hyped up by people then I'd probably feel quite pressured, but as it is, the only pressure I feel is what I put on my self to make better music…