o F F has been captivating us with his foggy, syrupy pop songs for most of the year. The Parisian producer recently relocated to London and changed his name to o F F Love, but this is no identity crisis: his songs are just as lovely as ever. We've always been curious, however, how his sound would translate with a touch of dance flavor. The wondering is over, because now we have a new remix of his latest single 'Close To U, I'm Not'. Reworked by Berlin's M.E.S.H., the sorrowful R&B single is given a bouncy jolt that sends shivers down to that azz and gets it bouncing.
The original track will also be released on o F F Love's debut Probably Love, dropping in January on the new KOMPAKT.FM spinoff label M=MAXIMAL. Stream the original and the remix below.
Close To U, I'm Not
Close To U, I'm Not (M.E.S.H. Remix)
Videodrome #24 – This week's best videos
Once again regular Videodrome tyrant Moritz is out of the office, so once again our editor Daniel will be hosting Videodrome this week. Lean back, relax, and press play.


1. o F F – YING YANG…BOY BAND
The Parisian Prince of FogPop delivers not just a video, but a video mixtape. Containing cuts from Extacy, Min Ronnersjö, How To Dress Well, Sjur Nyvold, Cyan Kid, and of course o F F himself, it's pretty much the best thing we've seen (and heard) all week.


2. Drainolith – Lasalle Walks Out
The new project from Alex Moskos (AIDS Wolf) is seriously evil, and this shaky, bleak winter imagery captures the pagan-noise aspect of his sound perfectly.
3. Ñaka Ñaka – El Pequeño Edgar
It's funny how mindblowing old computer graphics can be when applied in the right situation.
4. Ga'an – Black Equus teaser
Despite how short it is, it was just too exciting to exclude. Watch the teaser vid for what will surely be one of our favorite albums of 2011.
5. Fatima al Qadiri – Hip Hop Spa
The newest video from one of our most-watched artists examines hip hop culture and the parallels of luxury solitude and imprisonment. Plus it's just so tropical-hauntingly good.
6. Captain Ahab – Girls Gone Wild
While perhaps not as awesome as their previous video 'Kingdom of Light', this one's still definitely high on the spazzometer. Might bring back memories of trying to watch scrambled softcore on HBO. Definitely not for epileptics.
7. Lil B – Unchain Me
Lil B on the beach rapping over 'Cry Little Sister'. Petite wordsmith delivering realness on top of goth music, beach beats and coral reefer. Lil B is cool.
8. M83 – Wait (Unofficial)
Anytime stuff has this type of visual and aural aesthetic it's too much like watching The Wonder Years. Just keep waiting for Daniel Stern to start talking about kissing Winnie.
9. Stingray Enters The Unknown – The Sadist Pt 1
This one's closer to watching some random Liquid Television short. Much better.
10. Xaver von Treyer – Lunar Rover (Utao Okami)
Life is a prism and I just wanna disco.
11. Alva Noto – Uni Acronym
Pretty much what the title says; this one's a whole lotta acronyms. The best part was the literal shoutout to money. Nice to see another non-jaded fan of cash; money owns.
12. The Brandt Brauer Frick Ensemble feat. Emika – Pretend
The single from forthcoming album 'Mr Machine' by The Brandt Brauer Frick Ensemble, out October 2011 on !K7 Records.
Drop Dead Festival: The New Art-Punk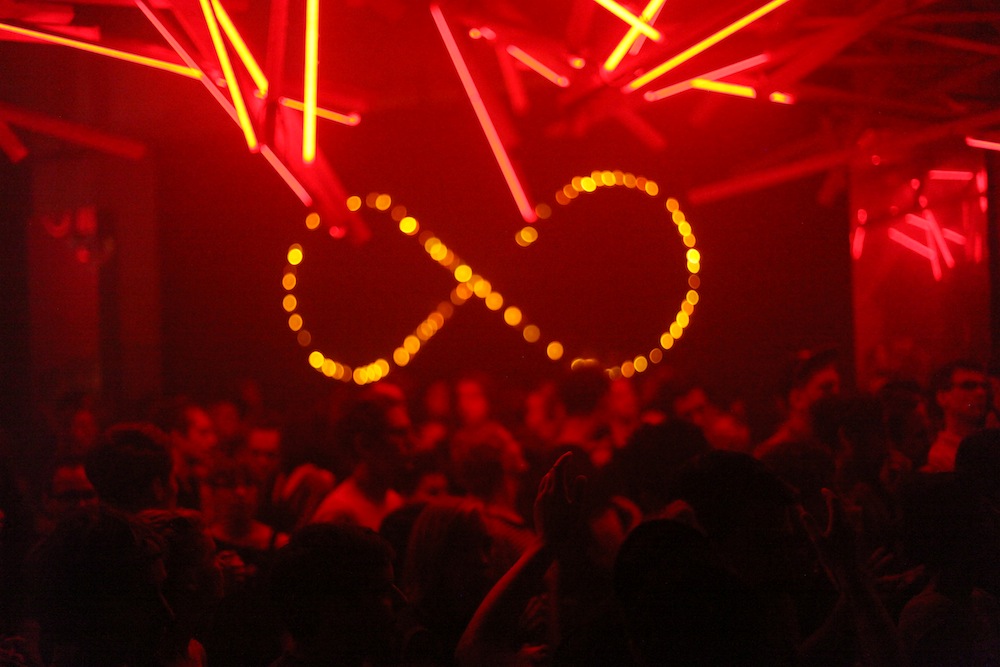 It's a beautiful thing to be inspired by the work of others, and Drop Dead Festival IX is probably the most inspirational event we've been to in a very long time. Started in 2003 by music promoter Polina Yakovleva, it's probably the largest DIY gathering of underground and left-field music in the world. So what happened when, from the first week of September, it descended on Berlin, one of the most celebrated cities for artistic weirdos? Pure, perfect and chaotic fun.
For six days, the festival held court at ADS (formerly known as Maria am Ostbahnhof), and the venue's gritty, abstract interior was the perfect setting. Day one was a cavalcade of queer, bouncy electro, served up by local one-man danceparties like Noisy Pig and Petra Flurr and the muppet-like new wave of Dutch oddball Harry Merry. Downstairs was even weirder, in its own way: the basement of the club was transformed into a teen disco, with trashy Eurodance, '90s hits from your childhood, and random games of Spin The Bottle. It's refreshing to see a festival with its tongue firmly in cheek, ready to get drunk and have fun above all else. But if you were a moody teen, Drop Dead had you covered as well with acts like the minimalistic and dark Die Selektion. Day two was even bigger, with electro-pop mutants DAT Politics and heavy bass witches CREEP headlining. Other unexpected surprises included blistering, noisy synth-rock from France's Ania Et le Programmeur, American dance-hop duo Scream Club, and a room in the back billed as 'Gucci Goth'. What that means, apparently, is 'tons of great future bass and hip-hop and strange artwork with makeover allegories', including 12-foot photos of beautiful women's hair by Felisa Funes and a giant yin-yang wreath made of flowers by Theophany Low. We saw mysterious R&B ghost o F F play a short-but-sweet set with some sexy female dancers (masked in yin-yang sheets, of course…gotta stay centered!) and dark-pop siren Butterclock blew us away with a baller cover of Rick Ross' 'Hustlin'. CREEP's combination of throbbing beats, cello, dark R&B, and accompanying video art was the perfect ending, lulling the packed room into a haze of swaying bodies and blissful expressions. Headlining DJ Sick Girls brought us back to the party with her incredible global club set, and before we knew it the sun was rising.
By now we were starting to sweat, so we took a sabatical from the goth-friendly third day, which featured acts like coldwavers Charles de Goal and Italian synth pioneers Neon. Day four, however, was unmissable. Local promoter Brandon Rosenbluth (formerly of Los Angeles) was working with the festival to present a showcase of film art and ritual, witchy music, and the lineup was intense. We walked in on the trance-inducing music of Gemeine Gesteine, a Berlin group who combine elements of ambient industrial and drone-heavy tribalism. The emotive, apocalyptic folk of King Dude was next, and we're not ashamed to say that, in all the fog and flickering light and intense atmosphere, we were moved to tears by it all. Yes, a little bit. But Modern Witch, the Denver group who helped pioneer the original wave of what is now called witch house, moved us to DANCE. Vocalist Kristy Fenton was a beautiful monster, striding back and forth across the stage, weaving a spell of beauty that minds and feet could not ignore. By the end, we were melting, ready to fall. But then….oh, then. Reliq. We have seen intensity, felt heaviness. This was another level, a crash like a universe coming into being and dying in a matter of seconds. Shrouded by her long hair and stepping lightly across the stage like an abstract ballerina, the singer went from death-metal screams to raggedly beautiful croons, sweeping the audience away into a realm where music is transcended into pure emotion: fucking, sobbing, agony and love. The purity of it all left us floating through a set from the main stage by the always-delightful experimentalists Legendary Pink Dots, barely able to keep our souls on this mortal plane.
Day five already, and we stumbled into the venue on failing legs. Today's theme was one-man synthpunk, and honestly our bodies weren't ready for it. The power of each one, however, revitalized us; from the lo-fi thrashing of Paris' Johnny Teardrop to the brutal rawness of Denver's BIRTH!, we were locked in a frenzy of slam-dancing. When Denmark's Bitluder transformed the room into an 8-bit rave (complete with flashing sirens) we didn't think we could handle anymore…truly this is a festival that lives up to its name. But Sewn Leather was next, and that's a name we know we can trust. In the first minute of his performance, he broke his nose, said 'Fuck it' and launched into one of the most punk fucking shows we've seen in our lives. Crunchy beats, crowdsurfing, broken glass, shirtless men and women covered in sweat and blood, not a single face without a smile. By the last day we couldn't even stand: we came into the venue and immediately parked our asses on the nearest bench. Fortunately, it was the perfect time for it. A performance by Mirco Magnani aka T.C.O. was underway, and the beautiful surreality of it all was the perfect flipside to the previous day (all those yin-yang symbols are finally starting to make sense.) Led by an enigmatic, avant-garde Japanese dancer, the group combined classical elements with throbbing post-dubstep beats that would make Tri Angle Records do a double-take. Feeling revitalized in body and spirit, we headed over to the dancefloor for a killer combination of banging dubstep and '90s industrial like NIN and Thrill Kill Kult. We got back to the next room just in time to catch Bettina Köster. The frontwoman of NDW legends Malaria! played a wonderful set of classics and new material, making old fans grin with pleasure and new listeners sit up and beg for more. It was a memorable ending to a festival that effortlessly combines old and new, art and music, sex and fun.
There was so much more that we can't possibly fit it all here, including food stands (Tacos Berlin, your pork tacos saved our lives) vendors (the Black Triangle jewelry was our favorite) and so many wonderful new friends. After so many days surrounded by incredible people and incredible music, now that it's over we're left with a sense of melancholy, but also a huge amount of unforgettable memories. We don't know where Drop Dead Festival will be next year, but we know that we'll be there.
Although still relatively new (outside the ADD-addled blogosphere anyway) the precocious quasi-genre Witch House has already broken and splintered into several distinct camps: the noisy and goth-obsessed, the barely-trying remixers, and the unapologetic pop worshippers. o F F is firmly in the latter camp. The project of Simon (1/2 of French duo oFF/GR†LLGR†LL and Gay Mormon Kissing Club), he retains the fragile melodies that characterized his past work while injecting his own pitch-shifted vocals that echo with the ghosts of half-forgotten R&B ballads.
After playing over a good chunk of Europe and collaborating live with a variety of friends including Kria Brekkan, he's releasing his new EP S E C R E T on Disaro this month. Four minimalist tracks all voice the theme of love, but whether it's new love or lost is left for the listener to decipher. Certainly the melodies aren't upbeat, but nor are they depressive; love has two sides, and like R. Kelly crooning from the depths of a watery grave, Simon knows both play a big part in any true ballad. o F F has a secret to tell you.
Open your ears and listen: