Videodrome 107 – This week's best videos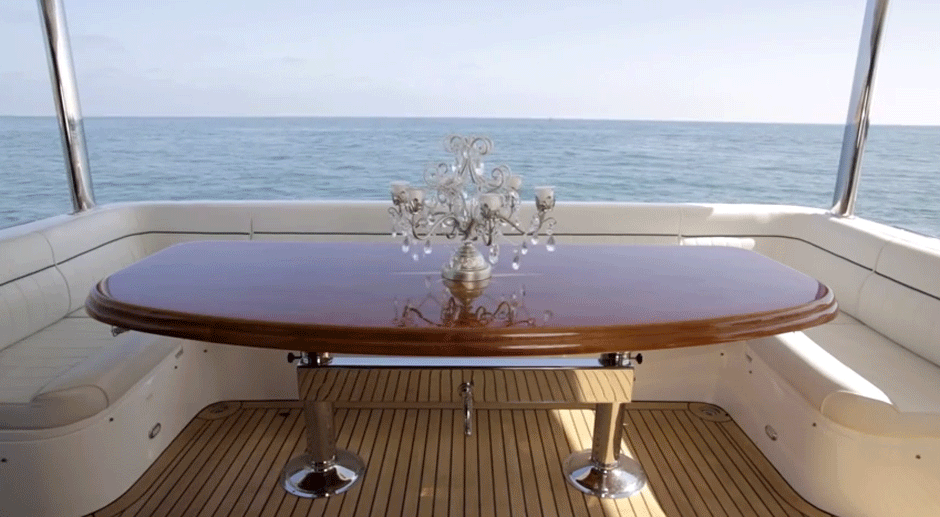 Summertime in Berlin and the holiday season is in full effect. What's more it's 30C in the office, our coffee machine has stopped working and on top of this? A new Carambolage table without cue sticks, right in the middle of our working area. But looking into the Tweets and feeds, the stream of brand new videos seems to be unstoppable. Below you've the chance to explore new music videos from the likes of Austra, Goldfrapp, Julia Holter, Asia Argento and many more.
#1 Austra – "Painful Like", directed by Exploding Motor Car
Toronto-based Austra have premiered a slimy new music video for their second Olympia single "Painful Like." I think this works really well.
#2 CocoRosie – "Child Bride", directed by Emma Freeman
Once again the CocoRosie sisters channel their dark, esoteric visuals in the video for Tales Of A Grass Widow track "Child Bride" in a unique way. So good, so sad.
#3 DJ Rashad + DJ Spinn – "She Turnt Up", directed by by Jon Casey
Ok, the Chicago-rooted juke/footwork sound is on a roll. After falling deeply in love with Rashad's "I Don't Give a Fuck" 12-inch, here's the next banger.
#4 Goldfrapp – "Drew", directed by Lisa Gunning
Beautiful erotic B&W shots and of course NSFW. It doesn't sound like other Goldfrapp music I've heard before, but I do like it. Taken from their sixth album Tales of Us out soon via Mute.
#5 Julia Holter – "In The Green Wild", directed by Yelena Zhelezov
Wow, how gloriously weird is this new Julia Holter video for "In The Green Wild", directed by Yelena Zhelezov. Taken from her forthcoming Domino Records debut Loud City Song.
#6 Asia Argento feat. Morgan – "Sexodrome"
Another NSFW music video from Asia's August release Total Entropy, featuring the likes of Anton Newcombe, Tim Burgess and Munk.
#7 Zebra Katz – "Lst Ctrl", directed by Matthew Donaldson
Today The Katz is back with a dope new video for his track "Lst Ctrl", a dark number that finds Zebra Katz once again showing off his special talents.
#8 Earl Sweatshirt featuring Vince Staples & Casey Veggies – "Hive", directed by Hiro Murai
New video for "Hive", taken from Earl Sweatshirt's upcoming Doris album. Yikes, looks like the kid's learned something!
#9 Teams – "One World 開発"
Is there anything you need more than a good dose of future bass mixed with R&B and weird samples? "OneWorld開発" is TEAMS's second full-length release and his debut on Fin Recordings. And it's brilliant.
#10 Classixx feat. Nancy Whang  – "All You're Waiting For", directed by Tim K
This is the new video for Classixx's All you're waiting for. I love it. Classixx is such a good band and I wonder if Nancy Whang is ever going to make an album of her own? ~
The Odd Future of Golf Wang
Alternative hip-hop collective Odd Future Wolf Gang Kill Them All, or simply Odd Future (to save your breath) are to turn the photos of their blog into an art book via Brooklyn-based publishing house PictureBox. The cult tumblr blog Golf Wang is a years-worth of snaps that document the incredible rise to fame of the LA gang.
To most, it simply shows off the good times OFWGKTA have shared along their road to success. But to them, it signifies something more meaningful, "great times we'll never get back", says ring-leader Tyler the Creator. The spontaneous and imperfect quality of the photos render them simply as snapshots but amateur as they may be in technique, they are brimming with meaning – the capturing of moments, the documentation of society and culture, of music and art, of life in LA, modernity and youth culture. Like a visual time-capsule, an extended day-in-the-life-of…
But being labelled as an 'art book'…? According to OFWGKTA's website they are quoted as saying it's "Nothing Special, Just Photos That Our Group Of Friends Took", but the very publishing of it transforms the carefree nature of Golf Wang into something that is loaded, that relies on it's cult following for its success – because you wouldn't be interested in paying $30 for any old photo album, would you.
Call it what you will, but EB have a feeling that this won't be the last photo publication of one gang's blog..and that it won't be the last we hear from Odd Future either – we see a trend on the horizon! Be one of the first 500 to get your hands on a copy in order to have it signed by the whole gang – Tyler The Creator, Hodgy Beats, Earl Sweatshirt, Domo Genesis and Mike G, Frank Ocean, Left Brain, Syd The Kyd & the Super 3, Jasper Dolphin and Taco.
Photography by Brick Stowell, Wolf Haley, Vyron Turner, Julian Berman, Travis Bennett, Sagan Lockhart And Lucas Vercetti.
It's no secret that Odd Future Wolf Gang Kill Them All have been heavily courted by the music industry as major players. Today we learned that the group have partnered with RED Distribution/Sony to form their own label, Odd Future Records. In the words of a press release sent out earlier today, Tyler, Hodgy, Leftbrain, Domo, Mike, Syd and crew will partner with Sony's RED Distribution arm to release music-based content consistent with their vision.
According to their manager, Chris Clancy, the group "will have 100% creative control of all aspects of their music, art, and release schedule with no 3rd party participation in outside business" Ringleader Tyler, the Creator is first up to release an album, with his second solo LP Goblin hitting shelves on May 10. The offering is part of a one-album deal with XL Recordings.
Plus: check out the video below and get an idea, how a meeting with the Odd Future Gang might look like: