On Tour With: Mount Kimbie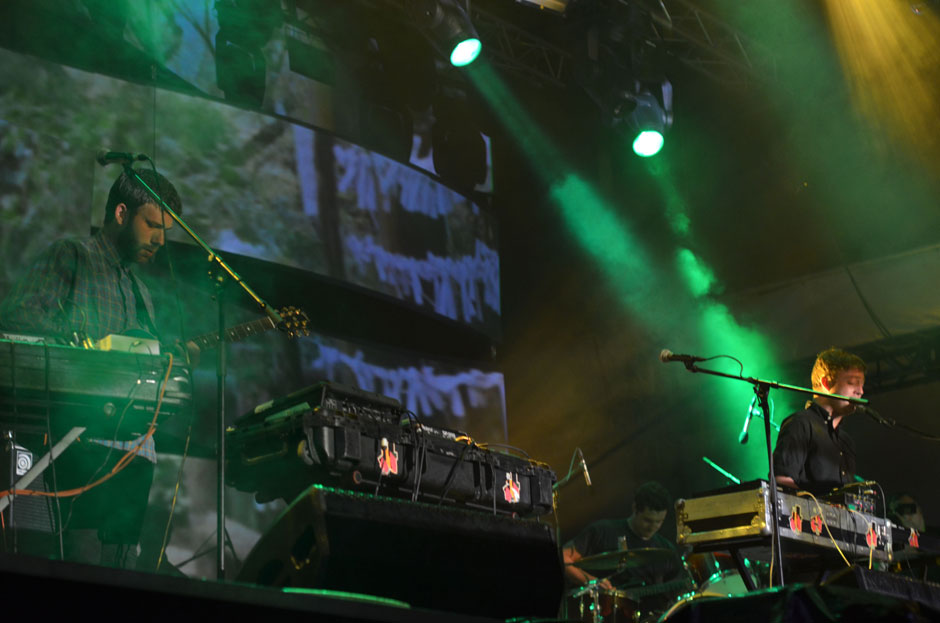 In our regular feature, we ask artists and musicians—whose work entails traveling the world—about some of the favorite places they've discovered. This time, we join the textural, electronic-indie duo who play the sold-out EB Festival in Dresden this weekend. Above: Mount Kimbie at EB Festival Podgorica 2013 by Ivana Bozovic.
Mount Kimbie have been around the global block once or twice by now. Since the release of their critically acclaimed debut album Crooks & Lovers in 2010, the London duo—consisting of Dominic Maker and Kai Campos—have played sold out gigs everywhere, ranging from Moscow to Mexico City and Tokyo. Their experiences of a few years on the road are clearly audible in the follow-up album Cold Spring Fault Less, released in May this year, as their trademark ambient and post-dubstep informed sounds have grown more lively and monumental, as if composed more for vast spaces rather than small enclaves. In advance of their performance at our sold-out festival in Dresden, we took the opportunity to ask them about some of their experiences on the road at their performance at our festival in Podgorica, Montenegro this past September.
Favorite restaurant:
Uoshins – Tokyo, Japan
Kai Campos: It's a sushi place on the edge of a fish market in Tokyo which is pretty famous, I think; we had to queue for three hours to get in. We got there at seven and got in at ten, but it was worth it. That was the only place that we went to the first time and then made an effort to go again. Everything else we tried to do new things. We had quite a bit of time off there, and we had some great people showing us around, and we just all felt really good. Even the dive places, everything's just so fresh because there isn't a culture of being able to get everything all the time, they do simple and seasonal things really well. Some of the stuff was moving before we ate it, it was good. Also, the culture of eating over the course of a very long time, eating lots of small dishes, everyone passing stuff around and sharing, having a communal experience, and stopping for a bit, having a drink and talking, eating some more.
Favorite venue:
The Golden Pudel – Hamburg, Germany
Dominic Maker: We played a couple of times and had a really good time. It's the kind of place that whenever we go back to Hamburg, it doesn't matter what we're doing or where we are, we always have a conversation about going there. The people who work there are fantastic. It's got so much character to it and it's quite a unique space because you don't really care if it sounds good or not because it's all atmosphere in there.
KC: It's pure. We were doing a festival near Hamburg and it was the least pure thing in the entire world, a really depressing experience. We came off stage and were like, "This is shit," everything that's wrong with festivals. And then we were like let's just go to the Pudel, we had all our gear and said, "Let's just do a gig!" So then we put on Twitter that we were going to play in an hour and we got far too drunk to, in a normal situation, play. But we just set up a few things on crates and played. It's like, there's no bullshit that went along with it, it cost two euros and people had a good time because they weren't going to see this band, it was good. It can't be like that all the time and we choose to do these massively corporate events as well because it's part of the life, but it's nice to also be reminded of music for the sake of music.
Tourist attraction:
The Golden Gate Bridge – San Francisco, USA
KC: There's a promoter who we always work with in San Francisco who goes the extra mile every time we're there. He's very enthusiastic and took us to see everything in San Francisco and just hanging out at the Golden Gate Bridge with those guys was a good laugh. And it's a pretty amazing way to see the whole of the city and the surrounding area, Alcatraz.
Favorite shop:
Army & Navy – Outlets throughout Canada
KC: I'm looking forward to going back to Canada to go to Army & Navy which is a budget clothing store, really, really cheap, you just go to buy socks, I guess. They have these white t-shirts—I've become a big fan of plain white t shirts, and they have the best. I only bought one and I knew at the time I should've stocked up. We were in the US for the rest of the time and thought I could go but it turns out they're only in Canada. We've got one date coming up and I'm going to Army & Navy and buy a suitcase of these white t shirts.
Favorite Hotel:
? – Singapore
DM: We went to a pretty nice hotel in Singapore. It was really, really hot, it must have been about 40 plus and they had a beautiful pool, breakfast buffet, and tennis courts outside, which we could use at any time. We played and it was a bad idea, it was eighty percent humidity, so like playing underwater. That hotel definitely sticks out.
KC: I'll tell you what are not good hotels. The ones people say are good for musicians. There's one in Amsterdam where all the furniture are Pelican cases and the light in the ceiling's a snare drum. I don't want to see this. There's that German one too, the Michelberger; it's alright but I hate being told I'm going to love it because you're a musician. It's bullshit. ~
On Tour with Retro Stefson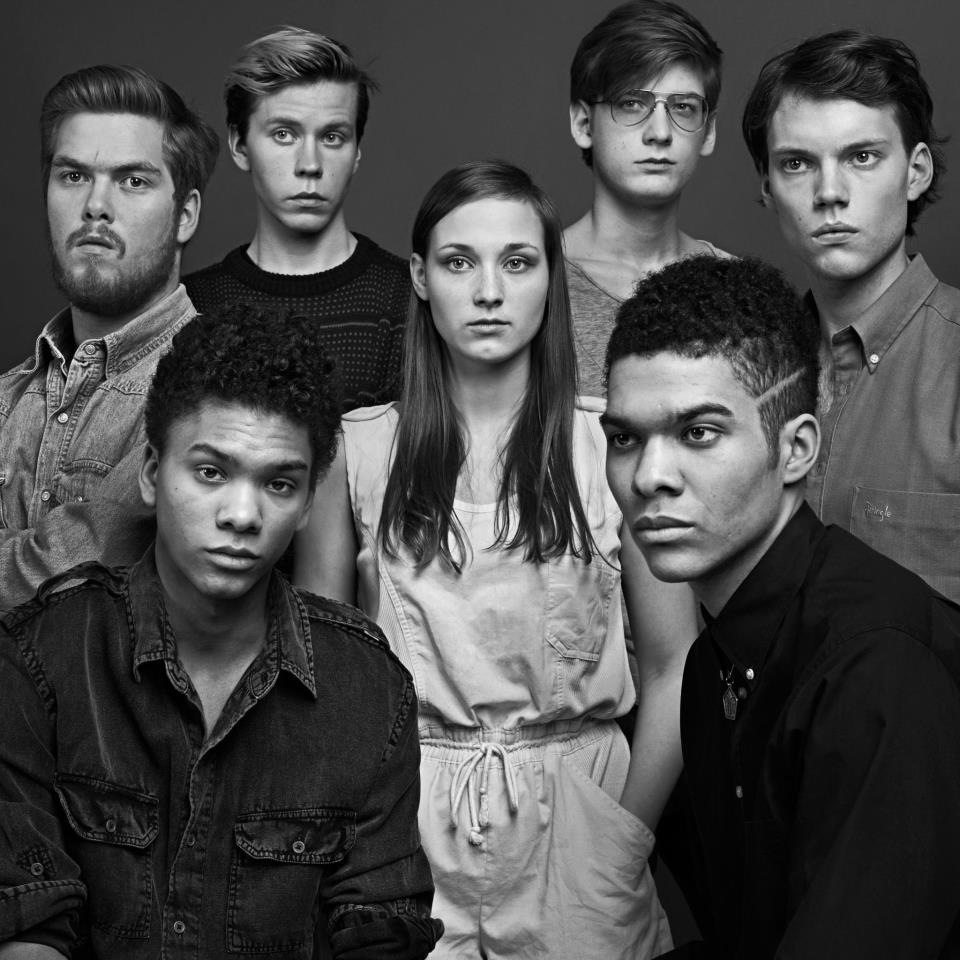 In our regular feature, we ask artists and musicians, whose work entails traveling the world, about some of the favorite places they've discovered. This time, we join the Icelandic 8-piece synthpop group, who play EB Festival in Montenegro tomorrow (tickets still available!).
When your band's lineup consists of eight members, you better have the musical panache to get promoters to shell out those travel fees. Thankfully for Retro Stefson, they bring more than just numbers to the stage. Their innate sense of fun is apparent in their bouncy electronic pop, which touches on a multitude of genres and time-vibes. '90s house and '80s disco are both present, as is neo-reggae and Afrobeat, all tied together in a way that not only makes sense to the ears, but makes dance for the feet too—several of their tracks have charted at #1 in their native Iceland, in fact. In a state of constant evolution, the group have been making music together in various forms since elementary school. Nearly ten years, two albums and countless shows later, they've had plenty of opportunities to experience life on the road and all the the pleasures (and discomforts) that such frenzied travel brings. Retro Stefson will soon be taking the stage at this year's Electronic Beats Festival Montenegro, along with two of the UK's finest, Disclosure and Mount Kimbie. Before that, however, we joined them for a look at some of the most memorable locations they've seen in their busy touring schedule.
Favorite restaurant:
Recep Usta Köfteci – Moabit, Berlin
The whole band lived next door for half a year. Our first day in our new home, we met a couple of Icelandic friends by total coincidence. They took us straight to this Turkish restaurant; it's got a lot of regulars and a family-friendly atmosphere. We went there several times a week and sometimes several times a day, since it's open 24/7. When we realized they also do home delivery we decided to slow down a bit on our consumption of delicious Turkish food. I recommend number 12 or Spezial Köfte.
Favorite shop:
Lucky Records – Reykjavík, Iceland
This is an independent record store with a huge selection of vinyl and loads of new Icelandic music. This year they relocated to a bigger spot close to the main street Laugarvegur. It's got a nice and cozy atmosphere and good listening stations. A must-visit for music lovers and cratediggers.
Favorite hotel
Hótel Laugarhóll – Bjarnarfjörður, Iceland
Here is where I've written most of my music for the past three years. My family runs it, and the band has had practice sessions there in the total darkness of the Westfjords in winter. I try to go there every few months; there is a natural pool with hot water from the ground as well as an man-made pool that was built more than 60 years ago. In the summer it's packed with guests from all over the world, and in the winter there's usually very few people. Maybe just a few musicians and ghosts.
Honorable mention: Hotel Michelberger – Berlin.
Favorite venue
Harpa – Reykjavík, Iceland
It's a great music hall in downtown Reykjavík. It was built during difficult times economically in Iceland—not everyone agreed on whether it should even be built. But the truth is, it raises the bar for professionalism in the country's music business. I want to perform there for the rest of my life.
Favorite tourist attraction
Græni Hatturinn – Akureyri, Iceland
This is actually a concert venue as well, but in the north of Iceland. It is probably the most professional venue in Iceland of its size, and the booking is great. The regulars also have a great tradition of showing up way before the doors open to form a nice little queue, which doesn't happen anywhere else around here. I've always wondered how great it would be to stumble upon this place if I was a tourist in Iceland. ˜