Radio Slave Is Bringing His Rekids Label Back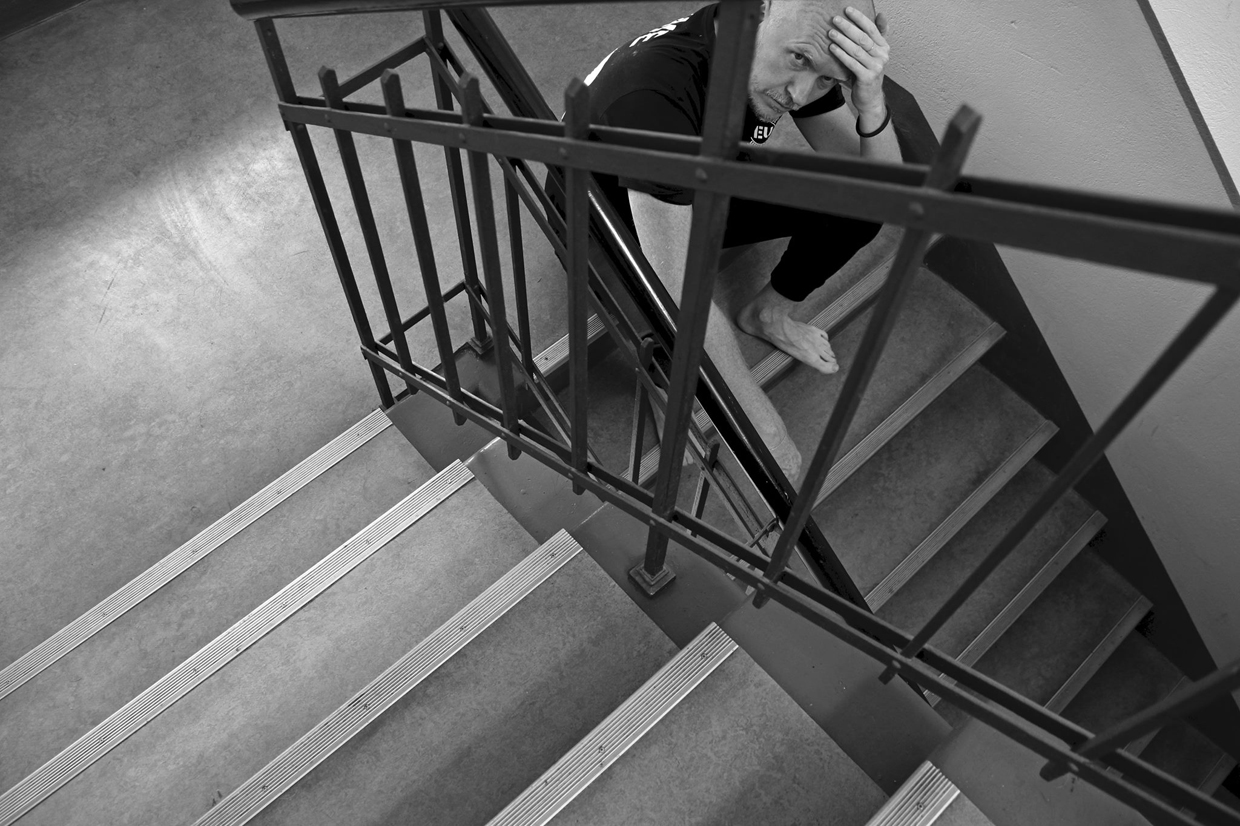 About a year and a half ago, Matt Edwards (aka Radio Slave) put his famed house and techno label, Rekids, on hiatus. Its sabbatical sparked a surge of creativity in its founder, who released a wave of club-ready techno tracks and a collaborative album of ambient and electronica-infused house on Carl Craig's Planet E outpost. He also branched out into the world of fashion with his Electric Uniform company, which has produced a line of football jerseys emblazoned with the names of beloved DJs. A few weeks ago, Edwards announced that Rekids, the home of revered artists like Nina Kraviz, Spencer Parker and Mr. G, will soon return. We met with him close to his home in Berlin's Kreuzberg neighborhood to get the full story.
Radio Slave: Rekids will be 10 years old next year, but we hit a wall with the label two years ago. To put it mildly, the accounting was in a mess, and unfortunately the difficulties we were facing are so common for independent music labels. Rekids has a big catalog with over 400 titles, and it takes a lot of time to manage a label of that size. We've also been, like many others, quite unfortunate with distribution companies going under. In December 2013 I decided to put the company on a hold and try to fix the problems. It got to a stage where artists weren't paid anymore, me included.
It took 18 months to sort everything out, and I really have to thank the new accountant. He  saved the label and gave me hope that the company wouldn't go under. It's funny looking back through the history of the label; I remember Trevor Jackson telling me at Watergate shortly before I started Rekids back in 2006 that, if I want to run a label, I shouldn't sign anyone and should keep it to myself. Now I understand what he meant. Look at guys like Robert Hood and Kenny Dixon Jr.: they keep things simple.
Sven Von Thülen: So the writing was on the wall for a while before you hit the brakes on Rekids?
Yes, you could say that. I was going through big changes in my personal life, too. In summer 2013 I got really sick, and as a consequence I decided to become sober. For the first time in my adult life I stopped everything. I had the feeling that I needed to be more focused. Running a label is a big responsibility, and you have to look after the people who're involved with it. Stopping Rekids was also a result of me focusing more on it. We were generating money with the music, but we lost more due to the mismanagement.
However, once you discontinued the label you became once again quite a prolific producer.
It took a lot of time to get Rekids back on track, so I had the freedom to focus on my own projects and to be more creative again. For the first time in a while I got a lot of stuff done. I released the Matom album with Thomas Gandey on Planet E, as well as singles on Spencer Parker's label Work Them and Boddika's Nonplus+. I also run another label here in Berlin with Jamie Fry from STABLO called The Double R, which continued during that time. You can say that, as an artist, the hiatus was a good thing for me because it meant I could focus on my own output. Moving forward, we're definitely going to strip things down.There's no real pressure to generate money with the label. Before, I had a partner who was co-running the company with me. Now I'm on my own, so it's a different situation. I've hired a really close and dear friend as label manager and I just want to release good music.
You became kind of notorious for commissioning remixes and tracks that came out after many delays or not at all.
Yes, there's a lot of stuff that never came out. Especially at the end of 2013, we were struggling to get stuff out. We had terrible cashflow problems because of the mismanagement, and on top of that we always spent a lot of money on every aspect of the record: the artwork, the packaging, remixes. But in this day and age there's only so much you can do with an artist or a release. That's another reason why we'll strip things back. Having said that, Alan Oldham designed the new House Bags for Rekids, which is really exciting. And, artist-wise, I'll mainly work with the core members of the label.
Who are those core members these days?
Well, so far it's the original crew with Spencer Parker, Mr. G and Nina Kraviz. Also, Jamie Fry will focus on A&R, and Rekids will release music by Phil Asher. It's my way of giving something back. A lot of the people in the new generation of DJs and producers might not have heard of Phil, who was a mentor to me when I was still living in London, and I have a huge amount of respect for him as a DJ and producer. He's semi-retired, which is another reason why I'm really excited to have him on the label. Monty Luke from Black Catalogue will also release his Mandingo project through Rekids. So yeah, there's gonna be new blood, too. I just want to continue to promote new artists. Nina is a case in point. It was really difficult to get her shows in the beginning, which is pretty crazy if you look at it now. We use to have to fight with clubs to get her gigs because most clubs didn't want to take a risk.
What are your personal highlights from the label so far?
The first track that comes to mind is "Serotone." 2006 to 2007 was, for me, a really golden period, not just for Rekids or my own releases, but also for my remixes. Then there was Dubfire's remix of "Grindhouse Tool," which was the pinnacle of this—I don't want to say "tech house"—well, "stadium techno" kind of thing. Seeing it take off was pretty amazing. Some people might look at it and say that it was a bit of a sellout, but all the parts of the puzzle made total sense at the time. Signing Nina was another highpoint. Being part of and witnessing her journey has been incredible. It's really interesting to look at where she started off musically and where she is now. Back then she was making these very somber, romantic deep house tracks that all dealt with love and relationships. To put out the album was a risk in the sense that it's very subdued and there are no hits on it, except for maybe "Ghetto Kraviz." But it all worked out great and I am incredibly proud to see her progress both as a DJ and a producer in such a male-dominated industry.
//
You've also recently started a t-shirt company, which are all over festivals and nightclubs around the world.
Yes, it's called Electric Uniform. It was something I started while Rekids was on hold, too, because I wanted to explore new avenues for artistic expression. I had all this time because I wasn't drinking or going out, so I was alive and full of energy. We're about to release the third wave of football inspired t-shirts; this time we worked with Rødhead, DJ Tennis and Running Back. Being involved with that was a great learning experience. It's something I can do parallel to Rekids and it gives me the opportunity to give money to a charity. That was actually one of the main ideas behind Electric Uniform, too: we give 5 Euro per shirt to Outreach, which is a Berlin-based charity that facilitates sporting events for children.
I guess I just love creating products, and the t-shirts are a super blank canvas to design. Apart from setting up Electric Uniform, running Rekids and Double R with Jamie, I'm about to start a new company called Maison Ze, creating lifestyle items from home ware to some rather wacky art products. The first series of items we'll be making are skateboards. I always wanted to make skateboards. I used to skate a lot when I was growing up. Alan Oldham will design, as well as Kate Belham and Pindar from Cocktail d'Amore. So the company will be about creating cool stuff. I just wanna connect friends, come up with cool ideas and give them a platform to present their art. Let's see how that plays out.
So what's gonna be the first release on the reformed Rekids?
The first will be the original version "The Clone Wars" by me. It was the last release in December 2013, but it was only a limited run with hand-screened covers by my friend and fellow DJ Patrina Strahl, and now it'll get a full release, both on vinyl and digitally. When we start the label again it'll be as if we've never stopped. In September we'll release remixes of "The Clone Wars" by Markus Suckut, Parris Mitchell, DJ Spider and Loco Dice and in July we'll release a 12″ by Spencer Parker called "No More Silly Club Songs." Overall I'm so happy that Rekids is about to come back now. It's been a long time coming, but it's definitely been worth the wait, and it feels like the family has moved into a better home.
From The Vaults: interview with Jigoku
The affinity for the weird, obscure and bizarre has gained momentum in the last few years reinforced by the likes of tumblr as catalysts of visual 'debris'. The hunt for the abstruse and low-brow is no passing pop culture fad for audiovisual bricoleurs Jigoku though. Driven by the need to unearth and manipulate random VHS tapes of exploitation cinema classics adding a custom-made soundtrack, the AV collective is hardly a novice on the scene. Jigoku have collaborated with the likes of Italian soundtrack legend Alessandro Alessendroni or Rekids' Matt Edwards. With the launch of their label Iron Triangle and DVD 'From the Vaults Vol 1', a compilation of trailers and edits from their vast collection of exploitation video tapes carefully hand-picked over three decades of digging all over the world, we have caught up with Jigoku's Lovely Jon, old school East London free party veteran, to talk about the medium and the message.
Can you tell us about your new label Iron Triangle?
The Iron Triangle is myself, my fellow Jigoku compadre Gareth 'Cherrystones' Godard and our blood brother Joel Martin. We've all been through the rigour of the music business but have remained a tight, close unit. You see many artists fucking each other over to 'get ahead' – this can be a fickle, plagiarised, cut throat musical world (even within the 'below radar' independent sector) and we remain very loyal to one another. The label is a branding of our unity and an outlet for future mixes and other like-minded projects from our family and friends such as Aneet Nijjar (who runs the excellent cult movie and music website Days are Numbers) and John 'Capracara' Burnip of Churchill's Leopards.
What is the genesis of your obsession with exploitation cinema?
I was definitely a child of the UK video nasties era and would regularly bunk school to watch immortal classics such as Zombie Flesh Eaters, Evil Dead and Cannibal Holocaust with large groups of friends before my mother arrived home from work! By my teenage years I was a regular at the legendary Scala cinema in Kings Cross which really shaped my appreciation and vision of how far reaching exploitation cinema could take itself – they expertly programmed incredible genre hybrids that encompassed the weird (Thundercrack!), the art house (Herzog's Aguirre The Wrath of God), the trash (Meyer's Supervixens) and the plain obscene (Pasolini's Salo 120 Days of Sodom) and as for those all night shows (!). It was wild to be amongst the sleaze bags in and outside the cinema doors since the area was well known for it's prostitutes and degenerates at that time and the whole experience was a genuine 'coming of age'.
Do you approach working with visuals in a similar way as working with music?
Very much – the two mediums are one and the same. I got this early on from seeing three seminal movies in my youth – The Omen (Jerry Goldsmith's score is so fucking BOOMING when those set pieces are unleashed), The Conversation (whose eerie, intricate sound design is a master class in manipulation and unease) and Suspiria (a wall to wall epiphany of the competing mediums that really is the litmus test of what was to follow). I can hear a tune or be watching a scene and instinctively know what will work – when you lock in to the rhythms of sound and vision the two threads come together perfectly.
How do you source your material? Where do you find it?
In regards to sourcing – home work, toil (steadily accumulating knowledge through the passage of time) and most importantly sticking with it (this is a passion not a fad – even the most internet savvy will hit a brick wall eventually – you have to go all out to get on top of what material is out there – the bottom line does not end with the IMDB). Where do I found my gear? – all over the world: boot fairs, abandoned video shops, flea markets, collectors and yes the internet. However, the crucial link has been traveling, going directly to the source – if you're in Thailand – hit the smaller towns where there are no tourists.
Could you recollect a particularly memorable VHS trip?
I was in Lisbon in the late 90's and hanging out at the Barrio Alto. I came across this small video shop tucked down a back alley way off the main strip. Sat inside a thrift shop which sold plugs and sink plungers was this sweet man with a lumberjack shirt and crowbar moustache. We started to chat and struck up a deal as he had many treats (an uncut Exterminator 2, Italian Giallo slashers and Euro crime obscurities lined the shelves). The boxes were thick with dust and he offered to clean them. I told him it was ok as there were so many but he insisted and sat there gently cleaning the boxes with love and care all afternoon. He made those tapes shine like diamonds and I will forever be indebted to that lovely man and his thoughtful gesture. For me that's what VHS digging is about – it is very much a 'hands on' experience that typifies grass roots blue collar culture (which in turn reflects the movies themselves – these are not cinematic creations designed for the tastes of the elite and bourgeois).
You work with the analogue medium of a VHS tape, what fascinates you on this medium?
I've always been fascinated with the 'look' of imagery through VHS – the soft fuzzy textures, low end humming and grimy facade add a sleazy, mysterious texture that definitely accentuates a grubby vibe. I guess there's a nostalgia value base going on too but there's definitely something uneasy and edgy unleashed when you watch certain movies on VHS compared to the shiny, glossy sheen of Hi Def DVD.
Do you think the current retro-mania and nostalgia for the analogue is a sign of some greater shifts in cultural consciousness?
Well I would hope that analogue and digital can thrive with one another in the future but we'll have to wait and see as retro-mania has a habit of burning itself out as the culture vulture zeitgeist drop the ball and then move on to 'the next thing'. But you can definitely see the interest in analogue as a resistance to our 'digital future'. You only have to look at all those wonderful Wolf Eyes tapes to see there are forces at work kicking against a controlling system which wishes to abolish hard copy media and have us all sitting at home zombiefied, having our lives streamlined for us.
What are your plans with Jigoku?
Despite a recent impromptu show at Rough Trade nothing at this present time, however, we are beginning to put in place plans for our follow up to A Visual Mix Tape. Myself and Gareth really want to push the envelope with this one and take it to the next level but we're in no hurry – as has been said we're like The Ramones of this shit – fads come and go but we'll still be there kicking against the pricks!
You can tune in at 10pm tonight (22 February 2012) to listen to Lovely Jon's 3-hour guest mix featuring Punk, Glam, Bass, Dub, New Wave, Soundtracks, Rap, Rock, Psych, Jazz, Afro, Funk on Deep Frequency.
Read our interview with Lovely Jon and Matt Edwards about The Machine project here.
Listen to Nina Kraviz's debut full-length
In early 2011 we reported on Nina Kraviz's debut album for the first time when we met up with the Russian producer and DJ for a video interview in Berlin.
Talking perfection and distortion, intuition and originality, Nina gave an outlook on her debut full-length on Matt 'Radio Slave' Edwards' and James Masters' Rekids label – and the record's finally being released this month.
Besides her textured instrumental prodcutions, the self-titled album sees Kraviz using her voice multiple times: "The voice is really important in all the sounds that I'm working on. (…) It's a tool and at the same time an instrument. (…) Call it what you want, but (my voice) is my favorite instrument."
Kraviz continued: "The album should meet standards of sounding, making it sound good when listening to it in the car as well as the club" – find out for yourself on February 27 when Rekids is releasing the CD and 12″ vinyl to the public. Until then, listen to snippets from Kraviz's debut below, or stream the full record over at RA. Also, have a look at the above mentioned Slices interview with Nina Kraviz, grab the upcoming issue of Groove magazine, and get pumped about catching up with her at one of these club nights. ?? ?? ????? ????? – ???? ??????, ?? ???????????!