The Ten Best Depeche Mode Remixes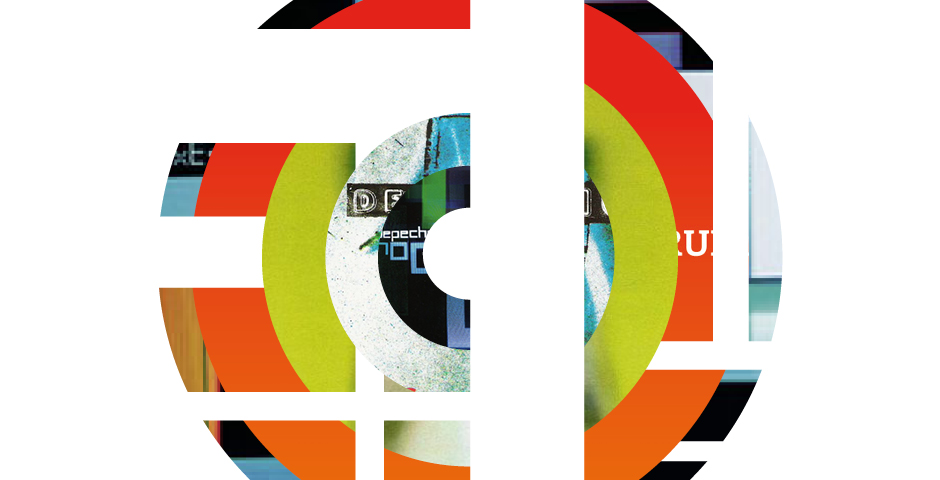 From their earliest days, Depeche Mode have understood the transcendent power of a good remix. At the beginning of their career, the form presented an opportunity to open up their sound to DJs, converting their chart-friendly synth pop into dancefloor tender. Throughout the years however, these interpretations became more creative and experimental, with remixes commissioned from a disparate range of underground artists as much as established names, reaching the point where they effectively function as a barometer of current tastes within electronic music. Need proof? "Heaven" features reinterpretations by Matthew Dear, Thomas Fehlmann, and Blawan. Oh, and they've spawned two dedicated remix albums.
We rifled through the swathes of Depeche Mode remixes out there (trust us, there's a lot) to pick our ten favorites, so you don't have to. It's deconstruction time again.
"Suffer Well" (M83 Remix)
2005's Playing the Angel threw up a number of reworkings by well-regarded underground acts at the time, including the Robag Wruhme (see below) and M83, who were flush with accolades from their Before the Dawn Heals Us LP. The original track is taken in a new direction with washes of sci-fi synthesizer and Anthony Gonzalez's otherworldly falsetto.
/
"Useless" (The Kruder & Dorfmeister Session)
The Austrian downtempo pioneers smooth the edges off this Ultra cut, turning it into piece of medicated, heavy-lidded pop ideal for soundtracking the bumpiest of comedowns. Spoiler: features predominant wah-wah pedal.
/
"Lillian" (Robag Wruhme Slomoschen Kikker)
Germany's meister of glitch and erstwhile Wighnomy Brother decompresses the midrange chug of the original with his characteristic insectoid percussion, gentle guitar picking, and pastoral synth.
/
"Master and Servant" (An ON-U Sound Science Fiction Dance Hall Classic)
Adrian Sherwood flexes his well-defined industrial dub muscle for this distorted take on the band's eleventh UK single "Master and Servent" from 1984. Sherwood would later refine—if that's the right word—this abrasive, metal-on-metal style with work for Ministry, KMFDM, and Nine Inch Nails.
/
"World in My Eyes" (Daniel Miller Mix) 
This was the final release from the king-making Violator, and adding some spit and polish to the band's crown is Daniel Miller. The Mute boss and regular DM co-producer adds a different synth sound and some subtle alterations—it's more a case of careful tailoring than obvious repurposing.
/
"Dream On" (Dave Clarke Acoustic Version)
The first Exciter is given an acoustic makeover from idiosyncratic techno bod Dave Clarke, earning a place on our list for the sheer unexpectedness.
/
"Painkiller" (Kill The Pain Depeche Mode vs DJ Shadow)
Guitar scree, boom bap, and snatches of blues samples contribute to DJ Shadow's impressionist take on "Barrel of a Gun" B-side "Painkiller". The anomalous original is an instrumental featuring kettle drums and cruddy electronics. DJ Shadow takes those foundations and stretches them until breaking point.
/
"Something To Do" (Black Strobe Remix) 
Construction Time Again is, arguably, one of the greatest early Depeche Mode albums. The record takes Einstürzende Neubauten's heavy duty industrialism and renders it chart-friendly, thus pulling off an audacious act of pop nous. Here noughties French producers Black Strobe preserve the urgency of "Something to Do"'s refrain and whack a boisterous electrohouse beat under it. What did you expect?
/
"Halo" (Goldfrapp Remix)
Forget "Enjoy the Silence"—opener "Halo" is the real star of Violator. Will Gregory and Alison Goldfrapp strip the bombast out of the song revealing the vulnerability at its core. Dave Gahan's resonant baritone feels naked against a backdrop of harp, Alison Goldfrapp's fragile, breathy version of the chorus, and the closing drifts of her soprano voice.
/
"Behind the Wheel" (Vince Clarke Remix)
In a pleasing, if circuitous, act, original Depeche Mode member Vince Clark finally got round to remixing one of their tracks in 2011. The Music for the Masses single "Behind the Wheel". This reworking showcases his affinity with driving, muscular techno (which was actualized conclusively in his VCMG project with, yup, Martin Gore).
Bryan Ferry's 'Olympia' in remix, live in Berlin
When your name is Bryan Ferry and you want your new album remixed for the more exuberant music fan, you can pretty much count on being able to take your pick of the current crop of dance producers. After all in Roxy Music, and as a solo artist, Ferry has enjoyed a consistent level of credibility with the cutting edge and is no stranger to having his musical ideas pulled apart and reconfigured for the dance-floor. That's not to mention Roxy music classics like 'Angel Eyes' and Balearic favourites 'Love Is The Drug' and 'Tokyo Joe'. Ferry has also more recently worked with DJ Hell on his track 'U Can Dance'. This was then re-recorded by Ferry for last year's Olympia album – a record that featured songs produced with the likes of Groove Armada and the Scissor Sisters and was released on a plethora of ultra desirable formats.
Now more than 20 official remixes have been brought together as the Olympia Remixes album – an epic undertaking with the likes of Todd Terje, Pilooski, Time and Space Machine and Mylo involved. Collectively they have taken songs like 'You Can Dance' , 'Shameless' and 'Alphaville' into the dark, sweaty underworld. You can stream the entire album on SoundCloud, we especially recommend you check out the Pilooski, Boogie Corporation and Richard Sen mixes.
Don't miss out on Electronic Beats presents Bryan Ferry on December 8th at Admiralspalast Berlin.
VideoSLKTR – Check out some epic MDSLKTR videos!
This week's V I D E O D R O M E has been manipulated by MODESELEKTOR! That means you wont find this week's best videos, but the best videos from the German duo. We gotta admit that few electronic music outfits have as successfully managed to combine humour, sophistication and sheer block-rocking energy in their music as the Berlin-based Modeselektor. Check their video-oevre below with many awesome visuals by Berlin-based Pfadfinderei – it's a perfect combination:
#1 Modeselektor – Slices Feature
Our colleagues from Slices spent some time with Modeselektor prior to the Electronic Beats live special in Innsbruck. Tune in for an exclusive look behind the scenes and hear Gernot and Szarzy give us the lowdown on raving whilst being fathers, what to eat on tour and how their tradition of spraying champagne started.
///
#2 Modeselektor – Black Block
This song is from Modeselektor's album Happy Birthday! and the video was directed by Christian Feldhusen. It's kind of Mad Hatter with apes… And WE LOVE the little Van. 'Black Block' is such a bumpin song, good for cranking up the soundsystem…
///
#3 Modeselektor – Art & Cash
This is taken from Modeselektor's mix CD, Body Language Vol.8 on Get Physical – to promote the mix, long time collaborator Pfadfinderei made this cool video.
///
#4 Bjork Feat. Antony Hegarty – Dull Flame Of Desire (Modeselektor's Remix For Girls)
Sure, 'Dull flame of desire" by Bjork featuring Antony Hegarty is a simple and very pretty song. But, we actually like the gender specified Modeselektor remixes better than the original version of the song.
///
#5 Modeselektor & Pfadfinderei – My mosquee is my cathedral
This is part of the 'Labland' DVD, released in 2005. It features over an hour of exclusive music from Modeselektor – a visual music album pioneering a tight combination of music, film & graphic design in mindboggling ways. Realized of course with a little help of the Pfadfinderei.
///
#6 Modeselektor – In Loving Memory
Oh yes, probably my favourite Modeselektor twelve all the way back from 2002 and still sounding wonderfully Fresh. And the budget video suits perfectly to the music!
///
#7 Modeselektor – Construction Desert
'Construction Desert' is track #4 from the "Labland" DVD. Visuals made of course by Pfadfinderei inna amazing cutting technique.
///
#8 Modeselektor – Suckerpin (Live in Prague)
Taken from our Elecronic Beats Festival coverage: Live at Lucerna Music Bar Prague, 07.12.2009 (Song taken from the album Happy Birthday!).
///
#9 Modeselektor – Hyper Hyper ft. Otto Von Schirach (Live in Miami)
'Hyper Hyper, the Scooter-aping pisstake featuring Otto von Schirach in which we found out what Scooter would have sounded if they were versed in musicology and had an ear for a good synth. Answer: Surprisingly good.
///
#10 Moderat – 6 Minuten Terrine
As you might know, Moderat is Modeselektor and Apparat's collaborative project, which is a dark mixture of glitch, minimal, and techno. Try the 6.Minuten.Terrine for lunch today…. delicious!