Kiss of The Whip: A Beginner's Guide to Prurient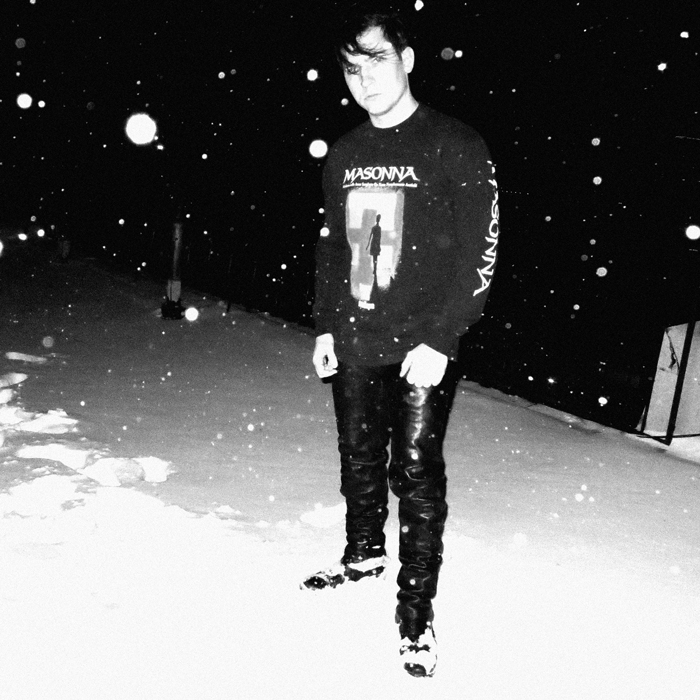 When I first moved to the West Coast, I spent a lot of time at weird, noisy shows. They were usually in someone's backyard, living room or wherever Don Bolles from Germs happened to be at the moment. As I poked at the edges of the industrial scene, eager for new and interesting sounds, the name Prurient started to come up more often. Eventually, I found a copy of 2002's blistering power electronics collage The History of Aids, and my mind fragmented into shards of glass. It felt like he was screaming at my soul. I liked it, but it wasn't until 2005's Black Vase that his rough aural sex found a lasting place inside me.
Prurient's beauty isn't readily apparent to those without a taste for the more depressing and difficult end of the musical spectrum. It isn't always the nice kind of beauty, and often you have to dig at it like a scab, pry it up until the wet rawness is visible. But when it is, when some particular element of production is uncovered, some mysterious fragment of lyric deciphered, it can open a constellation in your mind.
After the dance floor epiphany of 2013's Through The Window, Dominick Fernow proved that Prurient's sonic claws stretch further than previously imagined. His new album on Profound Lore, the monolithic double LP Frozen Niagara Falls, is certainly his most ambitious to date. Across 16 tracks and two records, Frozen Niagara Falls expands on what Fernow has shown so far—gorgeous ambient synths, rhythmic cacophony and various degrees of black metal epicness—and matures it, expanding these familiar aspects into something that approaches a definitive masterwork both graceful and obscene, and which you can stream in full below.
Browsing Fernow's extensive catalog and numerous monikers gives an idea of the mind behind them. The submissive, fetish-obsessed Exploring Jezebel, the noise-metal collaboration Ash Pool, the occult psychedelic mystery Rainforest Spiritual Enslavement and the militaristic techno project Vatican Shadow (which once performed at Ibiza with Richie Hawtin—I KNOW) are just a few of the ways Fernow spends his time when he's not running several labels, including his original imprint Hospital Productions. In this guide I'm focusing purely on Prurient and some of the project's most striking moments since 2005. It even comes with a megamix of every track featured here (with the exception of the Nico Vascellari collab, which I don't have) so you have some essential music to take with you to the gym or local luncheon.
"Sorry Robin" from Black Vase (Load, 2005)
"Sorry Robin," one of Prurient's first forays into more focused song structure, stands out amid Fernow's usual collage of power electronics. Rhythmic shards of noise punctuate tribal percussion before descending into walls of crackling distortion and harsh, chewed-up vocals.
"Apple Tree Victim" on Pleasure Ground (Load, 2006)
This highlight of Pleasure Ground is a churning, noisy dirge that builds on slow waves of distortion and blown-out, Carpenter-esque synths that lurk in the background. Once a trance-like state has set in, Fernow unleashes anguished screams about extinguishing lust and cruel final ejaculations. Recommended for weddings.
"Pipes and Water" on Lily of The Valley/Return of Happiness (Hospital Productions, 2007)
A sluggish, static-laden beat guides the way into this slow burner, a reflective piece that, while as the pulsing electronics remain fairly static, create a sense of growing unease thanks to Fernow's gruff spoken word. One of the more majestic early pieces, and a prelude to more ambient works.
"He Tied His Horse To A Tree" on The Golden Chamber (Hospital Productions, 2007)
Honestly, The Golden Chamber is filled with great tracks from beginning to end. It's one of the first occasions when Fernow allows the synths to shine through the layers of harshness, which illuminates moments of unmistakable beauty and adds a sense of grandeur to the aural monstrosities being birthed. "He Tied His Horse To A Tree," is pure evil, and evokes the grim realities of the militaristic machine with distant, echoing drums and inhuman vocals that snarl about the deaths of soldiers.
"Dog of Addiction/Cocaine Death" on Cocaine Death (Hospital Productions, 2007)
I'm including both of these cuts from this cassette and compilation CD together because they feel like sonic continuations of one another. Equal parts blown-out noise and the haunting synthwork that was becoming a Prurient staple, the shrieked selfish vitriol on "Cocaine Death" and slowly-spoken tale of what seems like unreciprocated love on "Dog of Addiction" make these two of Fernow's most emotional tracks. When he emphasizes the word "bound" on the first verse, the hatred in his voice is palpable.
"Memory Repeating" on And Still, Wanting (No Fun, 2008) and 7″ single (AA Records, 2006)
"Memory Repeating" is a full-on noise assault that allows tension to creep in via brief discordant guitar and a few moments of silence.  Slabs of bass nail them back down, tipped with knife-sharp feedback guaranteed to shatter the nerves of house fans when played at 5 a.m. (trust me). The piece's disorienting ferocity is offset by Fernow's almost delicate spoken word, which is mostly buried beneath the throbbing agony of sound that, at times, seems to scream. "It's hard to believe," Fernow intones in one of his few audible moments, "Only hours ago—I was laughing."
"Egyptian Bondage" on The Black Post Society (Cold Spring, 2008)
Despite the maelstroms of noise that form the majority of the compositions on The Black Post Society, on the whole it's a fairly meditative work. While the topics deal with death and S&M, it's channeled not through black metal growls but in a monotone processed voice speaking with the patience of glaciers.
"Spins The Worlds Wheel Again" on Rose Pillar (2009) and cassette (Hospital Productions, 2008)
There's a power to this ten-minute composition that Fernow has yet to top even in his most ambitious pieces. Much of Prurient's discography focuses on themes of destruction, but here we finally explore the loss that it brings. A heavy ache hangs over the Rose Pillar EP—named for the traditional Roman symbol for burial sites—and its accompanying collage of art and text written by Fernow's mother. Listening to it feels rather like dying. "Spins the Worlds Wheel Again" is the  centerpiece, and it's a true showcase of Fernow's own gift with words (as well as I can interpret them):
"Does one live on after it's over? Or is there some other way of existence? Or do only invisible traces of us remain written in the starry logs of the celestial orders? What does one do in paradise?" 
"Untitled 4" from Jesus (Hospital Productions, 2010)
"Untitled 4" was captured as part of a live performance with artist Nico Vascellari. It marshals walls of saw-edged oscillations around samples from Klaus Kinski's live show/standup performance Jesus Christ Erlöser, and the effect is something akin to an acid-addled and disillusioned preacher ranting into the collapsing skies as the world ends around him. A beautiful listen for Sunday picnics in the park.
"Palm Tree Corpse" on Bermuda Drain (Hydra Head, 2011) and cassette (Hospital Productions, 2009)
Bermuda Drain is a well-honed marriage of each aspect that Fernow had shown in his work to date. Harsh vocals and blasts of noise are backed with a clean production that allows the eerie synthwork of Kris Lapke's (of the wonderful Alberich) to dominate rather than lurk in the shadows. "Palm Tree Corpse" is one of the album's quieter moments—until the halfway point—yet its ostensible tranquility is counterbalanced with the horrifically psychotic spoken word. When Fernow finally erupts, the sudden explosiveness is shocking—but it's not, after what he's just said, surprising. Shoutout to the self-castrating Attis.

"Time's Arrow" on Times Arrow EP (Hydra Head, 2011)
Take away the vocals, and "Time's Arrow" could be a superior Vatican Shadow track. Clattering rhythmic percussion overlaid with woozy synths appear on "Time's Arrow," one of Fernow's more subtle tracks; rather than pushing extremities of sound and mood, it hovers ethereally like the lost soundtrack to a broken night. The stars seem like they went out long ago.
"Through The Window" on Through The Window (Blackest Ever Black, 2013)
Fernow goes full-on techno. This one pissed off a lot of noise purists, which is fantastic. I like the idea of transgressing a scene that was born out of a desire to break down imposed limitations in the first place—I've written about the phenomenon before—and besides, this so damn catchy. Unlike Vatican Shadow's instant hit-and-repeat method, however, here Fernow teases release at the end of a well-honed hook. On Through the Window, exquisitely textured synth pads arch over the thumping repetition of concrete-tinged bass and chunks of percussion, and the vocals here barely discernible whispers. No longer shrieking, Fernow is content to let the music be his voice—and it's as loud as ever.
 Daniel Jones has written extensively about Dominick Fernow. To see a full archive of EB's Fernow-related material, click here.
Electronic Beats Festival Budapest 2011 in review
A chilly autumnal evening in the centre of Budapest was the setting for the latest Electronic Beats festival, and a packed concert hall at Millenaris was as the ideal location for this international meeting of established and breaking talent from around Europe. As the hall began to fill there was a distinctive buzz ,as many knew they were in for something different from the norm and everyone knew that the sold out event would be one of the highlights of Budapest's musical calendar.
Local talents Realistic Crew represented the Hungarian music scene. Utilizing a mix of live acoustic and electronic music they showed their diverse influences, from broken beats, abstract hiphop and indie. Despite a slightly changed lineup from when they last appeared live, they performed with gusto and warmed the crowd up well.
After a brief break FM Belfast took the stage and really got the party going with their energetic and fun take on indie dance. By the end of their set, which they performed with enthusiasm and verve, the crowd was all hands in the air as they proceeded to strip to their shorts and vests and fire everyone up for the party ahead.
The explosve, raucous force of Does It Offend You, Yeah? took many by surprise as they drove their hard edged electro sound to the limit. With the power of a small tornado, they took us through a stirring rendition of recent material. While not to everyone's taste, they left an impression that no-one there will easily forget.
Next was one of the highlights of the evening; the long awaited return of Apparat to Hungary, with Apparat Live. The mournful, raw emotive energy of Sascha Ring and his band's performance truly moved the audience, and by the time they left the stage to rapturous applause, many young couples were in blissful harmony with the highlight for many being their performance of Rusty Nails.
Buraka Som Sistema was the finale of the live performances, and their unique angle on kuduru, best described as Euro-kuduru, with it's punchy bass really brought the house down. To finish they called a dozen girls on stage to dance as they entertained the crowd with their rousing vocal banter kept the audience going after a long but engaging evening.
With excellent DJ sets from local talents Crimson, Naga & Beta providing the fabric for this exciting tapestry of fine electronic music, this was an evening to be remembered. As the night drew to a close, they streets of Buda filled with excited, if slightly exhausted party goers.
Electronic Beats Festival Bratislava 2011 in review
Electronic Beats has just returned to Slovakia's capital for the third time, and it turned out better than ever! In the past two instalments the walls of Bratislava's clubs were shaken by rave legends Underworld and Prodigy – and the nightlife hungry masses rejoiced. This time, Bratislava was treated to concerts by Lamb, Apparat Band and WhoMadeWho, and a truly smashing afterparty following the live shows. And yes, the former YMCA building that houses the clubs MMC, Randal and Hopkirk in Bratislava's beautiful Old Town district served late night musical appetites until the early hours.
Slovak newcomers Dynamo Team, who's summer hit 'Roll the Dynamo' received much praise as well as rotation on radio FM4, opened up the night – and did so elegantly. Next up were Danish dance-punks WhoMadeWho, they hit MMC with their charismatic performance. And although they were the second act on the bill, they had everybody stomping, jumping and nodding their heads to the beat. By the end of their set, everybody came to realize just how much Danish disco rocks!
Shortly after Sascha Ring took the stage with his Apparat Band project with a set-list drew heavily from the latest Apparat album 'The Devil's Walk', which was released just two weeks prior to the show and received rave reviews from both critics and fans. Fans also got to hear a new version of 'Arcadia', from the 2007 album 'Walls', as well as the pivotal and ecstatic centrepiece of the set – a shoegazey post-rock re-work of 'Rusty Nails', that Apparat wrote together with his good friends, the mad scientists from Modeselektor.
Manchester based duo Lamb returned to Slovakia shortly after their latest but very successful show at the Bažant Pohoda festival this summer. This time however, Andy Barlow's and Lou Rhodes' tender vocals had a chance to resonate in a more intimate club setting. Lamb seem to have a loyal following here in Slovakia, and given that energy translates better in smaller venues, the connection between the band and their Slovak fans was truly unique even more evident.
The only thing that's left for us is to thank YOU the people, for making this a night to remember – as we're already looking forward to the next installment that has been already confirmed by T-Mobile. Follow Electronic Beats Slovakia on Facebook and Twitter to stay posted on festival news as well as more pictures and live videos from last night.