Editor's Choice 16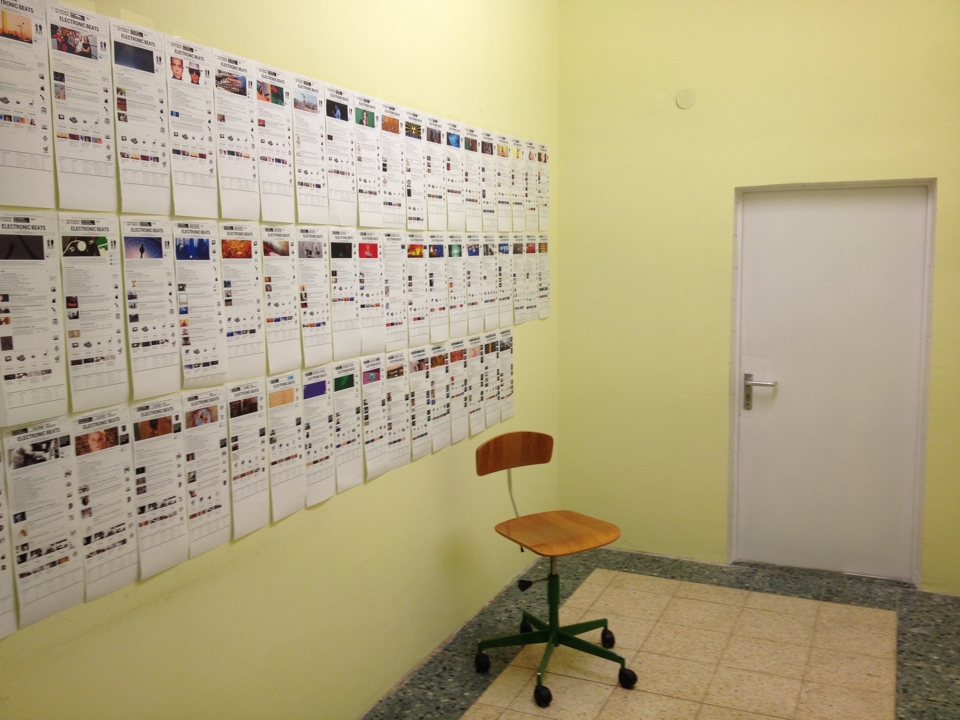 What's that? You want to know what's been going in our ears this week, reverberating our cochleas and sending broader vibrations throughout our bodies and by extension our audio-addled souls? That's a coincidence: here's this week's Editor's Choice.~ Photo: Michael Aniser
Michael Lutz (Duty Editor Electronic Beats Magazine)
Silent Servant – Negative Fascination
From the sleeve notes: "We are mutations of the modern age. Freedom is at will always and forever."
AJ Samuels (Senior Print Editor)
Vatican Shadow – Jordan Descent (Drvg Cvltvre Remix)
Slow acid tech-house remix of Dominick Fernow by Dutch producer DRVG CVLTVRE.
Terrence Dixon – The Auto Factory
Driving, grainy, intuitive, Detroit. Off Dixon's new double LP Far From The Future Pt. 2  (Tresor).
Louise Brailey (Editor)
Zomby – Devils
Yes, everyone's favourite tight fade-sporting Twitter provocateur has released a new track, for free. Short and relentless, it's jungle techno that sounds like it spurted from some toxic slipstream in the hardcore continuum.
Sam Willis – Foxglissandro
One half of Allez Allez and another half of Walls, Sam Willis is striking out on his own with his debut LP Winterval, released via Half Machine. By all means, use its new age pads a blissed-out arpeggios to repair the tear in your psychic hull caused by the track above.
Moritz Gayard (Online Duty Editor)
Kuhrye-oo – Give in (For the Fame) [Boody & Le1f Remix]
Kuhrye-oo is an offshoot of Gobble Gobble, here helmed solo by the Edmonton group's Calvin McElroy. Epic.
Bloksberg – Tækno
Their Soundcloud teaser text: But FUCK that. Bloksberg plays TÆKNO. Either you're cool and get it or you don't. It doesn't matter much anyway. BLOKSBERG rules, OK? Okay.
Welcome to our new short interview feature – 10 x 4. First up is Leeds' Ghosting Season perhaps best known until now as experimental drone outfit worriedaboutsatan. Exploring similar metaphysical feelings, the duo of Gavin Miller and Tom Ragsdale have coaxed their reverberating specters and misty half light out of the corners and into the club with a sound that is as much concerned with rhythm as it is with eerie atmospherics – no surprise then that they have recently supported both Shakleton and Apparat. With their debut EP – Far End of the Graveyard just about to drop, ghosting season is most definitely upon us.
Read on to find out if there is any madness behind their method and at the bottom of the page you will find an exclusive download of a Sam Willis (Snortex, Allez Allez, Walls) remix of the EP's title track.
Biggest break?
Tom – It has to be a recent gig offer we had – supporting Apparat at the Scala in London. For us, this isn't really a break for the band in terms of "let's sell more records", it's more of a 'Oh my god, we get to see Apparat AND play a gig'!
Favourite part of the day to create?
Tom 2- 4am always brings some great sounds out. It feels like you're out at a club too, so you start writing quickly and more spontaneously. You can really get the mood right.
Last musical love?
Tom – Has to be Sun Kil Moon's Admiral Fell Promises album. A real grower, but worth every second. It's not a recent album or anything, but then again why does it have to be? Old music is just as good as new music, and I think a lot of the older sounds are unfairly forgotten about. Basic Channel, Chain Reaction, Deftones – it ALL still sounds amazing.
Favourite instrument?
Tom – I love my guitars. I have lots of them ranging from 12 strings, to flamenco. Classical guitar was my first instrument. When I heard 'Asturias' by Isaac Albéniz I knew that was it for me. It's an incredibly difficult piece to play though.
A place to create?
Tom – We're old skool in that we like to jam, so getting a room for four or five hours straight is a lot of fun. I think that's what a lot of electronic musicians are missing – the band element. It was great for some people but you can tell when an act is feeling isolated and uncomfortable on stage. They need to go nuts for a few hours and then have burgers together.
Favourite Tumblr?
Gavin – Gotta be hipsterpuppies.tumblr.com – amazing stuff.
First musical love?
Gavin – Ahh, well the first real band I absolutely loved was REM. They led me on to other amazing music when I got older – Radiohead, dEUS, etc. but when I was young, I absolutely loved them. Maybe it was because all their albums sounded completely different – the fun pop of Green against the dirty grunge of Monster, for example. I used to collect all their albums on cassette, as I had an old hi-fi that didn't have a CD player, and even though I didn't really understand some of their songs, I'd still faithfully track down all their albums, even the not-so-good stuff. Their early stuff is really quite odd as well – you'd have these really scuzzy post punk tunes sat next to really bittersweet country numbers, and their harmonies and sense of melody are just amazing too. I still rate Murmur as one of my favourite albums – it has this really cold, desolate feel, but at the same time feels quite homely and warm. It's very tough to describe! You can totally picture them making it too- a young, awkward rock band in 80's America wanting to just play some tunes.
Secret tip?
Gavin – Stay humble. No-one likes a smartarse.
Eureka moment?
Gavin – Years ago, I used to mess about on music making software, just to sketch demos out for the band I was in at the time. I think a great eureka moment came when I thought "hang on, these aren't really band songs anymore" and I decided to start worriedaboutsatan – the other band we do. It was funny, I think I'd subconsciously been making these songs fit a more electronic template than a band one, and then one day I listened back to the demos and thought "these are something totally new… this is something else" and so I started this little project, just collecting the random doodles I had stored on my hard drive. I showed them to Tom at his house one day, and we decided to do it as a duo as he could produce a lot better, and he had way more equipment!
Method or madness?
Gavin – Madness is a big part of what we do I think! In a sense that when we're writing, nothing much makes sense. I didn't have any musical training or anything, so didn't really know which notes went where, or what keys work together. Of course, that can lead to some absolutely unlistenable crap, but sometimes you'll get that one little flash of inspiration, just because you never learned what's supposed to go where! Tom's really good at the theory side of things, so can work out easily what I'm trying to get across a lot of the time – I'm terrible at that sort of stuff, but sometimes it comes in handy when you can strip all that stuff away and just try something out.
Ghosting Season – Far End of the Graveyard (Sam Willis's Death May Die remix) by Electronic Beats
Snoretex is the brainchild of Sam Willis – one half of Walls and one half of cult blog Allez Allez. As Snoretex he has released just a clutch of singles but his dreamy multi-layered soundscapes are infused with atmospheres and textures that touch the cornerstones of all that is wistful with unique, timeless quality.
A remix request from Ben Watt for a Tracey Thorn track led to Watt's cult house label Buzzin' Fly releasing his latest effort the sublime 'Strange Aeons' – a left turn in to gentler, alternative climes for the London based house label.
With the music Sam makes as Snoretex being a daily enjoyment of mine for some time now, I had to find out some more.
Hey Sam – firstly tell me how did Snortex start?
Coming off the back of the Walls album I felt really inspired to start a new project. I think writing the album with Alessio (Natalizia) really helped crystallise in my head what I wanted to do musically – I feel that my sound is a lot more honed in.
How is it different to your other project Walls?
The key difference really is that it's just 100% me. When I do Walls stuff with Alessio, it really is 50/50 – we bring our own tastes and personalities to the table and that's why it sounds like it does…It's nice in a way to be in total control, but at the same time it's a much easier process collaborating as if one of you can only take an idea so far, the other can come in and pick up the baton.
What are you trying to say that's different, musically with Snoretex?
I think just to be true to my sense of melody, atmosphere and texture. I find the endless possibilities when embarking on writing a new track a really exciting experience.
What is the inspiration behind the Snoretex sound?
I never really write music consciously. For better or for worse, it's kind of like day dreaming for me – I've always been drawn to an uplifting but melancholic sound and I find it best to leave these things open ended as it allows the listener to bring their own interpretation to what they're hearing.
How did the hook up with Buzzin' Fly come about?- a lot of Snoretex stuff is not very clubby (but its very lovely!)
Ben Watt approached us to do a Walls remix for Tracey Thorn which we absolutely loved working on. She has an incredible voice and it was really inspiring to work with – we came up with something which after the fact perhaps has shades of early Massive Attack? Anyway both Tracey and Ben liked it, and I've just kept in touch with him since then really. He got back to me quite quickly when I sent him 'Strange Aeons' and asked if I'd be interested in releasing it on Buzzin' Fly.
How do you approach recording as Snoretex? The sound is very textural
I definitely can't help but add lots of layers, much as with the Walls stuff – I'd agree that I have an obsession with texture. I guess it's an attempt to try and give the music a physicality and grounding in reality – I use a fair amount of analogue hardware as part of the process, but adding in some pitch bend and vinyl crackle always help to warm things up even more!
Do you have plans for an album?
I'd definitely like to – I have numerous sketches that I need to finish up. I definitely feel like my sound is perhaps more orientated to the album form, rather than the single, but we'll see. I'm working on some more up-tempo bits and pieces also, so don't be surprised to hear some heavier sounding stuff down the line!
Are you performing live?
Yes, it's really fun, to essentially jam on stage. It's frustrating not to be able to bring all of my equipment with me, but I make do!
How is your blog Allez Allez going?
Great! Steve and I now do a regular podcast for Bleep.com in addition to our regular weekly one from allez-allez Steve's also working on his own original music, so watch this space for more news on that!
What's your favourite record this week?
It's pretty much always Pop by Gas – an ambient techno album by Kompakt founder Wolfgang Voigt under his Gas alias. I've actually just performed a Walls solo ambient show with him (+ Jorg Burger and The Field) last Sunday as part of Ether Festival which is pretty damn exciting!
And finally. What's the best seven inch you own?
Probably my Soft Machine 'Soft Space' 7". It's kind of obscure for them – basically a long cosmic arpeggiated synth jam that's so long they had to split into two parts!
Strange Aeons is available now on Buzzin' Fly. You can check out Sam's Soundcloud with lots of free stuff to download here.