The Book's Cover: Sean Bowie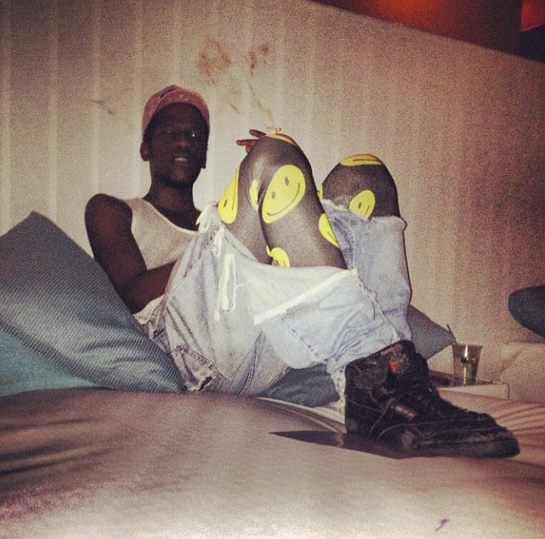 Every time I hear the phrase "Don't judge a book by its cover" I cringe.
Though well-meaning, as an idiom it stopped making sense when most books (and people) ceased to be covered by whatever old piece of brown sacking happened to be laying outside the village weaver's hut. Of course you can judge something by surface appearance. That's why we have graphic designers. Rarely do people have time to read a book before purchasing to determine the contents; in the same way, who has the chance to read a person before having any thoughts on the subject? True, the contents are the most important things, but what makes you discover those contents in the first place? Your eyes; your sense of aesthetics. A good cover speaks volumes, and The Book's Cover gives voice to those who wear theirs well.
Sean Bowie is a man of many talents, both audible and visual. Aside from his advanced fashion powers, he's been crafting a brittle-sweet brand of disco-tinged electronic weirdness under the guise of teams for a couple years now, landing a spot on the equally and delightfully odd Czech label AMDISCS and touring around the world. I'm honestly never quite certain when and where he'll pop up, though rumor has it he's forsaken his current home of Los Angeles for my current home of Berlin. His upcoming album Sierra City Center (a demo of which you can preview at the bottom of this piece) is a completely new direction for Bowie; the strange electronics are still present, but with a psychedelic, surf rock-inspired flavor. Life in LA definitely has that effect on people. What's Sean's ideal cover? Let's find out.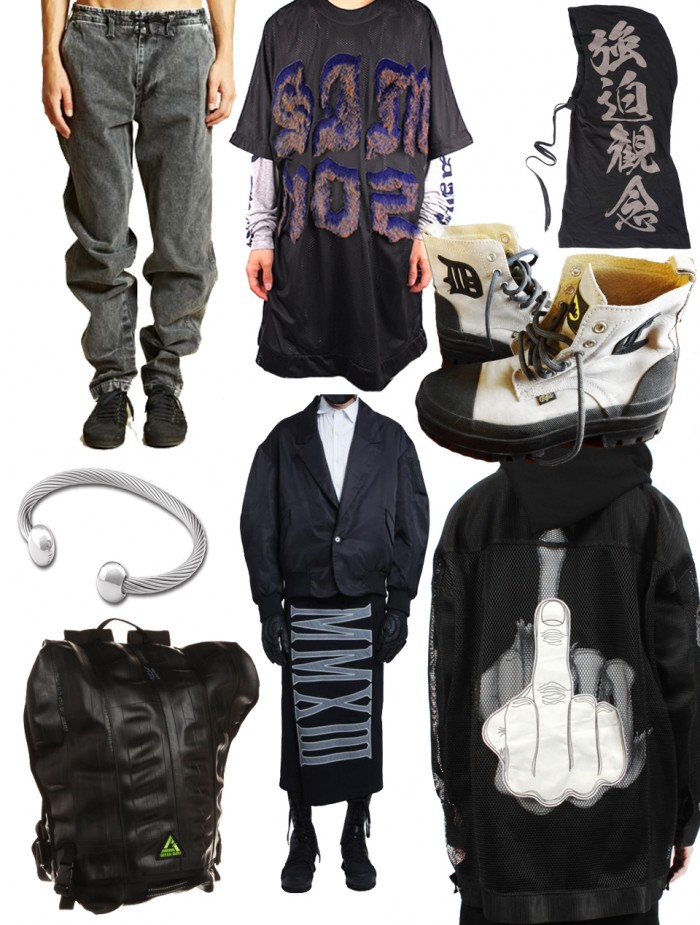 1. Yohji Yamamoto Men's Pre-Washed Jeans
2. Shaun Sampson t-shirt
3. Bernhard Willhelm hat
4. Buffalo boots
5. Daniel Palillo Finger jacket
6. KTZ AW 13/14 skirt
7. Q-Ray magnetic bracelet
8. Green Guru Gear Ruckus Bike Tube Backpack
Photo: Miller Rodriguez / PrettyPuke
Michael's Choice: January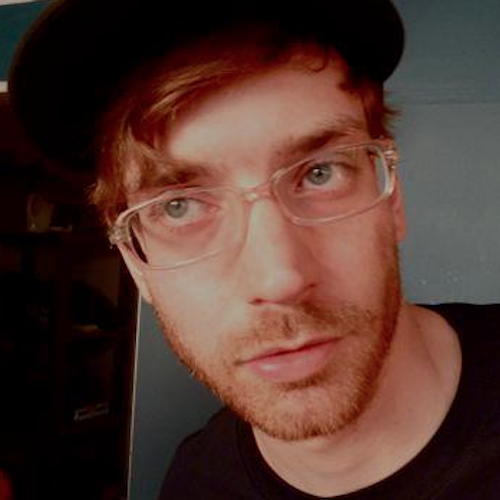 Just a few days ago I did my 2012 Editor's Picks and of course forgot a lot of interesting and important things that should have gone on there. Here I'll focus more on what's to come in 2013. Last year we've seen an eruption of what was called underground or experimental music into a more widely accepted realm of music. All the heads that where usually gathered in obscure basements juggling loop-tapes and industrial beats on shitty PAs and facing a grim looking audience are now dominating year end lists and headlining festivals. Way to go, I say. It's not "just" Pan, Blackest Ever Black or L.I.E.S., this year we will see an even more diverse rise of small-scale, DIY or personally curated labels.
Here is some stuff I bookmarked and listened to in the last week.
Toro y Moi – Talamak (Shisa Chopped n Screwed)
Do you remember Toro y Moi? Yes, that guy who kind of invented chillwave back in the day and now is already  considered retro. Up and coming producer Shisa, who we will hear a lot about this year, took the genre defining track "Talamak" and just chopped'n'screwed it—another 2010 thing. This surprisingly adds up to something really exciting.
Teams – OneWorld開発
Sean Bowie aka Teams has a new album OneWorld開発  which will be released in February and this is the teaser. I'm very excited as I've been following Teams for quite a while now. Teams will also play at my birthday party later this month, drop by if you are in town.
Marie Dior – Euphrates
If you followed that link to my party you might have read that name on the bill already. Last year Marie Dior released the album Encore Again Encore, that merged post-everything weirdness with an almost romantic new age ease to build up towards something yet to be named. Let's listen again in anticipation to what there is to come on the newly announced album Euphrates:
Another thing that will change the world in 2013 for sure is OkFocus' latest invention: Soundclouddj.com, finally I can stop using Youtube to DJ.~
Photo: "Me and the Picasso I bought from Ikea (2012)"
Teams, aka Sean Bowie has a new track called 'Mile High'. Taking a clutch of loops from an indeterminate boogie-house jam, he gets stuck into distorting, filtering and generally messin' with them to create a sub aquatic dance-floor workout that that sounds like the soundtrack to a particularly pleasing form of mental illness. Or a broken heart, or something. It's good. And in related Teams news keep your eyes over the coming months, because according to Bowie's FB page, he has two new albums arriving this winter. Check out 'Mile High' below;