10 x 4 – UMA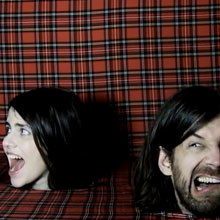 If you read our weekly column Videodrome regularly, you've probably come across UMA's new video for 'Wild At Heart'. It's from their first EP Drop your Soul and is worth checking again. Go on, do it. It's a great piece of art, self-directed by Ella and Florian Zwietnig, the married couple behind UMA. Right now they're spending two weeks in Carinthia, Austria, working on their debut album which is scheduled for early 2012 and available on Seayou Records (as is Drop your Soul). We met Ella last weekend during a quick stop in Vienna to throw a few questions from our 10 x 4 interview series at her. Oh, and in case you're wondering what her favorite song from Channel Orange might be, it's 'Bad Religion.'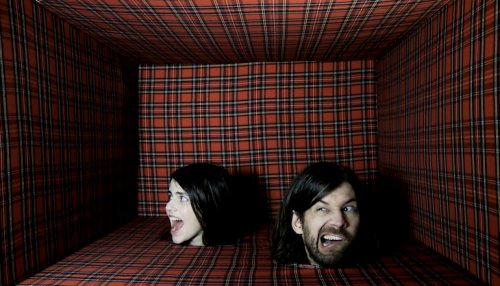 1. If you were still in high school, which clique would you belong to?
I'd be probably part of the reading group that eventually goes to concerts to get drunk secretly and then make out with each other.
2. What goes in your coffee?
Soy milk.
3. What defines your music-making process?
Lots of sleep during the night, then during the daytime I whirl around books and song sketches and try to not get too confused. Then some swimming, and then sleep again
4.Tell us what you think of this song
It's alright, not my favourite on the album though!
5. Name three essential artists.
At the moment it's writers for me: Ingeborg Bachmann, Thomas Bernhard, Gertrude Stein
6. Indispensable outfit?
My black leather Detroit baseball cap
7. A film or book that greatly influenced your music?
Twin Peaks
8. Your current favorite song?
Liars – 'No. 1 Against the Rush'.
9. Raging or chilling out?
Chill!
10. Together, or alone?
Together and alone I guess.
Anbuley actually lives in Austria
It really feels great listening to music that expands your horizons, but comes with neither the awful smell of incense sticks nor the seemingly omnipresent Diplo. Lucky for us, this is exactly what you can expect when listening to Vienna-born (but rooted in Ghana) artist Anbuley.
She's already put out her second EP, released under Viennese Indie label Seayou Records, titled Kemo' Yoo Keke. It's not the sound you would expect from Ilias and his guys, considering their preference for Indie-Guitar-bands, but they've once again made a point of having unique and exquisite taste for new artists. Anbuley's sound can be best described as a mixture of world music – which means, in this case, African beats – and European dance music. I'm sure you're wondering how in the world those two can be put together to make fun, cool music, and the best way to soothe your doubts is also the simplest: go out and listen to it for yourself. The proof's all there.