Audioccult Vol. 40: The Boy and the Maiden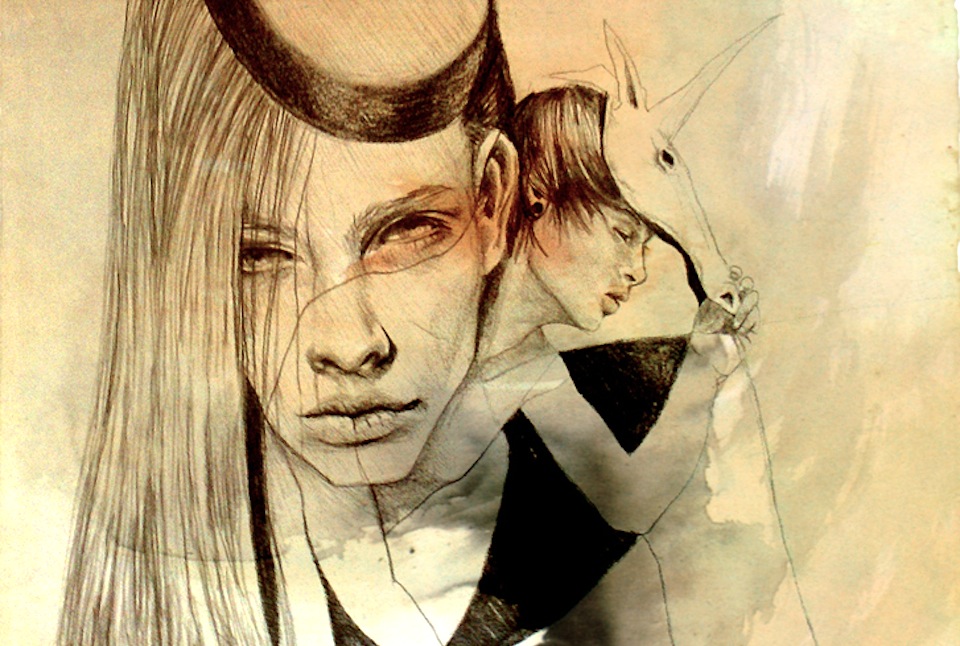 Light a candle. Draw the required sigils. Now, raise your arms above your head and slowly, gently, exhale your soul. You won't need it here. This is Audioccult, and it's time to get low. Illustration: Simone Klimmeck
In the Gray Lands there lived a boy. He was neither handsome nor homely, solemn nor bold to laughter; in some respects he was as gray as the home he had adopted for his own, though his work as an artificer of non-physical sound and imagery had won him a certain level of admiration. His love was a maiden who was as gray as he. By day she was his constant companion; by night her glow would bathe him, for she often slept beside him. "How kind you are to me!" he would say. "How clever I am when I am near you!"
Though he took pleasure in his work, in his soul he was not content: his bien-etre was that of the opium addict, one of illusion and reality reconceptualization. He had used the maiden to develop one particular skill at the expense of others, and begun to be lost in her. "Make life to me!" she would cry, and he would obey. "How clever you are" she would say to him as he lay drained of his spiritual seed. "I better you" he heard her whisper, though "I beggar you" was what she truly said.
This stagnation of self soon became axiomatic without apparent resolution; the boy was no fool. There were other distractions, however, some real and some created by the boy as blockade against progression (for one can be aware of facts without confronting them). Content to gild himself in overly-poeticized prose and aestheticized anesthetica, he was startled one morning by his own reflection. His body had weakened. His hands shook with the palsy of one far older. "How tired I feel. How cold." He tried to write and could not. He tried to speak and found his words were as pale as he. Reflected in the mirror, the maiden glowed on his bed with a light that hurt his eyes.
Videodrome #64 – This week's best videos
(Note: some of the videos in this post are not available in Germany. You'll figure it out. – Ed.)
With our normal Videodrome host Moritz engaged with more pressing business, it falls to me to deliver your A/V materials for the week. Sweet for you but extra work for this busy buff bro. That's why I"ll be posting about whatever the video is while I do sick reps and curls and pound my quads, lats, and biceps into hard, deadly diamonds. Will you be my spotter? Be gentle…
1. Xiu Xiu – Born To Suffer
You might remember director Adriana Alba from her previous work with, for example, R. Stevie Moore and Gary War. Now she returns to direct the latest bit of pixellated pleasure from Xiu Xiu. Ughhh my pecs look so cool and sweaty.
2. Bestial Mouths – Live at HOLLOW Fundraiser 
God I love these kids…almost as much as I like curling these irons and adding bulk to my gross weird body. If I'd been at this fundraiser for HOLLOW it would have been a disaster (for them) because everyone would just be touching my arms and begging me to lift them with a shrug and Michelle would feel bad for rejecting me.
3. Gucci Mane (feat. Jim Jones) – Kansas
I've been to Kansas and I don't think it's anything to make rap songs about. Shame on Gucci Mane.
4. Virgin Blood – Cupidity
Portland-based drone-pop project that will make fans of Grouper and U.S. Girls salivate. If you haven't checked out (for free, if you want) her new album, I highly suggest you do. *flexes meaningfully + sexily*
5. Beth Jeans Houghton and The Hooves of Destiny – Dodecahedron
Off their upcoming Mute debut. Really nice to look at, and the fact that it's called 'Dodecahedron' makes me pretty damn happy.
6. Nightmare Fortress – Hang You On The Wall
My fave track of their Sweating Tapes EP Until The Air Runs Out. Goth done right; take it from the gothest jock in the gym #stretched1334tats #athleticboots
7. SpaceGhostPurrp – 4AD Sessions
Purrp's claustrophobic beats, plenty of fog, and a dimly-lit gray void. Sounds like my room after work, only way less erotic.
8. Diva Dompe – Wanna Get To Know You
LA artists can pretty OD with all the woozy, blurry lo-fi videos, but when it comes to Dompe I usually forgive.
9. Skum Star – Untitled
This new project already made an appearance in yesterday's Audioccult, but it's really worth a second look (and listen!). And it's long.
10. Mykki Blanco – Wavvy
This Brenmar-produced cut makes me want to go to bed! But not to sleep. Exercise your lower muscles with this one.
Audioccult Vol. 19: The Beat of The Law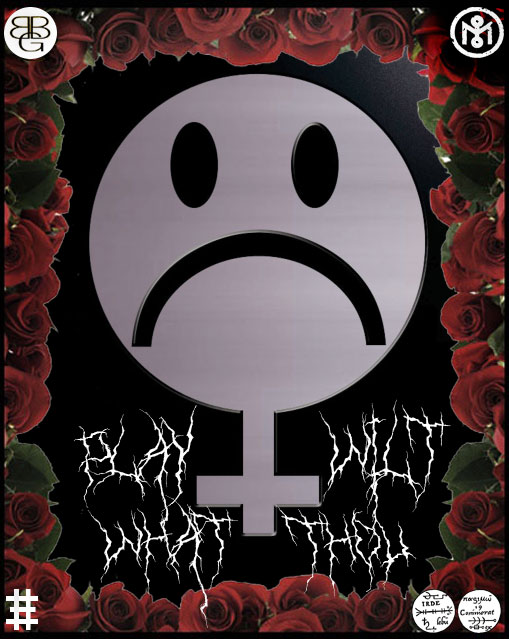 Light a candle. Draw the required sigils. Now, raise your arms above your head and slowly, gently, exhale your soul. You won't need it here. This is Audioccult, and it's time to get low.
With no PURGE to bend my thoughts to, and freely entombed by rising heat, I find myself withdrawing into a realm of icy sounds, icy smoke, and icy chains (for my icy game). The newest CVLT Nation mixtape Blackened Everything vol. VII, for example, is keeping my mind grimly frosted with raw black metal and crust via Black Breath, Church Whip, and a bunch of other shit I haven't really heard before (just got fixated on Gnaw Their Tongues and Bone Awl and kinda hung out there) but am furiously downloading/tape-finding. Perhaps they'll pop up in a future mixtape from myself, although hey, I just dropped one. Collecting the intensity of PURGE with my other collaborative post-goth party #gHashtag, it's a combination of culturally contrasting sounds and blendings of old and new: Virgin Prunes meet Sinister Souls, Dead Can Dance and Rihanna sit side by side, and Sunn O))) is twerked into dance music. You'll like it, maybe… play what thou wilt.
In a slightly more calmer vein is the soundtrack to the 1970 Czech film Valerie a týden divů, which a friend recently passed me and which I subsequently became obsessed with. Composed by Luboš Fišer, it's at times soothing, but more often spellbindingly eerie, if somewhat less subtle than other favored soundtracks (but really, what can compare with Suspiria?). You can play the entire soundtrack here.
My boy Triple Six Sound Club just dropped his debut EP The War to Own The Internet, and you should be picking that up any second now. Sinister club is extremely my shit, nobody's owning my ears right now more than Triple Six. Well….maybe Total Freedom, actually. Ashland doesn't release nearly as often as I wish he would, but whenever he does it's a day for celebration. Even when it's a collection of older tracks, seven of which he just posted on his Soundcloud. They're all worth a download but the Bok Bok remix is my favorite. This dude and House of LaDosha need to get on those debuts already. I'm dying.
There were an excessive amount of good videos as well recently, including ones from Clams Casino, U.S. Girls (her poppiest yet; haven't decided if I like it), and SpaceGhostPurrp. My favorite, however, is a new discovery: Skumstar, who is also apparently the sound guy for LA party Lil Death. The video is actually a film with three songs tying it together, and it's very aesthetically pleasing. When the bass kicked in I painted my bong black and named it Rick Blowens.
A few days ago, some construction men came into the EB office. They set up a huge drill, and warned everyone that they would be making some extremely loud sounds. As they penetrated and hammered the concrete floor, my colleagues put on headphones or held their hands over their ears, expressing annoyance and discomfort. I had to restrain myself from standing nearby and rocking back and forth with my arms crossed. I do wish I could book them for a party, though. They sounded a bit like SHIFT, who I found via my friend Andy Black Forest. 'Hope & Massacre part 1' comes off a cassette titled Nyrkki & Kyrpä Vol. III, a series of noise and power electronics releases that are making me very happy and those sitting nearest to me very annoyed. I suppose I'm kind of a bad ass rebel, huh? Sorry, gramps, me and my noise and my new Ash Borer LP are going to sit on this side of the train, so I can see how freaked out and messed up you are by my weird music and skinny jeans and hyper-sexual libido. What's that, old man? You're a human being with thoughts and ideas and general sense of being just as relevant as mine and I actually avoid mirrors so I can't see how insufferable I usually look? Fucked up if true. Macbook Pro.