An Insider's Guide to Barcelona Parties During Sónar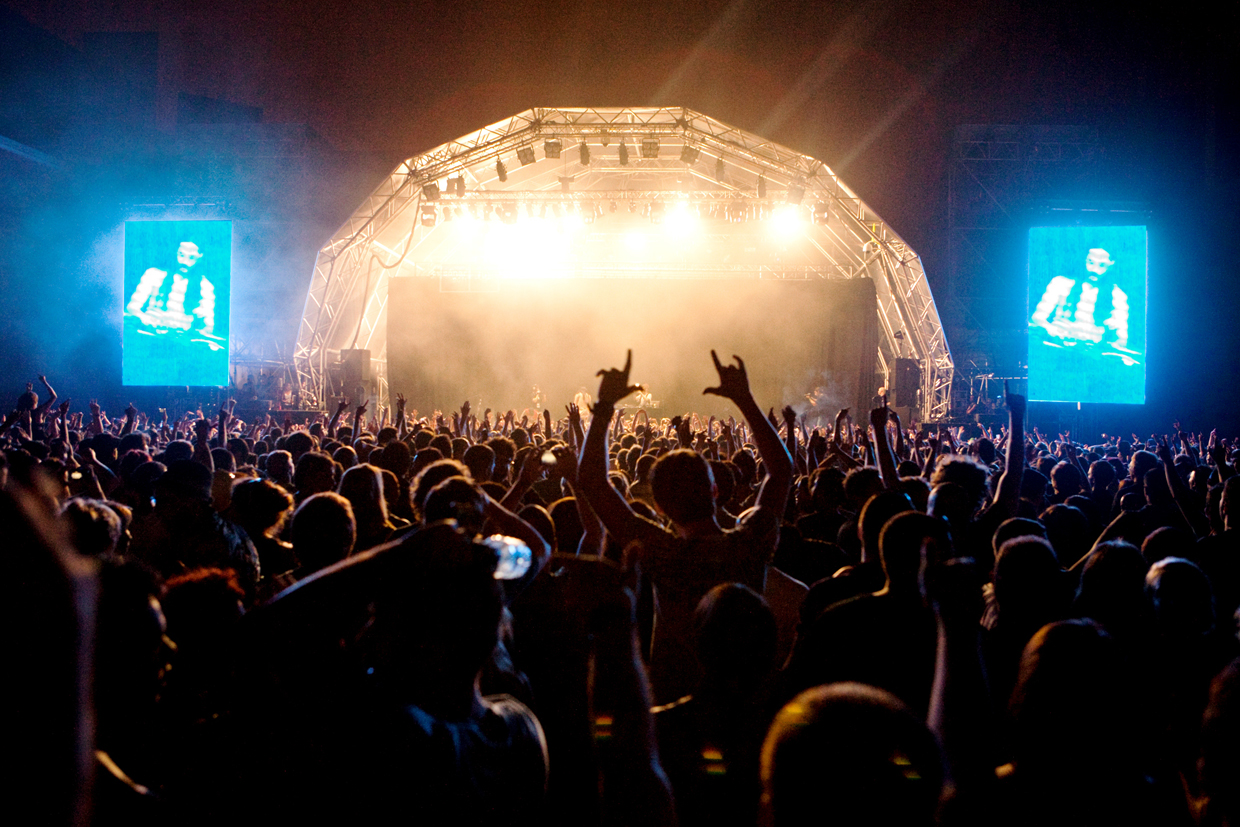 Barcelona's Sónar Festival has become one of the biggest electronic music festivals in the world.
Much like Movement in Detroit, it's also spawned a network of unaffiliated "Off- Sónar" parties around the three day, two-night event. Before diving into the fray, we enlisted veteran DJ and local favorite Marc Piñol, a longstanding resident at Nitsa and an ally of John Talabot's Hivern Discs label, to pick some of the week's standout events. Here are nine parties where he's most likely to be in the crowd if he's not in the booth.
The Hivern Discs party is the first one I'm going to attend because I'll be playing some records during the warm-up. The venue, El Monasterio, is a lovely place at the top of Barcelona's Montjuic mountain. John Talabot, Joy Orbison and Barnt will DJ, and Genius of Time member Dorisburg will play live. I've been looking forward to seeing him since I heard some of his new music for Hivern, which is seriously next-level stuff. Last but not least, a very special guest will made an appearance onstage around 21:30, but that's as much as I can say.
This party has a monster line-up that includes Rødhåd, the Zenker Brothers, Vril, Stenny, Konstantin, Recondite, Marcus Worgull and RNDM. It's always exciting to have some Giegling artists playing in Barcelona, since it's one of my favorite labels, and of course I couldn't be more excited about Vril's live set. His album Torus is one of my favorite techno LPs of the last years, and I'm digging his new album on Delsin too.
Thursday @ SonarHall: Lee Gamble (15:30) and Autechre (20:30)
If I had to choose just a couple of names from this year's Sónar Day line-up, I would choose Lee Gamble and Autechre. Both of them are very important to me, and it's really interesting to see these kind of live sets during the day, especially with my friends around. It makes me fondly recall when Sónar was just a small festival and people were a bit more open-minded. I miss the more experimental parties in the Off-Sónar schedule, but I guess people aren't coming to Barcelona for that.
My favorite venue in Barcelona—the place where I grew up, musically speaking—will host a Numbers and Optimo special showcase. Numbers bosses Jackmaster and Spencer will play alongside JD Twitch, JG Wilkes, Lory D and a joint performance from Adesse Versions and Kornél Kovács will play during the night. I'm really excited to see Optimo again and very intrigued about the Lory D set. I've always been a very big fan of his early releases, and he's one of the producers that made me realize I wanted to dedicate my life to music when I was in my early teens.
Daniel Bell, Mike Huckaby and Thomas Melchior. Enough said.
Friday @ SonarCar 22:00: Carreno is LB, Powell, Paranoid London, Randomer and Helena Hauff
Carreno is LB, Powell, Paranoid London, Randomer and Helena Hauff are playing on one stage in that order. That's probably gonna hurt a lot. Like everyone, I really want to see Powell, and if I still have some energy left, I would like to see them all. Carreno is LB comes from the Canary Islands and plays a very dark electro, Paranoid London is my favorite acid project right now, Randomer is simply a beast and Helena Hauff released my favorite tape of the year, A Tape, on Handmade Birds.
This is probably one of the most solid line-ups of the entire off-Sónar week. It features Actress, Function, Mix Mup, Pariah, Christopher Rau, Florian Kupfer, Huerco S, Route 8, Asquith and Edward, among many others.
Surgeon, Moritz Von Oswald and DJ Deep. Another killer line-up at the Almogavers 86 club.
If seeing Marcellus Pittman, Ron Morelli, Makam, Steve Rachmad and Shed is not enough to excite you, consider that the sets will take place at Vetro Club, which is one of the best-kept secrets in Barcelona. It's not easy to find the place, but once there you have an amazing view of the Tibidabo mountain. The funny thing is that, during the rest of the year, it's one of Barcelona's most posh clubs in Barcelona, so Morelli has license to be as weird as he can be in order to offset the bad karma.
Live Report: Electronic Beats presents 20 Years of Kompakt at Sónar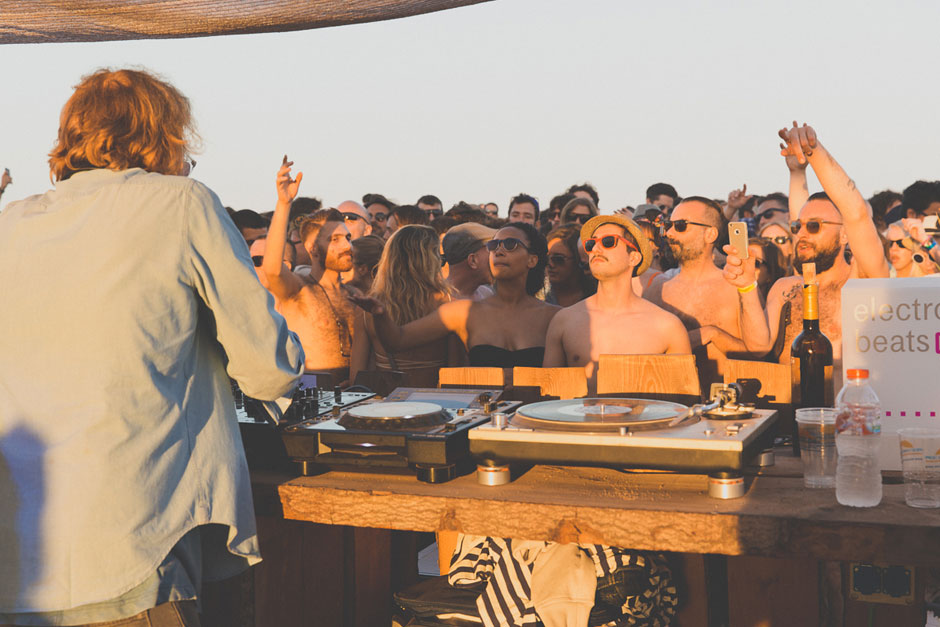 The world-renowned Kompakt label celebrated its 20th year anniversary with its annual beach party following the 20th Sónar Festival.
Following his own performance at Sónar, Nick Wilson—aka Mr Beatnick—reports from the shores of Barcelona. All photos by Richard Luerzer.
Sunday post-Sónar is traditionally a day to reflect on the events of the weekend, a good time to unwind on the beach and take stock of a hectic few days of music, food, and 24/7 partying. This year was filled with firsts for the 20 year old festival—a new day time venue, which despite initial concerns proved a winning, and much larger space to enjoy the likes of Fatima Al Qadiri and Matthew Herbert under the beating sunshine. Similarly, the lineup boasted a score of debuts, and for the first time embraced the dominance of EDM in the form of Skrillex and Diplo, as much as the era-defining sound of Kraftwerk and the London bass weight of Oneman and Skream.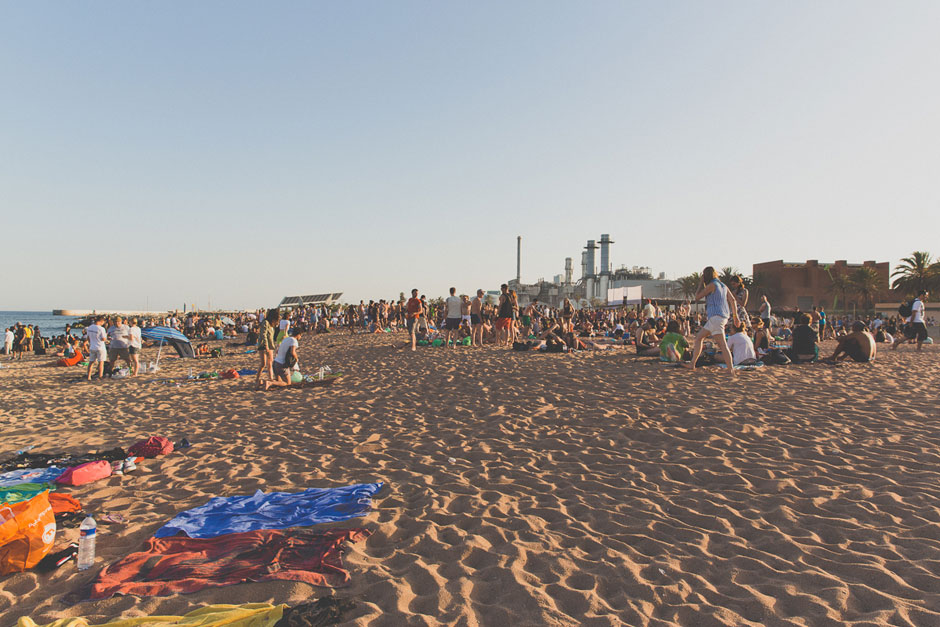 The Kompakt party has existed off-Sónar for a decade—and off-Sónar is just as important to the Sónar experience as the official event itself—but this year also embraced a change for these Cologne stalwarts, with a beautiful setting in the form of Mochima Bar on a secluded beach far from the city center. Framed by two enormous industrial towers and flanked with rows of palm trees, it proved the perfect setting for this family of producers to celebrate 20 years of their uniquely earthy, home-grown take on techno.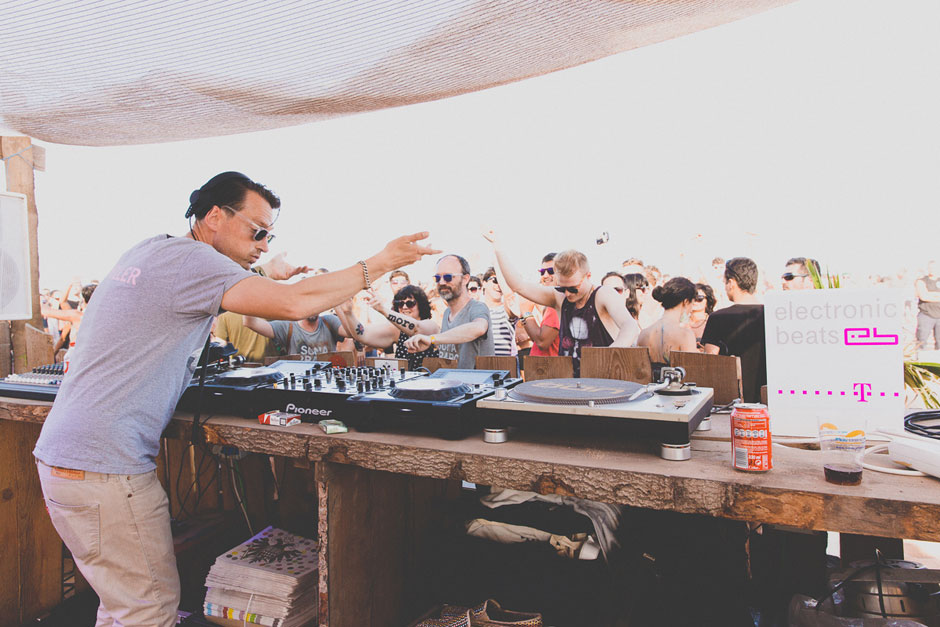 Terranova
Without getting too salacious, clothing was pretty much optional at this point in the weekend, and the majority of revellers were as stripped down and free flowing as the sounds! Opening DJ Terranova set the tone early on with Inner City's inimitable "Ahnongay", and as the crowds began to swell from hundreds of horizontal sun-worshippers to a thousand dancing ravers, the baton passed seamlessly to dancefloor favorites the Pachango Boys, who began with a selection of suitably Balearic, Italo disco favorites, and peaked the proceedings with a minimal, stop-start take on Micheal Jackson's "Billie Jean".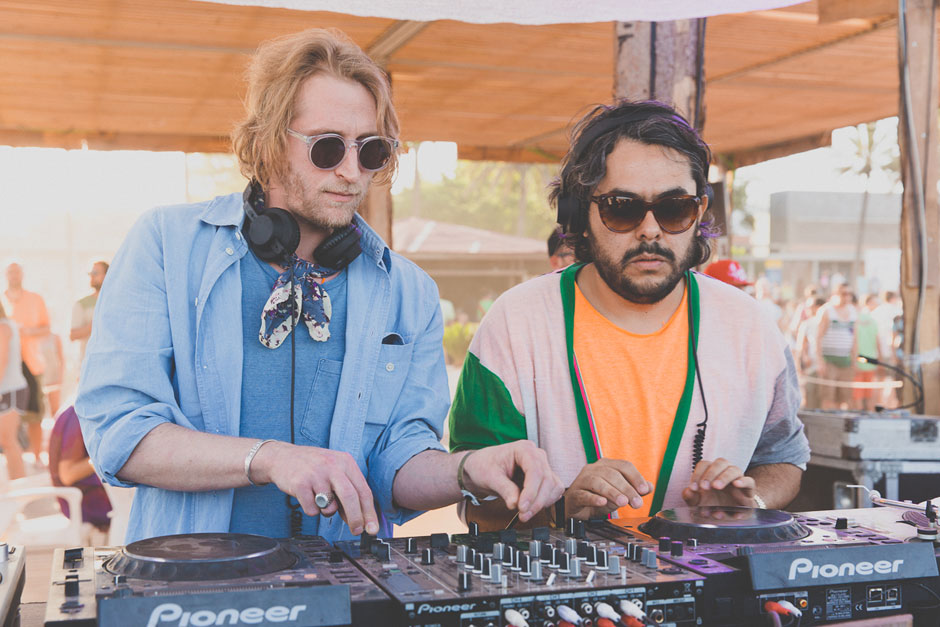 Pachanga Boys
As the sun began to set, the sky gradually turned turquoise, and slowly darkened, soundtracked to Kompakt classics by the likes of , Justus Köhncke, Jürgen Paape, and Superpitcher. Under the cover of darkness, headliners Micheal Mayer and DJ Koze brought the party to a thunderous conclusion, with a pounding selection of favorites that had ravers stage diving headfirst off each others shoulders into the densely packed crowd. As one young man remarked to me in the early hours of the morning, "This party shows you why Sónar is the best festival in the world—it's about the state of mind." ~
You can view more photos here.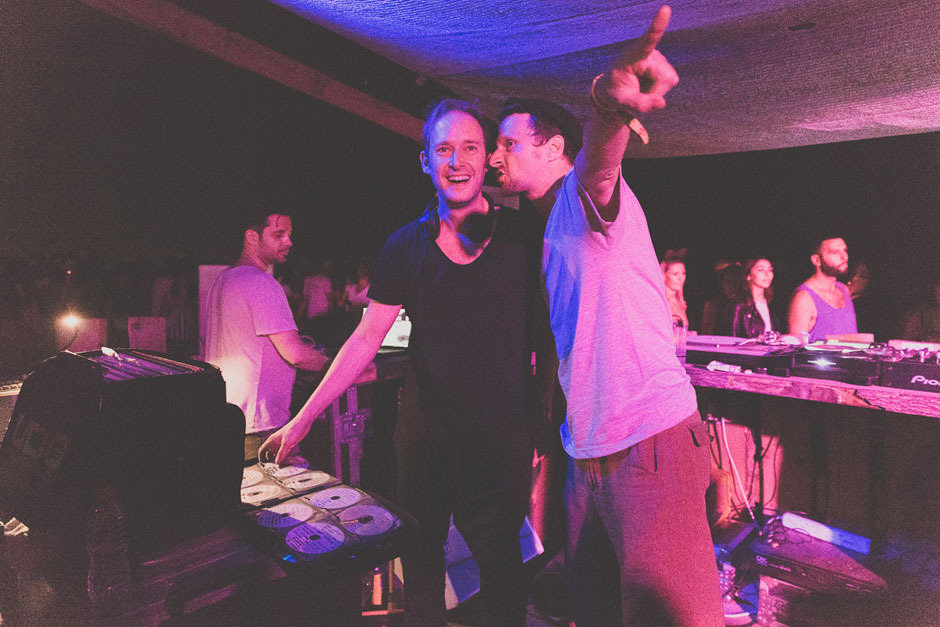 Michael Mayer (left) and DJ Koze (right)
EB Listening: Kate Wax – Dust Collision exclusive stream + Interview
Kate Wax aka Aisha Devi Enz, is a Swiss-born, half-Tibetan Über talented producer, singer and performer who has just released an album on Border Community, the (almost) anything goes label from James Holden. Dust Collision is a natural fit for the label, with freak-out noir electronics and Wax's narcotically soulful voice guiding you through dreamy, hazy universes of sound where post-gothic torch songs morphing into tense EBM soul. The album was also Inspired by the Large Hadron Collider where her Grandfather once worked and themes of collision permeate the record. You can stream the whole album, exclusively on Electronic Beats, below. Hit play and read the interview with that follows.
Hey Kate, for our readers who may not have met you before, please can you introduce yourself?
Bonjour, I'm a modern hermit that doesn't fit in this world. I sometimes see ghosts and get harassed by my alter-egos.
I can only escape in a ritualistic creation process. I think my music is my healer and a mysterious, nice battlefield too.
What was the first piece of music you created?
The first tracks I did were during my Front242 compulsive obsession; industrial music pushed me into creation. I produced a melody and needed to sing, instantly. At that time I did not know I wanted to or even could write, I grabbed
a book and sung Sylvia Plath's cold wave words. The track is called 'Beetles and Spider', it was released on my first EP on Viking Music.
What was the last piece of music you created?
A remix for Harald Björk. It is the first remix I ever did. I always thought it was blasphemy to disintegrate someone's music and give it birth through a different formula. But I ended up having some sadistic thrills with this destruction-reconstruction concept.
what happened in between?
Collisions.
Your new album is released on Border community – how did you first meet James Holden?
I was walking along a beach in Barcelona, during Sonar Festival, he came to me and we talked about PJ Harvey.
And what assistance did he bring to the record?
I produced the album by myself in my tiny home studio in Geneva. I hid and spent 2 years digging in my childhood, fragmenting and trying to understand my own fucked-up history. I spat it out through words and sounds in a long initiatic process, c When the album was finished, we entered James' studio and mixed it.
How did you find the process of working with someone else?
Fundamental. It was like opening the gate of my maze, and giving life to a music that was elaborated in the dark. James was a sound revelator, like a subtle lighting on a secret music. We excavated some "live" and abrupt sides of my music, underlined its martial atmosphere. James has a mystic science in exalting my chaos.
Was this the first time you have worked with someone else in the studio? You seem quite independently minded.
Yes. As my production process is an introspective process, I would never want someone else enter my dysfunctional world.
It would be better to die naked.
You have recently taken time off to have a baby – did that effect your approach to music?
I never took time off from doing music, I'm composing or singing every day, it is a discipline close to a vital breath. When I had my baby, she took place in this process. I don't dissociate music and life, it is a whole same cosmos. There is a song in the album where you can hear her crying. I kept her in the mix as a snapshot.
What comes first words or music?
Writing and singing is the vital move, music follows and feeds that need. Words are the bones and core, music is the blood and skin.
Does a background in design influence your music?
Being a graphic designer is being an observer, finding your own language and building your message. I approached music in a similar way, experimenting, dissecting and twisting noises, finding my own territory of sound, as a proper identity. Computers were the only way to produce music in an independent way. I had no band, I was the band.I learnt to use music software at the same time as I was learning programming and design software, it basically works the same.
Your new album Dust Collision is inspired in part by the Large Hadron Collider. What is it about science that interests you?
I have been surrounded by physics since I was a child, my grandfather was an experimental physicist at the CERN, the centre that developed the LHC. His writings were intense abstraction and it seemed an alternative solid way to explore our world. While writing, I realized I was talking about crashes, collision and accidents obsessively. That theme became the nucleus of the album. The album embeds many concepts of collisions, starting from its personal aspect that could be the "infiniment petit" of Blaise Pascal until reaching its universal perspective, the "infiniment grand". Collision is the matrice of the universe from the atomic to the astronomic.
What connection do you make between science and music?
They are both complementary ways of taming the world.
There are many conflicting emotions and feeling on the album – is this a conscious or is it representative of your personality?
My music reveals every schizophrenic part of me. Each part speaks as a prophet in his own truth. I'm in a quest, with constant opposite feelings. The confrontation of concepts is fertile, it is my motivation.
What music do you listen to in the morning?
Godspeed You Black Emperor.
And finally, what it your most exiting recent discovery?
Gaffer tape, it can stick and close everything.