Editor's Choice: May 4, 2013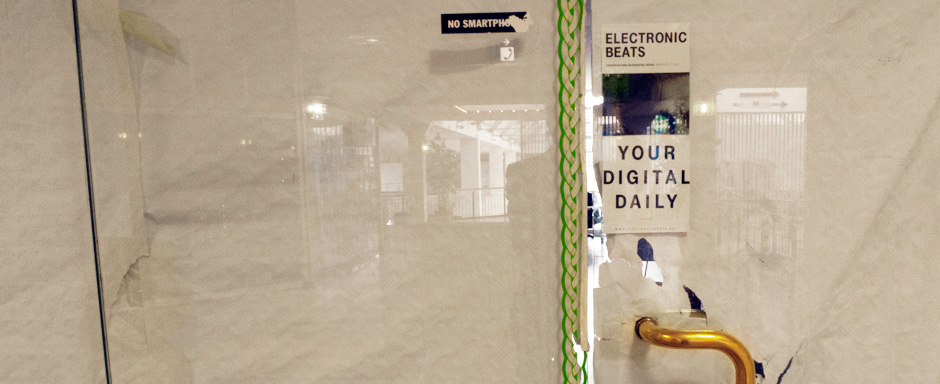 Editor's Choice is our highly personal and subjective weekly rundown of the freshest music straight out the internet—the stuff that's that's been reverberating through EBHQ, feeding our music-addled souls and ensuring our hard drives are always on their last legs. Like most addicts, we need our enablers, and we want to share the music with you. Are you down with that? Good.
Lisa Blanning (Online Editor)
Dizzee Rascal & Bun B – "H Town" (Prod by A-Trak & Oligee)
Dizzee may have gone mainstream, but that hasn't truly affected his ear, as his DirteeTV mixtapes—where this track debuted before Christmas—have proven. However, as a celebrity, he gets to collaborate with people like UGK's Bun B, who I imagine is something of a hero for him. Hot production by A-Trak and Oligee makes "H-Town" a delicious UK/US mash of flavors.
/
Louise Brailey (Deputy Online Editor)
Los Porcos – "Do You Wanna Live?"
Wu Lyf were one of the best bands to emerge in the last few years but the shadowy collective disbanded when their leader-elect left with a flourish—and quite a pretentious open letter. No matter, because Los Porcos has the remaining members redirect their petulant weirdness into this loping, Kindness-esque medicated funk number. It's way too long, but that's part of its charm; the incessant chorus-verse-chorus overshooting pleasure-pleasure around the five minute mark and creeping into pleasure-pain—but oh! Such a sweet pain. By the way, if anyone sees the Wucifix on Craigslist, let me know.
/
Daniel Jones (Contributing Editor)
Violetshaped/Vatican Shadow/Roly Porter/Kangding Ray – The Remixes Part 1
Shapednoise is one-half of the duo Violetshaped, and his recent set at my collaborative party PURGE absolutely blew the crowd away. That makes sure this collaboration and any associated remixes (and especially any done by the glorious Vatican Shadow) are currently chilling near the top of my ListenList.
Keep Shelly In Athens – "Madmen Love" (Mike Simonetti Remix)
The Greek band's latest single, a dubbed-up and skittering creature of melancholic electronics, is certainly their darkest, so naturally I'm all over it. The new remix by Italians Do It Better and Troubleman Unlimited labelhead Mike Simonetti ditches the bass for a slab of nighttime neon. It's perfect for Ferrari drives in the dark, shady motels, and apparently sitting at your desk waiting for lunch.
/
Michael Lutz (Magazine Duty Editor)
Dinos Chapman – "I'm This Idiot" (Actress Remix)
Dinos Chapman's first proper LP Luftbobler has been in the making for a good ten years. And as if this wasn't enough, I slept on it for another couple of weeks. Here, Actress remixes the track "I'm This Idiot", which is included as a bonus on the highly limited and unfortunately insanely pricey vinyl version of this rad album. It also appears on the two-track EP Remixed / Remastered that The Vinyl Factory just released in an edition of 500 copies.
The Vinyl Factory offers essentially beautiful Tensnake-LP
Collectors, watch out! Classy music retailer The Vinyl Factory just unveiled the release of a beautifully crafted Tensnake-LP. Probably best known for the omnipresent dance tune 'Coma Cat' as well as for his remixes for Azari & III, Aloe Blacc, Hercules & Love Affair and the like, the Hamburg-based producer is one of the most promising acts when it comes to new forms of house and disco.
The limited edition release Tensnake Live + features two exclusive new Tensnake tracks – 'You Know I Know It' and 'Something About You' -, three exclusive edits from Jas Shaw (Simian Mobile Disco), Lone and Tensnake himself plus a bonus mix CD. The hand-crafted packaging was done by famous Dutch design company Droog, about which Tensnake aka Marco Niemerski says looks "amazing". The records themselves come as 180-gram heavyweight vinyl.
Tensnake Live + is limited to 1,000 copies, can be pre-ordered via The Vinyl Factory and costs £ 35. As always with these fine editions, it's imperative to act fast before it disappears.
Duran Duran reveal deluxe vinyl edition
The Vinyl Factory – purveyors of the finest collectors edition vinyls have announced the latest addition to their tiny, handpicked stable – a deluxe edition of Duran Duran's All You Need Is Now.
Originally released last year All you need is Now is the first album from the pioneering British synth pop band in over five years. Generally accepted to be a serious return to form the group, the album was produced by producer du jour Mark Ronson and features Ana Matronic and Kellis.
Oh and we just happen to be hosting the first concert of the band's tour in support of the album.
This deluxe edition features;
A hand-crafted, transparent black Perspex box with clear face on outer front, providing an artwork frame that can be individually curated by each owner.
Five heavyweight 180-gram clear vinyl records pressed on the classic EMI 1400, each mastered for vinyl, with the new album pressed across two records, plus an LP of bonus tracks and two 12" remixes including the much sought-after David Lynch reworking of Girl Panic !
Five beautifully treated bespoke record sleeves, featuring remarkable exclusive artwork on both sides by Clunie Reid.
Exclusive 36-page book with lyrics silver foiled onto black pages, housed in a gorgeous silver mirrored paper cover, each hand signed and numbered by the members of Duran Duran.
Exclusive 36-page book showcasing Clunie Reid's album artwork, with a die-cut front cover of the band's instantly recognisable D logo.
Limited to 500 copies worldwide we suggest you get you order in here quick.