Thomas Demand recommends <em>Kraftwerk 3D</em>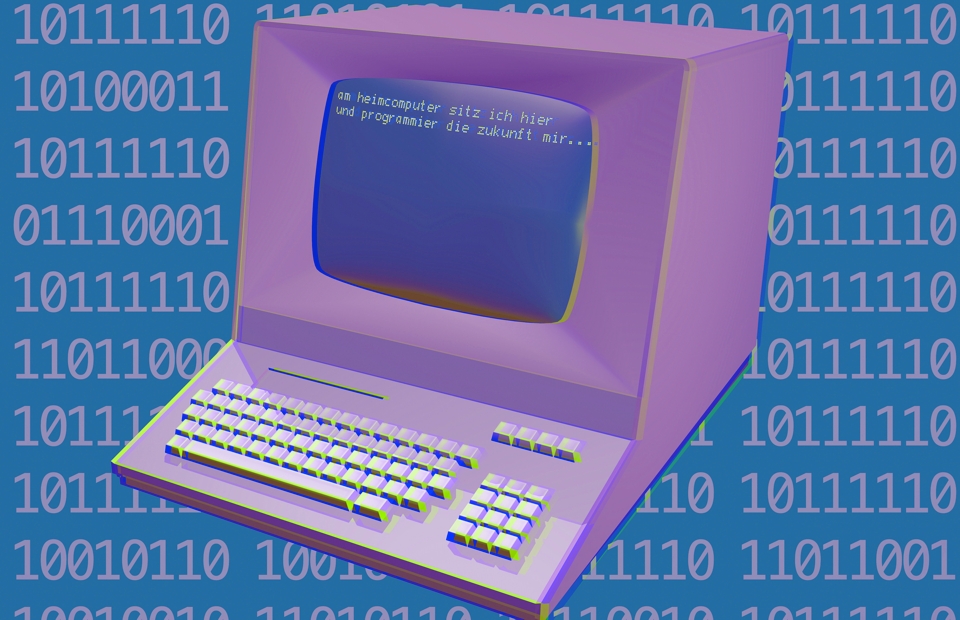 Whenever you talk about art, you have to consider that one of its main goals is to create a form for a given content, and that the content might actually have been integrated into the work while conceiving of the form. A critic has to ask himself, "What kind of process led to the result?" Posing that question is far more important than trying to interpret the "meaning" of the work. Of course, this applies to music too. So when talking about Kraftwerk, I think it's important to describe how they actually do what they do. By staging their live show in a visually stunning 3D format, the band have introduced a new dimension to live entertainment. The question is: how did they do it? One thing's for sure: they've successfully transposed their classic video projections into 3D with the same intellectual and aesthetic precision with which they initially converted their music to image.

In the last issue of Electronic Beats Magazine, Brian Eno does a great job of describing the importance of artists sticking to specific ideas and themes: "You see it over and over again that good artists end up coming back to the same ideas they've always worked with. And with every year that goes by, they get better and better at understanding the chemistry between these ideas." The real progress in Kraftwerk's body of work lies in their unwavering focus. For example, when they played "Trans Europa Express" during the first live 3D performance for the opening of the exhibition in Munich, they left out the verse about David Bowie and Iggy Pop. You could call that a maximal reduction. By leaving out what's "dated", Ralf Hütter successfully updated a classic tune with minimum effort.

Spectators often wonder why artists work on variations of previous pieces instead of coming up with new stuff all the time. I think they don't understand that artists probably aren't interested in constantly jumping from subject to subject. Exploring the details and patterns of a world you've created yourself can be much more satisfying than creating entirely new ones and then leaving them shortly afterwards. And if you're paying attention, you'll notice the progress that comes with an artist's focus over the course of time. Personally, I've always mistrusted artists whose erratic shifts in direction become so predictable—perhaps with the exception of David Bowie, Marcel Broodthaers and Konstantin Grcic. True mastery comes from working with a given motif over years and years, if not decades. And Kraftwerk shows why that's so important. In my opinion, their focus was an important factor in their first five albums becoming part of the canon of pop and electronic music.

Kraftwerk 3D documents both the exhibition and the preparation for the live shows in Munich, and it's surely a must-have for die-hard Kraftwerk fans. But it's also interesting for the rest of us, because the artwork presented here is timeless.

On paper, some of my favorite images are those that have yet to reach iconic status—unlike the Autobahn cover or the radioactivity symbol. For example, I particularly like Kraftwerk's visualization of the song "Showroom Dummies". There's one double page image of a cracked showroom window, followed by another double page of the showroom dummies escaping to freedom—all dressed in beautiful black shoes and black suits. Or take the imagery for the song "Computerwelt", almost all of which has a numerical background layer of code. In the foreground sits a very old-fashioned pc, visually disconnected to the numbers and without any characters on the keyboard. Even though it looks stiff, it has impressive depth in 3D.

Which brings me to my next point: In 3D reproduction, the book's most intriguing images are those that move away from a certain photo-realism. It sounds paradoxical, but the more graphic and twodimensional the images are, the more effective they become in 3D—not only on the page, but also live. At the concert this was especially impressive during the performance of the track "Numbers", when the various patterns of pixelated numbers race from the stage's backdrop right up to the spectators' faces. Kraftwerk have definitively set a visual benchmark with the programming of their 3D sequences, and even though the book is more like a roadmap than the real landscape, it remains an important documentation of the band's reclamation of their cutting-edge status and role as musical and visual pioneers. This is a picture book in its purest form, and the particular charm of Kraftwerk 3D lies in its visual details: its complete lack of text, intentionally clumsy 3D renderings and pale coloring—as if less saturation lowered production costs. In that sense, it's also an excellent example of "German humor". ~


Thomas Demand is a German sculptor and photographer. He currently lives and works in Berlin and Los Angeles, and teaches at the University of Fine Arts, Hamburg. He is perhaps most well known for making photographs of three-dimensional models that look like real images of rooms and other spaces. His work is included in numerous worldwide collections including New York's MoMA and Guggenheim and the Tate Collection, London.
Day One
April 10, 2012
4:45 a.m. wake up call.
5:30 a.m. taxi from Neukölln to Berlin Tegel airport.
7:00 a.m. flight BA 0981 to London Heathrow (Int'l Terminal 5).
9:55 a.m. flight BA 0175 to John F. Kennedy (Terminal 7).
12:21 p.m. arrival at John F. Kennedy (Terminal 7).
12:52 p.m. US border control.
Mr. Schneider, the primary purpose of this trip is business? No.
Are you bringing fruits, vegetables, plants, seeds, food or insects to the US? No.
Are you bringing meats, animals or animal/wildlife products to the US? No.
Are you bringing disease agents, cell cultures or snails to the US? No.
Are you bringing soil or have you been on a farm, ranch or pasture? No.
Have you been in close proximity of (such as touching or handling) livestock? No.
Are you carrying currency or monetary instruments over $10,000 U.S. or foreign equivalent? No.
Well, then enjoy your stay in New York, Mr. Schneider.
Outside JFK Terminal 7, V2 Schneider hopped in a Gypsy cab to Chinatown. It was a warm and sunny spring afternoon. Jumping out on Grand and Essex, he deeply inhaled the exotic smells and embraced the omnipresent bass drone of the Lower East Side.
What was intended as a power nap ended six hours later, and Schneider took a cab to arrive at 7:45 p.m. sharp at the Museum of Modern Art on West 53rd Street, where an atmosphere of excited anticipation permeated the first of eight Kraftwerk shows for their Retrospective 1 2 3 4 5 6 7 8. In light of the massive global buzz that went along with the announcement that Kraftwerk would be playing their entire official catalogue at the MoMA, there were surprisingly few people cued up for the event in front of the main entrance. A beautiful young woman wearing a black two-piece business suit noticed the disorientated Schneider and escorted him to the reception desk. Minutes later, he entered the irritatingly small performance space on the museum's second floor. Unlike any other concert Schneider had previously attended, not a single member of the strangely reserved audience dared move to the front of the stage. Instead, they all politely hovered in the back of the dimly lit white cube. A large, white cloth curtain projected with pixelated black and white images of four musicians standing behind keyboard consoles hid the stage from the audience. Then, at 8:26 p.m., the curtain fell, while Schneider stood in the front row, slowly sipping from a bottle of Stella he bought at the museum's bar.
As Kraftwerk started into "The Robots", V2 Schneider noticed just how close he was standing to Ralf Hütter, the quartet's only remaining original member. Schneider looked into the eyes of a man who has aged with dignity. Poker-faced and in full control of his emotions, Hütter led the band through an impressive set-list that included the album Autobahn in its entirety, as well as "The Model", "Computerworld", "Trans Europa Express", "Boing Bumm Tschak" and other classics. But Schneider was especially moved by "Kometenmelodie 1", "Kometenmelodie 2", "Mitternacht" and "Morgenspaziergang"—tracks that Kraftwerk hadn't played live in decades. Originally composed and recorded analogue, Hütter and Co. brilliantly improvised upon these songs from the four digital consoles. Schneider closed his eyes and listened to the three musicians (the fourth is said to be the VJ). The music was cosmic. And important.
The MoMA is considered the temple of Western modernism and contemporary art. That Kraftwerk chose to play there is, of course, part of a larger strategy of the canonization of their music as fine art. The first step taken in that direction was Kraftwerk's collaboration with the German painter Thomas Scheibitz for the Venice Biennial in 2005. The next was their performance as part of Andreas Gursky's exhibition Rhine on the Dnipro in Kiew in 2008, and subsequent debut of their Kraftwerk 3D stage show at Munich's Lenbachhaus in 2011. These days, the band are represented by Berlin-based gallery Sprüth-Magers, whose roster also includes Jenny Holzer, Ed Ruscha, Joseph Kosuth, Thea Djordjadze, Thomas Demand, Andreas Gursky and Cindy Sherman.
"I guess you should judge people by the company they keep," said Schneider to himself, as he he jumped back in a cab towards Grand Street for a late supper.
Kraftwerk play '1 2 3 4 5 6 7 8' live shows at MoMA NYC during first live retrospective
Please turn to your favorite flight price check website and start booking a trip to New York City: Kraftwerk will be performing eight nights in a row at the Museum of Modern Art during their newly announced first live retrospective. Titled 1 2 3 4 5 6 7 8, the shows run April 10th – 17th 2012.
MoMA's Donald B. and Catherine C. Marron Atrium want to present an "exploration of the sonic and visual experiments of Kraftwerk" with live shows from the group's eight albums on each of the nights, performed in chronological order of their release: Autobahn (1974), Radio-Aktivität (1975), Trans Europa Express (1977), Die Mensch-Maschine (1978), Computerwelt (1981), Techno Pop (1986), The Mix (1991), and Tour de France (2003). On top of that, other original compositions will be modified to fit the exhibition format. Curated by MoMA's PS1 director Klaus Biesenbach, 1 2 3 4 5 6 7 8 will give a broad insight into the Düsseldorf-hailing pioneers of synthesizer and machine music: ambient sounds, 3D video images (probably similar to the ones last seen in Munich), set design, and performance will be part of the retrospective.
"Kraftwerk is an influential force not only in music, but also in visual culture", as Biesenbach states it in the press release. "Through their experimentation with how images and sound are shaped by the latest recording and visualization tools, they have continuously anticipated the impact of technology on everyday life, and have captured the human condition in an era of rapidly changing mobility and telecommunication. Today, they remain vital to contemporary practice through their intersection of popular culture, mass media, and artistic production. In Kraftwerk's practice, all of the components – melodic music and ambient sound, elaborate stage sets, live performance and performance by robots, their trademark videos and logo-like still imagery, all conceived and realized by the artists themselves—coalesce as one work of art."
In our most recent print issue, German sculptor and photographer Thomas Demand mentioned in his review of Kraftwerk 3D at Munich's Lenbachhaus, that he "always mistrusted artists whose erratic shifts in direction become so predictable – perhaps with the exception of David Bowie, Marcel Broodthaers and Konstantin Grcic. True mastery comes from working with a given motif over years and years, if not decades. And Kraftwerk shows why that's so important. In my opinion, their focus was an important factor in their first five albums becoming part of the canon of pop and electronic music."
Ticket sales for '1 2 3 4 5 6 7 8' starts on February 22nd, 12:00 with $25.00 each, limited to two tickets per person for the series. See you there down-the-line!
The author on Twitter:
Follow @wwwacht
//
Image: © Kraftwerk / Sprueth Magers, Berlin and London