Fast Food 10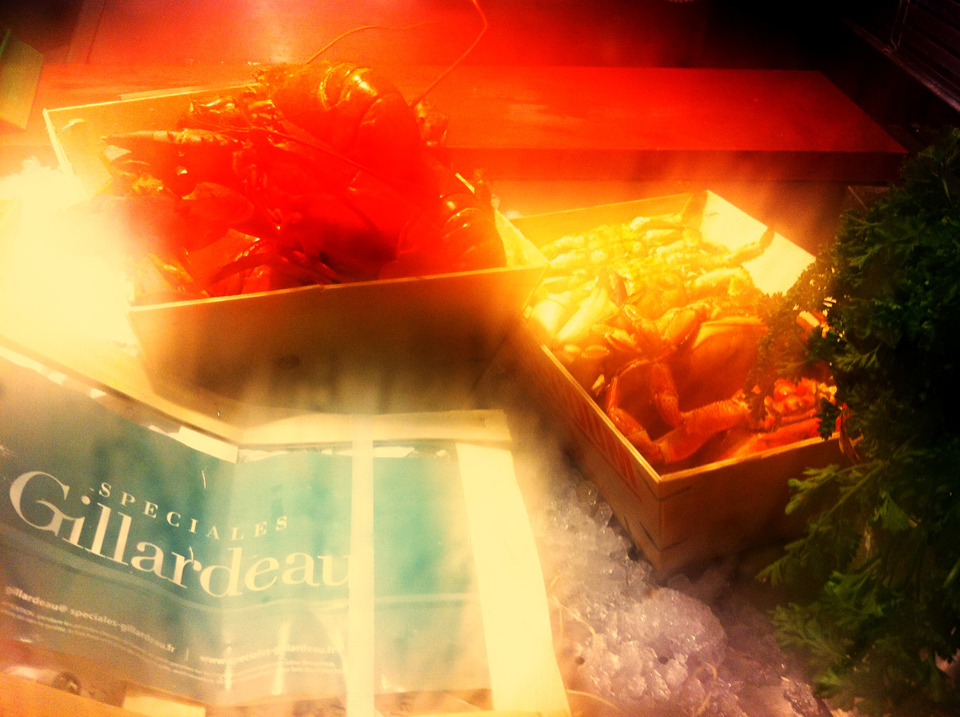 This week's installment of Fast Food covers thoughts on getting your guests drunk. In a restaurant you can easily make a statement by ordering a super expensive wine. Or, the restaurant can make a point by refusing its clients the opportunity to make such a statement. In this tenth episode of Fast Food, Thomas Schoenberger and Max Dax continue to debate the micropolitics of dining—and how to cook with maximum effect. We understand: Running a restaurant is also about defining a space where people can be equal. Suffice to say, some people are still treated more equal than others.
Read previous episodes of Fast Food here.
Dax: You and your crew limited yourself to the do-able, you've shown insight into what is earthly possible. Let's talk about sovereignty. Natural authority comes from knowing exactly what to do, how to do it and when to do it.
Schoenberger: I agree. I am to this day absolutely convinced that the success of the Restaurant Schönberger can be easily explained. I like to believe that the hungry guests who regularly came back during the night knew exactly what they would get and what they wouldn't. They knew that we believed in the possible, not the impossible.
Dax: There is beauty in the daily grind, there can be eternal beauty in never changing routines and in the limitations you are confronted with when trying to live up to something. Most people are afraid of limitations. But the opposite is the case. Limiting yourself according to an idea you have in mind can be a guidance. It keeps you focused.
Schoenberger: The people who dined at Schönberger's experienced pride. Every waiter was proud to serve the guests because they knew they were acting according to the rules. I know this might sound pathetic, but for many of our clients dining at the Schönberger was nothing less than a reality check. They might be used to bossing other people around in their own lives, they might even find it natural to ask for silly extras just to reassure themselves that they exist, but not at the Schönberger. I mean, you can drive waiters crazy by confronting them with your diet restrictions, your personal taste or ideological beliefs. Or should I say: so-called ideological beliefs? I bet that some people are vegan because, in some way, they like the confrontation it invites. But I see through those people, I understand that they just need any kind of reaction to reassure themselves that they exist – even if it's a hostile reaction.
Dax: The do-able more often than not is also the reasonable. The interesting thing about the Restaurant Schönberger was in how the crew behaved. They were elitist, but not in the bad sense of the word. They were elitist by keeping traditions alive. And I don't see anything bad in that. They sort of reminded people of how things have to be done.
Schoenberger: At the end of the day it's a question of empirics. Most of the people who were confronted with our gastronomic attitude towards refusal didn't come back. But there was this ever growing group of people who eventually understood what it was all about. They understood that a set of rules actually allowed to behave more naturally, less like performing animals. I guess you could call it give-and-take.
Dax: Behaving more naturally is linked to the consumption of alcohol. You were running a strict policy when it came to wine.
Schoenberger: That's also true. We had a very limited selection of wines. One white and one red, one each from Veneto and from Tuscany. That was it. If guests were asking for the wine list the waiter would answer: We've got white wine and red wine and we've got carafes of a quarter, a half and one liter.
Dax: I mean, we talked about this before, but why this limitation? You could have served the most traditional cucina casalinga according to the rules and still offer a multitude of wines. You could have easily increased the total revenue night by night by night.
Schoenberger: Sure. And as I said before, maybe I would do otherwise nowadays. But back then the statement we made by offering only vino sfuso in carafes was so much more important. I mean, if I want to order a bottle of Montrachet, I'd insist on getting a matching glass to consume it. And I'd insist to be served by a waiter who is also a sommelier. And, of course, if I'd made such a statement by ordering such a super-expensive white wine in public, I'd demand the exact drinking temperature – something only a well tempered wine cellar can provide. But this wasn't our policy. Wine connoisseurs – self-proclaimed as well as real ones – are of the same breed as cigar smokers. The discussion would start with the question of the night's wine proposition and it certainly would not end there. If you are willing to spend a fortune for a bottle of vintage wine you have the unwritten right to be treated like a VIP. It gives you a right to rope the waiter or sommelier into an expert discussion about the temperature and the grape as well as the heritage of the wine – and how it matches with the food you've ordered. To toss all away that was a major part of the agenda. I personally know a number of chefs and restaurant owners who went bankrupt climbing the Michelin star ladder – simply because they had to invest vast amounts of money into curating a wine cellar that could fulfil the exquisite and eccentric wishes of their customers. Maybe I missed the opportunity to increase my turnovers. But I am very proud that we've made a real statement by offering only simple wines that were affordable for everybody in the house.
Dax: To put it simply: You didn't want your space taken over by people who thought otherwise.
Schoenberger: Exactly. That's why our tough women would place simple osteria Luminarc glasses on the tables as well as carafes filled with white or red wine and the people would start to drink. Whenever they'd emptied a carafe, a new one would turn up on their table until they stopped the waitress doing so. Whenever this signal came it was obvious that their stay at Schönberger had ended. They were only in the middle of the night. They either wanted to delve into the St. Pauli nightlife or they had to go on their nightshift or they simply wanted to switch to hard liquor.
Read the next installment of Fast Food here. ~ Photo: Max Dax
Fast Food 2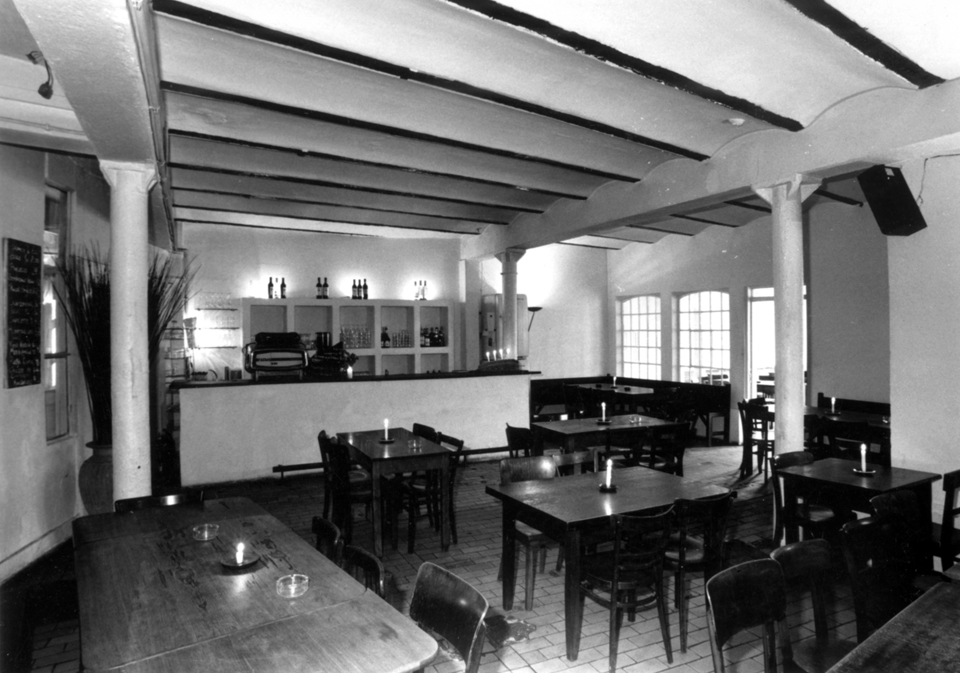 Fast Food is a new, regular blog by Thomas Schoenberger and Max Dax. Every Saturday you can read a new part of their ongoing conversation about cooking, traditions and how to read the menu of any given restaurant. Of yeah, and why so many chefs listen to "electric period" Miles Davis' after an exhausting night in the kitchen. The photo by Arnd Hoffmann shows an interior view of the Restaurant Schönberger in 1994.
Read previous episodes of Fast Food here.
Dax: If you take into account that we have to eat and therefore cook on a daily basis, the lack of documentation is absurd. I have both vivid and at the same time blurry memories of the Schönberger. Of course, there's no book about it—you will hardly find any books on restaurants or bars that you might assume worth a volume or two. Of course, sometimes you can find books that examine certain phenomena when it comes to restaurants; books about the Venetian bacari, the Viennese Heuriger wine taverns or the Paris bistros do exist. But only in rare cases would you consider these proper records of traditions. Speaking for myself, if somebody would ask me to tell the story of my life, many chapters would be staged in restaurants, trattorias, bistros, ouzerias, osterias or brasseries. You'd probably find more places that are linked to something that you might call the gastronomic street culture, something that gets lost as soon as, say, an osteria closes forever.
Supposedly semi-legal places like Palermo's Zia Pina, where they grill the fish in the osteria's entrance corridor and not in the non-existing kitchen, will be forgotten one day unless, well, unless you document the memory. Zia Pina hasn't been written about beyond the casual newspaper article, even though spaces like that live in our memories until we die. Ideally, they'd become the backdrop of a novel or even a film, which means they then enter the realm of fiction. Just like the history of the blues or American folk music, the story of the simple taverns and tables has traditionally been told as an oral history. Thomas, I have the impression that an integral part of our dialogue will be just like that—jumping from one memory to the next, as memories are all we have. Especially if we talk about the techniques and procedures of cooking itself, I have this premonition that, more often than not, we'll be discussing specific memories linked to a specific time and space. That's why I want to get back to the white industrial loft space that was your restaurant: How the hell did you actually get hold of this space?
Schoenberger: Back then, before I opened the restaurant, I was a partner in a company called Vertrieb trockener Weine—Distributor for Dry Wines. My associate and I regularly shuttled between Venice, Tuscany, Frankfurt and Hamburg. In Venice and Tuscany, we were buying large quantities of Italian wine for little money, and were praying that we'd get it to West German wholesalers before the wine would lose its quality.
Dax: You mean the temperature and altitude changes that occur when travelling through the Alps? That's what can ruin a local wine from Italy and make speculating with wine a game of chance, correct?
Schoenberger: I prefer to give you the short answer because I think we should talk a whole evening about wine, but not tonight. Here's a brief explanation of the procedure of wine speculation: Every autumn I'd travel to the north of Italy to visit vineyards and buy large quantities of not yet fermented wine, where the owner would mark whole barrels with white chalk, signifying that they've been sold. As soon as the wine has completed the fermentation process in spring, I'd return to the vineyard and attend the filling procedure from barrel to bottle in the cellar. Should the wine have suffered a loss of quality during the winter or, God forbid, gone bad, it's not the problem of the estate but that of the speculator. The chalk mark on the barrel is the archaic proof of an archaic and binding deal.
Read the third episode of Fast Food here.