Bogner's TV Guide No. 15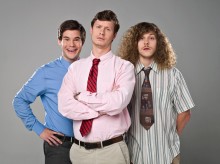 Workaholics was last season's best comedy – period. I have to admit that my effusive appraisal for the show has been overdue since season three ended four weeks ago, but with so many season finales and comebacks to document, something's got to give.
Now's the time to redress that imbalance: Workaholics is a dead stupid, juvenile and shameless stoner comedy which makes it something of a love or hate affair. I obviously fall into the former camp, with nothing but crazy admiration for a show written by its three main leads, Blake Anderson, Adam DeVine and Anders Holm. They more or less play themselves by the way.
As the story is quite simple (three stoner college buddies share a house together, work at the same telemarketing company and end up doing all kinds of stupid shit) allow me to present two reasons why you should be convinced of its greatness … Or not:
1. Tyler the Creator and Taco Bennett were on the show
This happened last September during the first episode of Season Two, 'Heist School'. Not that guest appearances are something special per se – every other show has tried to beef itself up with the help of movie stars or famous singers since the beginning of television. Still, there's a difference between Vonda Shepard singing a song in a bar during Ally McBeal and Tyler the Creator and Taco sitting on the roof shooting a paintball gun. That, to quote a certain 90s movie, "ain't the same fuckin' ballpark, it ain't the same league, it ain't even the same fuckin' sport". In this year's season The Black Keys made a cameo appearance, too.
2. 'The Lord's Force'
This episode perfectly sums up what Workaholics is about, both good and bad. At the beginning of the show, the three dudes are smoking weed and watching YouTube videos when they come across an ad for 'The Lord's Force', a bible-inspired show with biblical superhero figures like Samson. In their baked state they get so drawn into it that they decide they want to watch the spectacle in real life. Bam, we're barely two minutes and we've got a funny and absurd premise almost everyone can relate to. When they do meet the stars they find out that they're a gay couple. Cue grappling with some thorny issues: the absurdity of religion in general and Christianity particularly, but also the main protagonists' own fear of homosexuality which acts as a set up to some very good jokes.
Okay, so you could argue that this isn't the way to deal with serious issues such as homophobia, but in my opinion, as the way the world stands now, it kind of is. Blake, Adam and Anders aren't nefarious members of the Westboro Baptist Church, they are just three guys who have to overcome their own insecurities. In the spectacular ending they do just that because, well, they always do. And the message Workaholics leaves us with is as humanistic as it is simple: be true to yourself.
2011 Editor's Picks: David
Over the last decade everyone has been making a fuss about how TV-series are becoming more important and innovative than big screen movies. This is totally wrong. Even though both use moving pictures, they are two quite different forms. It's like comparing a 7 verse poem to a 500 pages epos or a one page comic in a newspaper to a graphic novel.
That said I hereby present you my top five TV shows this year.
5. Beavis and Butthead Season 9
Forget about any fuckin reunion of any given band on earth. Mike Judge's Beavis and Butthead is the comeback of the year. What I've seen so far, was more than great, which is why Charlie and the Gang haven't been in my year's end list for seven years now.
4. Louie Season 2
The second season of stand up comedian Louis CK started with a big fart and made me cry in the last episode. In-between there have been more touching scenes than in all seasons of Six feet under together.
3. Game of Thrones Season 1
It's been epic. Not only in terms of money (allegedly the pilot alone cost more than 20 million dollars) the cast (from Sean Bean as Ned Stark to any given squire, all the actors were brilliant), but regarding the story. George R.R. Martin works on a seven books long fantasy series and HBO turned book one into the first season of an epic TV show. There is much more to come!
2. Workaholics Season 2
Season 1 was so so, but season 2 turned Workaholics in the most fun TV show this year. Blake, Adam and Anders are three post graduate mid 20ies guys who work at a telemarketing company and share a house. The humor is as stupid as it sounds, but it works. Also great: guest appearances of guys like Tyler, the Creator and his gang among many others.
1. Homeland Season 1
Originally an Israeli TV show (like the great In Treatment), a team around Howard-24-Gordan developed it for the American market. And like no TV show before it turned all our fears into 10 episodes ala 50 minutes of pure thrilling entertainment. You never guess what's coming next yet nevertheless it's always plausible. In addition to that it features performances by Claire Danes and Damian Lewis and is one of the best in TV show's history.
Haven't seen more than two seasons of Breaking Bad though.